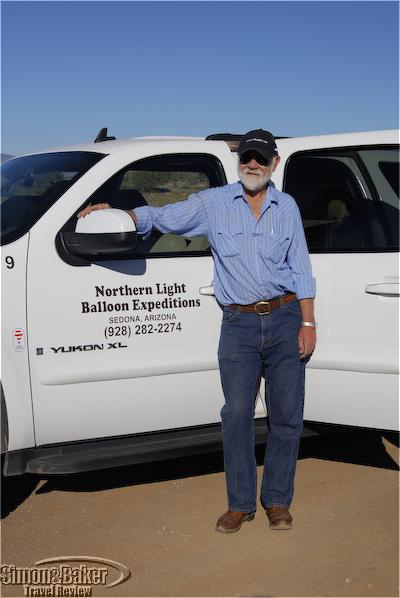 We returned to our hotel smiling and remembering the morning's balloon flight.
Overall Impression
The Northern Light Ballon Expeditions van was parked in front of our hotel entrance at 5:25 a.m. when we arrived five minutes before the scheduled 5:30 a.m. pick up time. Blair Preston, a friendly pilot with 21 years of experience, introduced himself and welcomed us aboard. We were the last two passengers on the route so we drove directly to Forest Road 9851B off of Lower Red Rock Loop road, the place from which our balloon with six passengers and two other balloons would launch for our dawn flight.
We departed at 6 a.m. and flew above the Coconino National Forest and outskirts of Sedona (it seems balloons are not welcome in the town) for 90 minutes and 8.5 miles. It was a clear morning allowing us to see the red rocks and local landscape for miles. We were fortunate, Blair explained, because for the previous 10 days the area was smoke filled with low visibility due to nearby fires.
As we floated above the ground at varying heights depending on the wind and our pilot's whim we enjoyed the attractive southwestern scenery and listened to Blair's upbeat comments about the area and ballooning. We even saw a few mule deer on the ground. Before we realized it our ballooning time had passed. We made a gentle landing assisted by the ground crew.
Once the crew for the three balloons had secured the gear and gathered us they served complimentary bubbly, fruit and pastries. It was worth it to get up extra early and dedicate our dawn to the balloon experience. The sky high view and scenery enhanced our visit to Sedona. In addition, we liked Northern Light Ballon Expeditions for the company's professionalism, small groups, excellent piloting, and friendly staff. We returned to our hotel smiling and remembering the morning's balloon flight.
Duration Of Flight
We flew for 90 minutes, a little longer than the other two balloons from the company that launched at the same time we did.
Established The company was established in 1974.
Handicapped Access Although company representatives are welcoming of disabled guests, access to the flights depends upon the handicap. In general they indicated that balloons are not handicap-accessible.
Location In the town of Sedona, Arizona
Owned And Managed Doug Cory
Size At the time of our visit, the company employed five full time pilots and one back-up. It owned five balloons with space for up to seven passengers per balloon. In addition to the pilots, there were ground crew staff that provided support and picked us up following our flight.
Transportation A company van picked us up at our Sedona hotel at 5:30 a.m.
Souvenirs Once we landed and had our bubbly celebration with pastries and fruit the staff put t-shirts and caps on display for guest purchase for $15.
Other According to promotional information, only two balloon companies, including Northern Light Balloon Expeditions, had Forest Service permits to fly in the Coconino National Forest, which covers the Sedona area. The company flies once a day, early in the morning, on a year round basis. Because it is only possible to inflate hot air balloons in calm conditions without wind, it is necessary to inflate and fly around sunrise when flying conditions are ideal.
Contact Information
Address:
P. O. Box 1695
Sedona, Arizona 86339
Phone:
1-928- 282-2274
1-800-230-6222
Fax:
Website:
Email: