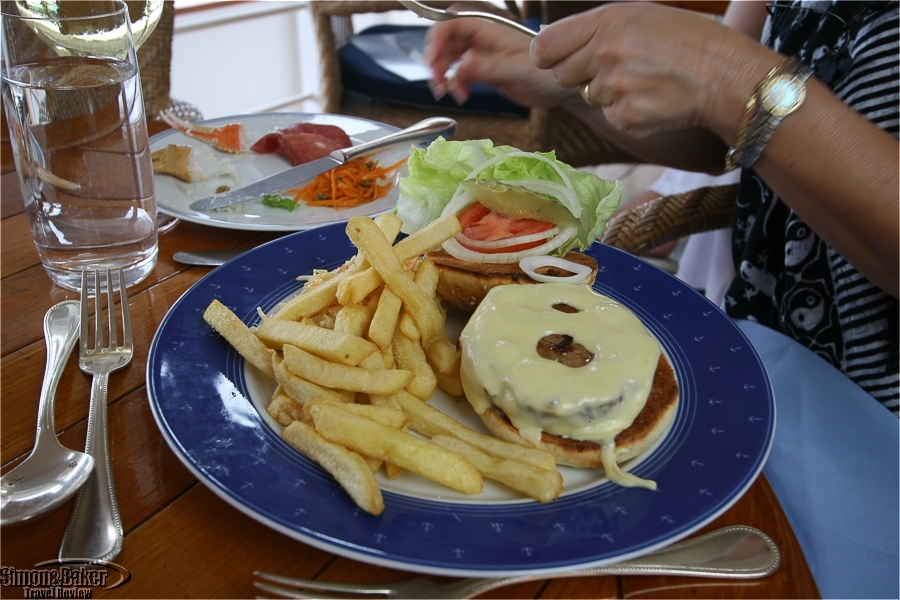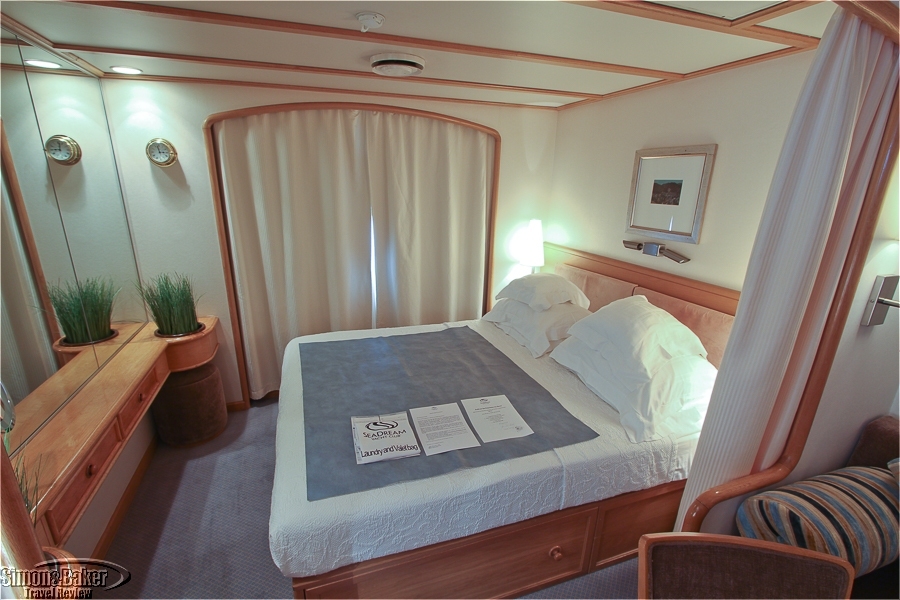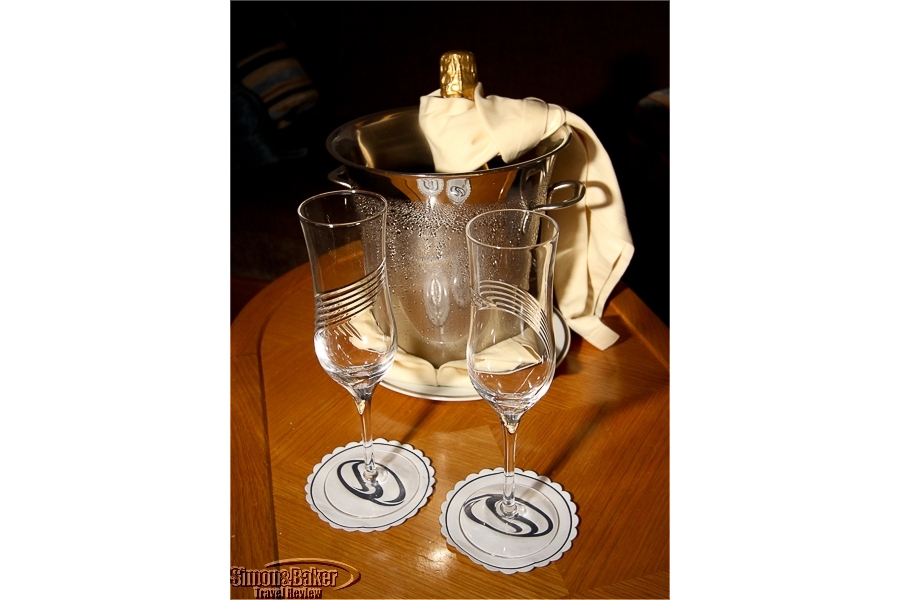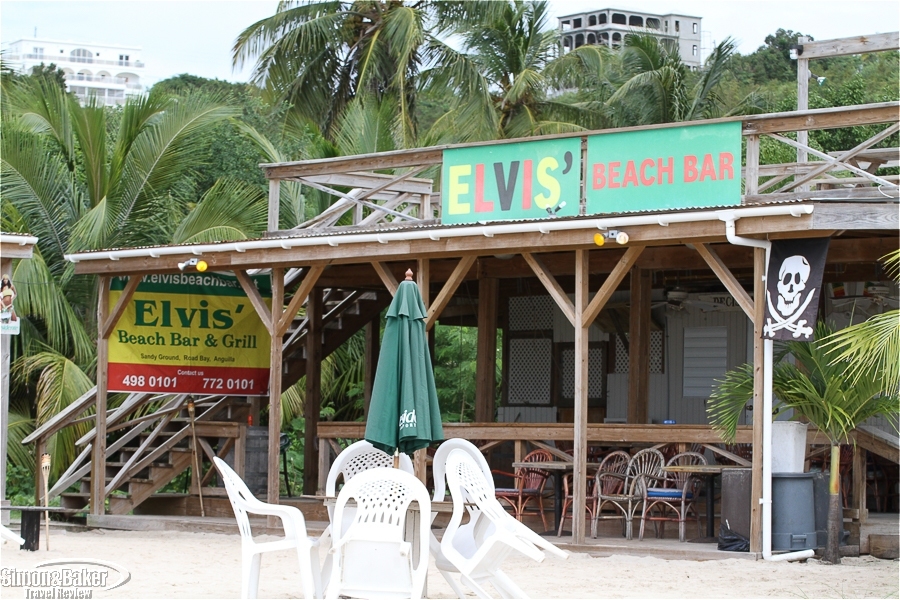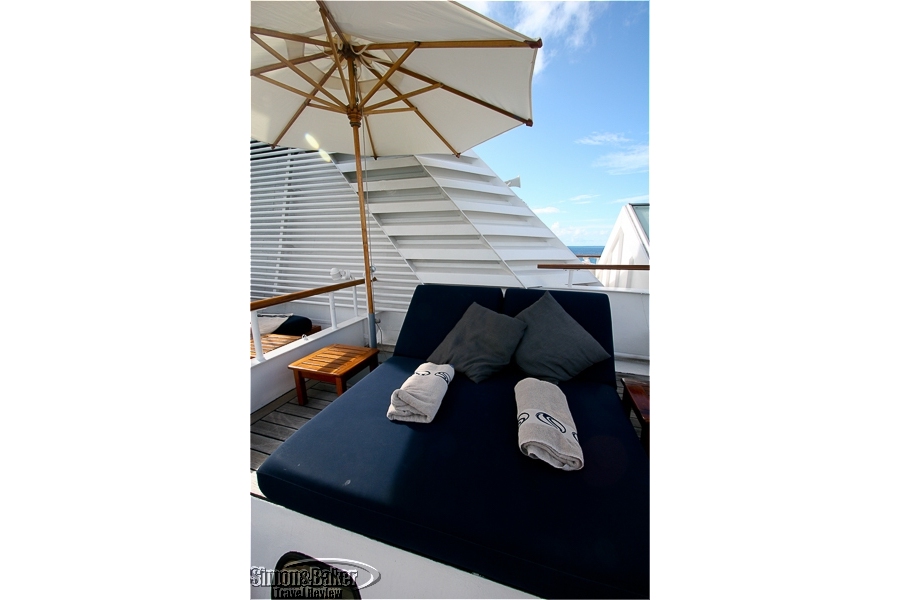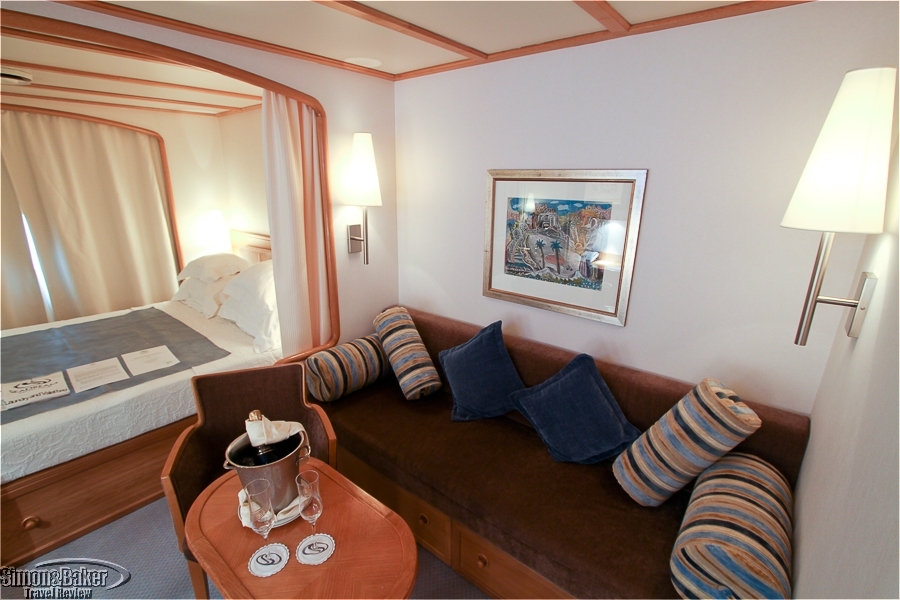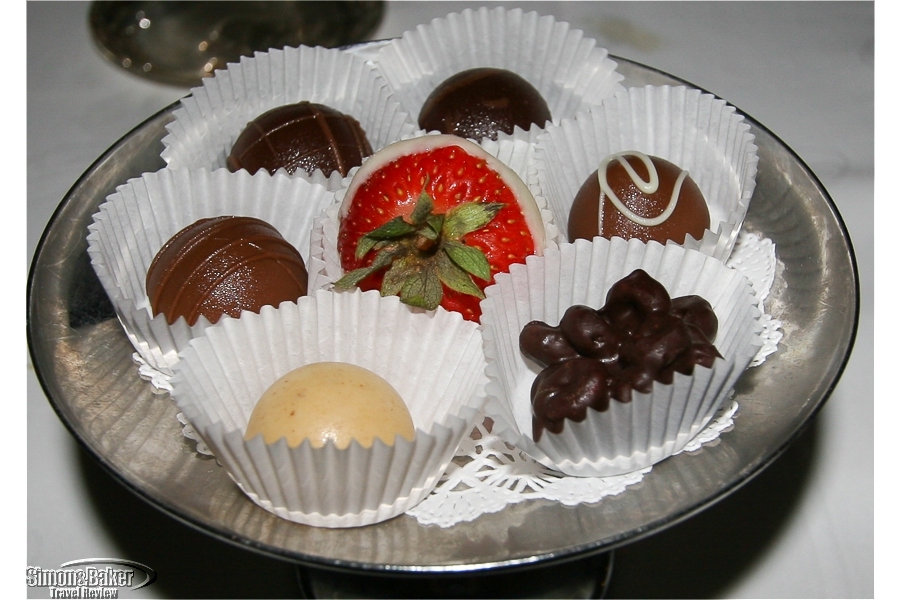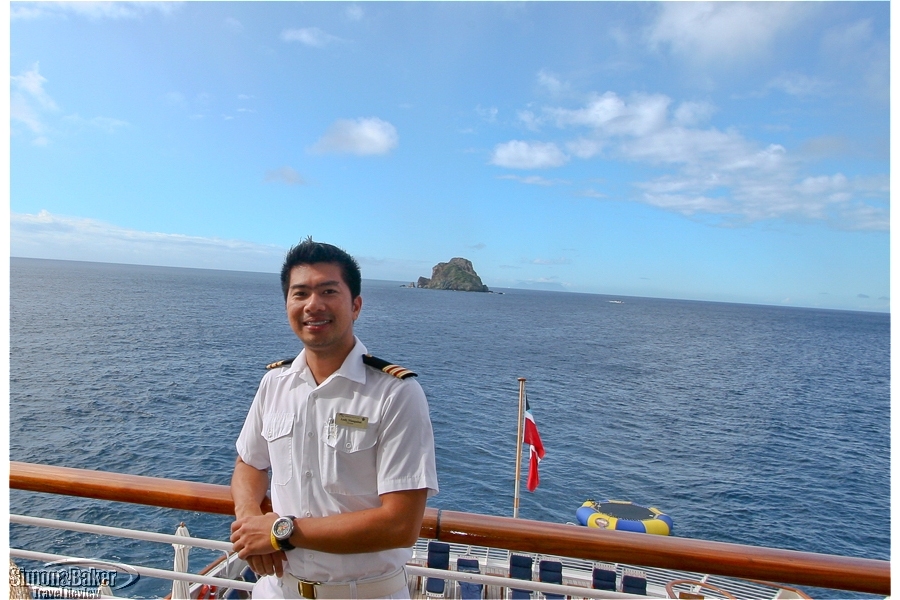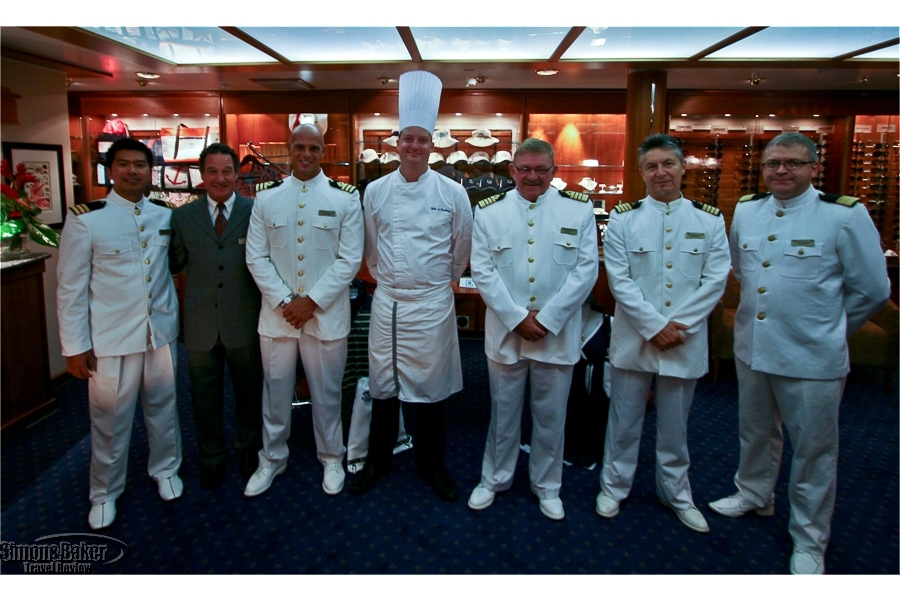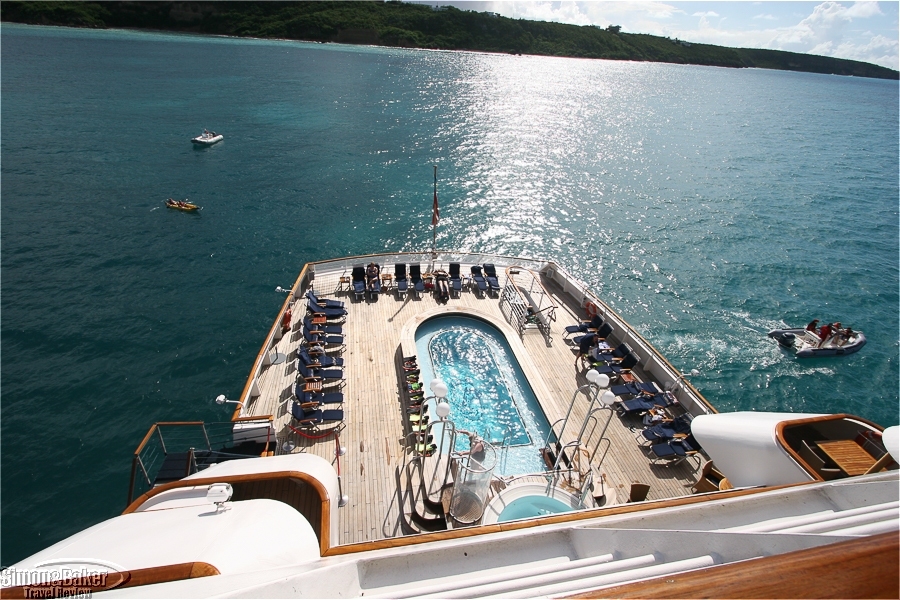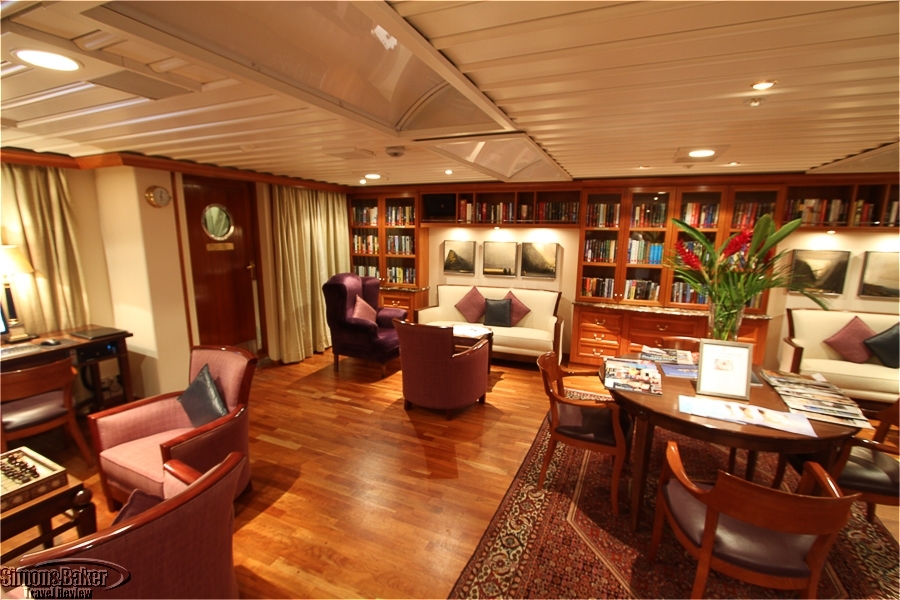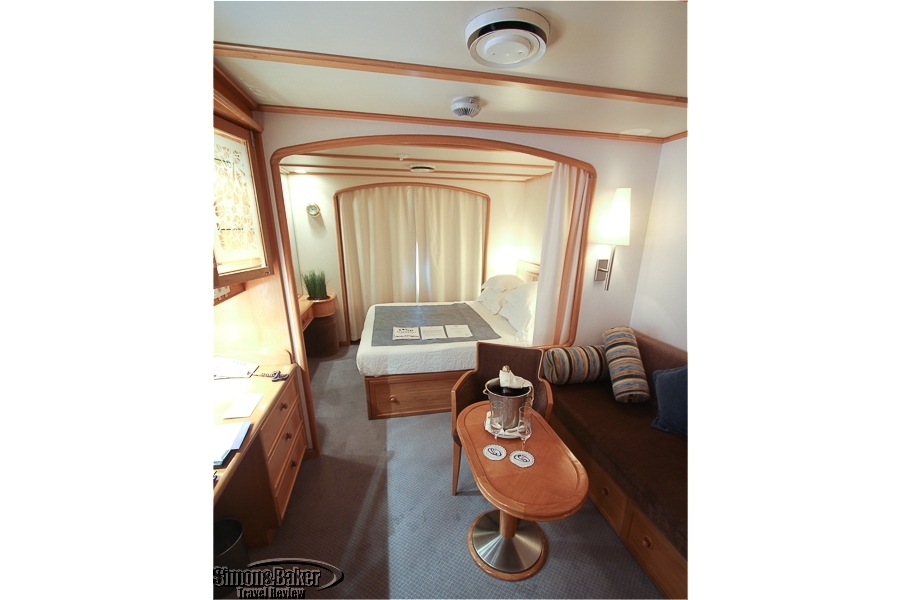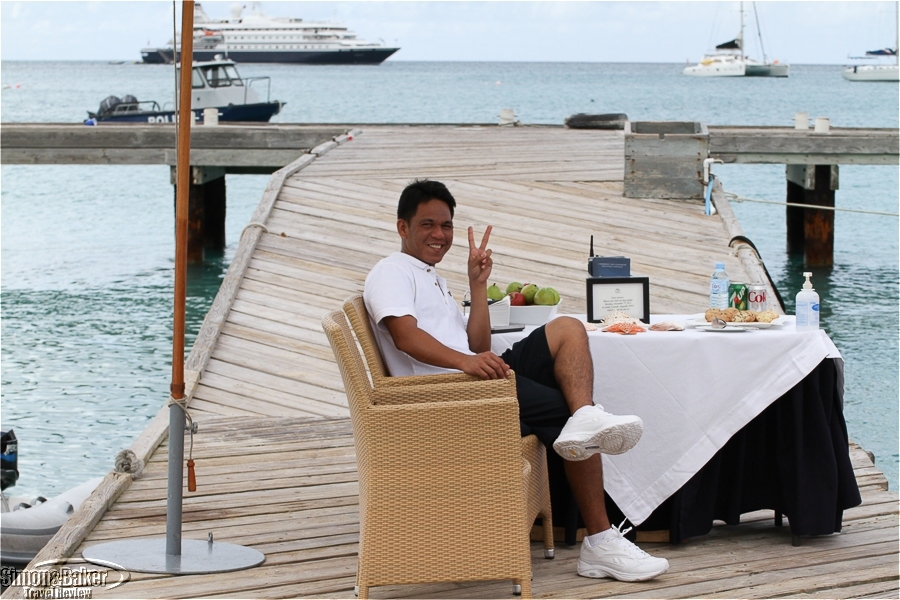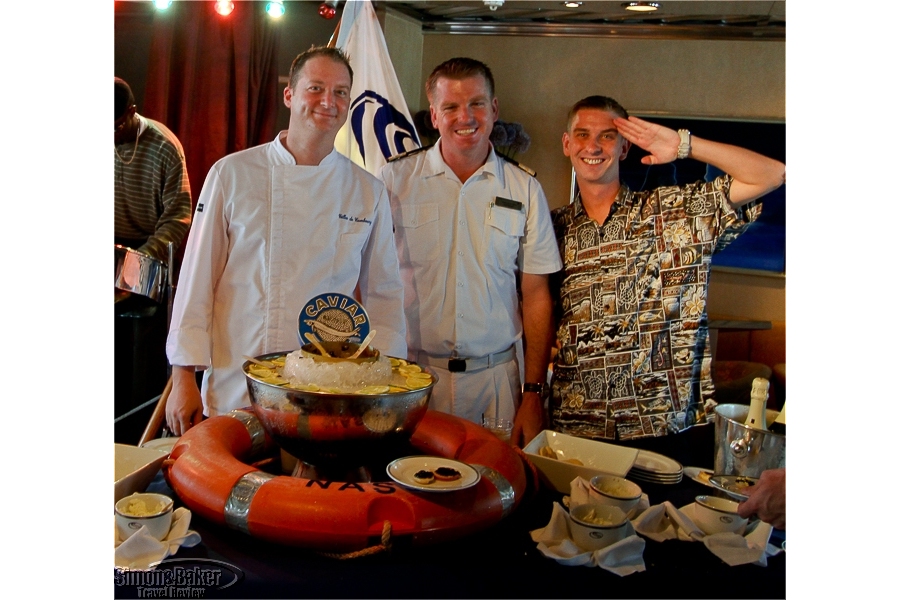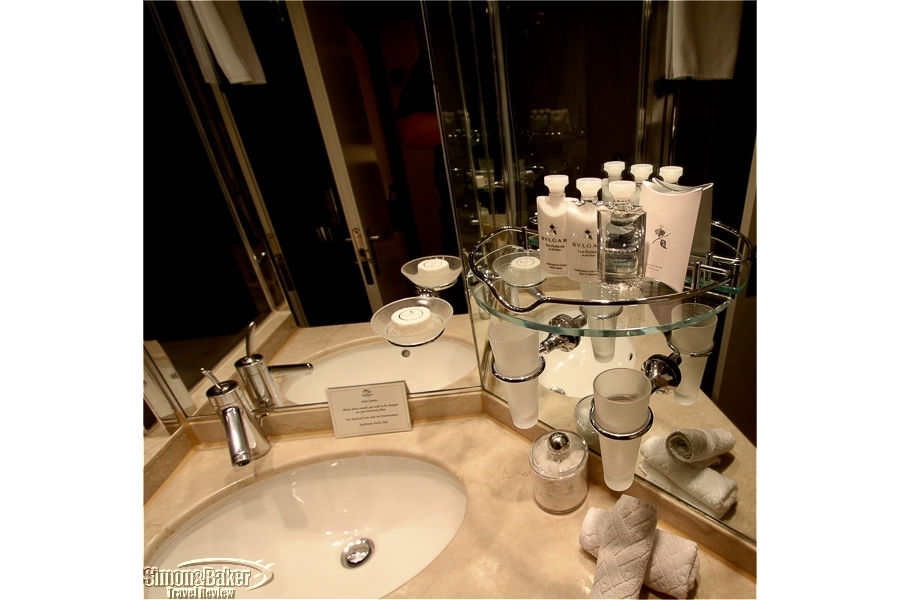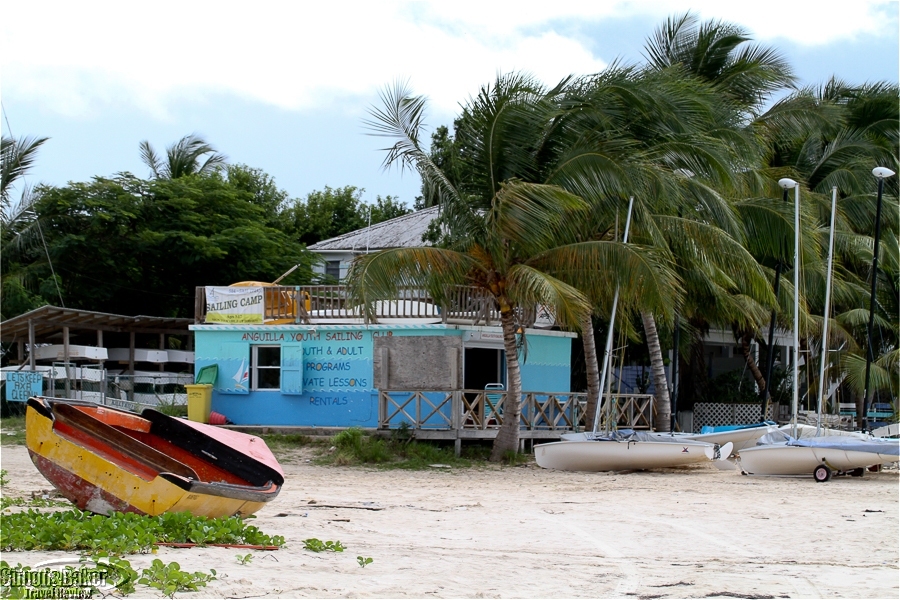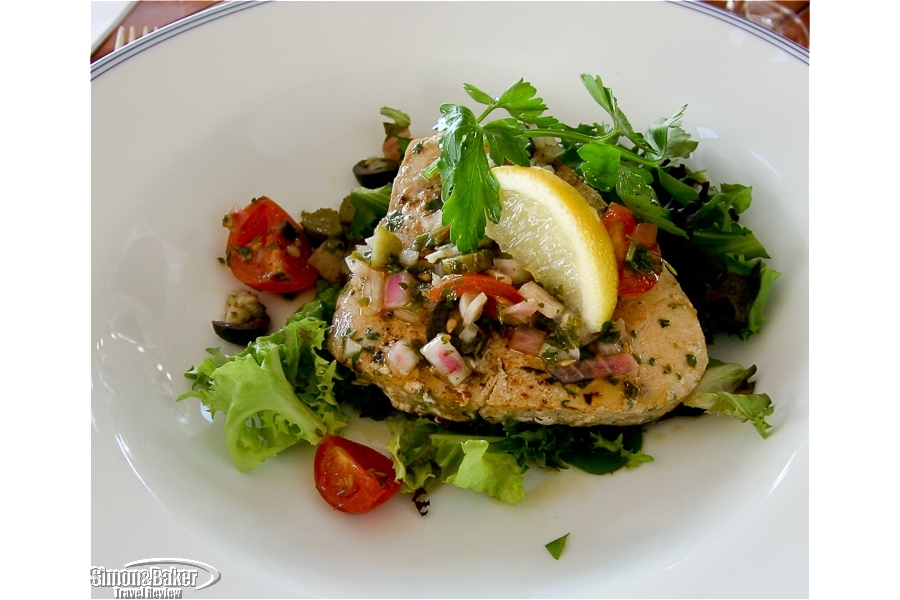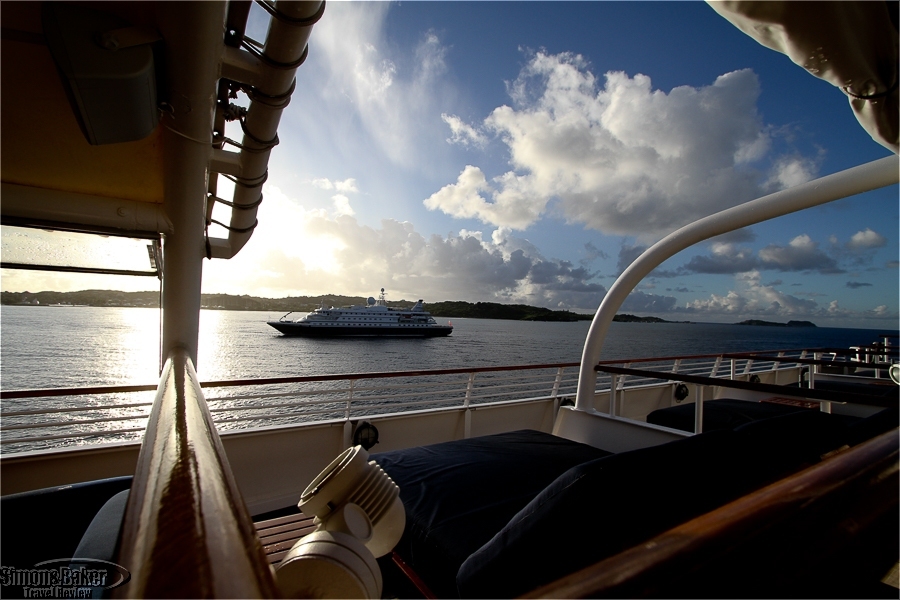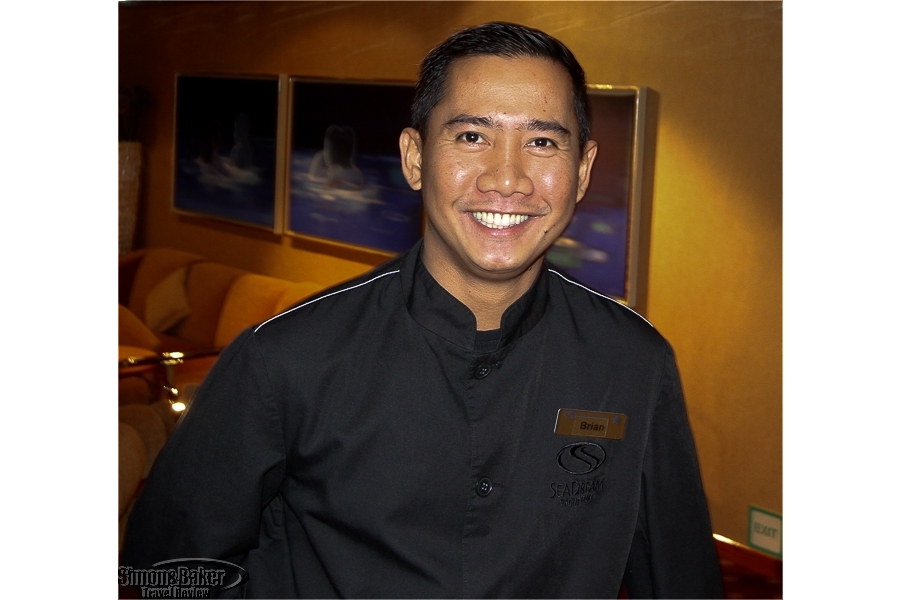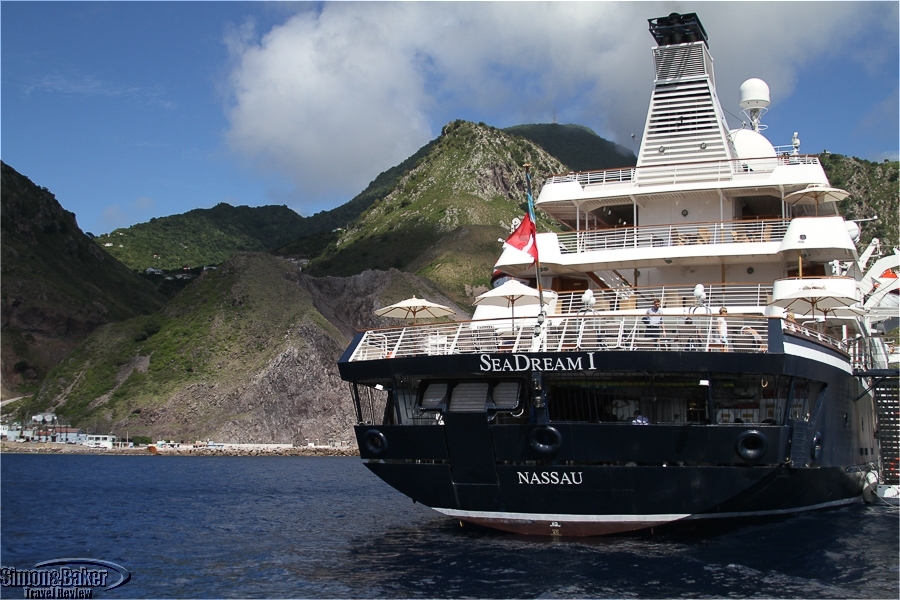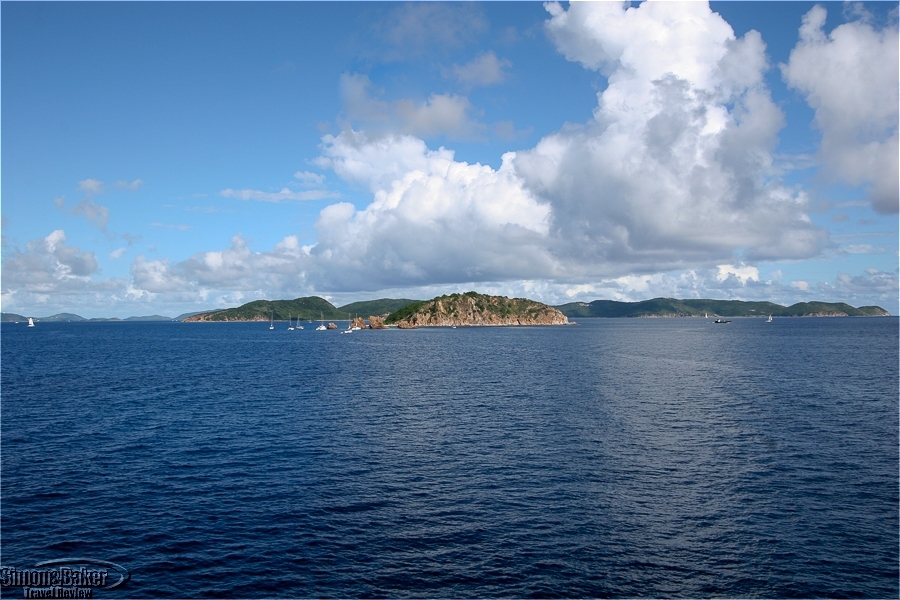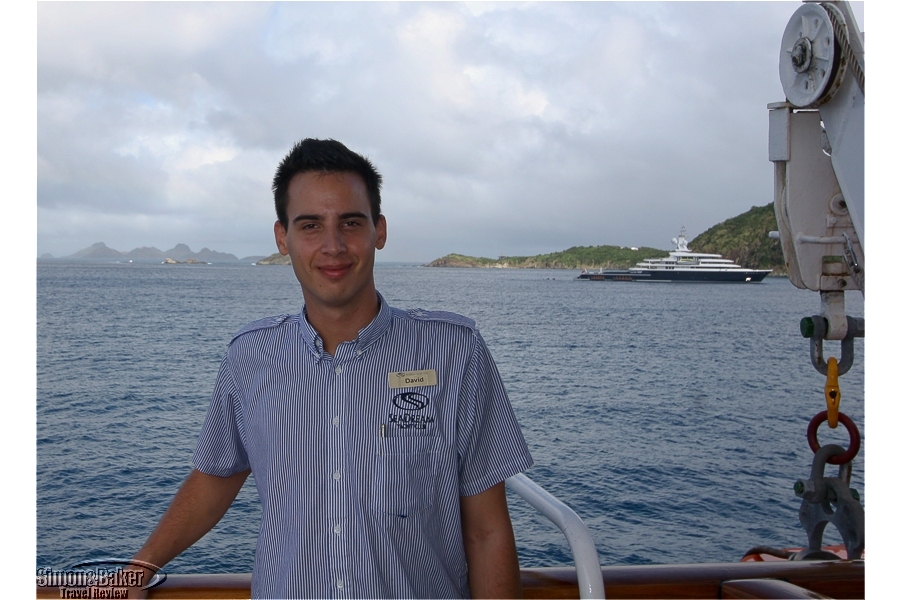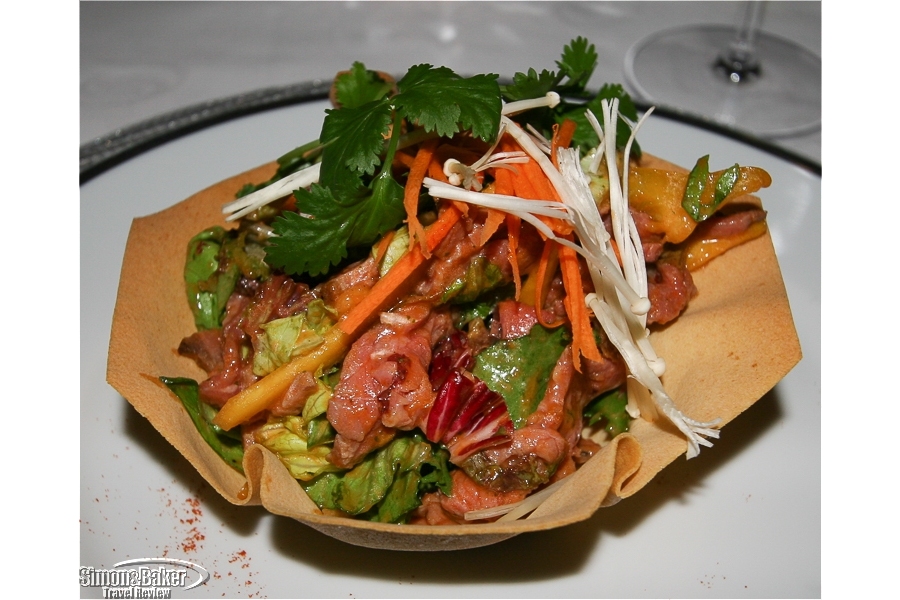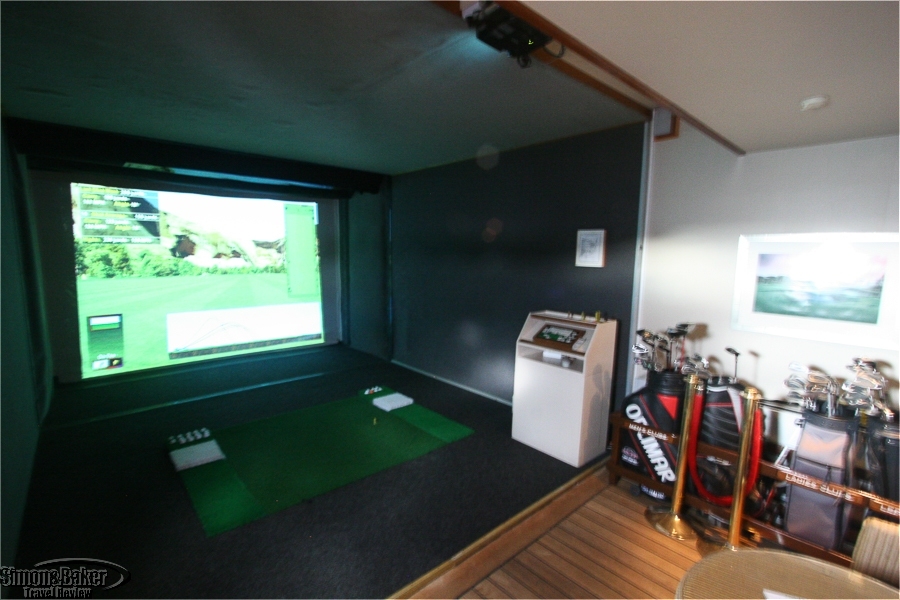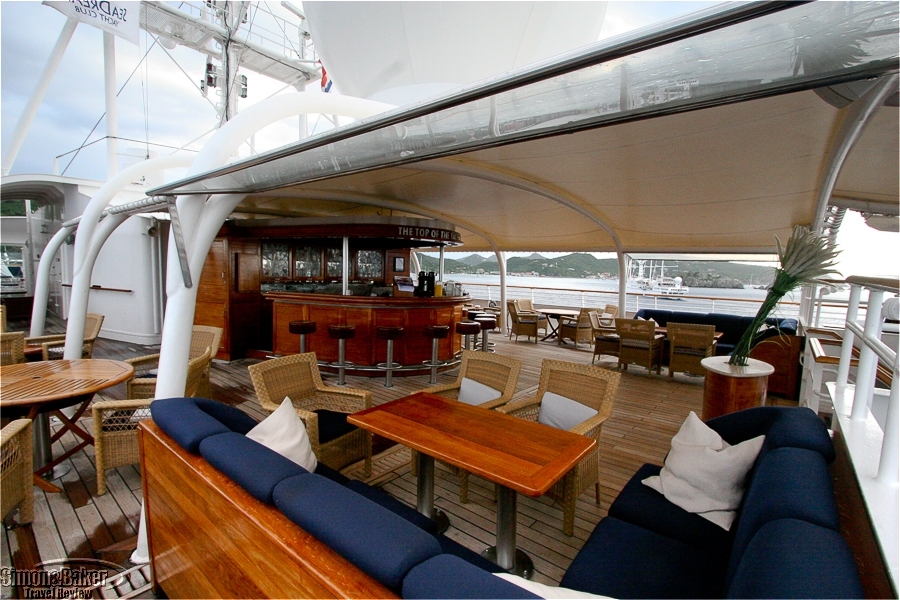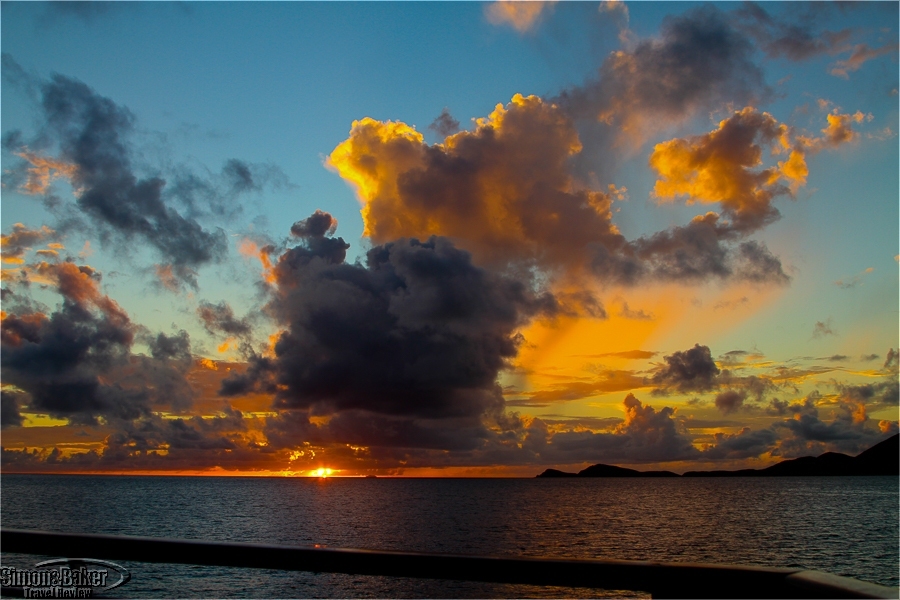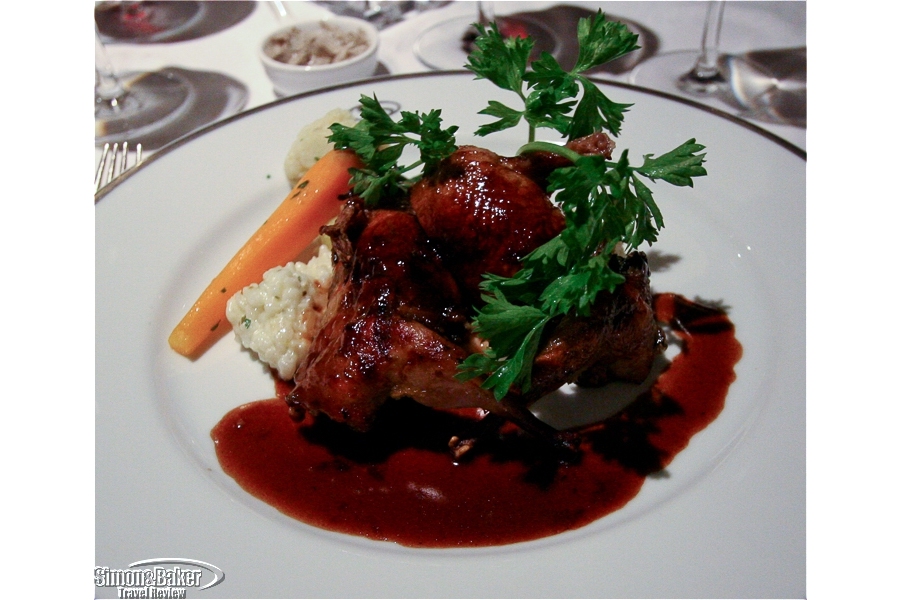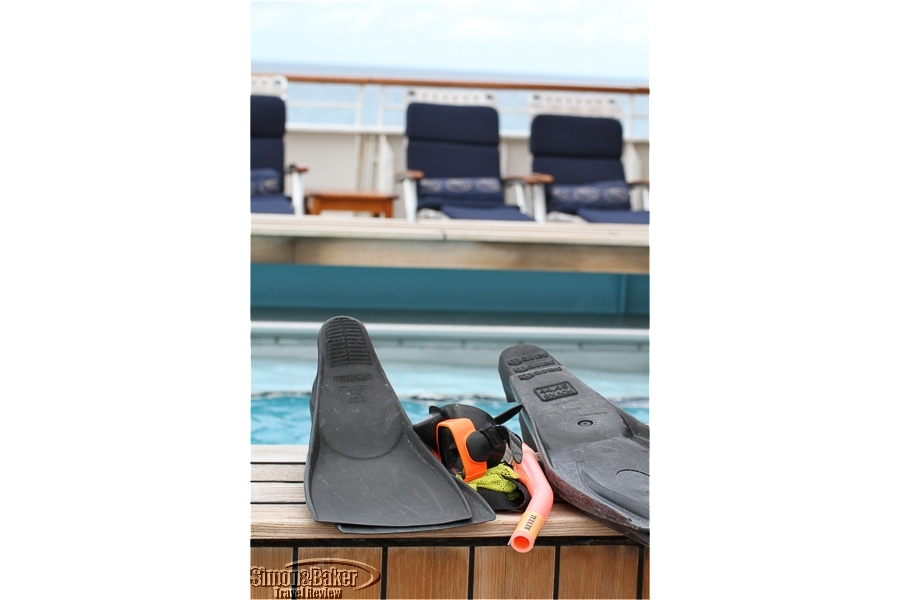 For a relaxed, sedate Caribbean voyage the combination of luxury features and size of the SeaDream I, especially the intimate setting, small number of passengers, gourmet fare, service orientation with high staff to guest ratio, and meal and beverage inclusive package, was outstanding.
Overall Impression
Our week long escape to the Caribbean aboard the SeaDream I was wonderful. We liked the small vessel's accent on adults, intimate and informal ambiance, friendly and attentive service and gourmet offerings. Sailing with SeaDream I was like a voyage aboard a friend's large yacht or as part of a social club.
With 54 passengers, mostly couples, the ship was blessedly only half full, allowing us extra space to spread out. At the same time, a number of western nationalities were represented, making for a diverse group of people. Almost half of the passengers had sailed with SeaDream before and some of them booked future trips before disembarking. Striking up a conversation with fellow passengers was common and often couples would be seen sharing tables at meal times with newly met couples or groups.
Service was outstanding. For example, most of the staff greeted us by name and some of them remembered beverage preferences from one meal to another. The pace was ours to set. We could relax with a book in a sundeck chair or stateroom, dine in or at the dining room, or be tempted by a few onboard activities and shore excursions. We liked that most of the time when we arrived at an island ours was the only ship or one of few. This meant islands, sometimes tiny, we visited were uncrowded and a pleasure to explore.
Invariably we looked forward to meal times. Executive Chef Gilles de Cambourg, an enthusiastic and affable Frenchman, and his team always had copious quantities of tempting and varied freshly made a la carte dishes on offer and the servers in the dining room strived to ensure we enjoyed them.
We remain fans of the SeaDream style (we enjoyed a voyage aboard the SeaDream II in the past). For a relaxed, sedate Caribbean voyage the combination of luxury features and size of the SeaDream I, especially the intimate setting, small number of passengers, gourmet fare, service orientation with high staff to guest ratio, and meal and beverage inclusive package, was outstanding.
About The Crew
The Danish born master of the ship had discovered his love of the sea at the young age of 16. Later he attended the Maritime School in Fredrikstad, Norway. These days the semi-retired captain made his home in England with Suzanne, his partner of 23 years. His daughter Anita was a school teacher in Norway and his son Thomas, still in college, lived with the family in England. When ashore on leave Smorawski liked to restore antique furniture.
We first met the master of the ship, as we were exploring the vessel. We spotted the back of a man in the white uniform of the senior crew and followed him up the steps. When he became aware of our presence he offered assistance; we replied we were just following him since he seemed to know where he was going. He graciously shared some pointers about the ship and we each carried on in our own direction. Every other encounter with him, whether we ran into him fetching his breakfast or at the Captain's Table, was pleasant. While he seemed a man of few words he was polite and warm in his demeanor and we enjoyed his company.
On a number of occasions we had a chance to speak with Chef Cambourg who was welcoming and friendly.
Built and renovation The ship was built in 1984 as the Cunard Sea Goddess 1. In 2001, it entered into service, after a complete refit, as SeaDream I with a Bahamian registry. The most recent renovation took place in 2011 when a soft refurnishing of interiors, carpeting, upholstery, and wallpaper as well as behind the scenes items including technical updates took place.
Children Although the ship offered no programs or services for children, babies over one year old and children were welcome. There were no children during our voyage. Several of our fellow passengers shared that one of the reasons they selected the SeaDream I was because of the emphasis on adults and the likelihood that there would be no children.
Duration Seven nights. Arrival was on a Saturday afternoon beginning at 2 and departure was the following Saturday morning between 9 and 10 a.m.
Executive Crew On the date of our sailing the senior staff on board were Bjarne Smorawski, captain; Pierre van der Merwe, hotel manager; Jeff Fithian, club director; and Gilles de Cambourg, executive chef.
Handicapped Access There were limited facilities for guests in wheelchairs. There was an elevator which many of the passengers with ambulatory challenges used. The gangway stairs to board the ship required some care to negotiate for anybody with physical impediments, especially when the surf was choppy and we were boarding from the tender. According to a spokesperson there was a stateroom "designed for easy handicap access." The informational booklet in our stateroom listed the availability of alert kits with visual notification for the doorknocker and smoke alarm and a vibrating alarm and phone amplifier for guests with hearing impairments. Service dogs were permitted on board with appropriate documentation.
Internet Connectivity For a fee there was satellite access to the internet from our stateroom and from the yacht's Library: $11 for 30 minutes or $35 for 24 hours of unlimited access (it was possible to purchase less time). Laptops were available at no charge. We connected easily using our iPad.
Location The voyage started and ended in Heritage Quay, Saint John's, Antigua and Barbuda in the Caribbean.
Owned And Managed SeaDream Yachts, Inc. which was property of Atle Brynestad
Pets No
Sailing Route In order of sailing date we went to Heritage Quay in Saint John's, Antigua; Sandy Ground, Anguilla; Soper's Hole, Tortola in the British Virgin Islands; Norman Island and Virgin Gorda in the British Virgin Islands; Saba in the Netherland Antilles; Gustavia, Saint Barts in the French West Indies; Charlestown (due to inclement weather the stop in Coconut Grove was cancelled), Nevis and Saint John's, Antigua.
Size The ship had 56 staterooms that could accommodate a maximum of 112 guests. During our voyage there were 54 passengers and 94 crew. The SeaDream I has a gross tonnage of 4,260. It is 344 feet long and has a 47 foot beam. Its maximum speed is 14 knots.
Description A week long (Saturday to Saturday) luxury cruise aboard a refurbished cruise ship with 54 passengers. Emphasis was on personalized service, well prepared meals and a quality experience for adults; there were few if any activities for children and the ambiance was adult oriented. Meals at set times and snacks in between meals were included as were on board activities except for spa treatments. Alcoholic beverages and soft drinks including house wines with meals, cocktails and champagne were included except for premium varieties which were available for a supplement. On shore, we were usually on our own to relax, meander about on foot, hire a car, take a tour or sign up for a third party shore excursion made available through the ship at an additional cost (usually starting at $100 and up per person and often exclusive to SeaDream I passengers). Dress was "elegant yet casual" or "yacht casual" and there was a written dress code indicating bathing suit attire and cover ups and exercise clothing were restricted to the pool deck and spa. Long pants were required for men for dinner and shorts, t-shirts and jeans were not allowed in the dining room or public areas.
Cabin
We stayed in stateroom 407, a 195 square foot cabin on Level 4 halfway down the hall between the stairs and the spa. The space, decorated in earth tones, was divided into three distinct areas: a head or bathroom immediately to the right of the entrance; a living space with a closet and built-in entertainment area; and a sleeping area against a large water facing window.
From the entrance a short hallway closet with three mirrored doors housed hanging and shelf space. Next was a living area with a built-in cloth sofa, with storage space at the bottom, against the wall. Two cloth armchairs and an oval table in the middle completed the blonde wood furniture set.
Across the room was a built-in blonde wood desk and entertainment area with a remote controlled flat screen 15 inch television, Toshiba DVD player and iPod dock in the center. Handsome glasses in several sizes where housed inside cabinets. There was an ice bucket and services folder on the desk. There were drawers in the lower part of the desk, an electronic safe, and a mini refrigerator stocked with beer and soft drinks. Light in that area of the cabin was from two lamps on the wall above the sofa and lights in the entertainment furniture. There were also lights in the hallway and lamps on the night tables. There was framed artwork on the walls. There were two phones in the stateroom, one on the desk immediately under the light switches and electrical outlets (for 110 and 220 volts) and another on the wall next to the innermost side of the bed.
An off white cloth curtain divided the living and sleeping areas. The bed, set against a headboard, could be configured with two twin beds or one queen bed (setting the two twins together). The queen bed frame was 5.25 feet (62.99 inches) wide by 6.56 feet (78.74 inches) long. Empty suitcases were placed under the bed by the staff the day we arrived. There was a night table on either side of the bed. A large mirror occupied the top half of the bed facing wall above a narrow vanity space with two shallow drawers and a cushioned round stool with wheels. There were plants on either side of the shelf along with a magnifying make-up mirror. A large rectangular window with double curtains provided a splendid view of the outdoors.
At night we could hear faint music and piano bar noises and clearly hear people talking in the hallway adjacent to our cabin. Except for plumbing sounds in the head, we heard no sounds from neighboring staterooms.
Common Areas The ship boasted comfortable contemporary casual décor. There was cloth furniture in the downstairs dining rooms, wicker and cushions in the outdoor top decks, various kinds of lounge and deck chairs poolside and on the top outdoor decks. Smoking of cigars (for sale on board), cigarettes, and pipes was permitted outside on decks 3, 4 and 6 only, but not during meal times. Cell phone use was unfortunately allowed in common areas including the dining room. Sitting in the shade outside in the sometimes searing Caribbean day was challenging as there were few seats in the shade. It was possible to request umbrellas which one of the staff would set up. That helped but when the ship was moving no umbrellas were allowed and outdoor shady space was scarce. This was a less than desirable situation in case of seasickness when being outdoors was helpful.
Head The bathroom, though small, offered everything we needed. It had beige marble floors and walls. There was a flushing toilet, sink, two small shelves next to a large wall mirror and a spacious glass enclosed shower (some mold) with three shower heads and a circular temperature dial. There were tissues, toiletries on the shelves and a cotton and cotton swab container. The space between the door and the toilet when seated was very snug. One night the plumbing system was acting up and the toilet would not flush properly requiring that we call the staff.
Meals-Restaurants
Dining was one of the pleasures aboard the SeaDream I. Dining room staff were attentive and knowledgeable about the meals. Meals, served at set times, were a combination of buffet and plated a la carte offerings except at dinner when everything was prepared to order. The appetizing and tasty dishes arrived hot; they were well presented and served. It was obvious that much work and organization took place behind the scenes by the chef, pastry chef (Ferenc Béres Molnar), wine steward, kitchen, and dining room staff to make meal times a seamless success. Supplying the pantry and preparing fresh meals three times daily for a diverse group of finicky guests aboard a ship must be challenging; yet it mostly seemed easy (if at times harried), the mark of professionals.
All cuisine was created onboard from frozen meats and fish and fresh produce. Everything served, we were told, was homemade from bread to ice cream to chocolate. Plated dishes were prepared a la minute. It was evident the French chef and his staff enjoyed their work and strived to provide a superlative dining experience. A number of fellow passengers we spoke with mentioned SeaDream as their favorite line for the meal quality.
Meals were served at set times as follows: hot beverages and freshly baked pastries were available at 6:30 a.m.; breakfast from 8 to 10:30 a.m., lunch from 12:30 to 2:30 p.m. and dinner from 8 to 10 p.m. There were snacks poolside during the day and hot beverages and fresh baked cookies between 2:30 p.m. and 5:30 p.m. on Deck 5. Outside of those times it was possible to order snacks from a set weeklong menu in our cabin or on the upper decks during the day. Breakfast consisted of a buffet of cereals, yogurt, fresh and canned fruit, cheeses, cold cuts (one or more of the following smoked salmon, ham or turkey), an ample selection of bread, toast and pastries, butter, jam, and juices including some squeezed on board. It was possible to order hot dishes and daily specials a la carte.
Breakfast specials and a la carte lunch and dinner options changed daily. We ordered room service twice, one evening in lieu of going to the dining room and one morning when we had a shore activity that conflicted with the breakfast times. Both times the service was efficient and fast and the snacks were good. Hors d'oeuvres (my least favorite) and aperitifs were served nightly an hour before dinner in the Salon. We especially enjoyed the American caviar when it was available (one of the first days and at the master's cocktail reception).
A plated dinner, served, weather permitting, in the open air dining areas, was the most elaborate meal. Rainy weather drove us to the main dining room on Deck 2. Tables were attractively set with silver, china and crystal ware. There were several choices from the a la carte menu including vegetarian, healthy and Indian options. During our voyage there was a celebrity chef from Great Britain, Levi Root. His dishes were spicy with a strong Caribbean influence. There was always a variety of fresh breads and two house wines from the sommelier's daily selection. Although his time was at a premium he sometimes made recommendations of optional wines available for a supplement. There was also a selection of Russian caviar available for a supplement ranging between $101 and $122 for a one ounce jar.
Complimentary refreshments included bottled water, soft drinks, hot beverages, spirits, house wines, sparkling wines and champagnes. Wine and spirit connoisseurs or those celebrating a special occasion could order premium options from the ship's wine list for an additional fee. We sampled two of the premium wines recommended by the wine specialist, a 2000 Louis Jadot Corton-Charlemagne Grand Cru and a 2005 Premier Grand Cru Clos Fourtet Saint Emilion made by Philippe Cuvelier. We especially liked the Saint Emilion.
Amenities
Service and gratuities, meals, champagne or sparkling wine, house wines, liquor (except premium brands) and room service snacks and beverages were included. There were soft drinks, beer and water in a mini fridge and full size bottles of water on the shelf (at my request they were kept at room temperature). Our beverages were restocked when the stateroom was serviced. There were travel size Bulgari White Tea toiletries including shower cap, shampoo, conditioner, soap, and body lotion. For our use on board there were cotton bathrobes and slippers. There was personalized stationary and we were gifted extra large navy blue cotton pajamas with our first names stitched on the front of the pajama tops.
Every night when we returned from dinner there was information on the following day's activities, information on our next land excursions, a The International summary from Headland Media (this had to be requested from the concierge desk), a daily amenity: in addition to the pajamas there was half a bottle of Jacquart Champagne on arrival, two white chocolate dipped strawberries, two specialty tea bags, and a tin of SeaDream mints, each one compliments of one of the senior SeaDream staff.
Other amenities were ocean view in our stateroom, direct dial phones, 24 hour room service, wooden hangers, full length mirrors, in cabin electronic safe, make-up mirror, hair dryer, flat screen TV with CNN International, DVD/CD player, iPod docking station, and dataport. There were complimentary activities such as yoga classes, walks with activities led by staff members at some ports, karaoke singing, use of books, two computers for guest use, magazines, board games, a small selection of DVDs and CDs from the ship's library, water sports, evening movies in the Main Salon, and live music (guitar and piano). There was a limited number of mountain bikes with helmets and locks for guest use. There was a staffed medical facility and a beauty salon. These services were not included in the inclusive rates. We took advantage of some of the additional options requiring supplementary fees such as laundry, shore excursions, spa treatments, wine bottles, and internet connectivity.
Leisure Activities
There were a number of options such as shore excursions, golf simulator, Caviar and Champagne Splash, sunbathing on Balinese Sun Beds, reading (there was a small library on the yacht), playing at the casino (open limited hours) and shopping (during the day-long stops in Caribbean ports and at the yacht's boutique (during limited hours when we were at sea). Except for departure and arrival days, swimming and non motorized water sports were available for a limited amount of time and not at the same time (after signing a disclaimer form at the Concierge Desk) at the Water Sports Marina. Twice, in Saint Barths and exceptionally in Nevis, motorized sports were available. When using the motorized sports equipment life vests were required. I enjoyed a long jet ski ride as did many fellow passengers while a few adventurous souls tried their luck on the inflatable banana. A round floating platform was set on the water by the Marina while we swam. It was fun to take a break from the swim and climb aboard the platform. Staff were always on hand on the aft deck and in a motorized dingy while we swam and during the water sports hours.
In the late afternoons I enjoyed spending time in the small sauna. There was also a shower stall that doubled as a steam room. Both, located at the spa, required advance reservations. I indulged in a relaxing "deep" massage and had a pleasant mini pedicure.
In the fitness center, adjacent to the spa and open during the day, there were four water facing Technogym treadmills, an elliptical machine, a multi-use machine and small free weights. I made a point of working out when onboard or shore activities and meals did not conflict. I especially liked the scenic views of the water and shore and that it was rarely busy.
Other
On boarding the first day we were asked for our passports so that the staff could clear formalities at each of the island destinations. In their stead the staff provided an identification card with our photo (taken on the spot) which we used to board the tender and on our return, and when entering and exiting some of the islands.
We attended a captain's cocktail reception for repeat guests and twice dined with senior staff, once with the captain and six other guests and once with the activities director and two other guests. These activities were by invitation.
On more than one occasion foul weather interfered with our plans. The day we departed from Antigua it rained most of the day so we canceled our plans to tour the island prior to boarding the ship. Later in the week when we arrived in Nevis the island was cloud covered and gray. Although it rained on and off all day we went ashore. The weather caused the ship to relocate. Our driver kindly took us back to where the ship was due to arrive while we waited under shelter from the rain at a local dockside cafe. Due to the rain the Champagne and Caviar Splash that was usually the highlight of the week was held indoors. Because we were ashore waiting for the ship to arrive we missed most of the event. By the time we returned the already toned down event was nearly over.
Our luggage had to be placed outside our stateroom door no later than 1 a.m. the day of our departure in order to be offloaded and transferred to the customs terminal for us to pick up on departure the following morning after 9 a.m. There was a noticeable emphasis on selling future trips. Everyday, including the last morning, the activities staff set aside time for passengers wishing to book passage on a SeaDream voyage. Passengers who booked during that week received a 15 percent discount with a 25 percent deposit on a future voyage and if they booked one immediately following the one we were on there was an additional discount.
The SeaDream I had been recognized with a number of listings and awards. In the Berlitz Ocean Cruising and Cruise Ships 2012 (as well as 2011 and 2010) the SeaDream I and SeaDream II received the top two ratings in the Boutique Ships category for 50 to 200 passengers. The SeaDream I ratings out of a possible 2,000 points was 1,786 points. In the Condé Nast Traveller (Britain), Readers' Travel Awards 2011 the SeaDream I (and SeaDream II) were named the World's Best Small Ships. In Cruise Critic 2011 SeaDream I was rated by cruisers in the number one space for Service in the Small Ship category. Frommer's Guide to Cruises and Ports of Call 2011 selected the ship in the top billing in its Notable Ships category. In the 2010 Kreuzfahrt Guide (Germany), the SeaDream Yacht Club's cruisers were awarded Number One for Service. Porthole Magazine 2010 named the SeaDream Yacht Club Best Passenger Yacht Experience. The Zagat Survey 2009 identified SeaDream as having the Best Small Ships under 200 passengers. The Cruise Critic 2009 Editors Picks named romantic SeaDream Yacht Club Best for a Honeymoon Splurge.
Safety According to our stateroom manual the SeaDream I followed United States and international safety regulations. Before departing from Antigua we had a mandatory safety drill. There were life vests for each of us in the cabin which we brought with us to the drill.
Cleanliness
Very good. We saw staff cleaning the ship all the time; they scrubbed the decks, polished the bronze fixtures, vacuumed and scoured.
Date Of Review December 2011
Reviewers Article by Elena del Valle
Photographs by Gary Cox
Service The service was attentive and friendly, especially the servers and dining room staff. There was twice daily maid service and change of towels in our stateroom. Often some of the staff would remember beverage preferences. Almost without exception the staff greeted us by name wherever we went on board the ship. There was a mix of nationalities within which there were two notable groups, westerners and easterners from the Philippines. Several staff members stood our for their friendly and helpful demeanor: Brian Celeridad among the servers always had a ready smile; whenever he was around we were sure to be served our preferred beverages and had prompt refills. Brenda at the Concierge Desk was unfailingly friendly and helpful, sharing insights and providing us information and maps whenever possible. I made a point of looking for Brenda when I needed assistance. Corika Zeelie, the spa manager, was service oriented and helpful. At lunch and dinner Pablo Raschetti, the wine steward, was attentive and friendly.
Maribel looked after our cabin. It was always well made although by our departure we had only seen her once, the day after our arrival. The SeaDream Yacht Club strives to be recognized for very attentive (without being stuffy) service. Medical services for minor issues were available aboard the ship with daily set consultation times for guests and by appointment at other times.
Would You Take This Voyage Again? Yes
Contact Information
Address:
SeaDream Yacht Club
601 Brickell Key Dr.,
Suite 1050
Miami, FL 33131
Phone:
+1 (305) 631-6100
+1 (800) 707-4911
Website:
Email: