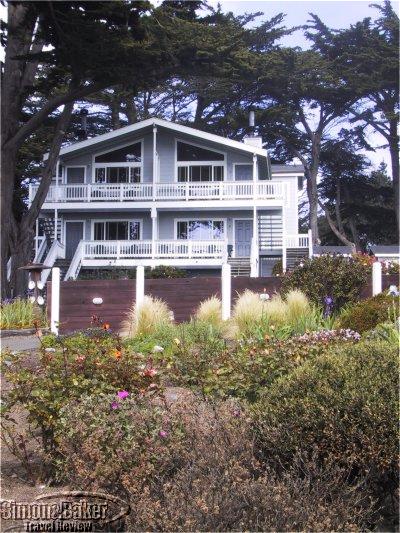 We look forward to visiting this charming bed & breakfast when we're in Mendocino again.
Overall Impression
After driving on beautiful mountain roads for several hours to Mendocino from Napa, we reached the Sea Rock Inn tired and bedraggled. Alayna at the reception desk and Susie, the owner, were so welcoming and friendly, making recommendations for local eateries and attractions, our hunger and weariness disappeared. The fog (uncharacteristic for April) we found when we arrived, cleared after a short while to reveal a marvelous white water view, more impressive than the photos we had seen before arriving, of the headlands and ocean which were across a narrow road from the Inn.
For many visitors to the picturesque area surrounding Mendocino, the ocean and scenery were the main attractions and worth a special trip. Located a short drive or walk from the tourist oriented town of Mendocino the Inn's view was mesmerizing. Though there were many accommodations options, some more luxurious than the Inn, few if any offered the white water panorama that was the centerpiece of the Sea Rock.
We liked the Sea Rock Inn's convenient location within walking distance of downtown Mendocino, its many amenities, its magnificent white water view, our large and new looking second story suite with a great view and fireplace, the priceless ocean vistas from almost anywhere on the property, the massage option and mostly the Sea Rock's genuinely friendly and convivial staff. We look forward to visiting this charming bed & breakfast when we're in Mendocino again.
Class Of Accommodation
Bed & Breakfast
Connectivity Complimentary wireless connectivity was available in the reception area only. We understand the Inn now offers property wide connectivity (Wifi).
Handicapped Access No
Length Of Stay Two nights
Location In the town of Mendocino on a hill above the coast
Owned And Managed Andy and Susie Plocher
Pets Allowed No
Size The one and three quarter acre property consisted of six cottages, rooms and suites all with ocean views, private entrances and decks (approximately nine thousand square feet.) It was staffed by three innkeepers and six housekeepers.
Year Opened-Renovated The current owners opened in 1994 and completely renovated and remodeled between 1997 and 2003.
Reception And Common Areas The Sea Rock was an example of upscale country architecture with Ralph Lauren and Lauren style appointments, original art, and grounds carefully maintained with an informal atmosphere. The decorative style was comfortable and inviting, with hand hewn knotty pine paneling, and lodge pole pine trim crafted by Andy Plocher. It also featured custom made log foot stools, coat hooks and tables.
Bathroom The cream color tiled bathroom was full of light. Special features included his and hers sinks and a large plastic bath tub adjacent to a window with a view of the stairs and beyond them the ocean. Towels were in solid green and khaki.
Room
Our new looking 650 square foot suite (#12) was front and center on the property up a double flight of stairs (reaching the top was challenging with heavy luggage; ours was laden with wine we picked up during our Napa Valley visit). Outside the entrance was a small porch with a chair from which we could hear the surf and catch a glimpse the ocean. Inside, the green carpeted suite had two rooms and extended from west to east. Though we never heard them, we had building neighbors on three sides. The only break in the quiet of the Inn was the muted intermittent sound of cars driving by the adjacent road.
We liked the lumber ceiling and wood accents, including some knotted wood. The first area from the entrance was a living area with a tan leather chair and wood foot stool, and adjacent wood top and wrought iron table and lamp facing the inside of the room. In front of the chair was another wood top and wrought iron base cocktail table. In front of it and facing the windows was a tan leather sofa, with satin pillows, in the same color as the chair. Magazines and a much appreciated snack filled basket (bottled water, fruit, cheese, crackers, a large chocolate bar and fresh baked chocolate chip cookies) were on the table when we arrived and having had no lunch we promptly pounced on the goodies. The camembert cheese and water crackers were just what we needed to tide us over until dinner that night. To one side against the wall was a wood armoire with space to hang cloths on one side. The other side had a small remote controlled Samsung television with built in video player. Underneath it in another compartment there was a small refrigerator. On top of it there was an old style bicycle metal sculpture, a plant and a basket.
Food And Restaurants There was a self service breakfast buffet including local yogurt, coffee, tea, cinnamon raisin bread, bagels, fresh fruit, tasty asparagus quiche, and pastries. The self service tea and coffee and some of the fresh fruit remained available through the day. In the afternoons, we found a batch of yummy home baked chocolate chips by the coffee counter.
Amenities
Microfiber bathrobes, bottled water, in-room refrigerator, Gilchrist and Soames English toiletries including nourishing glycerin soap, relaxing sea fennel body lotion, detoxifying sea kelp shampoo, moisturizing sea moss conditioner, exfoliating sea salt, sensual sea salt bath crystals, and a shower cap. In the reception area, there was complimentary self service coffee, tea and home baked chocolate chip cookies in the afternoons.
Facilities Reception room and landscaped garden
Fitness Center And Spa After a drive on the windy one lane road from Napa Valley to Mendocino, I was ready for a deep tissue massage. The Inn was able to book a massage for me with a masseuse they recommended. The appointment was at her studio in the next village north of Mendocino, 10 minutes away. It was worth the drive. A massage treatment room and dry sauna were under constructions when we visited the Inn. In June 2005, the Inn opened a new spa facility featuring couples massages and infrared sauna.
Pool No
Other
A binder with menus from area restaurants was available in the reception area. Alayna and Inn owner Susie volunteered information, suggested tourist sites and made dinner reservations for guests including us. Every recommendation and suggestion they made was helpful, accurate and resulted in a meaningful experience.
Sea Rock was a member of Select Registry Distinguished Inns of North America and a recipient of the AAA three diamond rating.
Check-In-Check-Out Process
Excellent
Cleanliness Excellent
Date Of Review April 2005
Would You Stay There Again? Yes
Contact Information
Address:
11101 Lansing
Mendocino, CA 95460
Phone:
1.800.906-0926 in the U.S.
707.937-0926
Fax:
Website:
Email: