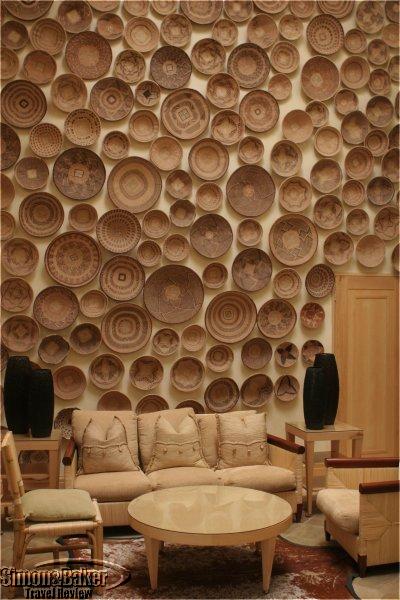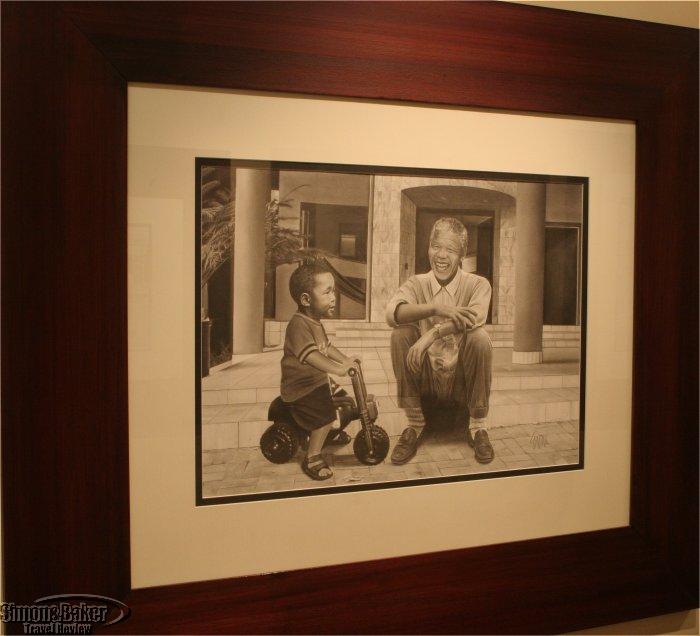 We look forward to a return visit to the Saxon.
Overall Impression
Well-known as the temporary home of former South African president Nelson Mandela when he was released from prison, the all-suite Saxon had a homey yet sophisticated feel. At the same time, we felt safe inside the compound-like grounds which blended in discreetly with the neighborhood of heavily guarded upscale properties. From a tourist perspective, it was a convenient location. We were minutes away from Sandton City, one of Johannesburg's best known malls, and many popular restaurants.
Returning to Johannesburg from a few weeks of game viewing in the bush, the Saxon was a welcome sight. Our day long trip from Botswana had sapped our energy. We were eager to shower and dine so we compromised and ordered room service. We were delighted with the quality of the food (hamburger and club sandwich) and speed of the service. As we relaxed and spent more time at the Saxon, we especially appreciated the 24-hour room service option (often unavailable in small properties), large bathroom with shower and separate bath tub, large heated swimming pool to swim laps, spa services, fitness center, oversize thick towels, abundant high quality breakfast (buffet with a la carte options) and the hotel's understated and elegant ambiance. We look forward to a return visit to the Saxon.
Class Of Accommodation
Luxury suites
Concierge John Downer
Connectivity Complimentary high speed Internet access was available in our room and the Business Center. The system was down at random hours during a major part of our stay.
General Manager George Cohen
Handicapped Access The hotel had a room equipped for paraplegic guests and offered wheelchair access for all the room levels. There were stairs and an elevator.
Length Of Stay Three nights
Location In the residential area of Sandhurst, part of the larger and better known Sandton area of Johannesburg.
Owned Douw Steyn
Pets Allowed No
Size The three story hotel, located in a six acre compound, had 26 suites (including four presidential suites) and 150 employees.
Year Opened-Renovated Established in 2000
Lobby And Common Areas A "Chic African" design characterized the common areas. Khaki and natural colors prevailed. African décor, handcrafted ethnic art and drawings by Dean Simon accented the walls. Fresh flowers were peppered throughout at various places such as small vases attached to the wall in our ground floor hallway. Water features were the salient outdoor trait: A large green infinity pool faced the front of the building, a smaller heated pool and a Koi Pond were in the inner courtyard near the fitness center.
Bathroom The bathroom area occupied the rear of the room and was almost as wide. There were separate spaces for the W.C. (including a small table and phone), large stone tiled shower with a glass door and a built in stone seat, bath tub in the center without doors or curtains and a sink on either corner with a large built-in wood closet in the middle (there was an electronic safe inside). The sinks were set on polished stone counters with wood and mirrors above them; a make-up mirror was set on the wall next to one of the sinks. There were plenty of fluffy, thick large towels in the shelves, by the bathtub and on a small table next to the laundry basket. A set of four tea candles was available for romantic bath light. The floor was of rough stone.
Room
Our 92 square meter Egoli Suite (No. 207) was on the ground floor facing the inner courtyard. We enjoyed the wood floor, cozy décor, master light controls, corner desk with electric plugs and complimentary high speed Internet access, spacious bathroom, and electronics including: large remote controlled Loew TV, Technics receiver and 5-disc CD changer, and Panasonic DVD and VHS players. It was convenient to access the pool area through the sliding glass doors in the back of our room. Due to our poolside location we had to keep the shutters and curtains closed or suffer a fishbowl effect, anyone in the pool area could see into our room. This meant the room was darker that we would have liked. To reach our room we walked to the end of the hallway near the back of the building.
Once inside, the corner desk area offered with two desk tops, a lamp and two decorative blocks of blonde wood which hung on the wall above one of the desks. Next to it there was a living area with two cloth armchairs, an armless chair, a loveseat, a wood and glass coffee table, and the TV, DVD and VHS players which were housed in a wood entertainment center. Wooden bowls hung on the wall and decorative stools sat on top of the entertainment center. Between the living area and the sliding glass doors there was a dining table with two chairs and a petite wood cabinet housing a minibar with a small refrigerator, snacks and glassware. On the lower cabinets we found the Technics receiver and CD changer. Beyond the sliding glass doors there was a table and two chairs in a miniature porch. Stone steps led from our porch to the pool allowing us to reach it easily without having to walk around the building. Latticed wood shutters and thick curtains provided us privacy and kept out the sunlight.
A large sleeping area was the center of the room. A king bed was encased in a marble pillared enclosure with a lower-level ceiling. Blonde wood night tables with lamps and master light controls stood on either side of the bed, which was sandwiched between a foot bench and an open space instead (there was no headboard or wall behind it). This space was immediately adjacent to the bathtub and bathroom making the sleeping and bathroom areas merge. If we wanted privacy there were wood shutters we could close in each of the three thresholds that led from the bedroom to the bathroom. On the side of the bed nearest the glass windows there was an armchair and a small wood table; on the opposite side there was a wood vanity with a mirror and a cushioned armless chair. There were phones on each night table and on the desk. The room was decorated in woods with beige and off white and ethnic art cloths. There were magazines throughout and a vase with fresh flowers.
Food And Restaurant The restaurant was full of light and boasted an elevated wine display. Breakfast was buffet style with made to order a la carte options. The buffet had a plentiful selection of fruit including fresh cherries, litchis, prickly pair, guava, and papaya and dried fruit. There were also deli items, smoked salmon, fresh baked breads, fresh juices, pastries, jams and jellies.
Amenities
There were Molton Brown toiletries: Indian cress conditioner, ziao gao hairwash, vitalizing vitamin AB + C shower gel, soap, shower cap, and coco de mer body lotion. There were also bathrobes, slippers, complimentary house brand beside water, complimentary daily local newspaper, sparkling wine and canapés at the end of the day, an electronic safe, and hair dryers.
Facilities Two swimming pools, a restaurant, meeting rooms and fitness and business centers.
Fitness Center The 100 square meter fitness center had free weights, a treadmill, and elliptical and rowing machines. For the massage, the masseuse brought her own treatment table to our room and set up for an hour-long relaxing treatment.
Pool The first pool was 920 square meters and the heated pool was 50 square meters and their depth was 1.8 meters and 1.3 meters respectively.
Conference Facilities
The Saxon had two boardrooms with capacity for 12 to 30 people at a time. The convention lounge could accommodate between 60 and 80 guests and the 30 square meter auditorium could accommodate 25 guests.
Other The hotel was the private home of Douw Steyn's family before it was converted into a hotel in 2000. When Nelson Mandela came out of jail in 1990 he stayed there while it was still a house for seven months. During his stay he edited the book Long Walk to Freedom .
Check-In-Check-Out
Quick and efficient
Cleanliness Excellent
Date Of Review November 2005
Reviewers Article by Elena del Valle
Photos by Gary Cox
Service Twice daily room service: cleaning in the morning and turn down service at night. Room service staff were prompt and efficient. Other service staff often seemed overwhelmed and over busy. Some of our minor requests were left unanswered.
Would You Stay There Again? Yes
Contact Information
Address:
36 Saxon Road
Sandhurst, Johannesburg
Phone:
Fax:
Website:
Email: