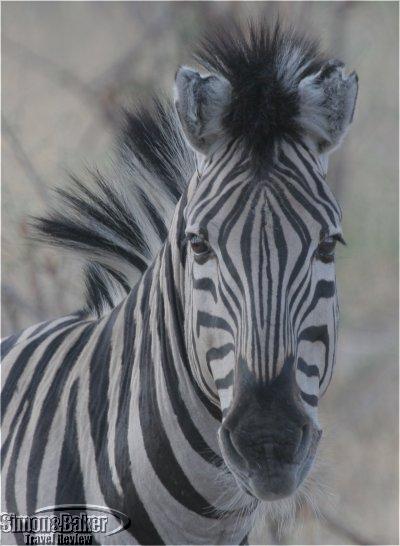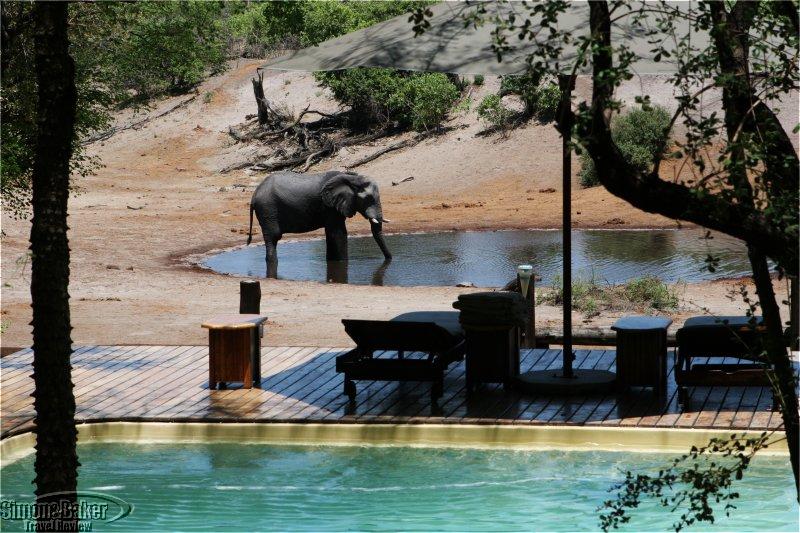 We liked Savute's advantages like our spacious, modern and comfortable room facing an active waterhole, the tasty meals and snacks prepared by three Batswana cooks, the melodious Botswana songs the Lodge staff sang for us before dinner one night and the wonderful opportunities our waterhole side room offered.
Overall Impression
One of our fondest memories of Savute Safari Lodge was bathing with elephants – well almost. A bachelor herd frolicked in the waterhole immediately in front of our room while I showered. Thanks to the glass windows and sliding glass door I could see the waterhole and the elephants from the shower. They went on drinking and spraying themselves with water long into the afternoon allowing Gary to observe them while he took his shower a little while later. We continued watching them delightedly from the living area of our room for several hours.
Thanks to the elephants there was a pungent dung odor in our room when we arrived. By the evening it had dissipated and by the following day we were thrilled to have enjoyed the elephant bulls visit. The night before our departure a male lion walked by the waterhole; the staff showcased him with a spotlight, allowing us to watch him strut about. Elephants and lions were the animals Savute was famous for and we had excellent sightings of both from the comfort of our room. During the game drives, we also saw elephants and lions. We especially remember the giant eagle owl family our guide spotted. The infant got stuck on a tree branch and were riveted for a long while watching it trying to disentangle itself away. There were also baby and adult elephant carcasses (apparently from thirst) there and many vultures they attracted. It was amazing to see them so close to our vehicle.
Another memorable experience at Savute was what we fondly call "tea with the elephants." During an afternoon drive, we stopped for sundowners near a tree seemingly in the middle of nowhere. While we were chatting and enjoying a cup of tea next to the vehicle, a herd of elephants began walking toward and around us. Fred, our experienced guide, had positioned the vehicle close to the tree so they had to walk around us. This excellent placement meant we were in the middle of the walking herd and able to watch them from as close as 10 feet. They paid no attention to our small group and we had a fleeting glimpse of the herd from a close and spontaneous vantage point.
We liked Savute's advantages like our spacious, modern and comfortable room facing an active waterhole, the tasty meals and snacks prepared by three Batswana cooks, the melodious Botswana songs the Lodge staff sang for us before dinner one night and the wonderful opportunities our waterhole side room offered.
Class Of Accommodation
Luxury tented camp
General Managers Lizette and Mark Carlsen
Handicapped Access No. Ground areas had uneven floors; there were steps to enter our suite and physical agility was required to board the game viewing vehicles and bush planes.
Length Of Stay Two nights
Location In the Savute Park in the southwest corner of the Chobe National Park of Botswana
Managed Desert & Delta Safaris a 100 percent subsidiary of Chobe Holdings Ltd, managed the Lodge and owned the leases. They operated six properties.
Owned The lease was owned by Chobe Holdings Limited. The current lease expires in 2012 with the option to renew through a tender process.
Size The Savute area covered five hectares, housing 12 twin bedded safari suites for guests and operated by 28 staff plus three managers.
Year Opened The Lodge was opened in 1999. Renovations, we were told, were ongoing.
Lobby And Common Areas The common room was inviting. It was decorated in a contemporary style with cloth and wood armchairs and sofas, a small library with Africa themed books and board games. In one corner there was a bar with a wood counter. A set of stairs on the outside led to a second story loft which was furnished in a similar style and overlooked into the lounge and downstairs room.
Bathroom
The en suite bathroom also faced the waterhole. Sliding glass windows and glass and wood doors the length of the bathroom filled it with light and made it feel roomy and open. There was a toilet next to the door, a sink set on a thick Corian counter, a large wood framed mirror and a half open indoor shower. A hungry white cloth laundry basket stood in a corner and white tile with navy blue accents covered the walls.
Room The path to our spacious and comfortable 55 square meter sized room (No. 4) was steps from the dining area. A short walk down a gravel walkway led to stairs and a covered terrace facing a waterhole. Two sets of large sliding glass and screen doors on light wood frames led to the interior of the room, decorated in blue, pale yellow and khaki. One side had twin beds (pulled together to form a larger bed) facing the terrace and waterhole; set against a wood headboard and matching night tables. There was a checkered cloth stool the width of the beds on the end opposite the headboard. A small wood table and an armless chair stood near the bed, facing out toward the next room. On the opposite side of our room, there was a living area that also faced the waterhole. Blue cloth furniture, a love seat and two armchairs, a throw rug, wood, glass and metal lamp and a wood table populated one side while a matching wood vanity with a swivel mirror were on the back side. There was a double armoire with shelves, a lock box (a $10 deposit was required to obtain a key) and hanging space next to the vanity and right before the bathroom. A folding wood table held a coffee and tea service.
There were thick white duvets and sheets on the beds and a mosquito net hung high above them during the day. At night, the staff spread the mosquito net to cover the sleeping area. The roof was thickly thatched and the floor in the room and bathroom was of smooth teak; it was so clean we walked barefoot.
Food We arrived at Savute after our 40-minute bush plane flight hungry. Although lunch had passed, we appreciated the delicious meal of cold lentils, tuna roll, green and carrot salads, and a spinach pasta dish the staff served us. Dinner was a cucumber mousse, yummy kudu stew, boiled potatoes, Greek salad and cheese platter options, and sautéed vegetables. For dessert there was fruit salad and lemon pudding. Early the following morning before our game drive, we had a light breakfast of cereal, yogurt, fruit salad, and cold cuts with muffins or toast. Brunch when we returned was welcome: pork sausage, bacon, pasta and meat dish, grilled tomatoes, coleslaw and carrot, Greek and bean salads, muffins, toast and eggs and omelets made to order. Due to afternoon showers our appetizing dinner was served in the dining room rather than the outer deck. It consisted of a light mushroom and cheese appetizer, oxtail stew, pork chops, noodles, skinless roast potatoes, salad, cheese platter options and a fruit dessert.
Amenities
There were cotton bathrobes in the closet. The bathroom had soap, shampoo and room deodorizer. There was filtered water in a pitcher and complimentary bottled water on request. Laundry service was complimentary. All meals including wine, and game viewing snacks and drinks were included.
Facilities Lounge and bar, curio shop, dining room and plunge pool.
Pool A plunge pool was located next to the waterhole. There were two lounge chairs and umbrellas.
Game Our game drives were on 4 x 4 vehicles with top and back covers and open sides. There were usually six or seven guest us per vehicle and three vehicles from the Lodge in the park. Because it was a national park, we encountered many private game viewing vehicles from other nearby lodges and a similar amount of self-drive tourist vehicles who were exploring the area on their own. During the game drives we saw: Impala, kudu, steenbok, tsessebe, wildebeest, lion, black backed jackal, dwarf mongoose, yellow mongoose (excellent sightings), elephant, giraffe, zebra, bush squirrel, marsh terrapin and bateared foxes. Birds: Arrowmarked babbler, little bee-eater, Kori bustard, copperytailed coucal, forktailed drongo, steppe and tawny eagles, rednecked falcon, redbilled and Swainson's francolins, helmeted guineafowl, redbilled woodhoopoe, redbilled and yellowbilled hornbills, lesser kestrel, yellowbilled kite, grey lourie, giant eagle owl, redbilled oxpecker, blacksmith plover, broadbilled and lillacbreasted rollers, doublebanded and Namaqua sandgrouses, longtailed shrike, glossy starling, marabou stork, hooded, lappetfaced, whitebacked and whiteheaded vultures (excellent sightings), and redbilled buffalo weaver.
Activities Early morning (6:30 a.m. to 10:45 a.m.) drives and late afternoon drives (4:30 p.m. to 7 p.m.), reading (there were books in the library), game viewing from our porch, browsing in the gift shop and poolside lounging.
Curio Shop
A small curio shop was located across the hall from the Lodge office and was open after drives and between daytime meals. Items available included books on African wildlife, t-shirts, jewelry, toiletries, and film.
Other Just before our arrival at Savute Safari Lodge, a team from British Broadcasting Corporation (BBC), Discovery Channel and AfriScreen were at the Lodge to film the lions and elephants for an 11 part wildlife television series called "Planet Earth" scheduled to air August 2006. During their filming they used innovative infrared filming equipment, in particular a unique high definition camera capable of filming in low light conditions.
Environmental conservation seemed a priority for Delta & Dessert Safaris: Food waste was composted on site and combustible litter burnt in a controlled area; glass, plastic and cans were stored in animal proof containers and sent to a nearby city for disposal; batteries and waste oil were packaged separately. Wastewater flowed into a series of septic tanks and grey water into specially built soakaways. Septic tanks were emptied by a truck when necessary. A diesel generator was housed in a soundproofed room built with fire resistant materials. It was so quiet we only noticed the difference when our room lights went out in the evening and came on in the morning. Generator exhaust ran through an underground drum to reduce emissions. Gas was used for the kitchen stoves and to heat water. An ongoing training program for company guides focused on identification, interaction of flora and fauna and conservation was led by Botswana ornithologist, guide and photographer Richard Randall. The Lodge's water supply source was a borehole 70 meters beneath the surface. Savute won the Desert Delta Safaris service excellence trophy for the last two years.
Check-In-Check-Out
Arrivals and departures were handled smoothly. Following a cold refresher towel and a welcome drink, a staff member conducted a brief explanation of schedules, procedures and safety measures for our group of new arrivals. Shortly after that, someone showed us to our room and explained a few odds and ends such as the battery operated lights that would continue working after the generator lights went out following dinner.
Cleanliness Very good
Date Of Last Visit November 2005
Reviewers Article by Elena del Valle
Photographs by Gary Cox
Service Dining room staff were efficient and polite. Although there was twice daily service, cleaning in the morning and turn down service in the afternoon, we never saw the staff since the room was serviced while we were on the game drives. We left several items to be laundered when we left for our morning drive. By the time we returned, it was ready. Theirs was the fastest laundry service we encountered in any of the camps and lodges.
Would You Stay Again? Yes
Contact Information
Address:
Desert & Delta Safaris
Private Bag 310 Maun
Botswana
Phone:
Fax:
Address:
Desert & Delta Safari Lodges
Reservations and marketing
P.O. Box 13055
Bryanston, 2074
Phone:
+27 11 706 0861/2
463 2996
Fax:
+27 11 706 0863
086 654 5155
Website:
Email: