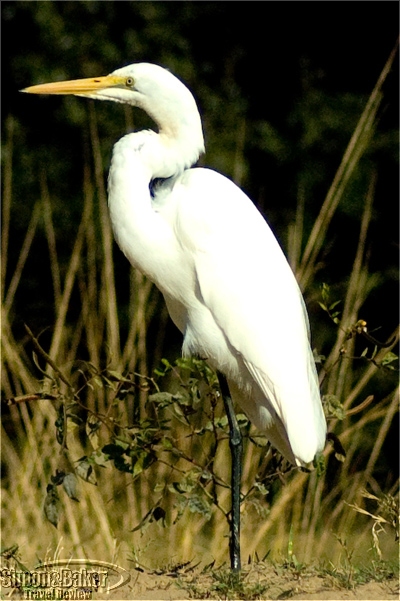 A tranquil enclave of casual luxury in the heart of an exceptionally rich game habitat, enhanced by thoughtful, personalized service, Sausage Tree was an especially enjoyable river camp; one that I would recommend to my friends withouth hesitation.
Overall Impression
The Sausage Tree Camp whimsically announced itself as the motorboat taking me down the Zambezi River approached its landing dock. Pristine conical Bedouin tents peering through the extravagant canopy of riverine forest in the Lower Zambezi National Park? Indeed! The camp consisted of seven Bedouin-style circular tents discreetly positioned above the bank of the scenic entrance of the Chifungulu channel. Each tent offered complete privacy, along with a terrific view of the river and an island filled with shivering reeds where big game loved to hide. The camp's décor was an inspired fusion of styles resulting in minimalist luxury that left the senses free to concentrate on the intense wildlife activity around and within the camp. 
Elephants were everywhere! A large bull, unimpressed by my arrival, kept on browsing by the path between the lounge and my tent. It postponed my moving in just long enough to enjoy a second welcome drink and a bit of socializing with Tash Dower, the companionable camp manager. However, my favorite elephant anecdote occurred the next morning, when a long trunk snaked over the wall of my open air bathroom while I was in the shower. Its owner was casually gathering overhanging foliage for its breakfast.
With such an active wildlife and superb scenery around, it would have been easy to cocoon in the luxurious surroundings of the camp. But the enthusiastic Sausage Tree team lavished such personal attention on their guests that they devised activities to tempt everyone. I could not resist a pontoon boat sundown cruise. I enjoyed sharing the great river only with snorting hippos and the occasional crocodile, while the sun slipped behind the hills, turning the infinite African sky into every color of the rainbow. The next morning, I took a canoe trip down the seven miles (eleven kilometers) of the Chifungulu channel to observe abundant game going about their daily routine of feeding and bathing.  A few feet ahead, elephants crossed from the bank to the island, and hippos made a run for the water, scattering spray everywhere.
As the canoe reached the main river, a motor boat from the Sausage Tree fleet waited to tow the canoe back upriver, and take me to my next treat.  A table was laid out in a shallow, sandy area of the river. As the guests arrived, they disembarked and waded to the table where a sumptuous lunch awaited.  A whole new dimension in alfresco dining! A tranquil enclave of casual luxury in the heart of an exceptionally rich game habitat, enhanced by thoughtful, personalized service, Sausage Tree was an especially enjoyable river camp; one that I would recommend to my friends withouth hesitation.
Class Of Accommodation
Luxury bush camp
Communications : Basic Internet connectivity could be arranged to check e-mail in case of emergency, contingent to availability of satellite connections. The camp also had UHF and HF radios for communications with the outside world. Guests could use their personal satellite phones.
Handicapped Access No 
Length Of Stay Two nights
Location Sausage Tree was located on the bank of the Zambezi River, at the entrance of the Chifungulo channel, in the heart of the Lower Zambezi National Park in southeastern Zambia, immediately across from Zimbabwe's famed Mana Pools. It was approximately 30 minutes by air from Lusaka to either of the two airstrips serving the park: Royal and Jeki. Royal was two hours up river from the Chiawa via motor boat. Jeki was located northeast of the camp, a one-hour drive away through the bush.  
Managers David and Tash Dower
Owner Jason Mott
Power A silent generator produced electricity for night-time tent lighting and to recharge batteries. A NW-135C adapter was necessary to use the electrical outlets (the kind used in the U.K.). 
Size Sausage Tree occupied two acres (8,100 square meters) with a 550 yard (500 meters) river frontage, in the immensity of park. It could accommodate a maximum of 14 guests in its seven circular Bedouin-style tents, and employed a staff of 25 including a game viewing staff of five guides and trackers.
Transportation From Lusaka, reliable charter airline flights were available daily to the Jeki airstrip. The Royal airstrip could also be used. Sausage provided transportation to and from the airstrips to the camp. Getting around the Lower Zambezi National Park area was either by land cruiser, motorboat, canoe, or on foot.
Year Open-Renovated Originally opened in 1990 as a mobile safari camp, Sausage Tree was entirely renovated to its current form in 2000. The camp was open mid-April through October. It was completely refurbished each year prior to reopening.    
Common Areas Open-walled Bedouin tents housed the bar, lounge and dining area. They were clustered at a prime vantage point overlooking the channel and the island. The common areas also included a viewing deck overhanging the river bank. A camp fire was built in a pit in a corner of the deck in the early morning and after dark. It was an ideal place to congregate for breakfast, or to socialize after dinner. The atmosphere was stylishly relaxed, with groupings of overstuffed armchairs upholstered in striped white and taupe canvas clustered around dark wooden coffee tables. The dining area included a long table surrounded with wooden chairs with cushions matching the armchairs in the lounge. A free-form concrete platform with thick padding and piles of toss pillows provided additional sofa seating. The dining area housed a tall book case with a collection of books on the local wildlife, nature and culture, and was also used as a reading room.
Bathroom
The 150 square foot (14 square meters) circular open-air bathroom adjoined the sleeping tent. It was made of dark yellow polished concrete. In addition the flush toilet and a vanity with sink and mirror, it featured an oversize shower stall with a large overhead showerhead. Hot water was available around the clock.
Room My tent (Suite Number Three) was a circular 300 square foot (28 square meters) Bedouin tent raised on a three foot high (one meter) polished concrete platform. The entire tent was sheltered under a canopy of tall Natal mahogany trees. The walls consisted of panels of framed bamboo. At the front of the tent, walls were replaced with canvas and screening panels that opened to reveal a scenic view of the river. All the wooden furniture in the room was of dark teak. In addition to a king-size four-poster bed swathed in immaculate mosquito netting, and framed by two bedside tables with reading lamps, furniture included a high bureau, a hanging closet and a credenza. Above the latter, hung a framed  watercolor of a local landscape. A full length cheval mirror, a large brass fan on a stand and two arm chairs with an oval coffee table completed the décor. Chair cushions and accent pillows were dark yellow to match the concrete floor. The whole space exuded an atmosphere of quiet luxury that was further enhanced by a superior quality mattress, a choice of down and non-allergenic pillows and silky, and high-count cotton bed linen.
Food The food was delicious. In addition the early morning room service, continental breakfast was served buffet style on the viewing deck. Lunch was also buffet style, with a generous menu of hot meat and vegetarian dishes, salads, cheese board and freshly baked bread. Dinner was plated and formally served. Chef Honoré Kabongo, a native of the Congo who had also worked in France, was an outstanding baker. His tea-time freshly baked goodies were my downfall.
Amenities
Bathroom amenities included sheet-size bath towels, body wash, shampoo, conditioner, body moisturizing cream, a shower cap and a lovely terry-lined luffa sponge that I enjoyed through the remainder of my trip. In addition to the bathroom supplies, Sausage Tree amenities included daily laundry, thermos of chilled drinking water, mosquito and insect control spray and a flashlight. A two-way radio was available in the room to request an escort to the common area when there were animals in close proximity or to call with any other requirements. Use of a safe was available in the main office. All meals and beverages were included, starting with a wake-up tea or coffee room service that was delivered with scrumptious freshly baked cookies. All daily game viewing activities were also included.
Swimming Pool The swimming pool was 28 feet by 17 feet (nine meters by five meters), with depths ranging from four to seven feet (one to two meters). It was set in a large flagstone apron furnished with two padded lounge chairs shaded by white umbrellas, and a long wooden bench . Fresh bath towels were always stacked on a tray nearby.
Game Viewing During my stay at Sausage, I sighted: elephant, hippo, buffalo, genet, bushy-tailed mongoose, chacma baboon, vervet monkey, impala, bushbuck, waterbuck, Nile crocodile, monitor lizard. Birds included: Goliath heron, green-backed heron, cattle egret, great white egret, little egret, water dikkop, pied king fisher, giant king fisher, malachite king fisher, red-eyed dove, tropical booboo, white-crowned plover.
Activities Sausage Tree offered a full range of game-viewing activities, including day and night game drives, walking safaris, boating, fishing for the world- renowned Zambezi tiger fish, and my favorite: canoeing. The lower Zambezi was known for its outstanding canoeing. I trust that Sausage Tree, with its privileged location by the Chigungulu channel and the quality of its canoeing guides, contributed greatly to this reputation.
Others Because of the proximity to wild game, children had to be at least 12 to visit.
Cleanliness
Excellent
Date Of Last Visit July 2007
Reviewers Article and photographs by Josette King
Service At Sausage service was excellent, with great attention to details and to the personality of each guest. Each chalet was assigned a muchinga (butler) who was personally responsible for the well-being of "his guests" for the duration of their stay. Shephard Mulangachonzi, a gregarious young man for the Goba tribe, was my muchinga . When a glitch in my onward travel reservations made it necessary for me to depart the camp at 4:30 am, Shephard appeared at my door at 4 a.m. with my "wake up" tea tray, served exactly to my preferences. He reappeared 30 minutes later with the land cruiser driver. He carried a hot water bottle and a warm blanket for my comfort (the nights were chilly in July in the Lower Zambezi bush); and insisted on traveling with us so to ensure that my luggage was transferred smoothly to the boat that would take me upriver to the Royal airstrip.
The true measure of service is how staff respond when, in spite of everyone's best efforts, something goes awry. Tash, the camp manager, an energetic young woman with an unwavering can-do attitude, showed her mettle on the afternoon prior to my departure. Upon reconfirming my travel arrangements, she discovered that the national airline had arbitrarily cancelled my reservation between Lusaka and the next stop on my itinerary, throwing my entire trip in disarray. Tash spent the next two hours on the shortwave radio before she was able to happily announce she had arranged a whole new itinerary for me with local charter airlines! I arrived in Livingstone, my next destination, without further concerns, two hours ahead of my originally planned arrival time.
Would You Stay There Again? Yes
Contact Information
Address:
Chifungulu Ltd
P.O. Box 35139
Lusaka, 10101
Zambia
Phone:
Fax:
Website:
Email: