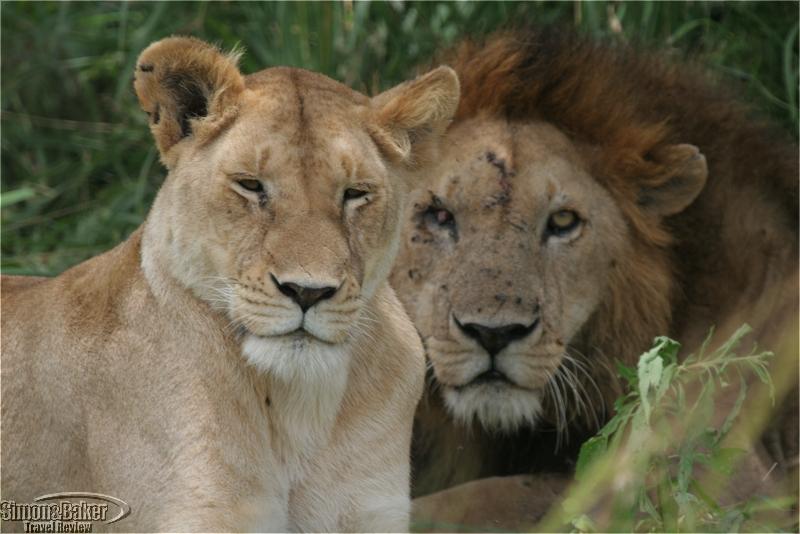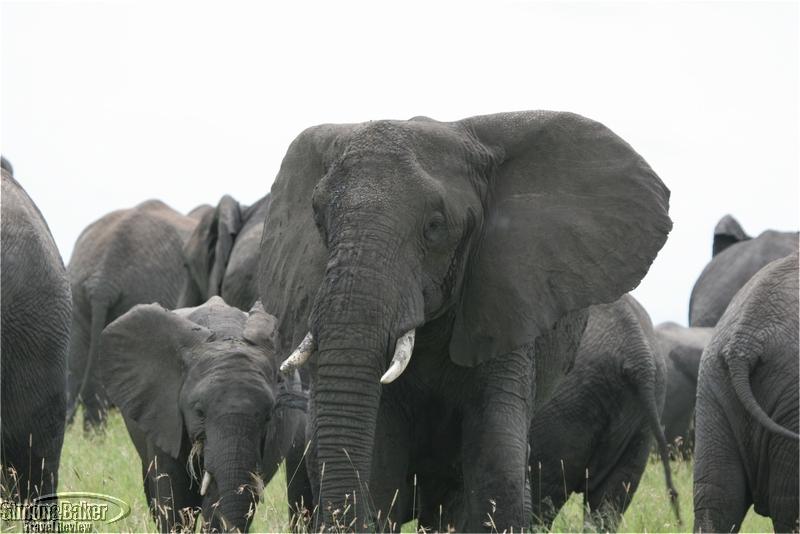 Sasakwa had a winning combination of sustainable and exclusive game viewing with luxury accommodations and varied activity options.
Overall Impression
Named Sasakwa for a local chief who used to live on the hill on which the lodge is located, the stately family friendly property offered many advantages for luxury oriented game viewing enthusiasts. In spite of its remote location in the Western Corridor of the Serengeti-Mara ecosystem, bordering the Serengeti National Park in northern Tanzania, Sasakwa offered guests a level of luxury and many creature comforts other properties only dream of having. Sometimes small touches say as much as the widely advertised features. We were impressed with the fresh roses in our cottage, fresh flowers throughout the property and freshly baked butter welcome cookies in our well stocked minibar.
We enjoyed our stay at Sasakwa. The lodge was elegant without being stuffy, classy, private, and with personalized service. Staff were attentive and well trained with a positive guest centered attitude. It was luxury and comfort oriented, including extra amenities like high speed connectivity, easy to use long distance phone line, a safari library with a large DVD collection, a gourmet orientation and a plethora of activity options beyond the exclusive game viewing it was famous for.
We felt inspired by the outstanding facilities and stunning views of the plains. If the common areas of the lodge were handsome and inviting, our cottage was a cocoon of comfort and privacy. There we could enjoy the plains facing terrace, watch playful monkeys, take a dip in our heated plunge pool, enjoy a spa treatment, share a drink in our living area, surf the Internet or simply have a bath.
Beyond the luxury features, we appreciated the Reserve's environmental policies. Grumeti Reserves converted hunting land into a game viewing concession neighboring the world famous Serengeti National Park. They had reversed poaching practices and recruited some of the offenders into an anti-poaching patrol that helped maintain the land, benefiting visitors and locals alike for generations to come. Sasakwa had a winning combination of sustainable and exclusive game viewing with luxury accommodations and varied activity options.
Class Of Accommodation
Luxury lodge
Guest Relations Michelle Hutt
Handicapped Access One of the cottages near the main area was handicapped compatible and without steps. Advance notice was necessary to book handicapped friendly accommodations.
Internet Connectivity There was complimentary Wi-Fi 24 hours a day via a satellite link at 100 mbps. It was possible to use the wireless connection or plug in directly. There was also a guest computer in the library.
Length Of Stay Three nights
Location In the Serengeti in Tanzania
Managed Singita Management Company
Owned Grumeti Fund (Paul Tudor Jones)
Property Manager Russel Hastings
Size There were 7 cottages (three one bedroom cottages, two two bedroom cottages, one three bedroom cottage and one four bedroom cottage) on a 340,000 acre concession. Maximum occupancy was 28 with a staff compliment of 90 employees including guides and spa staff which were shared with sister properties Sabora and Faru Faru.
Year Opened-Renovated The lodge opened in 2005
Lobby And Common Areas The lodge was initially designed for a wealthy family's private use. The interior decor was by Cecile and Boyd. There was art across the lodge and cottages. For example, the striking art deco mirror in the hall, Mirroir Aure Boussois, was designed by Paul Jouvre and executed by Gaetan Jeannin in 1930. There were works by David Sheperd, elephant hunter Walter Bell, Peter Beard, John Banovich, Kenyan Louise Hill, Zimbabweans Hugo Fircks and Lindsay Scott, father and son sculptors Terry and Dennis Mathews, Anthony Gibbs, and silversmith Patrick Mavros.
Bathroom
Next to the entrance there was a guest half bathroom. A full bathroom was located beyond the bedroom, facing the plains. It included twin sinks on an amber color granite counter, a wood framed oval mirror, a water closet with a bidet, shower and separate plastic claw foot bathtub. The floor in the shower and bathtub area was of large pale non-slip tile. Large windows framed the shower and bath area and provided a fine view of the plains and adjacent garden.
On the day of our arrival there was a plumbing problem and no water was available. By the following morning the issue was resolved. There was ample hot and cold water.
Room
Our sunlit and air conditioned one bedroom cottage suite (Roosevelt's Cottage – number 3) was spacious (1,808 feet including the verandah) and beautifully appointed with comfortable period style furniture and antiques. In the entrance foyer there was a mini refrigerator with drinks and biscotti and a convenient half bathroom.
Beyond the foyer, there was a living area with a fireplace. For furniture there was an elaborate mirror above the mantle, a wood cabinet, a small desk, a white love seat, two armchairs, a coffee table, a zebra skin bench, and a large crystal chandelier. We reached the bedroom through a door on the right. A comfortable king bed with a duvet and an extra blanket was the centerpiece of the room. There was also a cushy white armchair, a desk, vanity and second fireplace. There was a vanity area with large mirror and seat and a walk in closet in the rear of the bedroom.
On the bed, there were hypo-allergenic goose down pillows and goose down duvets, with two additional pillows stored in the wardrobe. Foam pillows and non-down duvets were available on request.
Heavy curtains kept the room insulated and allowed us to sleep late when we weren't on an early morning safari. The interior floors, made of prized mninga wood, were smooth against our bare feet with area rug accents in the bedroom and living room.
French doors in both rooms led to a private plains facing deck with two cushioned lounge chairs, a Swarovski looking glass and a heated stone plunge pool which was our favorite area to spend time during the day.
Meals Breakfast was on the go on game drive mornings. Otherwise breakfast and lunch were served buffet style on the plains facing terrace. Dinner was plated with private tables scattered about the common areas of the lodge. For lunch on our arrival we selected from the three a la carte options. We enjoyed vegetable curry, tomato and aubergine (eggplant) sautee, chicken with couscous, vegetable curry and fruit pavlovas. For our candlelit dinner we ordered vegetable sushi, lemongrass and coconut milk soup appetizers; for main courses we had pork with mashed potatoes and broccoli and for dessert we had chocolate truffle cake and a cheese platter.
Amenities
All game viewing drives, meals, house wines, and game viewing snacks were included in the nightly rate. There was complimentary port and sherry in crystal decanters in our cottage as well as biscotti and fresh baked shortbread. There was a personal bar with a mini refrigerator in our suite. Internet connectivity and long distance calls were included as well. There was Narcissus Home Spray from The White Company. Penhaligon's Quercus line toiletries included body lotion, shampoo, conditioner, body gel, cologne, sewing kit, shaving kit, shower cap, and shoe buffer. There were also cosmetic cotton swabs and ear swabs in crystal containers. Linen bathrobes hung in the closet for our use at the Lodge.
There was a voltage converter and electronic safe in the closet. There was a flashlight, 1,600 watt hair dryer, direct dial phone and alarm clock in the room. There was an excellent Swarovski spotting scope on the verandah.
There was a 40 inch television in the game room, a large collection of DVDs and a more modest selection of CD titles. There were board games including scrabble, backgammon, and cards in the Game Room.
Our game viewing vehicle had one extra pair of excellent Swarovski binoculars which we shared with other guests. There was insect repellent spray and several kinds Dermalogica sun block products..
Facilities There was a swimming pool, bar, billiard room, library, game room, and tea room. There was a three room 3,000 square foot spa with a steam room, curio shop, two tennis courts, and an equestrian center. There was also an archery pavilion, yoga room, mountain biking and running track, and croquet set up on the lawn.
Pool There was a full size infinity edge swimming pool in the main area of the lodge (3 feet deep in shallow end and 5 feet 4 inches in the deep end). In our suite, there was a heated five foot deep private plunge pool with a plains facing infinity edge in our cottage. We particularly enjoyed the privacy and convenience of our suite front pool, especially when the main pool was occupied by children.
Spa We had four excellent spa treatments at the lodge. See Sasakwa Lodge and Sabora Tented Plains Camp spa article for details.
Game Viewing
What we enjoyed most and appreciated best at the Grumeti Reserves was the exclusive game viewing opportunities. Because the only people game viewing on the property were fellow guests, our game viewing was expansive and exclusive. Although our open sided Toyota Land Cruiser could accommodate 10 guests and a guide, at Sasakwa game viewing vehicles usually went out with a maximum of four guests or two parties per vehicle. We were fortunate to have our vehicle to ourselves during half of our drives at Sasakwa. During the remaining half we shared the vehicle with a delightful South African couple. A maximum of three vehicles was allowed per sighting ensuring relaxed experiences for animals and guests alike.
In the mornings we set out in a vehicle with our guide Aloyce Moshi between 6 am and 6:15 am. During the drive we enjoyed breakfast on the go, returning to the lodge around 11 or noon. In the afternoons, we gathered for yummy treats and tea at 5 pm before our drive and returned around 8 pm. In the evening we were able to spotlight night animals. Our guide covered the spotlight with a red filter to minimize the impact of the light on the animals.
Game drive vehicles carried a hot and cold box, offering a choice of water, minerals, fruit juice, beer, spirits and hot drinks, as well as snacks. Our guide set up a "table" on the front of the vehicle with a tablecloth and a lantern where we gathered for bush breakfasts and evening sundowners.
The area we visited has 500 species of birds (including many endemic species and a high concentration of raptors), 30 species of herbivores and 24 species of large carnivores. Although the animals were shy (remnants perhaps of the days not too long ago when the area was dedicated to hunting), making it difficult to approach or enjoy extended viewings we saw many animals including large herds and were fortunate to see a number of animals we had never seen before.
Grumeti Reserves forms part of the world renowned great migratory route, along which more than a million wildebeest, 300,000 zebras and 500,000 Thompson's gazelle complete a 480 kilometer (300 mile) journey each year in search of fresh grazing land. The Great Migration traditionally moves through Grumeti Reserves between June and August. The reserve is home to varying habitats including open plains, rugged rocky outcrops, woodland and riverine forests. In the dry season, after the great herds have departed for greener pastures, the Grumeti River offers life-sustaining water, which ensures spectacular wildlife all year round. This meant we were able to enjoy quality game viewing even though the migration would only arrive several months after our departure.
During the heat of the day swarms of tsetse flies and buffalo tsetse files (bigger than their more famous cousins) would hitch a ride on our vehicle and once on board bite us. Because there was no effective repellent more than once we had to combat a new batch of insistent tsetse flies. Although we lost track of the number of insect bites we had, we were relieved to hear the tsetse flies didn't carry any sleeping sickness.
During our visit we saw: Mammals: Bushbaby (three good sightings), African scrub hare, cheetah (pregnant), elephant, impala, black backed jackal, giraffe, topi, dik dik, zebra, warthogs, bushbuck, bohor reedbuck, Defassa waterbuck, savanna baboons, spotted hyena, buffalo and lions mating.
Birds: von der decken's hornbill, African cuckoo, fork tailed drongo, pintailed whydah, Ruppell's long tailed starling, grey hornbill, lilac breasted roller, flappet lark, yellow-vented bulbul, white headed buffalo weaver, dark chanting goshawk, Abdim's stork, gray heron, village or black headed weaver, waxbill, gray crowned crane, African Scops owl, Jacobin cuckoo, grey lourie, grey crested helmet shrike, white browed scrub robin, plain backed pipit, common kestrel, superb starling, African crested hoopoe, rufus necked lark, fan tailed cisticola, gray crowned crane, harlequin quail, marsh harrier, secretary bird, hooded vulture, white bellied bustard, African eagle owl, night jar, hammer kop, tawny eagle, lappet faced vulture, crested francolin, white stork, corn crake, brown parrot, white breasted bulbul, white browed coucal, western banded snake eagle,
Activities In addition to game viewing, guests could play tennis in two types of courts; work out at the fitness center; have spa treatments; take a dip in their private plunge pool or swim in the lodge pool; play billiards on a 100-year old table; play board games or badminton; visit the archery range; mountain bike; go horseback riding; watch DVDs listen to music or read.
Other
Children 10 and older were welcome. During our stay there were eight children at the lodge. There was electricity around the clock.
In case we forgot we were in the bush, a water line broke and we were without water for the better part of a day. The staff, inconvenienced themselves, carried on with meals and activities almost seamlessly. Working nonstop, somehow the repair crew found the damage under the driveway and restored water to Sasakwa just as the lodge became fully booked.
The property air strip was 1.6 kilometers (1 mile) long, made on a compacted, all weather gravel surface. Although it was never an issue during our stay, it was good to know airstrip lighting allows for night time evacuations. There was a sentry on site around the clock. Next to the air strip there was a hosted meet and greet shaded facility with bathroom, lounge area, luggage storage and refreshments. It was a 10 minute game drive to Sasakwa Lodge.
Being close to the equator and with an altitude of 1,400 meters (4,600 feet), the temperature in the area is described as relatively consistent with midday temperatures ranging from hot at 26° to 31° Celsius (78° to 88° Fahrenheit), with overnight temperatures dropping, on average, to a comfortable 10° to 15° Celsius (50° to 59° Fahrenheit). There was always a pleasant cooling bridge at the lodge.
Sasakwa was a member of Relais and Chateaux. The property received the Travel & leisure 2006 Global Vision Award for recognition of cultural and ecological support.
Cleanliness
Excellent
Date Of Last Visit February 2007
ReviewersArticle by Elena del Valle
Photos by Gary Cox
Service Our cottage was serviced twice daily. It was cleaned in the morning and there was turn down service at night. Staff members were pleasant, polite, attentive, helpful and professional.
Would You Stay Again? Yes
Contact Information
Address:
Sasakwa Lodge
Singita Grumeti Reserves
P.O. Box 65
Mugumu
Tanzania
Phone:
+255 282622074 or
+1 770 947 7049
Fax:
Website:
http://www.grumetireserves.com/
Email: