[/box][/learn_more]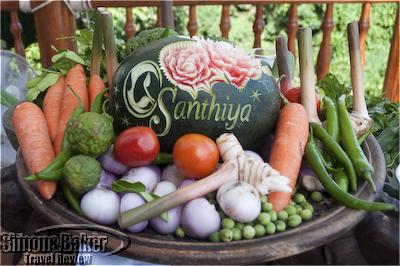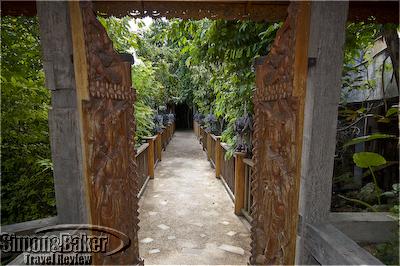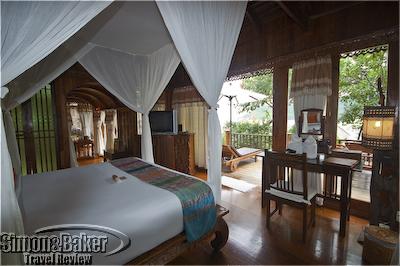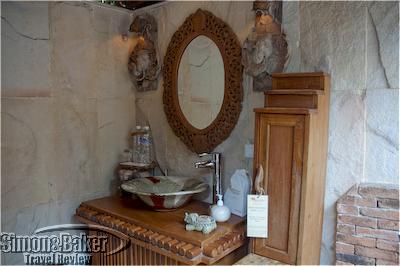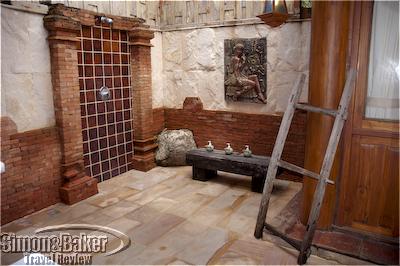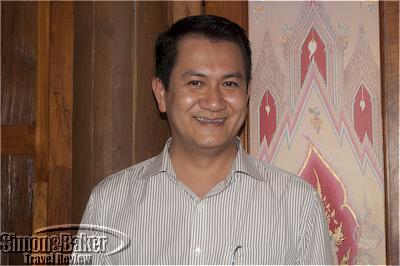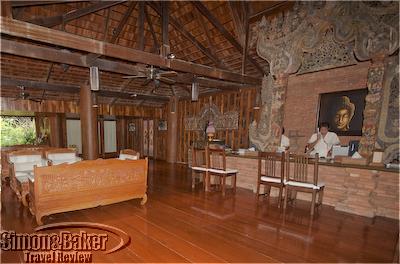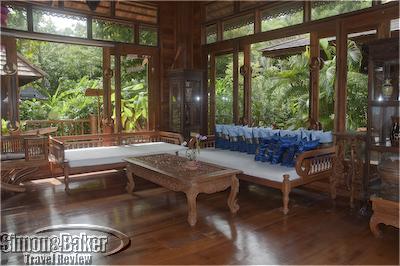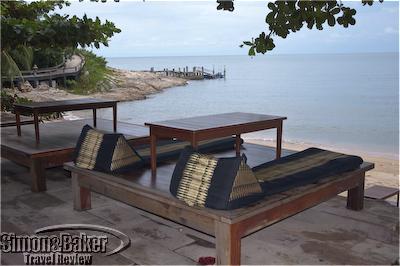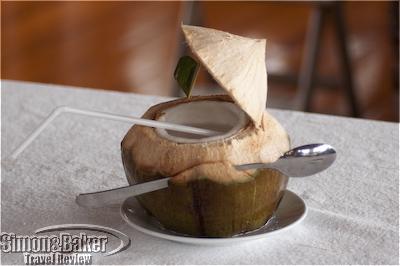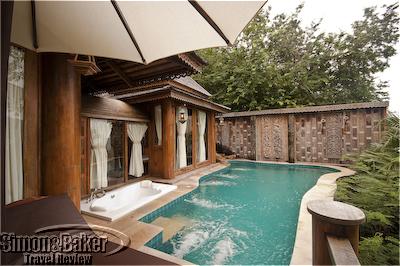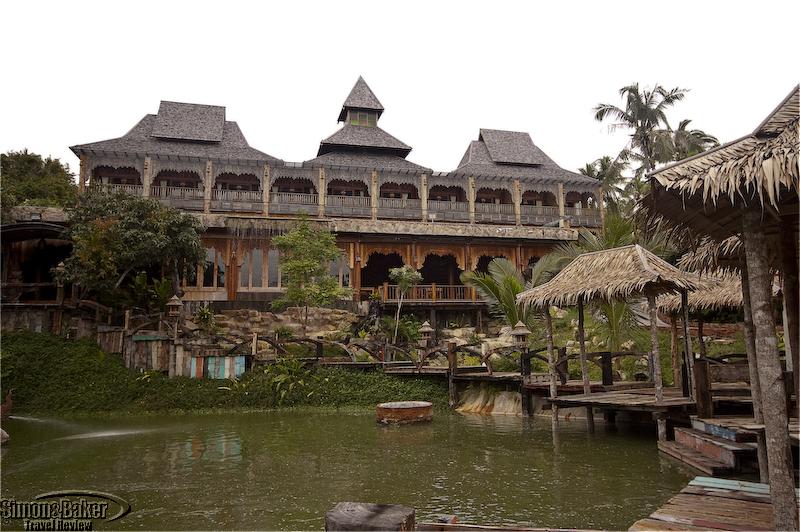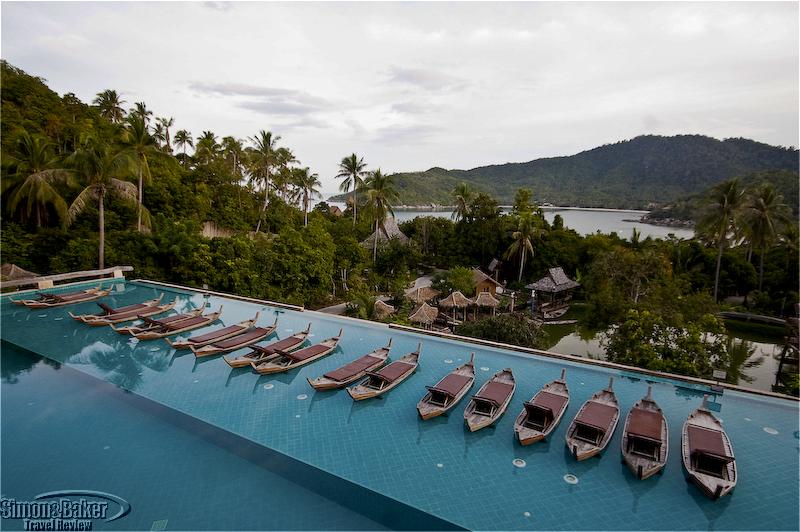 Alright, I will warmly recommend it, but only to my very best friends!
Overall Impression
Santhiya Resort and Spa was an exceptional property that placed in a contemporary context the mystique of the exotic kingdom of Siam. Its secluded location at the northern tip of the remote island of Koh Phangan in the Gulf of Thailand, coupled with its ethos of conservation of its cultural heritage as well as the natural environment made for an experience that was a highlight of my recent visit to Thailand.
It was a pleasant 40 minute speedboat ride to Santhiya from the larger nearby island of Koh Samui. The latter part of the journey was along Phangan's pristine coastline of rocky shores and steep hills covered with dense jungle forests. Soon we were approaching one of the most private of the island's beaches: Thong Nai Pan. Santhiya was rising above its own sandy cove at the far end of it, a verdant hillside sprinkled with the sharply peaked roofs characteristic of traditional Thai architecture peering through thick tropical foliage. On the shore, the sound of a gong announced our arrival.
The essence of Santhiya was immediately palpable. Firstly in the gracious welcome of the staff meeting us at the pier, then in myriad details evoking the timeless elegance of the Thai heritage while harmoniously blending with decidedly 21 st century concerns for environmental sustainability and comfort expectations. The entire property had been conceived to take full advantage of the glorious ocean views while respecting the topography of the land and existing mature vegetation. The architecture was inspired by the soaring 19 th century teakwood structures of the King Rama V period, with much of the wood recycled for the construction of the property. Sometimes this repurposing was seamless as in the grand open pavilions of the common areas with their elaborate woodwork. Other times, mostly in the gardens, the previous function of the landscaping timber was still discernible. Former barn beams were now garden path railings with orchid blooms shooting from cracks in the wood. Gates were held by water buffalo yokes and planking had come from the hull of long tail boats to fence the private gardens of guest villas.
Concern for preserving traditional lifestyle arts was also much in evidence. World-renowned Thai cuisine was not only showcased on the restaurants menu, but also transmitted to interested guests in cooking classes offered by God Keawpeth, the property's master chef. I thoroughly enjoyed my private lesson with him as he demystified some of my favorite dishes, including Tom Yam Goong (spicy prawn soup) and Phad Thai. I was equally delighted by the once-a-week Thai evening at the main restaurant, Chantara. A wide selection of classic Thai dishes was served buffet-style for an opportunity to sample lesser-known specialties. The evening also featured a performance by Santhiya's own dance group. Staff members, who come from various provinces around the country, have been encouraged to transmit their traditional regional dances among themselves as well as to young girls from the local school, and to perform for the guests.
Then there was the Ayurvana Spa, an intimate retreat with an inviting covered terrace that boasted a panoramic view of the bay and one of the best combinations of traditional Thai and international treatments I have enjoyed anywhere. And when I wanted some personal time, my villa was just minutes away, with its large private terrace and plunge pool overlooking the entire beach.
I was so blissfully ensconced within the cosseted world of Santhiya that I almost forgot my original intent to enjoy the warm waters of the Gulf of Thailand. But a morning excursion was arranged for me. A long tail boat took me, along with two lovely European honeymooning couples to deserted coves known for their coral reefs, where I spent two happy hours snorkeling with schools of multicolored fish. As for the beach? I did enjoyed a few dips in the gently rolling waves, and a couple of walks at the edge of the surf. Then having satisfied myself that the beach was indeed lovely, I decided that for me, it didn't compare to the lure of my hillside Siamese retreat.
Although I spotted a variety of guests at Santhiya, from couples enjoying romantic getaways to vacationing families with children, the accommodations were sufficiently secluded and the resort offered enough of a variety of activities that mingling was purely a matter of choice. Would I recommend Santhiya? I selfishly hesitate, for fear of spoiling what I came to regard as my personal tropical paradise. Alright, I will warmly recommend it, but only to my very best friends!
Children
The resort welcomed children of all ages
Class Of Accommodation Five star luxury resort
Concierge A team of customer relations staff could arrange a variety of off-resort activities.
Connectivity The absence of Internet access in the guest quarters was the one unfortunate omission in this otherwise outstanding property. Complimentary WiFi access was available throughout the common areas. Connectivity was reliable and speed was moderate.
General Manager Danny Sukomol
Handicapped Access No
Length Of Stay Four nights
Location In a remote bay on the island of Koh Phangan in the central Gulf of Thailand, 30 minutes by speedboat from Koh Samui and the nearest airport.
Owned And Managed The Chantaravisoot family. Komkrit Chantaravisoot was managing director.
Pets Allowed No
Size The property had 45 rooms and 54 villas scattered across an 18 acre (7.25 hectare) hillside. It employed a staff of 200.
Year Opened-Renovated The property opened in July 2006 with 50 rooms. It has gradually been expended to its current size.
Lobby And Common Areas
Perched halfway up the hill, the common areas were an ensemble of stunning polished teak pavilions with peaked roofs held by soaring pillars. They faced a square courtyard with a large central lounging platform with a slightly raised floor, which doubled as a stage for traditional dance performances. When not used as a stage, it was furnished with Thai lounging mats with their distinctive triangular backrests, covered in sapphire blue and amethyst cotton brocade. In the center of the platform a carved stand displayed an antique ranet (a xylophone-like percussion instrument).
At the rear, a long hall with a reception area and lounge overlooked the square. At the far end, a religious shrine was open to the gardens. The rear and right walls of the hall were covered in teak and black geometric marquetry that provided a backdrop for room-size panels of intricately carved wood and a long brick counter topped with a thick wooden slab of the reception desk. A pair of wooden chairs with white canvas cushions stood in front of each of the four reception stations. In the center of the room, two groupings of carved sofas and armchairs with white canvas upholstery were arranged around matching rectangular coffee tables. Against the rear wall, a tall ebony statue on a gilded credenza served as a focal point.
A pair of narrow pavilions that could be enclosed with a series of French doors faced each other across the central platform. The one on the right was the Sala, a library-like room with a pair of oriental daybeds with white canvas cushions and neat rows of jewel-toneed silk pillows. They were flanked by two tall display cabinets with a collection antique china jars and bowls. The opposite side of the room held a large bookcase with an assortment of reading material, board games, and a few randomly placed lounging mats. The Sala could be closed, air-conditioned and its furniture rearranged for private receptions.
The pavilion on the opposite side of the lounging platform served as buffet area for Chantara, the resort's main restaurant. It had long wooden tables on three sides. An ancient canoe was used as a serving counter on the fourth side. Chantara was the grandest of the pavilions. Lacy wooden arches enhanced its tall entrance porticoes. The dining furniture consisted of square teak tables with turned legs and matching armchairs. Other than an elaborate circular credenza holding a tall spear-like sculpture in the very center of the room, ornamentation had been omitted so as not to detract from the panoramic ocean view. At the front of the restaurant, a terrace running the length of the pavilion provided additional seating for al fresco dining.
Bathroom
Double doors of opaque green glass led from the bedroom into a walled-in paved interior courtyard. In the middle of the far wall, terracotta tiles framed with rustic brickwork provided the backsplash for the shower. A rustic wooden bench held celadon pump bottles of bathing necessities. The area nearest to the bedroom door was roofed. It sheltered a modern water-saving white porcelain commode, a storage unit with an assortment of white cotton bath towels and two burgundy cotton brocade bathrobes. On the opposite wall, a vanity unit held a ceramic washbowl. An ornately framed oval mirror hung above along with side lamps made of matching clay sculptures of elephant heads.
Room My 1,185 square foot (110 square meter) Ocean View Pool Villa, Number 313, was a cozy light-filled hideaway designed for optimum indoor-outdoor living and superb privacy. The tree-shaded deck had comfortable teak furniture, a square dining table, two armchairs and two lounge chairs with waterproof pads separated by a small tray table and a white canvas umbrella. The deck ended at the edge of a 25 foot (7.5 meter) long whirlpool plunge pool and a separate oversized bathtub, both with a sweeping view of the bay. From the deck, sliding French doors led into the teak and glass, air-conditioned suite, with thick cotton draperies that could be drawn over floor to ceiling glass panels for additional privacy. The style complemented that of the public areas. The king-size four-poster platform bed was draped in white muslin. Its square bedside chests held black and gold porcelain ginger jar reading lamps. On the white high-count cotton bedding, a tangerine silk pillow and a gold and aquamarine silk brocade bed scarf added touches of color. A writing table with a tilting mirror and a straight back chair doubled as dressing table. A floor lamp with a parchment drum shade, a built-in wardrobe, a tall wall mirror and an elaborately carved cabinet holding a flat panel television and DVD player completed the bedroom furnishings. From the sleeping area, a fully glassed-in hallway with an arched ceiling led to the sitting room where a daybed with a white canvas cushion and tangerine silk brocade pillows faced a rectangular coffee table, the plunge pool and the bay beyond.
Food And Restaurants
Chantara, the property's main restaurant had a refined menu that combined a variety of classic Thai dishes with continental offering. It also had an extensive international wine list. This variety extended the bountiful breakfast buffet. While I preferred to limit my selection to Thai dishes, I noticed the appetizing western choices with trays of breakfast meats and cheeses and a cooked-to-order egg station. The freshly baked breakfast
viennoiseries
were especially hard to resist.
Located at the edge of the beach, adjacent to the swimming pool, the casual By the Sea and Bar restaurant was my favorite for a light, healthy lunch. It featured a good selection of grilled fish, meat and vegetables, along with salads and delicious fruit juices and smoothies that could make me forget about dessert. I loved their take on Salade Niçoise , served with lightly seared red tuna.
Amenities
Suite amenities included a welcome fruit basket, an electronic safe, a universal converter plug, two traditional lacquered paper umbrellas and a woven straw beach bag. Bathroom amenities included two bathrobes and sandals, a hairdryer, oral hygiene, shaving and sewing kits, emery boards, cotton balls, a shower cap and bottles of drinking water replenished daily. There were pump bottles of liquid soap and body lotion on the vanity and shower gel, shampoo and conditioner near the shower.
Ayurvana Spa This charming little spa was built on a rocky ledge just below the common areas. At the rear of the reception foyer, a carved wooden arch led to an intimate covered terrace where three foot massage chairs and five Thai massage mats were separated by a serene stone fountain. There were also three private rooms at the rear for all other treatments, and a room for herbal steam baths. The spa employed six therapists who in addition to their mandatory certification by the Ministry of Public Health were required to have completed a minimum of 300 hours of training. Their expertise was clear in the quality of the treatments I received, as well as their understanding of my specific needs. I had just returned from a morning of snorkeling when I arrived for my appointment. I had scheduled an herbal steam, a body scrub and a signature massage. My therapist, Jeab, took one look at the back of my legs, which I had carelessly allowed to extensively sunburn during two hours of happily floating just below the surface of the water (the damage was not yet apparent to me) and immediately adjusted the program to a relaxing foot reflexology treatment and a cooling 90 minute massage with freshly extracted aloe gel, which mercifully limited my discomfort later.
Beach The private sand beach was said to be one of the most pristine on the island. While I lacked the experience to second the comparison, I found it very clean, and the water clear and pleasant for snorkeling. Complimentary equipment was available for guests interested in snorkeling, sea kayaking or sailing around the bay. Teak lounge chairs with natural canvas cushions beneath white canvas umbrellas were lined up between the beach and the pool area. Cheerful pool attendants were standing by to offer fresh towels and bottles of chilled water.
Facilities Two restaurants, two bars, two swimming pools, beach, health club, spa and gift boutique.
Fitness Center The air-conditioned fitness center featured exercise equipment.
Gift Shop Located a few steps away from the spa the gift shop carried a variety of local Thai handicrafts as well as a few Santhiya-specific items, such as logo-ed woven-straw beach bags and the resort's signature burgundy and gold brocade bathrobe.
Pool A stunning 13,000 square foot (1,200 square meter) bi-level free-form swimming pool stood at the edge of the beach. It featured a 30 foot (10 meter) manmade rock waterfall. A second lagoon-like infinity pool was recently built high on the hillside. This pool, which featured handcrafted floating beds reminiscent of traditional Thai boats and a panoramic view of the bay, was reserved for the exclusive use of residents of the twenty rooms of the adjacent Supreme Deluxe Building.
Cleanliness
Excellent
Date Of Review October 2010
Reviewers Article and photos by Josette King
Service My villa was serviced twice daily. The staff was friendly, reliable and attentive. By the second day of my visit, the breakfast dining room server remembered my preferences, not only as to where I liked to sit (in a quiet spot of the terrace), but also exactly how and when I wanted my morning cappuccino. The guest services staff was equally friendly and thorough. As I was intrigued by one of the trees around my terrace, which simultaneously bore dainty white flowers and interesting red leathery fruit, I brought a sample fruit to the reception desk and asked the clerk for the tree's name. Although she tried very hard she couldn't find a suitable English translation for it. A couple of days after my departure from Santhiya, I was impressed to receive an e-mail from her manager who had been informed of my query, and along with a photograph of the tree, provided me with the English name for it.
Would You Stay There Again? Yes
Address:
22.7 Moo 5 Bantai
Koh Phangan
Surat Thani 84280
Thailand
Phone:
+66 0 7742 8999
+66 0 7723 8333
Mobile +66 0 81 968 2026
Fax:
Website:
Email: