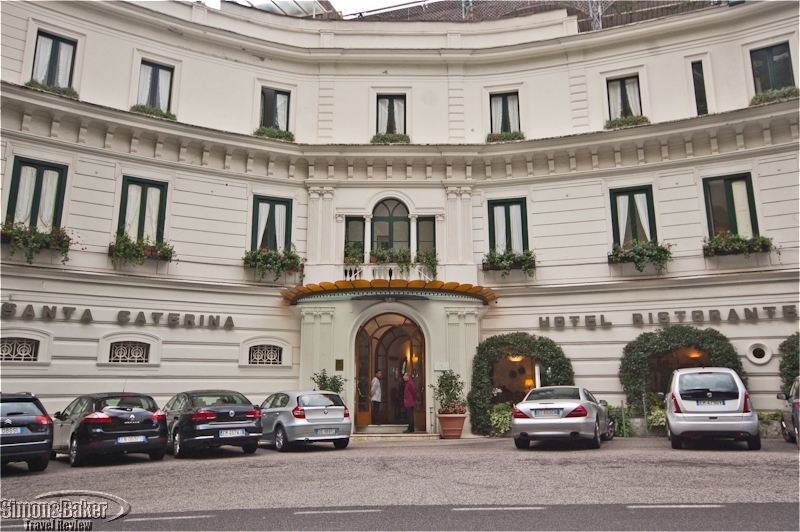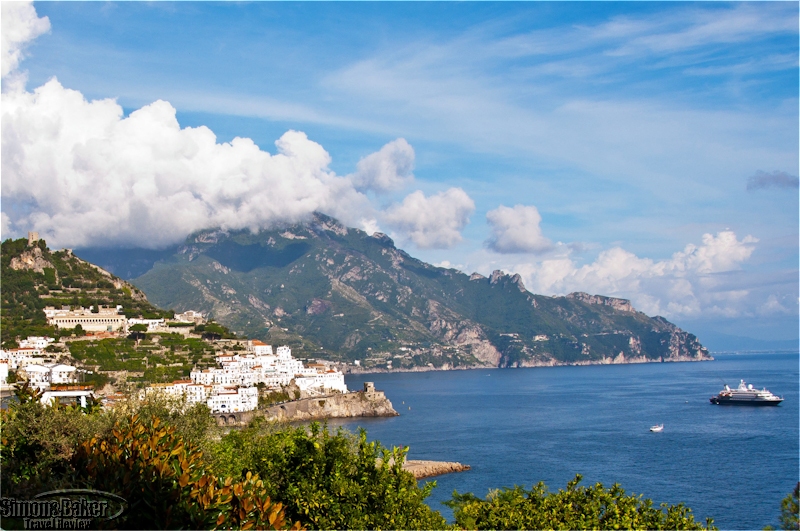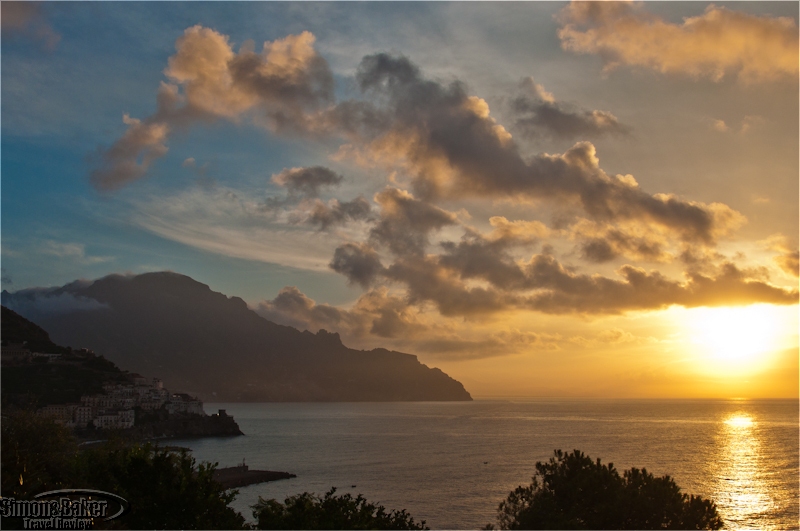 With its exquisite accommodations, warm family atmosphere, flawless service and privileged location in one of the most spectacular spots of the Mediterranean basin, the Santa Caterina Hotel did not merely make my short list of places to revisit or recommend to friends traveling to the area. It propelled itself to my personal list of 'five favorite places on the planet.'"
Overall Impression
Widely recognized for over a century as one of the crown jewels of the much-vaunted Amalfi coast, the Santa Caterina Hotel has consistently garnered so many accolades from the travel press, industry rating organization and its own delighted guests that I approached it with the highest of expectations. All of which were surpassed by the time I was ushered into my suite.
The property was stunning. Built into a rock face rising from the Tyrrhenian Sea, it was a series of terraced citrus groves and lush gardens that started along Almalfi Drive to cascade down a 60 meters (200 feet) vertical drop, all the way to the water's edge with its salt water swimming pool and private beach (with elevators as well as stairs to circulate between levels). The hotel was a striking classic Mediterranean-style villa, with vaulted ceilings and light-filled open spaces turned toward the Gulf of Salerno. All the common areas as well as my own suite had pale Vietri Majolica tile floors enhanced by hand-painted floral motives. The white walls and ceilings provided an understated backdrop for the antique furniture and artworks interspersed throughout. Everywhere, the walls facing the sea were lined with arched French doors opening onto serene terraces with panoramic views of the sea and sky melting into a bright blue horizon.
I loved the refined elegance of my suite with its soaring ceilings, lovely antique accents and full height glass wall that opened onto a verdant oversized terrace; and the miles of rich fuchsia Pierre Frey heavy silk taffeta that draped the sleeping area and glass outer wall. Then there was the glorious bathroom. With its vaulted frosted glass ceiling, a Majolica seascape fresco above the oversized circular Jacuzzi bathtub and lavish toiletries, it had the allure of a private spa.
But beyond the breathtaking natural surroundings and the refined elegance of the décor, what made the Santa Caterina truly unique was its home-like atmosphere and the excellence of its service. "This is our family home, our daily life," explained Giuseppina (Giusi) Gambardella, owner of the property with her sister Carmela, "it has been for four generations. The furniture is our own family's antiques. And we personally oversee every detail of the decoration." I mentioned how impressed I was with the service. Giusi's face lit up. "Our staff are a part of the family. The Santa Caterina is their life also. Our general manager has been with us for 35 years. He is a personal friend. Others have been with us for two or more generations." She pointed out the young bellman who had impressed me with his impeccable efficiency and friendliness at check-in time, "his father was with us also, until he recently retired."
Guests are equally faithful to the Santa Caterina. They come back year after year, and generation after generation. "People who honeymooned here return with their children, and their grandchildren," Giusi confided. I asked about VIP and celebrity guests. It is after all public knowledge that it was at the Santa Caterina that Elizabeth Taylor and Richard Burton began their turbulent relationship in the early 1960s during the filming of Cleopatra, and Angelina Jolie and Brad Pitt are rumored to have begun their own romance there. But Giusi demured: "all our guests are VIPs to us, and we strictly respect everyone's privacy equally." Taking in the late afternoon bustle in the lobby, and every member of the staff attentive and friendly but never overly familiar, I understood the unique strength of the Santa Caterina: the personal commitment of its devoted management and staff to uphold their long tradition of superb hospitably; and the blazing autumn dipping into the Tyrrhenian Sea.
With its exquisite accommodations, warm family atmosphere, flawless service and privileged location in one of the most spectacular spots of the Mediterranean basin, the Santa Caterina Hotel did not merely make my short list of places to revisit or recommend to friends traveling to the area. It propelled itself to my personal list of 'five favorite places on the planet.'"
Children Welcome
Yes
Class Of Accommodation Five star luxury hotel
Concierge Franco Cavalieri
Connectivity There was full mobile phone reception and reliable complimentary high speed WiFi in my suite and in the common areas, an especially notable feat considering the challenging multi-level topography and rock construction of the property.
General Manager Armando Di Palma
Handicapped Access Some rooms were suitable for motion-impaired guests. However, due the cliffside location, some areas of the hotel were not wheel chair accessible.
Hotel Manager Andrew Camera
Length Of Stay Three nights
Location In Amalfi, on the Gulf of Salerno, in the Campania region of southwestern Italy. Naples was 50 kilometers (30 miles) to the north, with Naples Airport a 90-minute drive from the property.
Owned-Managed The Gambardella family has owned and managed the property for four generations.
Pets Allowed No
Size The property had 66 guest rooms, including 29 suites. It employed a staff of 120 including 41 restaurant personnel.
Year Opened-Renovated Giuseppe Gambardella constructed the original structure as a private villa in 1880. In 1904, his son Crescenzo redesigned the property and created the original six guestrooms. The next two generations of Gambardellas gradually brought it to its present standing. The latest renovation was in 2010.
Lobby And Common Areas
The entire property was designed to make the most of its exceptional surroundings. All interior spaces other than the lobby had a southern orientation facing the sea. Walls of oversized picture windows and French doors opened onto terraces to take advantage of every instant of daylight. The Majolica-tiled floors dotted with hand-painted patches of flowers and arched ceilings enhanced by streams of climbing ivy completed the tranquil indoor-outdoor feel, while antique furniture and original artworks gave the space a mellow inviting atmosphere. The spacious lobby set the tone with gracious sitting arrangements upholstered in shades of cinnabar and gold scattered along the walls, most notably a bergère sofa paired with pie-crust top occasional tables and a carved-back art nouveau settee near a display armoire that held a collection of delicate period porcelains. A long mahogany reception desk occupied the rear of the room.
Bouquets of fresh flowers and cascading green plants enhanced the lived-in feel. The lounge occupied the right half of the property facing the sea, with the dining room to its left. A curved sandstone bar separated the two areas. In the lounge, twin 19th century mahogany sofas upholstered in Pierre Frey jacquard in various shades of green were lined against the interior wall. Mahogany pedestal occasional tables held posies of fresh flowers. A fine collection of watercolors and etchings of the area hung behind the sofas. Along the glassed-in exterior wall, groupings of overstuffed rolled arm sofas upholstered in white damask and matching armchairs were arranged around small tea tables. Translucent white curtain panels gently filtered the southern light. Bright green toss pillows and exuberant green plants completed the décor to give the space the feel of a country garden room.
On a lower level, a covered terrace overhanging the water was carved into the cliff. Its white-plastered pillars were covered with a jumble of blooming purple bougainvillea. The terrace was furnished with teak armchairs with ecru canvas cushions clustered around circular coffee tables draped in matching cloth under heavy plate glass tops. Throughout the property wrought iron bistro chairs were randomly lined along the fieldstone paths that meandered along the citrus groves.
Bathroom
The bathroom was remarkable for its size (11.5 square meters or 125 square feet) as well as it superb fixtures and elegant décor. Its vaulted ceiling was lined with backlit unpolished glass. The floor and lower part of the walls were covered in rose ceramic, as was the extra long vanity top. The built-in dual sinks, bidet, commode and circular corner Jacuzzi were of white porcelain. The large recessed shower with high-pressure rain showerhead was tiled in deep rose mosaic. A wall-size mirror hung above the vanity. The walls above the Jacuzzi were covered with a hand painted tile panorama that represented a wisteria-shaded patio overlooking a Mediterranean seascape. Next to it, a heated towel rack with a generous supply of oversized bath towels hung on the plastered wall.
Room My 45 square meter (455 square foot) light-filled suite, Number 87, was located two levels below the main common areas. The white plastered walls and high vaulted ceilings, and pale grey tile floor decorated with clusters of wisteria in the foyer and living area provided an understated setting for the striking floor to ceiling fuchsia silk draperies which separated the living and sleeping areas. In the foyer, an antique vanity table with a marble top and carved rectangular mirror held a large fresh flower arrangement in shades of hot pinks and mauves, coordinated to the overall color scheme. The living area occupied the front of the suite. A pair of oversized double sliding doors opened onto the terrace. Living room furniture included a mahogany key hole desk and Queen Anne desk chair, a tall chest that served as a base for a large LCD television screen, and against the rough field stone far wall, a rolled arm sofa covered in white canvas. In front of the sofa, a gilded rectangular Queen Anne coffee table held a bowl of fresh fruit and a plate of freshly baked cookies. The toss pillows on the sofa, desk chair seat and draperies tiebacks were covered in heavy cotton jacquard in shades of fuchsia and jade in a striped Bargello-like design on a cream background.
To the right of the living area, a door leading to a walk-in dressing room was painted with a bright mural of a whimsical flower garden reminiscent of the 19th century Nabis (French post-impressionist) style. In the sleeping area, the king-size headboard and accent pillows were upholstered in similar Bargello design as the living room accents. A large seascape watercolor in a gilded frame hung above it. There were spindle leg two-drawer bedside tables on both sides of the bed. Throughout the suite, gilded bronze wall sconces with silk half-drum shades provided lighting. The vast (32 square meters or 345 square feet) garden-like private terrace had a large square table tiled in a grapevine design and two teak armchairs. There were also two comfortable folding teak and bright blue canvas lounge chairs. However, the best feature of the terrace was the intoxicating sea view that extended to the faint outline of the far side of the Gulf of Salerno melting into the horizon.
Food And Restaurants The property had a number of dining options, starting with a sumptuous breakfast buffet served it its formal Santa Caterina restaurant. Lunch and dinner were also served there. See separate review. Additionally, from May to October, a full luncheon menu was served at Al Mare, a covered patio overlooking the pool. During the day, the poolside Beach Club bar offered a variety of sandwiches and appetizers as well as smoothies and bar drinks.
Amenities
Room amenities included a welcome bottle of chilled Prosecco (Italian sparkling wine), fresh fruit basket, fresh flower arrangement, electronic safe, CD and DVD player, and a selection of daily newspapers in Italian, English, French and German on demand. Bathroom amenities included bathrobes and slippers, magnifying mirror, two hairdryers (wall-hung and hand-held), bathroom scale, facial tissues, cotton pads and swabs, nail file, feminine hygiene gel, disposable razor and shaving cream. Toiletries were Thé Blanc by Bvlgari in individual sizes of hand-milled soap, bath salt, bath gel and shampoo, hair conditioner and body lotion.
Facilities There were two restaurants, the Santa Caterina and Al Mare, a lounge, two bars, La Terrazza and the Beach Club, spa and fitness center, swimming pool, conference facility and a basic business center
Fitness Center And Spa A fitness center and spa were located on one of the lower levels of the property. In addition to fitness equipment, the health club included a sauna and steam room. The spa had two private treatment rooms where it offered a menu of massages, facials and body treatments.
Pool Set in a concrete terrace at the base of the cliff, the seawater pool was three meters wide by 18 meters long (10 by 60 feet) with depths ranging from 1.10 to 2.20 meters (or 3.6 to 7.2 feet). From there, six steps let down to a lower terrace with a few more steps ending in the water for easy sea bathing. Both terraces were lined with teak lounge chairs separated by small side tables and shaded by white canvas umbrellas. Pool assistants were always on hand with fresh towels.
Cleanliness
Excellent. The attention to detail on the part of the household staff was remarkable. Not only was my suite immaculate at all times (as were all the common areas) but I was amazed to realize that, as the stargazer lilies in my flower arrangement gradually opened, the household staff was routinely clipping off the emerging yellow pollen anthers (known to be allergenic to some people).
Date Of Review October 2012
Reviewers Article and photographs by Josette King
Service My room was serviced twice daily. Every member of the staff with whom I came in contact during my stay was thoughtful and attentive to my preferences, and delivered superb personalized service.
Would You Stay There Again? Yes
Contact Information
Address:
S.S. Amalfitana, 9
84011 Amalfi (SA)
Italy
Phone:
Fax:
Website:
Email: