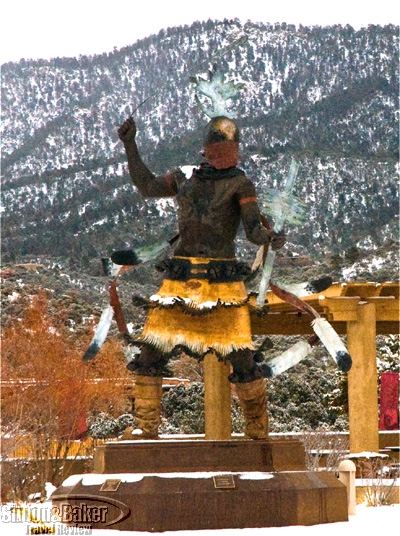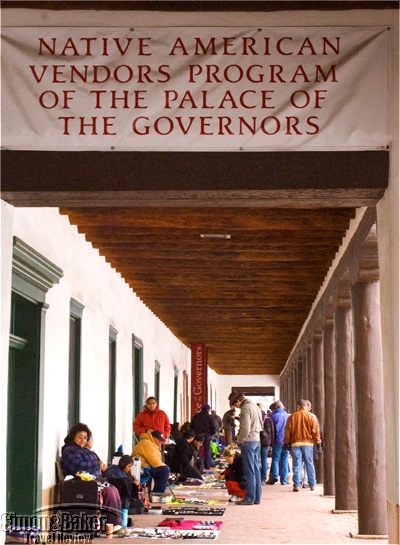 Whether for a gathering of friends, a romantic get-away or a rejuvenating solo retreat, I always enjoy its warm welcome and unique charm.
Overall Impression
When Spanish colonists founded Santa Fe four centuries ago in what is now northern New Mexico, they settled in an area where native culture had already been flourishing for over a millennium. Today, this rich and diverse history is evident at every turn. With its population of 70,000 mainly Hispanic, Anglo and Native Americans, Santa Fe has evolved into a vivid city of graceful apricot-colored pueblo-style adobe buildings strung along narrow, easily walkable streets. Its unique blend of cultures, arts and ancient traditions, its old-world charm and its spectacular location under the cerulean blue sky of the southern Rocky Mountains have made it a world-class tourist destination that attracts over one million visitors each year.
The Georgia O'Keeffe Museum, the largest single repository in the world of the works of this major American artist, is located in the center of town, a few steps away from the Plaza. Just two miles away on Museum Hill, four museums are clustered around a central plaza, including the Museum of Indian Arts and Culture and the Museum of International Folk Art. Additionally, there are 250 art galleries downtown around the Plaza as well as along Canyon Road. This legendary mile-long stretch of galleries features seemingly every type and style of visual art. Santa Fe is said to be one of the largest art centers in the country, after New York and Los Angeles.
For music lovers, Santa Fe is best known for its opera season, a summer tradition that goes back half a century, with daily performances from late June through August. The Santa Fe Opera is a spectacular amphitheatre in the hills just north of the city, with sweeping views of the Sangre de Cristo and Jemez mountains and breathtaking sunsets. But the Santa Fe music scene doesn't stop at opera. The Chamber Music Festival runs from early July through late August. In addition to traditional chamber pieces, it features modern, jazz and world music. At the other end of the musical spectrum, the Annual Traditional and Blue Grass Music Festival has long been a late August tradition.
The culinary arts also flourish in this unabashedly creative city. On my latest visit, whether I was yearning for multi-star contemporary or classic cuisine or just a quick bite with a southwestern flair, my main challenge was to select from a list of acclaimed eateries too long to work my way through in one single stay.
To renew the body, mind and spirit after so much artistic stimulation, Santa Fe is home to several spas where therapists recreate the ancient remedies and rituals of the Southwest, while others offer treatments grounded in timeless traditions from as far away as Indonesia and Japan.
For all its seemingly inexhaustible wealth of artistic treasures and activities, its memorable restaurants, sensuous spas and breathtaking Rocky Mountains vistas, Santa Fe has maintained the laid-back atmosphere of a high desert small town. I fell in love with the city on my first visit two decades ago, and have returned several times over the years. Whether for a gathering of friends, a romantic get-away or a rejuvenating solo retreat, I always enjoy its warm welcome and unique charm.
Cost Of Visiting
Reasonable to high
Currency U.S. Dollar
Electrical Current 120 Volt
How To Get There The Santa Fe Municipal Airport is nine miles (14 kilometers) southwest of the city. There were several daily flights to and from Denver, Colorado, via regional carrier Great Lakes Airlines. However, most travelers may find it more convenient to fly into Albuquerque International Sunport, located 60 miles (96 kilometers) south of Santa Fe and with daily non-stop flights by major U.S. airlines from their gateway cities. Several reliable shuttle services ran hourly throughout the day between the airport and major Santa Fe hotels. Advanced reservations were recommended. Amtrak's Southwest Chief train service stopped in Lamy, 18 miles (29 kilometers) south of Santa Fe, with shuttle service available to the city.
Location At an altitude of 7,000 feet (2,133 meters) in the Sangre de Cristo mountain range of the Rocky Mountains, in northern New Mexico, U.S.A.
Technology High speed internet connectivity was widely available. Cell phone reception was excellent wherever I went in the city.
Time GMY/UTC minus seven hours (e.g. U.S. Mountain time)
Transportation In the downtown area, most tourist attractions were located within easy walking distance of the Plaza and each other. To visit further a field, the local transit agency Santa Fe Trail operated eight bus routes that served most areas of the city, including Museum Hill. The routes originated at the Downtown Transit Center, one block west of the Plaza. While it is possible to drive in the center of town, traffic on the narrow one-way streets was a challenge, and parking even more so, especially during the height of the tourist season.
Shopping And Souvenirs After gallery hopping and luxuriating in spas, shopping was one of my preferred pastimes in Santa Fe. The range of temptations was vast. Clothing and accessory boutiques abounded, carrying a wide array of contemporary, western and native styles as well as trendy fashions from around the world. For native jewelry and craft, my favorite stop was the open gallery in front of the Palace of the Governors, where American Indian artists offered a broad selection of handmade turquoise and silver jewelry, beadwork and pottery. The vendors were screened by a state agency to ensure their work is authentic and that either they or members of their family made the goods. The choice changed daily as the vendors were selected each morning through a lottery system. Prices were substantially lower for comparable articles than those in the shops around the Plaza. There was also a limited opportunity to negotiate prices with the artists.
Tourism Highlights
There were a number of museums of note around the Plaza. In addition to the Georgia O'Keeffe, the Museum of New Mexico was well worth a visit. Located in the Palace of the Governors, it showcased the history of Santa Fe. The Palace itself, an historic treasure built in the early 17
th
century, and the oldest public building in America, deserved a visit. In the next block, the Museum of Fine Arts displayed collections of Southwestern art in a two-story Santa Fe style adobe building with a lovely interior courtyard.
On Museum Hill, the Museum of Indian Arts and Culture featured an outstanding collection of classic and contemporary Southwestern Indian pottery, baskets, weavings, paintings, sculptures and jewelry, and a comprehensive permanent exhibit tracing the life of American Indians from Paleo-Indian times to the present. Next door, the Museum of International Folk Art showcased the largest international folk art collection in the world, with more than 130,000 objects from 100 nations, including a remarkable collection of antique toys.
I especially enjoyed strolling along Canyon Road and weaving in and out of the many art galleries through beautifully landscaped courtyard filled with sculptures ranging in style from the classic to modern and whimsical, and from life size to colossal. With the mountains as a backdrop, the entire area had the feel of a giant casual indoor-outdoor museum.
Date Of Last Visit
February 2008
ReviewersArticle and photographs by Josette King
Would You Visit Again? Yes