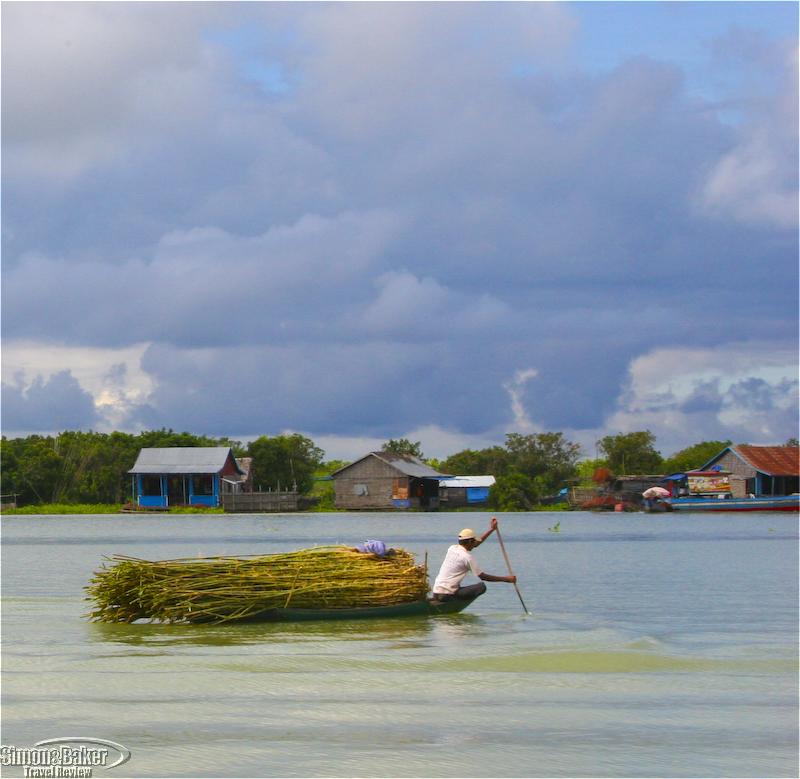 I will recommend this tour to friends wishing to experience birding and visit a nature reserve near Siem Reap, Cambodia.
Overall Impression
After exploring the central area of Siem Reap and enjoying visits to several of the world famous Angkor Temples that draw millions of visitors to Cambodia every year, I was eager to see a little of the country off the beaten path. When I heard that there was a conservation area within easy reach of Siem Reap (90 minutes) I jumped at the opportunity even though it was birding low season. I went on a Sam Veasna Center for Wildlife Conservation Bird Reserve and Floating Village Day Trip.
The daylong visit to the Tonle Sap Lake, classified in 1997 by the UNESCO as a natural wonder, the 23,000 hectare Prek Toal Bird Preserve and the nearby village of Prek Toal, one of 170 floating villages on the lake, was interesting and fun although the migratory birds had not yet arrived. The lake, fed by the 15,000 year old Tonle Sap and Mekong rivers, is the nineteenth largest lake in the world according to my guide. Although the densely populated lake area is the home and source of income for an estimated three million Cambodians and Vietnamese refugees scattered across the hundreds of floating and lake fronting villages, other than at the departure dock and when we were in the village area, all we saw was nature and birds soaring overhead.
While making our way to the village of Prek Toal in a 10-meter long wood motorboat we saw some birdlife and part of the core bird reserve flooded forest where we climbed atop a tree canopy observation platform for a panoramic view. At the village, located at the mouth of the Sangke River, we had locally prepared lunch at a family floating house while we watched a sun shower in dry comfort. After lunch, a young villager showed us around the area in a shallow rowboat.
What I enjoyed about the day tour was the beautiful unspoiled scenery, friendly guides and welcoming locals, and the opportunity to see more than 30 birds. I enjoyed the tasty lunch prepared especially for foreign visitors' sensitive stomachs and the precarious yet fun rowboat ride around the Prek Toal floating village. The next time I have an opportunity to visit Cambodia I hope to explore some of the other Sam Veasna Center reserves. I will recommend this tour to friends wishing to experience birding and visit a nature reserve near Siem Reap, Cambodia.
Established
The Center was started in 2003 and registered in October 2006.
Handicapped Access The Center welcomed handicapped visitors although the staff clarified that visitors should keep in mind the practical issues of traveling to remote locations. Handicapped access was dependent on the level of disability of the travelers and the location of site. An example of the center's capabilities, according to a spokesperson, is that the former Wildlife Conservation Society Asia director who has traveled to all the Center sites is paraplegic.
Location The Center main office is in Siem Reap, Cambodia.
Managed The Center was managed by Nick Butler, coordinator, Sam Veasna Center for Wildlife Conservation, with the support of a board of directors which was chaired by Mark Gately, country director, Wildlife Conservation Society, and other members of the board: Ashish John, Technical Advisior, WCS, Hong Chamnan, Project Manager, WCS, Im Sokrithy, Director, Apsara (the Cambodian Temple Super Ministry) and Van Sophanna, director, Forestry Administration.
Size The Center, with the support of seven employees and nine guides, provided tours to eight Wildlife Conservation Society sites in Cambodia covering tens of thousands of hectares, representing a significant percentage of Cambodia's remaining wilderness.
Description
The four year old conservation non profit organization was named after Sam Veasna, a pioneering Cambodian naturalist who discovered breeding populations of the critically endangered species of birds that Wildlife Conservation Society (WCS) protects and Sam Veasna Center takes visitors to see. Sam Veasna died in 1999 of malaria after being administered fake drugs. The Center, according to a spokesperson, was built in his honor by his friends and peers from WCS so that his work in conserving Cambodia's natural heritage could continue. The Center is based in a house built by Sam Veasna's friends when he died and donated to his widow.
The only way to visit the Wildlife Conservation Society Cambodian conservation sites was by taking a tour from the Sam Veasna Center. The Center donated any profit made from eco-tourism towards the direct costs of conservation by WCS to the sites, according to the spokesperson. The Sam Veasna Center mission was "Sustaining Cambodian Wildlife and Communities through Eco-tourism." At the time of my visit, the Center was supporting the WCS ranger program at Prek Toal and Ang Trapaeng Tmor.
The Center organized day trips around Siem Reap and itineraries to eight Wildlife Conservation Society conservation sites across Cambodia chosen for their unique biodiversity in particular for their bird life. The Center, located in Siem Reap had a small library specializing in Cambodian natural history. Only 300 visitors annually reached the eight reserves, including 150 that traveled to the lake area and its seasonal flooded forest, one of only two such ecosystems in the world.
In past years the Center trained the local communities adjacent to the sites where they offer tours in the provision of eco-tourist services (food preparation, accommodations, lodge management, and local guiding) so they can earn a sustainable living linked to conservation. The Center also organized environmental education for local orphanages and schools. It started a program of environmental education with a local orphanage Green Gecko (greengeckoproject.org).
Birds We Saw-Heard Comb Duck, Green-billed Malkoha, Lesser Coucal, Greater Coucal, Blue-tailed Bee-eater, Asian Palm Swift, Red- collared Dove, Oriental Pratincole, Wiskered Tern, Brahminy Kite, Oriental Darter, Little Cormorant, Indian Cormorant, Little Egret, Intermediate Egret, Pond Heron, Little Heron, Common Iora, Brown Shrike, Southern-jungle Crow, Pied Fantail, Oriental Magpie-robin, Common Myna, White-vented Myna, Barn Swallow, Yellow-vented Bulbul, Dark-necked Tailorbird, Pin-striped Tit-babbler, Scarlet-backed Flowerpecker, Olive-backed Sunbird, Eurasian sparrow, Gray-headed Fish Eagle, and Plain Prinia.
Tours In addition to the day trip to the Prek Toal Bird Reserve I went on there were several options available. Day trips: Phnom Khulen bird watching, animal rescue and Kbal Spean river carvings about one hour away from Siem Reap; Ang Trapeng Tmor Sarus Crane Reserve and Banteay Chma Temple 120 kilometers away or about a two hour drive from the city (day trip and/or overnight); Tmatboey Ibis site 160 kilometers or about three hours by car requiring a minimum two night stay although three nights were recommended; Chhep Vulture Restaurant 200 kilometers away or six hours by car requiring a minimum two night stay (usually included with Tmatboey); Seima Protected Forest in Mondulkiri for Black-shanked Douc monkey and mixed evergreen specialists (birds) sightings about 350 kilometers and eight hours by car (minimum trip two nights); and Kratie for Irrawaddi Dolphin and riverine specialists 350 kilometers and eight hours away by car (minimum stay is one night, usually included with Siema Protected Forest). Some tours included a stop at a number of sites near Kompong Thom in the Tonle Sap Lake floodplain to see the Bengal Florican, a critically endangered member of the Bustard family, en route to Seima and Kratie or on the return from Tmatboey and the Vulture Restaurant.
Other In 2009, the Center was recognized by the Cambodian Minister of Environment as an outstanding example of Community Based Eco-Tourism. The lake water we saw during the tour was clean except near the villages where it was murky.
Date Of Visit
September 2010
Reviewers Article and photographs by Elena del Valle
Would You Visit This Attraction Again? Yes
Contact Information
Address:
Near Angkor Village Hotel,
Watbo Road
Siem Reap, Cambodia
Phone:
Mobile:
Website:
Email: