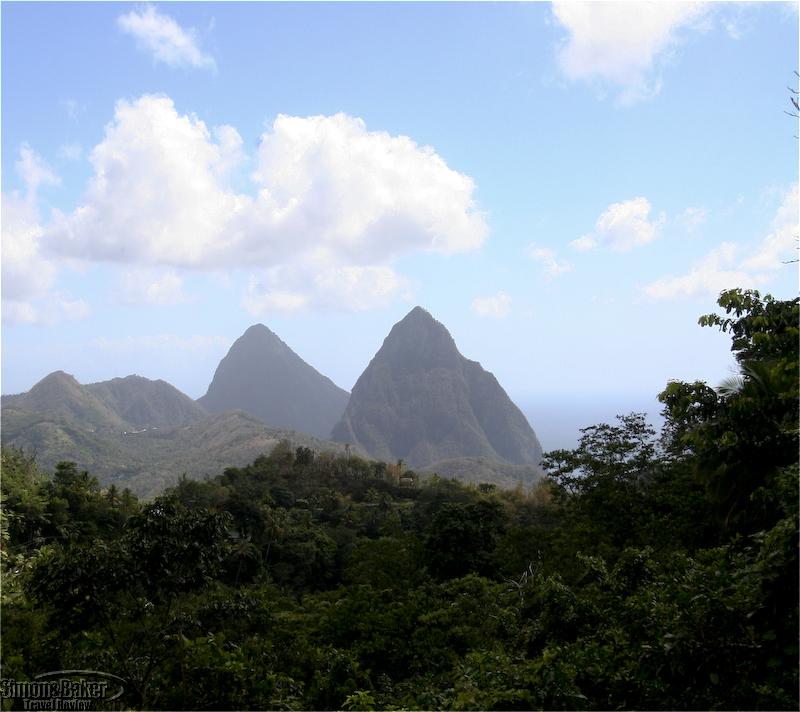 I would recommend Saint Lucia to acquaintances with a healthy size wallet interested in a resort centered holiday in the tropics who may enjoy the amenities and facilities of some of the island's posh properties.
Overall Impression
Saint Lucia, a mango shaped former British island on the eastern edge of the Caribbean, conjures mixed impressions in my mind. The island itself is lush (although it was rather dry the last time I was there because of a severe months long drought which affected somewhat the quality of our stay. The swimming pool and Jacuzzi at our villa were only partially filled) with an inner core of hills, mountains, and waterfalls and an outer ring of bays and beach coves. The western side where a mild surf washes gently over resort beaches was peppered with quaint fishing villages and a string of hotels of different sizes offering varying degrees of luxury. The eastern side, constantly brushed by harsh Atlantic winds, was simpler than the opposite coast and more rugged.
We were drawn to the island's ecotourism points of interest like the famous pitons which have become symbols of Saint Lucia, the birding trails to search for the elusive Saint Lucia Parrot and the waterfalls while at the same time longing to enjoy unspoiled beaches and water activities. Although during the course of our stay, between transfers and driving a rental car, we saw almost the entire coastal area and some inland portions of the island, exploring the island proved challenging in part because getting around, and self driving in particular, is for the brave hearted (see more about this under Transportation below).
The country is divided mainly into cloistered resorts with guests who appeared to remain there for most of their stay on the island, local towns and fishing villages. An unfortunate crime spell had hit Saint Lucia prior to our arrival. Wrought iron bars in some homes and security gates and guards in the hotels reminded us to be aware of our surroundings. Fortunately, our visit was blessed with positive experiences and mostly sunny weather.
Although the islanders we met at our hotels were helpful and friendly for the most part, around the island people were guarded or indifferent. Some people might describe them as jaded although wary would be a more accurate word. Because of its natural charms I would consider revisiting the island. I would recommend Saint Lucia to acquaintances with a healthy size wallet interested in a resort centered holiday in the tropics who may enjoy the amenities and facilities of some of the island's posh properties.
Cost Of Visiting
Prices ranged from high to expensive. Hotels, car rentals, taxis, tours and meals at the hotels were expensive. For those in self catering accommodations there were quality groceries available and although they were more expensive than at home because they were imported they provided an alternative from the hotel restaurants when we wanted to eat on our own.
Currency The Eastern Caribbean dollar was the official currency although everyone seemed to accept U.S. Dollars. When we paid we were given change in local currency.
Electrical Current The standard on the island is 220 volts. We made use of a transformer and an adapter (the plugs on the island have three plugs) for our United States electronic items.
Health And Vaccinations Arriving from the United States there were no mandatory vaccinations required for entry. Visitors from countries with yellow fever were required to have proof of yellow fever vaccination. The Center for Disease Control and Prevention in the United States recommendations included routine vaccines (influenza, chickenpox (or varicella), polio, measles/mumps/rubella (MMR), and diphtheria/pertussis/tetanus, DPT) as well as hepatitis A and typhoid.
How To Get There We flew non stop from Miami International Airport to Saint Lucia. There were also flights via Atlanta, Puerto Rico and the northeastern United States. Canadian, British and other European carriers offered service to the island.
Location It is one of the Windward Islands or Lesser Antilles in the Eastern Caribbean situated 21 miles south of the French island of Martinique and 26 miles north of Saint Vincent.
Measures Saint Lucia used metric and imperial systems.
Money Issues The Eastern Caribbean dollars were pegged to the United States dollar at a ratio of 2.6 to 1. We found ATM (automated teller machines) easily in Rodney Bay and were also able to pay with credit cards and cash in United States dollars..
Technology The island appeared to have a healthy infrastructure with modern amenities in tourist hotels. Electricity, running water, television, in-room WiFi in one of two hotels we stayed at, and our international cell phone worked without a glitch.
Time The island is in the Atlantic Standard Time Zone, one hour ahead of United States Eastern Standard Time and four hours behind Europe (five hours during daylight savings time).
Transportation Excluding water craft, there were three main modes of transportation within the island: taxis and private drivers, self driving a rental car and helicopter transfers. We had thought of a helicopter sightseeing ride but several calls and emails to the company prior to our arrival went unanswered. Driving is on the left on narrow two lane roads for the most part. In the urban areas, and sometimes in between, there was heavy traffic and the roads were filled with impatient aggressive drivers who always seemed to be in a hurry. Signage was poor or non existent, leading us to miss our turn more than once. The taxis we took were clean and efficient (one private driver, referred by our hotel, sent a colleague to pick us up at the conclusion of a water tour because a better paying transfer had come up after he had dropped us earlier that morning). The challenge for us when planning activities was that it took a long time (one or two hours) to get from our hotel to just about anywhere except the nearby town.
Beaches
From what we saw beaches on the island came in two main flavors, calm western resort beaches and blistery eastern beaches fit for pretty vistas and no swimming. We stayed at beachfront properties on both sides of the island. The beaches, while very different from each other, were relatively small in relation to the size of the properties and access to them from our accommodations required either a short walk or a shuttle ride. One was manicured and offered the amenities of a large resort. The other had a mixed ambiance with resort guests and islanders sharing space.
Facilities We saw banks, a supermarket, grocery stores, tourist shops, pharmacies and Internet cafes as we drove around the island with the highest concentration in urban areas like Castries and Rodney Bay.
Shopping And Souvenirs It was convenient to find a decent size supermarket with an ample supply of grocery items within a short drive of our hotel and a deli at the hotel.
Tourism Highlights Saint Lucia, 27 miles long and 14 miles wide, is about 238 square miles (616 square kilometers) in size. It is a volcanic island with inland mountains as a dominant feature. Its highest point at Mount Gimie is 3,145 feet above sea level. The pitons, Petit Piton and Gros Piton, two seaside hills with a distinctive profile and within close proximity of each other on the west side of the island, have become the identifiers of the island abroad. The Piton Management Area was a UNESCO World Heritage Site. Of the places we visited the fishing villages between Castries and Fort Vieux in the south were our favorites. Although our plans to hike the Gros Piton early one morning were dashed by showers we enjoyed the view of the bay between the Pitons from a hotel on the hill just off the main road.
Other There was also a steady flow of cruise ship tourists who walked around Castries or went on a tour inland. The cruise ship arrivals affected island traffic and the attractions someone explained. We were also warned by several people to steer clear of the tourist attractions in the middle of the day when cruise ship tours arrived to avoid lines and crowded attractions.
Date Of Latest Visit
April 2010
Reviewers Article by Elena del Valle
Photographs by Gary Cox
Would You Visit This Attraction Again? Yes