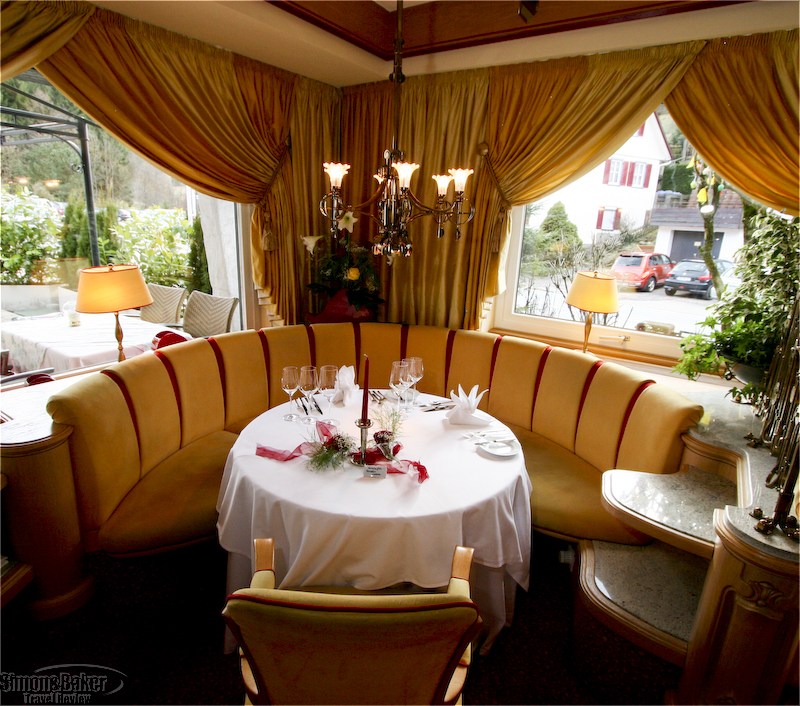 Whether it was an early morning swim in the pool, shared couples therapies in the private spa suite with gourmet goodies and champagne or late afternoon sauna time we throughly relaxed at the spa and would welcome the opportunity to return.
Overall Impression
A two and a half hour drive from Meersburg found us at the reception desk of the Hotel Sackmann. A friendly young lady responded kindly to my greeting. When I asked in my broken German if she spoke English she smiled and helped us complete the check in process in English. During our self drive German trip and while at the Hotel Sackmann we encountered that attitude many times. It made us feel welcome.
We liked this family friendly hotel for its quiet suite with a balcony facing the Murg River, pleasant staff, outstanding meals at the a la carte and gourmet restaurant and fabulous river facing spa. It was a good base to explore the northern Black Forest while taking advantage of the spa facilities and enjoying gourmet meals.
During our stay, we sampled delicious gourmet and regional cuisine at the hotel's restaurants. We also spent a wondrous half day being pampered at the spa suite and enjoyed the newly built spa facilities including the pool and varied sauna rooms at every opportunity. Our four-hour suite Wine Passion Pure Luxury session was relaxing and fun. Our time at the spa was the highlight of our stay at the hotel. Whether it was an early morning swim in the pool, shared couples therapies in the private spa suite with gourmet goodies and champagne or late afternoon sauna time we throughly relaxed at the spa and would welcome the opportunity to return.
Class Of Accommodation
A four star family owned hotel
Connectivity There was complimentary high speed WiFi access in the ground floor smoking lounge and dial up Internet access in the rooms. The smoking lounge would fill up, especially at night, with smokers. The only area to access the Internet was the smokers lounge. After dinner, if we wanted to access the Internet it was not possible to avoid the smoke in the crowded lounge. The system was down the day we arrived but functional (in the bar area only for my computer ) the rest of our stay.
Handicapped Access Although the hotel did not have specialized rooms for guests in wheelchairs the junior suites had accommodated handicapped guests on past occasions.
Length Of Stay Three nights
Location In the town of Baiersbronn in the German Black Forest
Owned And Managed Jörg Sackmann
Pets Small pets were allowed on request for a fee of 12 euros per day.
Size There were 60 employees working at the four floor hotel which housed 120 beds.
Year Opened-Renovated The hotel was established in 1928. In 1976, a new Building Burgfels and the first wellness area were built. In 2008, the spa was expanded by 1,000 square meters.
Lobby And Common Areas The décor emphasized comfort. Comfortable cloth furniture, slightly worn and dated in some places, and woods predominated. Our favorite feature was the hotel's location next to the Murg river and the views of the river from different parts of the hotel.
Bathroom Beyond the entry glass door the bathroom had twin sinks set on gold marble against a large rectangular mirror. A liquid soap dispenser, magnifying cosmetic mirror and blow dryer were near the left wall. There was also a toiletry basket on a lip between the sinks and the mirror and a scale in the corner. A heated towel rack was set immediately across from the bath tub. The toilet was against the wall between the sinks and the bath tub. The walls were of white tile with gold marble accents except in the area surrounding the bath tub which had a forest motif painted by Jan Buhler in 2002.
Room
What we liked most about our first floor 50 square meter Murgperle Suite (number 125) was that it faced the Murg River. A balcony the width of the room allowed us to peek at the rushing river waters from the comfort and privacy of our suite. Just inside the entrance there was a short hallway that led to a built-in luggage with umbrellas, a wall mirror, and mini refrigerator stocked with beverages. Immediately by the entrance to the room the hallway had a glass window into the bath and a little further down the hallway on the same side there was a glass door. The window and door that led to the bathroom were etched with animal designs.
The room was decorated in primary shades of gold, yellow, red and green reminiscent of 1970s styles. The sleeping and living areas of the suite were combined. Two single beds set together against a joint wood and cloth headboard were framed by matching wood night tables with lamps. There were yellow, green and red plaid curtains. These matched the bedcover, lamp shades and runners. Two art reproductions hung on the walls and there plastic flowers in a pot sat on the shelf.
Against the wall nearest the entrance there was a built-in wood desk facing a round mirror that hung on the wall framed by two small wood lamps. A cushy armless chair was set against the desk. Just to the right of the desk there was a bookshelf. A Phillips flat screen television was placed in a sliding panel in the middle of the shelf and bellow it, at floor level, there was drawer space. Just after that there was a set of matching comfortable cloth furniture including a two-seat yellow pattern cloth armchair and two individual armchairs as well as a round coffee table and an upright lamp. There were two closets, one large with an electronic safe and a full length mirror, and a second smaller one next to the window. Two radiators were set on each side of the room, keeping the room toasty warm in the cold of late winter March.
Oversize windows and a large glass and metal frame door occupied the wall nearest the exterior of the suite, allowing sunlight into the suite and leading to the balcony. The balcony had a plastic white lounge chair and table. When the door was open we could clearly hear the sounds of the river below and during the day we enjoyed gazing at the river and greenery on the other side of the river across from the hotel. A local train line passed just across the river from our suite but there was minimum noise. At night we would close the curtains for privacy.
Food And Restaurants
The were three restaurants, an informal restaurant for the hotel's full board guests, an a la carte regional cuisine restaurant and a gourmet restaurant. The informal restaurant had set meal options and a buffet bar for breakfast as well as salads and cheeses at lunch and dinner time. A second smaller restaurant served plated a la carte meals. The hotel's gourmet restaurant was open five nights a week for fine dining.
During our stay, we enjoyed the buffet breakfast with cooked to order options that included eggs made to order with several sides, two regional dishes which we sampled, an apple and potato dish ( Apfel-Kartoffelpuffer ) and a pancake soup ( Kraftbruhe mit Fladle) ,
For lunch one day we had Dorade soup which was made up of tiny portions of crunchy green and white asparagus along with small fish dumplings and seafood with a salty broth. Our second course was a lovely salad with a very light creamy dressing followed by a local specialty of spatzel with a macaroni and cheese type of pasta like dish served with ham, cheese, onions and gravy.
We dined twice at the a la carte restaurant. One night we had Lotringer Lauchtorte mit Krauterrahn (leek quiche), crème vom Gartenkurbis mit Kernol und gerosteten Semmelknodelscheiben (a light tomato crème with garden vegetable shavings), Spiess vom Schwabisch – Haller Landschwein mit Backplaumen, Specck, Loretesalat und Kartoffel-Selleriegerostel . For dessert we had ice cream and Passionsfruchtcreme mit Joghurt, exotischen Fruchten und Quarkeis , a passionfruit dessert served with yogurt and exotic fruit with a German type of sour cream. There were also options for salad and cheese courses which we did not order. Another night we had smoked trout tarte with vegetables, marinated cream cheese and radish, and "schlesische" farmer soup with prune and bacon chips, regional marinated beef in Lemberger sauce with carrots and mashed potatoes.
Amenities
There were bath robes, slippers and pool towels in a handy carrying case for our use while at the hotel. There was liquid soap by one of the sinks and house brand toiletries including two bottles of 20 milliliter bath and shower gel, a vanity kit, blow dryer, sewing kit, two small bars of soap and a shower cap. There was a large umbrella in the room and an electronic safe. On our arrival there was a fruit basket, a bottle of sparkling water and a small plate of chocolates.
Facilities There were three restaurants, two bars, a spa with a swimming pool, a smoking lounge and two parking lots available for guests. The restaurants were Schlossberg, gourmet oriented, Anita-Stube, serving regional cuisine, and Silberberg, the full board restaurant for hotel guests.
Fitness Center And Spa There was an on site new and handsome 1,000 square meter spa with a swimming pool, hot tubs, saunas and a 40 square meter fitness area. One of our favorite decorative features was that some of the areas of the spa like the pool and some sauna rooms had a view of the Murg River. We especially enjoyed the spacious and attractive spa suite session for two. Ilona Rootfuss, our friendly therapist who spoke some English, looked after our well being during our midday spa session.
The luxury session included relaxing body treatments, tasty treats including chocolates, gourmet snacks (goose liver froth with cumberland sauce, litchi goose liver wraps,fried goose liver with cape gooseberry compote, pepper and cotton candy, African salad with marinated gilthead row and scallop with eggplant mousse) and a bottle of Moet & Chandon Imperial nonvintage Champagne. We enjoyed a Spa Suite Wine Passion Pure Luxury (Passione vinum Luxus pur), a four hour block of time for two with exclusive use of the spa's luxury suite which included a grape seed scrub for each of us, a red wine and rose bath soak in a Jacuzzi tub for two, and a grape seed oil butter and massage combo followed by a platter of gourmet snacks.
Pool The indoor pool was 13 meters long, 7 meters wide and 1.40 meters deep.
Conference Facilities There were two conference rooms 100 square meters and 66 square meters able to host between, 30 to 80 guests. It was possible to include video projector, flipcharts, pin boards, overhead projector, Cable-TV with video player, moderator's case, and beverages with the room rental.
Cleanliness
Very good
Date Of Review March 2009
Restaurant Schlossberg The night of our arrival we dined at the hotel's gourmet restaurant, Restaurant Schlossberg. Immediately on our arrival we were seated in a round booth next to a window. From our seats we had privacy at the same time that we enjoyed a clear view of the entire small restaurant. Cushy seats, blonde woods, attractive décor, fine dinnerware and settings and friendly staff led to a promising start that only improved as our delicious six course dinner arrived. Our welcome bubbly was accompanied by amouse bouche bites of ice cream of "milk" with rock salt and a beet "sandwich" with caviar and pork belly. We were offered several types of bread and butter.
Reviewers Article by Elena del Valle
Photos by Gary Cox
Service We remember some of the staff members like Christopher from reception; Sing Beeharry, formerly with Club Med; Patrick Bay, one of our waiters, who helped us many times translating information, menus and sundry hotel brochures and information; as well as Jennifer Knodler, our waitress who although she spoke little English always had a ready smile and willingness to make us feel welcome; and Pier Luigi Fassiotti, the maitre d'hotel at the Restaurant Scholssberg who made sure our meal was a resounding success.
Would You Stay There Again? Yes
Contact Information
Address:
Murgtalstrasse 602
72270 Baiersbronn-Schwarzenberg
Germany
Phone:
Fax:
Website:
Email: