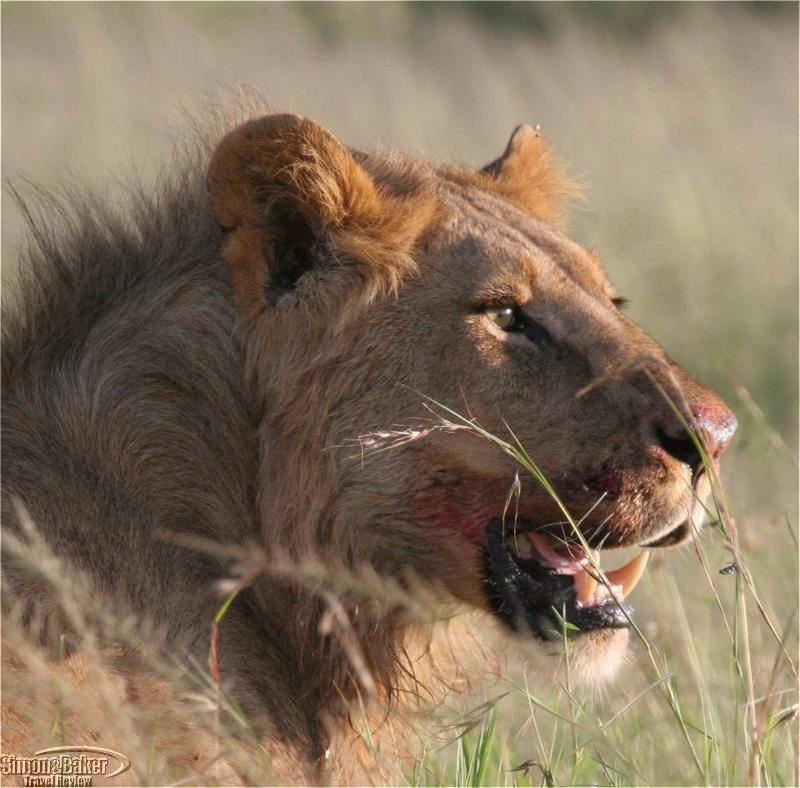 Sabora offered winning combination of sustainable and exclusive game viewing with luxury tented accommodations.
Overall Impression
When I think of Sabora I remember chilly mornings followed by hot days, smiling and friendly staff, delicious and well served food, exclusive and rewarding game viewing, a homey informal ambiance and a magnificent tent experience. I reminisce about a perfect day spent in the Tanzania plains with Aloyce, our indefatigable, affable and competent local guide, viewing cheetah in the morning and tree climbing lions in the afternoon; followed by a romantic gourmet candlelit dinner for two accompanied by brutally cold Krug champagne.
I remember the warm hospitality of camp managers "G" and "D," the staff's can-do attitude, South African trained Sous Chef Camilla Weddell's fine tuned cuisine and local Pastry Chef Martina Mahele's scrumptious baked goodies beautifully served on crystal, silver and china service. I remember fun game drives in the plains, soft sunrises and picture perfect East African sunsets dimming from piercing yellow to purple, pink and magenta. I remember relaxing and therapeutic deep tissue massages in the Sabora spa tent after a satisfying lunch.
Our spacious and beautifully appointed tent was remarkable. It featured sitting, sleeping and bathroom areas and had access to a shared lounge tent. Salient comforts included an air conditioner, large bed, desk, Persian rugs, an electronic safe, 24-hour generator facilities providing lights and electricity around the clock, indoor bath and outdoor shower options, and elegantly scented toiletries.
The complimentary Wi-Fi high speed Internet and complimentary direct dial phone calls were just further proof of the thoughtfulness and attention to detail that characterized the camp and made fans out of us. Our stay at Sabora was splendid.
Beyond the luxury tented camp features, we appreciated the Reserve's environmental policies. Grumeti Reserves converted hunting land into a game viewing concession neighboring the world famous Serengeti National Park, while reversing poaching practices and maintaining world heritage migration lands in good repair. Sabora offered winning combination of sustainable and exclusive game viewing with luxury tented accommodations.
Class Of Accommodation
Luxury bush tents
Handicapped Access No
Internet Connectivity There was complimentary Wi-Fi throughout camp 24 hours a day (54Mbps).
Length Of Stay Three nights
Location In the Grumeti Reserves of the western corridor of the Serengeti bordering the Serengeti National Park in Tanzania. Musoma is the nearest village.
Managed Singita Property Management
Owned Grumeti Fund (Paul Tudor Jones)
Property Managers Gerhard and Delanie Wiehahn, "G" and "D" for short, managed the camp. A trained guide, Gerhard had eight years of bush experience in South Africa. Prior to working at Sabora he worked at Chapungu Tented Camp, N'Kaya Lodge in Thornybush and Simbabili Game Lodge. He received certificates from the Field Guide Association of Southern Africa, South Africa Department of Environmental Affairs and Tourism, and South Africa Tourism Hospitality and Education Authority.
Size There were 6 tents on a 26 acre concession. Maximum occupancy was 14 with a staff compliment of 26. Additional staff members, including guides and spa therapists, were based at the Sasakwa Lodge, Sabora's sister property.
Year Opened-Renovated The camp was opened to the public July 2005. A little weathered around the edges, the camp was originally established as a mobile tented camp for the owner's use and over time was converted for guest use. A structural renovation including tent renewal, was scheduled immediately following our departure.
Lobby And Common Areas Sabora, originally designed as a temporary camp for private use, was styled to emulate a 1920s British Colonial Campaign camp. Antiques and antique replicas enhanced the classic camp setting.
Bathroom A tent wall divided the sleeping area from the roomy and deluxe tent bathroom. To the right of the entrance there was hanging space and shelves, a vanity area and electronic safe. To the left there were twin sinks on a wood counter top. A claw foot style plastic tub was adjacent to the tent window. A toilet sat across from the tub. Just outside the tent there was an outdoor shower within an enclosure. It was fun to look at the plains while showering or bathing in the afternoon light. There was ample hot and cold water available around the clock.
Room
Our 60 square meter luxury tent (number 3) faced the Serengeti plains. It was easy to identify our tent thanks to a sign at the entrance with our names. It had high ceilings eliminating the slightly claustrophobic feel in traditional small camping tents. After a three step climb, we entered the spacious tent by unzipping a screen "door" that led to a sitting area with two suede and wood chairs and adjacent tables facing a rear deck.
The wood floor of the tent was covered with khaki wall to wall carpeting. Individual Persian rugs were scattered throughout the room and bathroom enhancing the tent's homey style. A four poster queen bed with night tables and lamps occupied the next section of the tent. A remote controlled air conditioning unit above the bed and an upright fan helped cool the room during the blistering hot days (30 Celsius during our visit) while thick duvet covers kept us warm at night when the temperatures plummeted (14 Celsius during our visit).
The side and front sections of the tent were open flaps allowing in cooling breezes and sunlight. Amber color curtains were drawn at night for privacy and to insulate the tent. A corner writing desk and cushioned chair faced the plains inviting contemplation and offering the possibility of an animal sighting.
The rear area of the tent had wooden decking and was populated by two wood and wicker armchairs on one side and two director's chairs and a table on the other. The deck continued to an adjacent Sitting Tent next door we shared with another tent on the opposite side of the Sitting Tent.
Thanks to nearly floor length see through screens we could observe the Grumeti plains and the hills beyond them from every corner of the interior. The tent design emphasized the sights and sounds of the bush while providing an insect free comfortable area to lounge in between meals, game drives and other leisure activities.
Meals
Sous chef Camilla Weddell and her assistants, including local pastry chef Martina Mahele, enhanced our stay with their culinary creations. We usually had a to-go breakfast in the bush during a mid morning break. This consisted of salmon, egg and bacon, or cheese and bacon sandwiches, fruit juice, apples and oranges and freshly baked muffins. Lunch was buffet style with soup, salads, cooked cold dishes and dessert. In the evening, dinner was a plated affaire. We ordered from a printed menu offering two starter options, three main course options and two desserts.
During our stay we had pan fried Halloumi with char grilled vegetables and rosemary pesto (a favorite); Beef fillet with potato croquette, oven roast vegetables and master jus; Butternut and feta stuffed cannelloni baked in homemade tomato sauce and mozzarella gratin (a favorite); Roast Pumpkin Soup; Balsamic seared chicken livers with tomato chutney and toasted ciabatta, Orange and cardamom crusted lamb loin with garlic potato crème, seasonal vegetables and anise jus; and Hot ginger plums with cinnamon cream and nut brittle (a favorite). We also had Potato and Leek Soup; Smoked salmon and cream cheese terinne with pesto vinaigrette; Pan seared beef fillet with parmesan risotto seasonal vegetables and red wine jus; Wild mushroom risotto with truffle oil vinaigrette and herbed salad; and Caramel filled pancakes with banana ice cream and maple syrup (a favorite).
Chef Weddell describes Sabora cuisine as "contemporary with an East African twist; dependant on what is available locally and then influences from the surrounding regions, namely, Zanzibar, North Africa, South Africa and of course from this country, Tanzania." She is a graduate from a three-year program at the Silwood Kitchen School of Cookery in Cape Town, South Africa. Prior to working at Sabora she worked at the Vineyard Hotel, Silwood Kitchens Catering Department, Blues Restaurant, Savoy Cabbage Restaurant and in the United Kingdom.
Amenities
All meals, soft drinks, snacks, game viewing activities and complimentary laundry service were included in the nightly rate.
Facilities The heart of the camp was the central dining and bar tented deck. Nearby there was a pool area and Jacuzzi. Next to our tent there was a Sitting Tent we shared with the occupants of a neighboring tent. There were also two adjacent spa tents, a colonial trading store, and a tennis court built with discarded termite mound soil. It took the staff three months to rebuild the tennis courts after the annual rainy season closure.
Pool There was a 1.5 meters deep plunge pool and adjacent Jacuzzi. Several cushioned lounge chairs with shade providing umbrellas populated the area by the pool deck.
Spa Anne provided hour long strong deep tissue massages with detoxifying Dermatologica oil in the Spa tent. We scheduled the massages one day in advance to allow our masseuse time to drive from the Singita Grumeti Spa where she was based.
Game Viewing
In the mornings we set out in a private vehicle with our guide Aloyce Moshi between 6:30 am and 7 am, after a spot of tea or coffee and a biscuit, to explore the plains. We returned around 11 or noon. A buffet lunch was served shortly after our return. In the afternoons we gathered for yummy treats and tea at 4 pm, departing for the plains when the temperatures cooled, around 4:30 pm or 5 pm, and returned between 7 pm and 8 pm. Thanks to the limited number of vehicles, off road driving was allowed for Big Five and special sightings.
What we enjoyed most and appreciated best at the Grumeti Reserves was the exclusive game viewing opportunities. Because the only others game viewing on the property were fellow guests, our game viewing was expansive and exclusive. Although our open sided Toyota Land Cruiser could accommodate 10 guests and a guide, we were wonderfully alone with our guide on all our drives. This allowed us ample flexibility especially when viewing birds and animals and deciding departure times.
The area we visited has 500 species of birds (including many endemic species and a high concentration of raptors), 30 species of herbivores and 24 species of large carnivores. Although the animals were shy (remnants perhaps of the days not too long ago when the area was dedicated to hunting), making it difficult to approach or enjoy extended viewings we were fortunate to see large animal groupings and a number of animals we had never seen before.
Grumeti Reserves forms part of the world renowned great migratory route, along which more than a million wildebeest, 300,000 zebras and 500,000 Thompson's gazelle complete a 480 kilometer (300 mile) journey each year in search of fresh grazing land. The Great Migration traditionally moves through Grumeti Reserves between June and August. The reserve is home to varying habitats including open plains, rugged rocky outcrops, woodland and riverine forests. In the dry season, after the great herds have departed for greener pastures, the Grumeti River offers life-sustaining water, which ensures spectacular wildlife all year round. This meant we were able to enjoy quality game viewing even though the migration would only arrive several months after our departure.
During our visit we saw: plain zebra, Masaai giraffe, topi or tsessebe (fastest antelope), spotted hyena, scrub hare, banded mongoose, wildebeest, Grant's gazelle, Thompson's gazelle, silverbacked jackal, bat eared fox, cheetah with two cubs, eland (largest antelope), lions on tree (2 males and one female), four female lions and one adolescent male, baboons, and male lion.
Birds: Crested francolin, ostrich (fastest flightless bird reaching speeds of up to 35 kph), lizard buzzard, fork tailed drongo, helmeted guinea fowl, Isabelline wheatear, gray flycatcher, Rufus napped lark, grey heron, superb starling, two banded courser, green necked dove, harlequin quail, Rufus tailed weaver, coqui francolin, Fischer's sparrow lark, pallid harrier, black faced sandgrouse, wattled starling, northern white crowned shrike, lesser kestrel, kori bustard, moaning dove, striped kingfisher, great spotted cuckoo, Fischer's lovebirds, dark chanting goshawk, pintailed whydah, tawny eagle, grey crowned crane, white browed coucal, white headed buffalo weaver, white bellied bustard, lappet faced vulture, Diederik cuckoo, white stork, white headed vulture, lilac breasted roller, white winged widowbird, African swift, European bee eater, yellow throated longclaw, bateleur, secretary bird, D'Arnoud's barbet, hadida ibis, hammerkop, grey breasted spur fowl, black chested snake eagle, zitting cisticola, rosy breasted longclaw, fan tailed widowbird, black coucal, slate colored boubou, Ruppell's long tailed starling, Nubian woodpecker, brubru, griffon vulture, grey kestrel, marabou stork, white backed vulture, corn crake, grey social weaver, Abyssinian scimitar bill, pygmy falcon (smallest raptor), grey hornbill, and yellow winged widowbird.
During the heat of the day, swarms of tsetse flies and buffalo tsetse files (bigger than their more famous cousins) would hitch a ride on our vehicle and once on board bite us. Because there was no effective repellent more than once we had to combat a new batch of insistent tsetse flies. Although we lost track of the number of insect bites we had, we were relieved to hear the tsetse flies didn't carry sleeping sickness.
Curio Shop
A handful of clothes, souvenirs and arts and craft items were for sale in the spa tent.
Other Families with children 12 and older were welcome. A private booking of the whole camp was necessary for younger children.
Water for the camp was supplied by a nearby bore hole. The water was treated with reverse osmosis techniques making the tap water potable. There was always bottled water in our tent and at meal times.
There was an environmentally sensitive successful tsetse fly control program within the camp. Outside the borders of the camp there were lots of tsetse flies but within the property the only tsetse flies we encountered were the ones from incoming game viewing vehicles.
At night we were escorted to and from our tents by designated Askari security staff who patrolled the camp at night. Each security staff member was assigned to one or two tents, depending on the size of the groups. As soon as we unzipped our tent flap our Askari escort would approach us with a flashlight and walk us to the dining tent. On our return from dinner he would walk us back. In addition to the Askari, the Grumeti Reserves were closely monitored by unseen anti-poaching staff.
The property air strip was 1.6 kilometers (1 mile) long, made on a compacted, all weather gravel surface. Although it was never an issue during our stay, it was good to know airstrip lighting allows for night time evacuations. There was a sentry on site around the clock. Next to the air strip there was a hosted meet and greet facility with bathroom, lounge area, luggage storage and refreshments. It was an hour's drive to Sabora from the airstrip.
Cleanliness
Excellent
Date Of Last Visit February 2007
ReviewersArticle by Elena del Valle
Photos by Gary Cox
Service Our tent was serviced twice daily, in the early morning and for turn down service in the evening.
Would You Stay Again? Yes
Contact Information
Address:

Singita Grumeti Reserves
P.O. Box 65
Mugumu
Tanzania

Phone:
Fax:
Website:
Email: