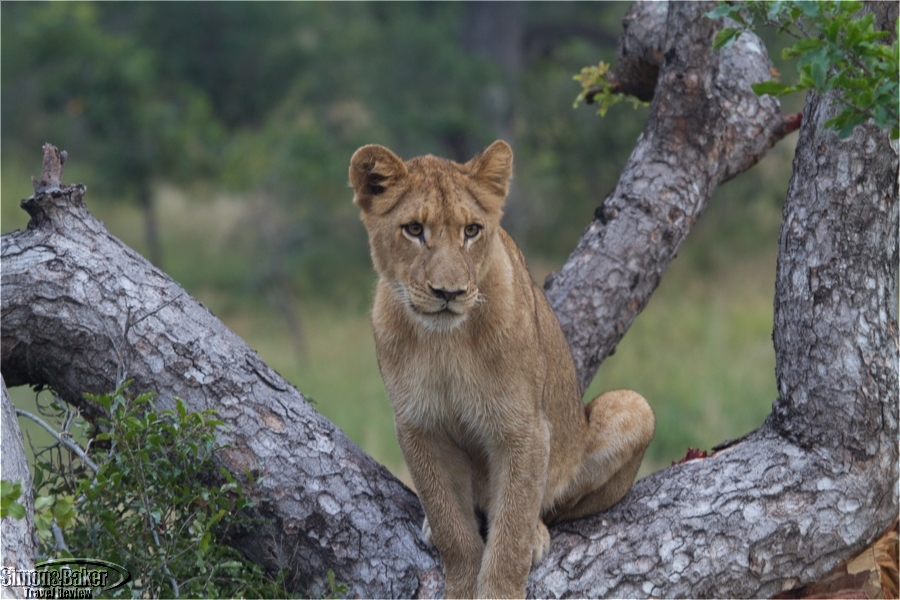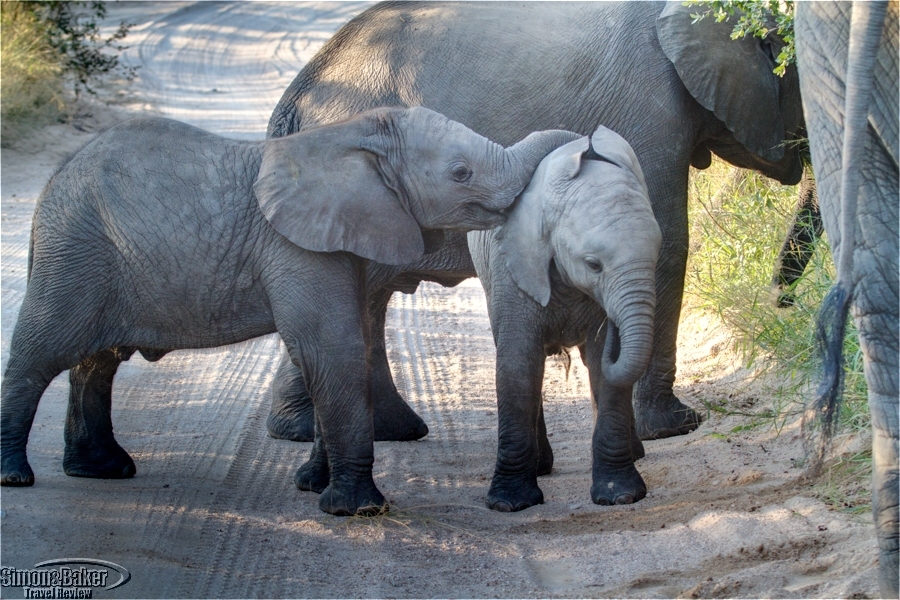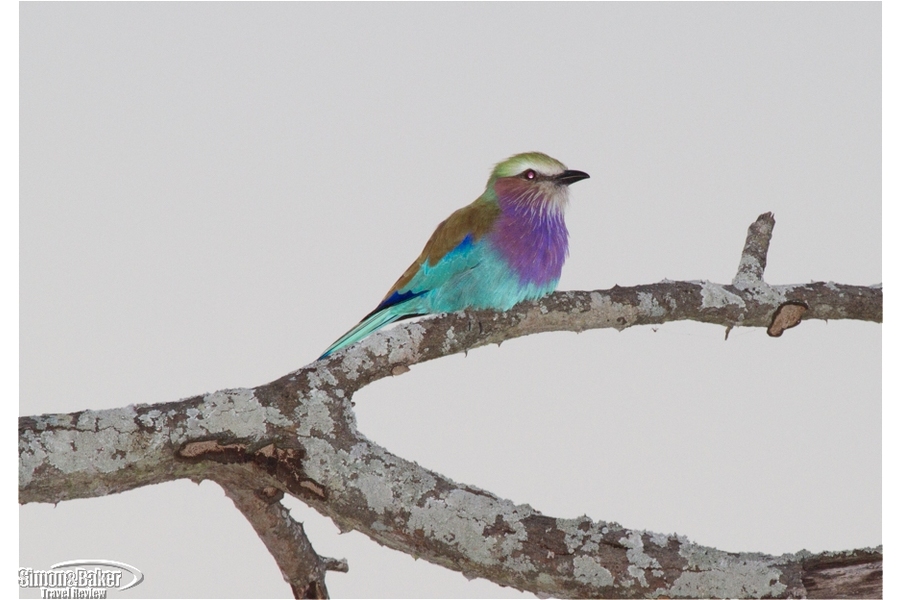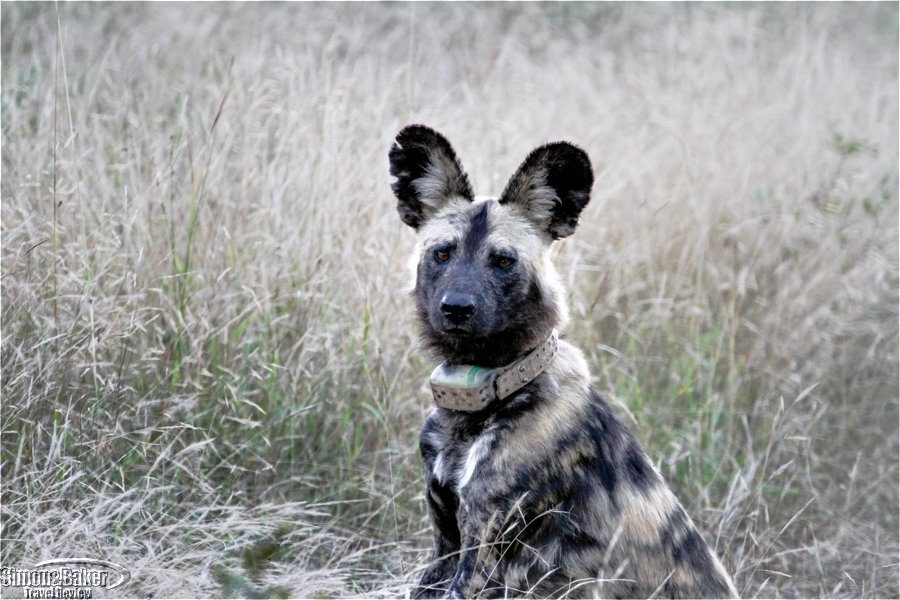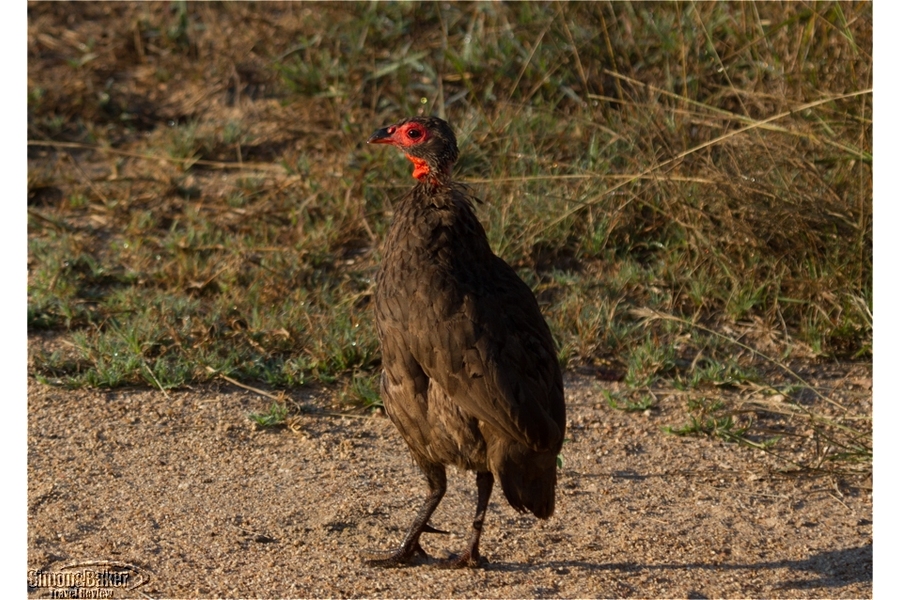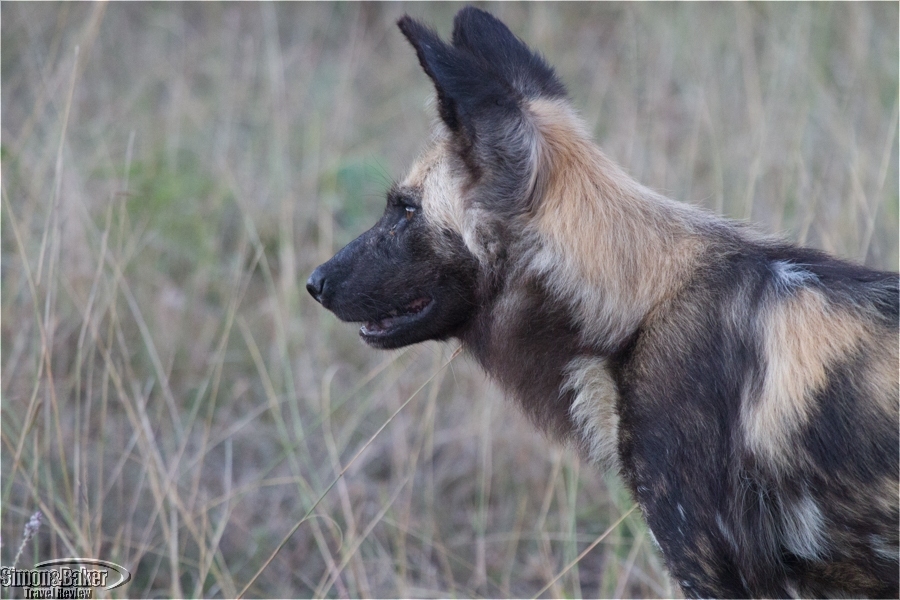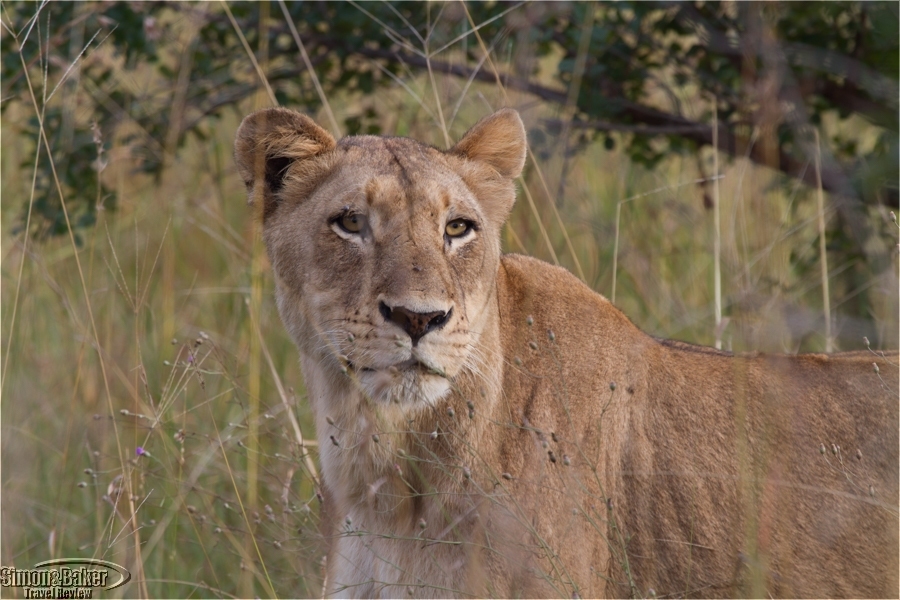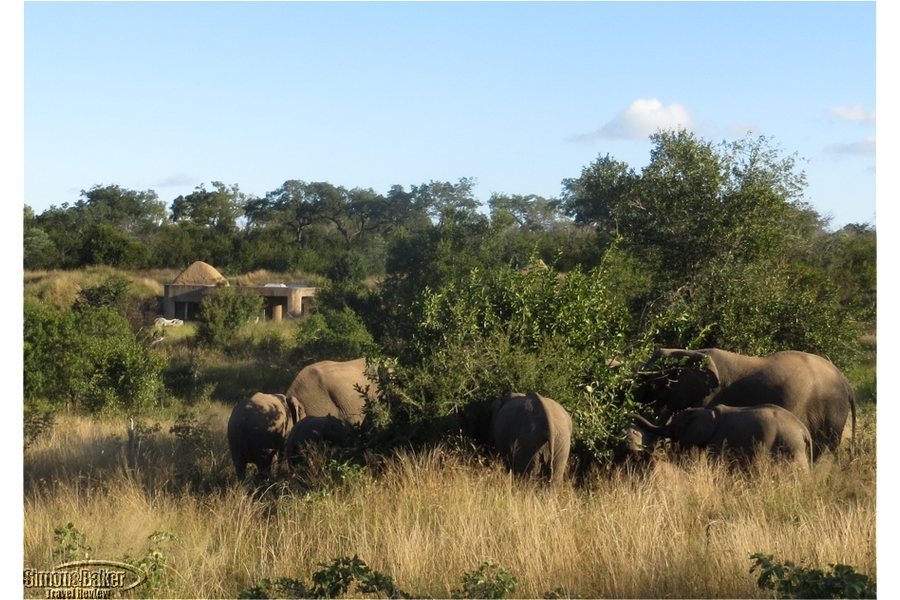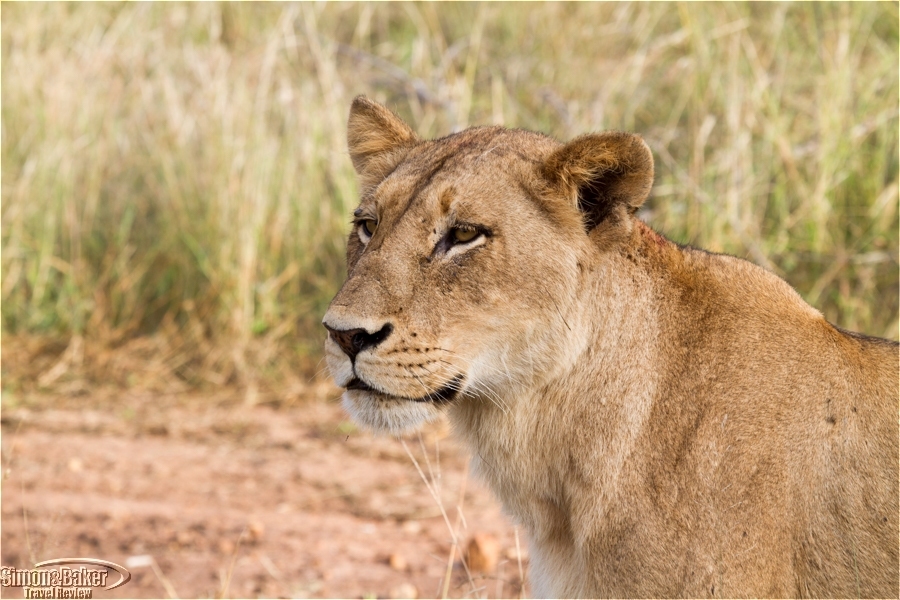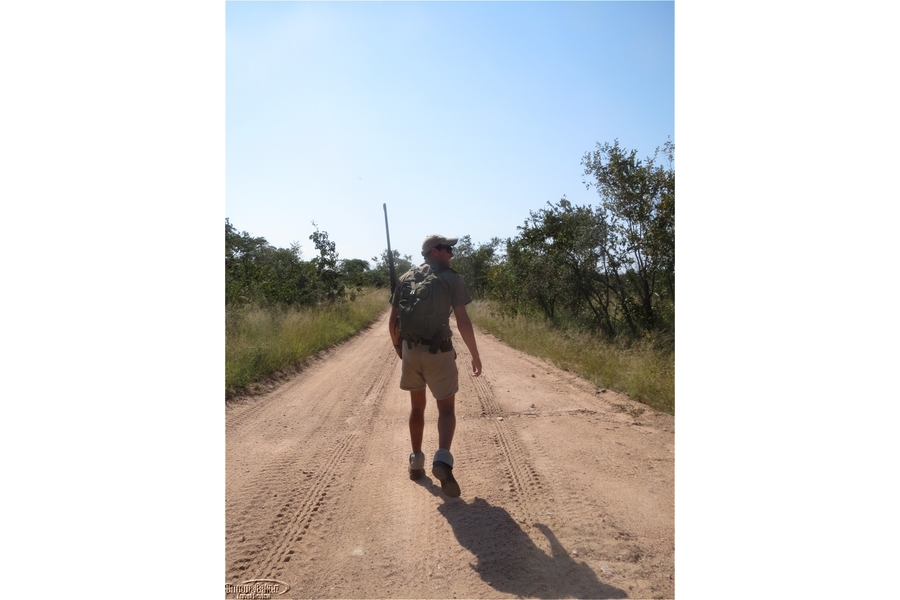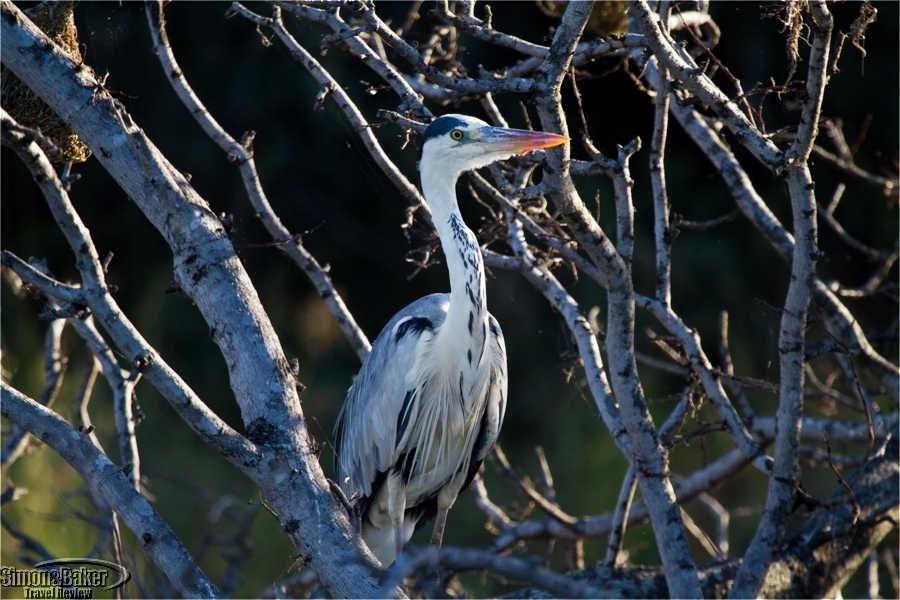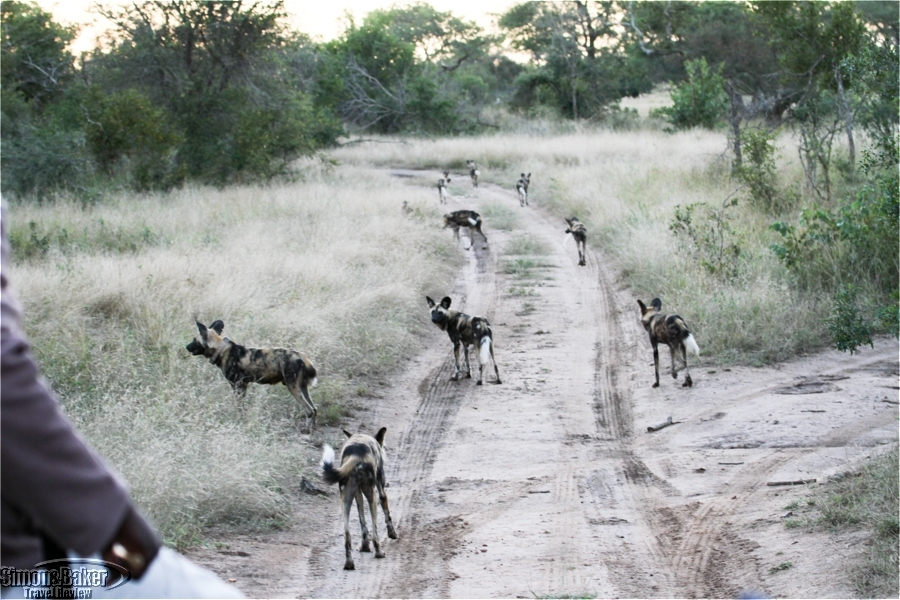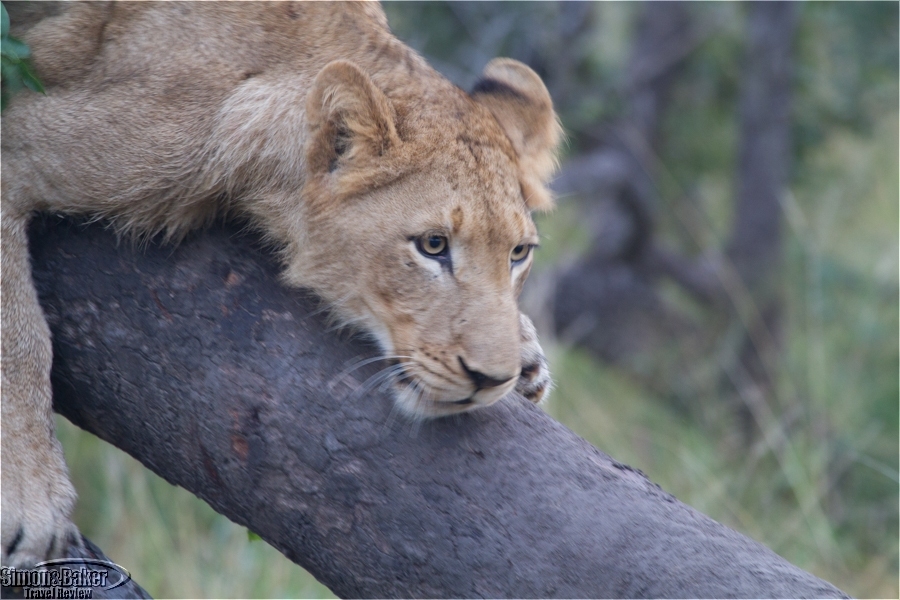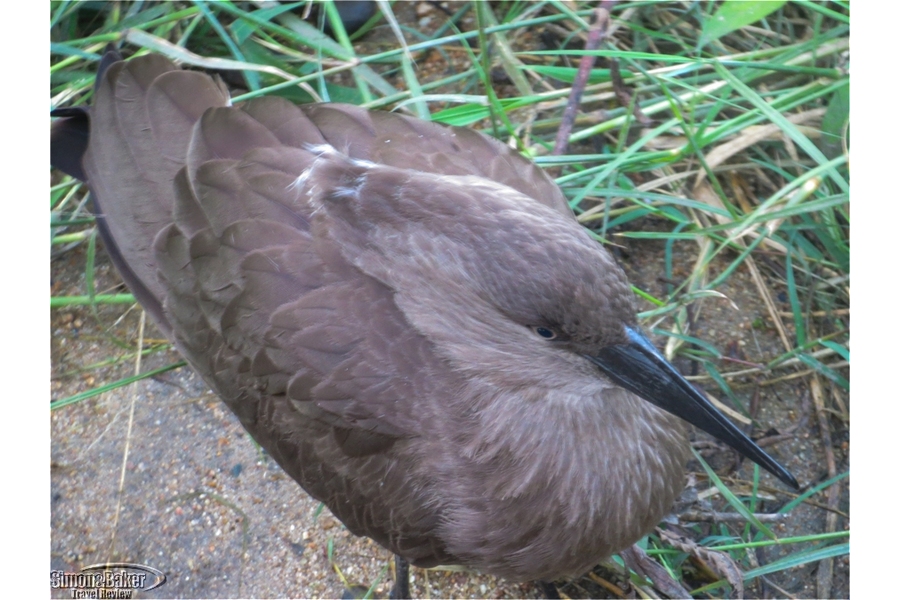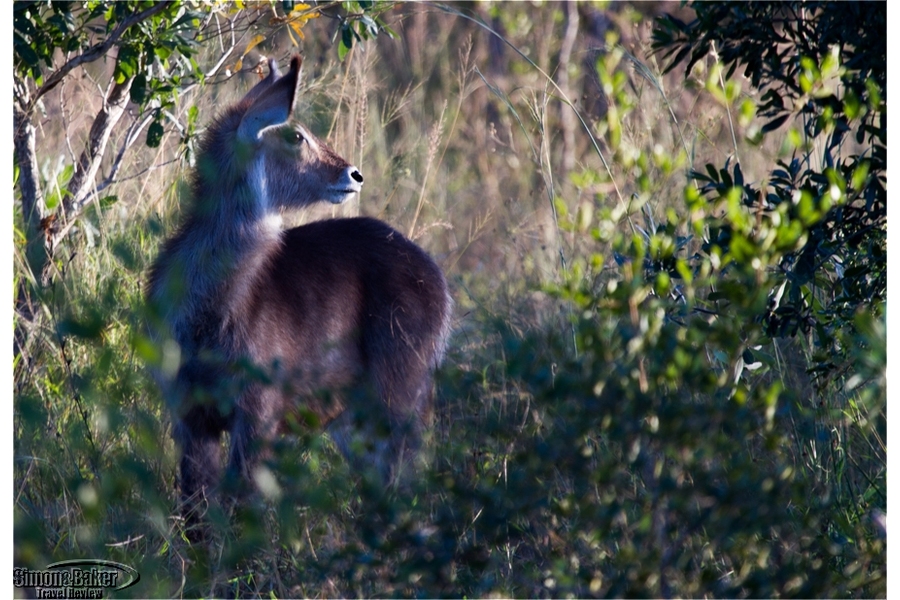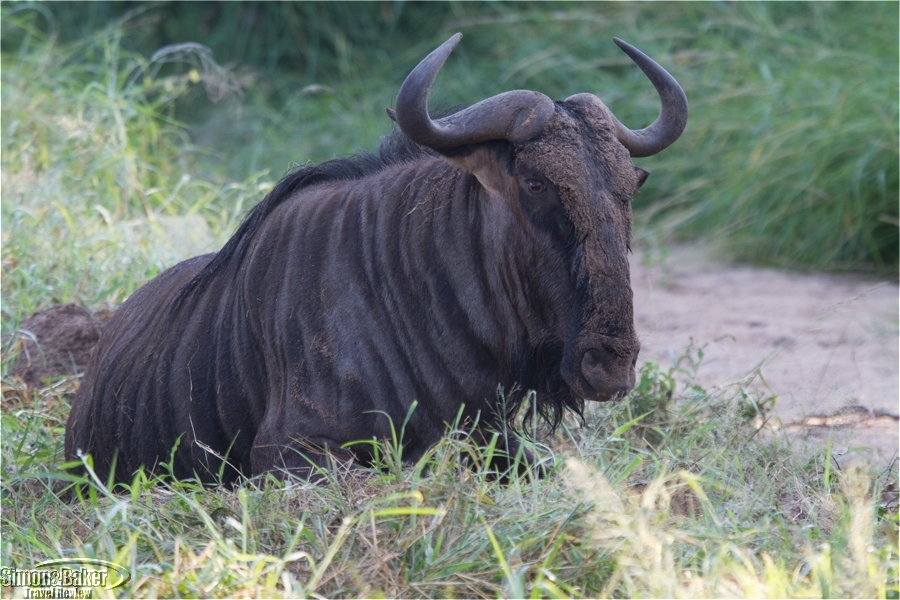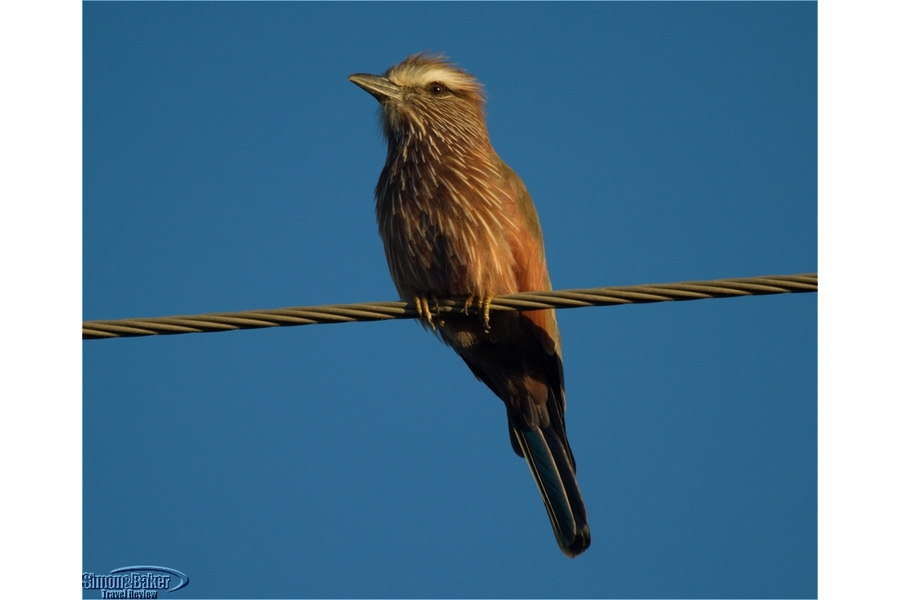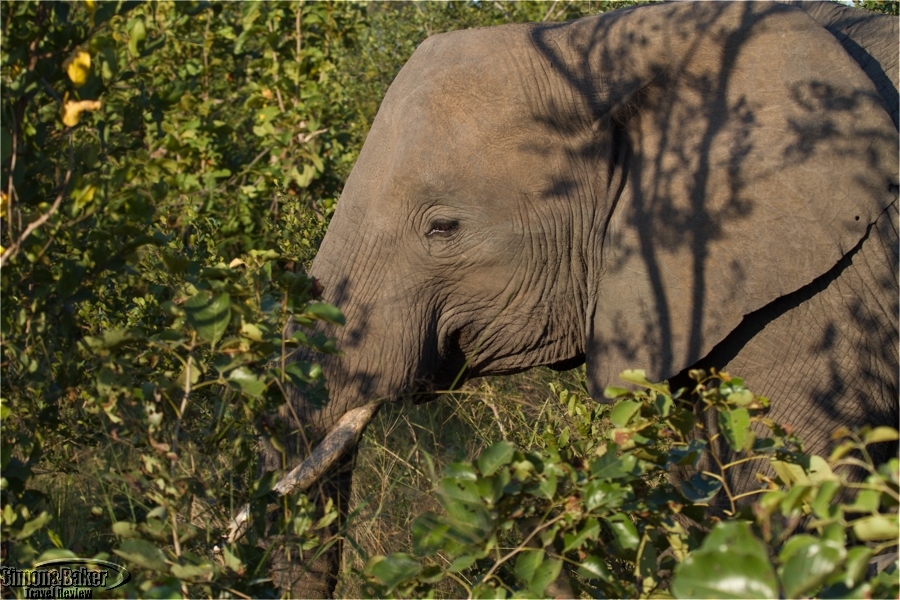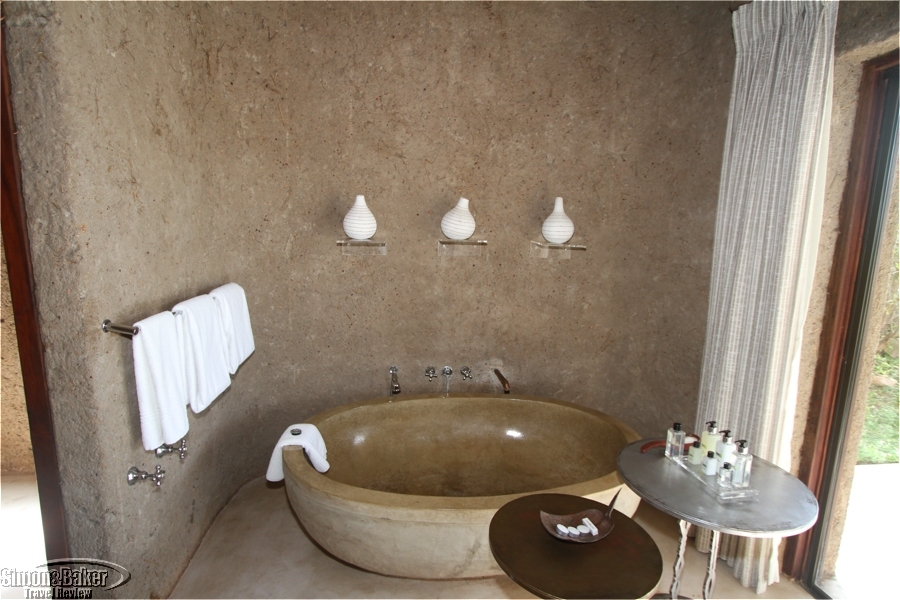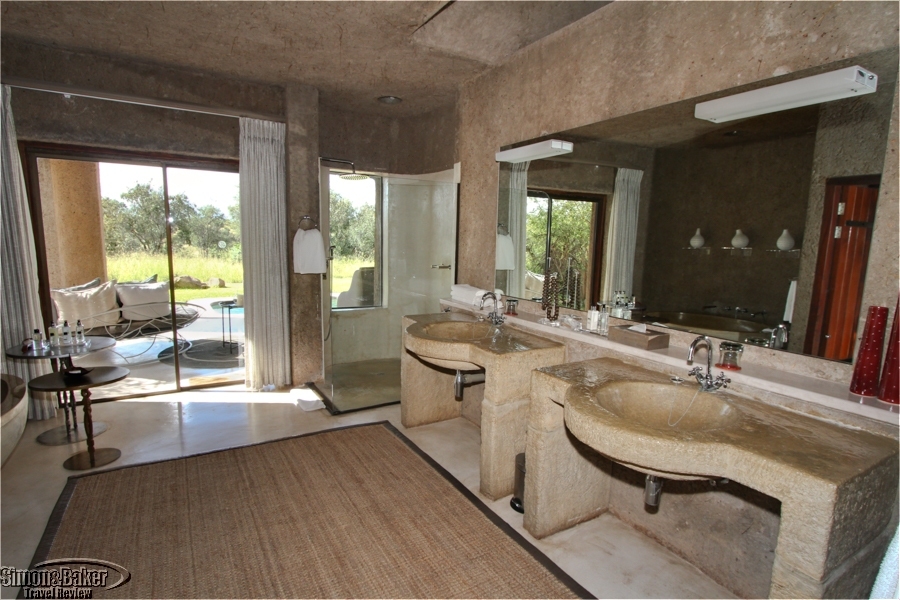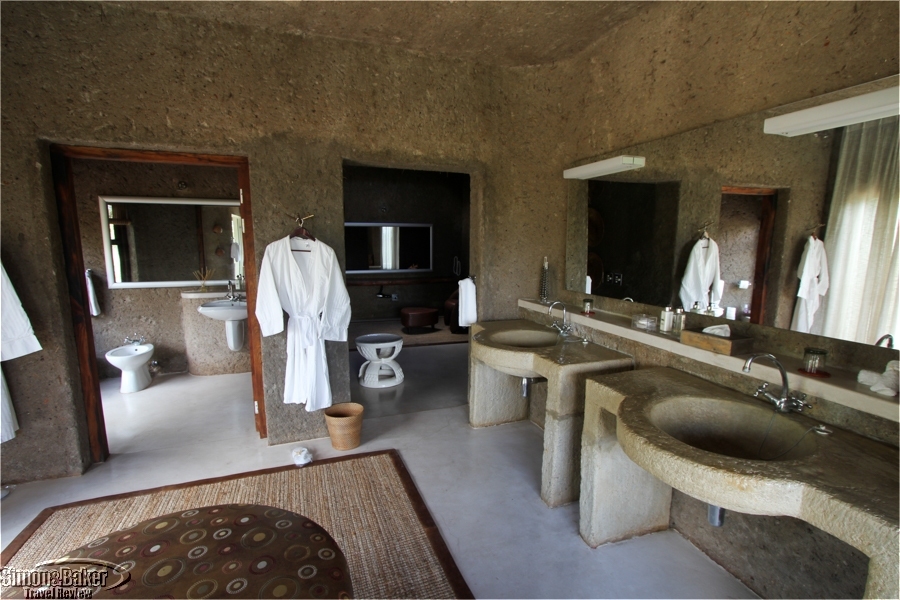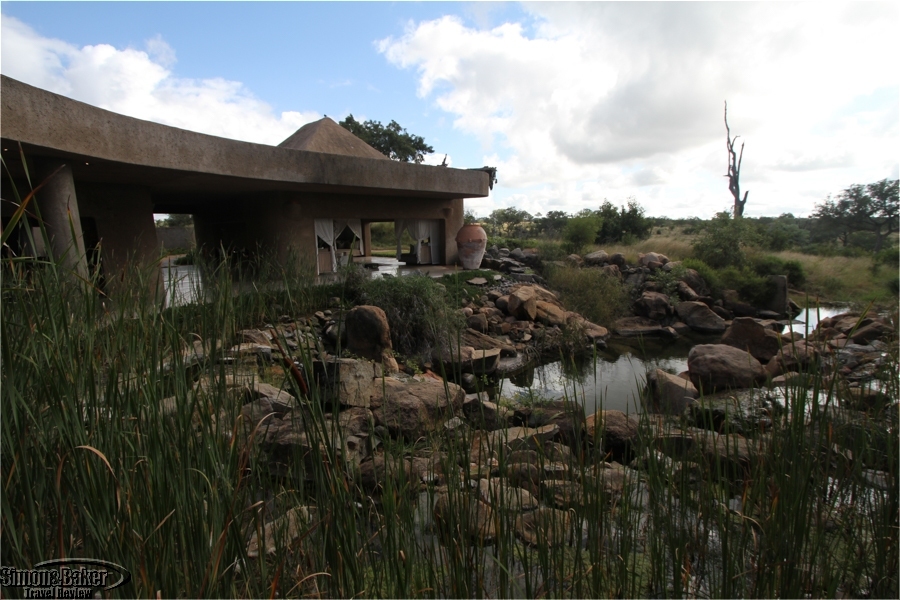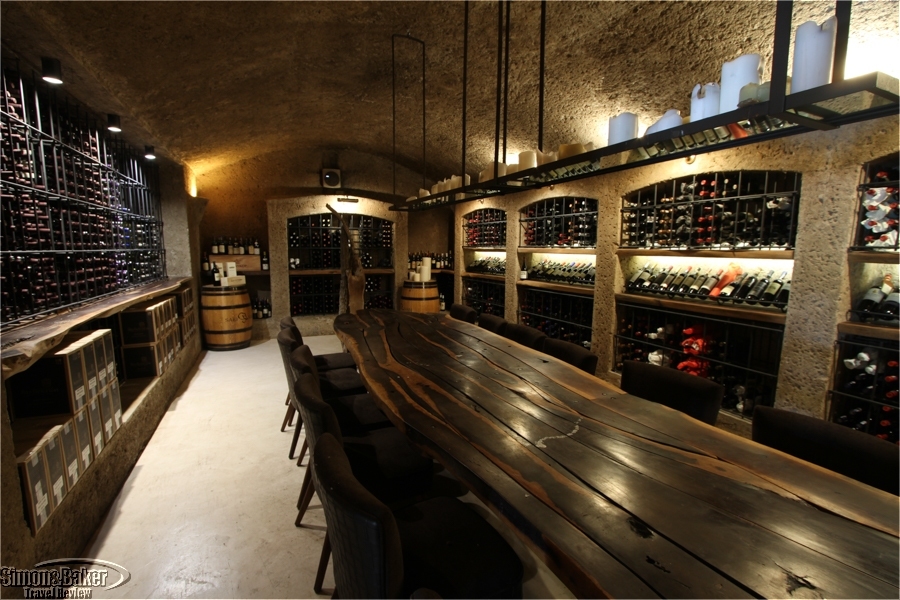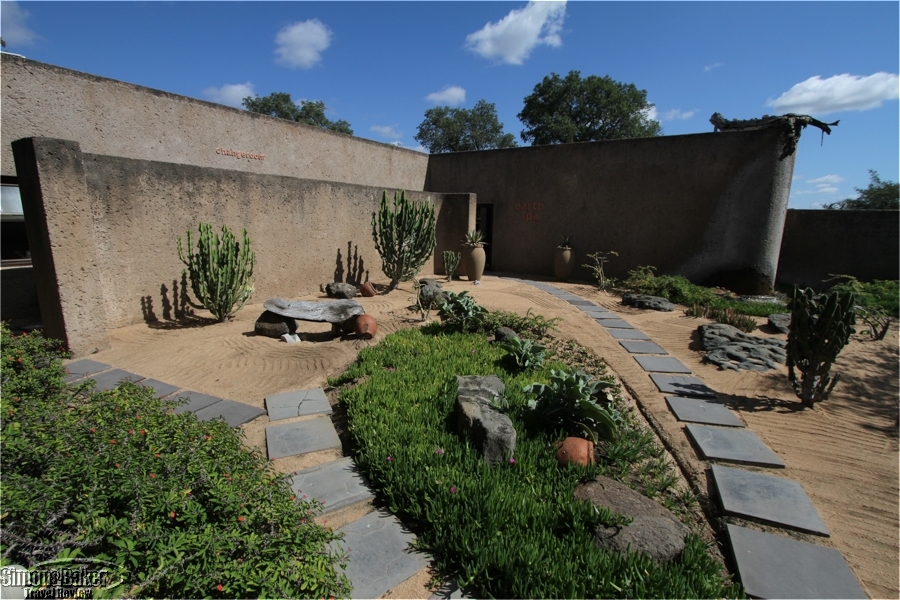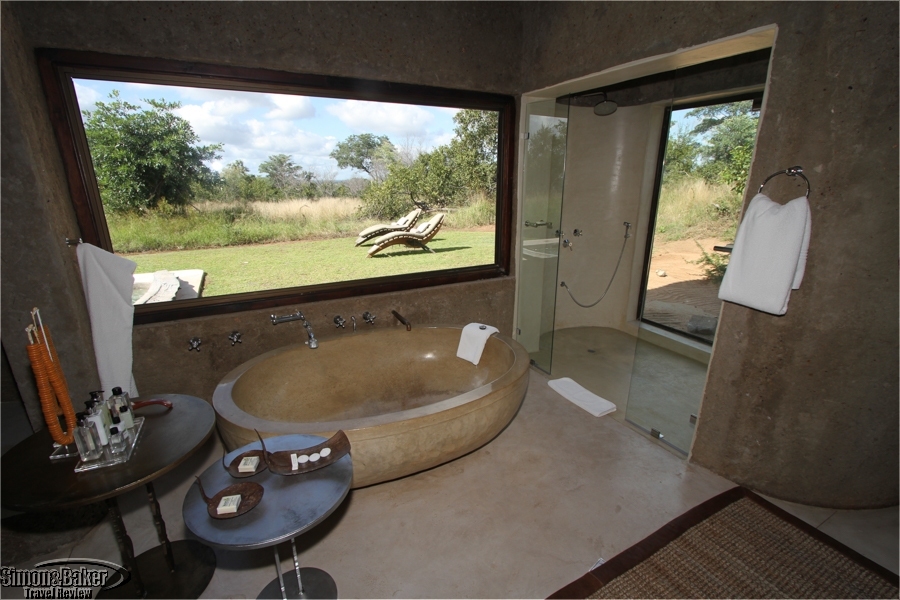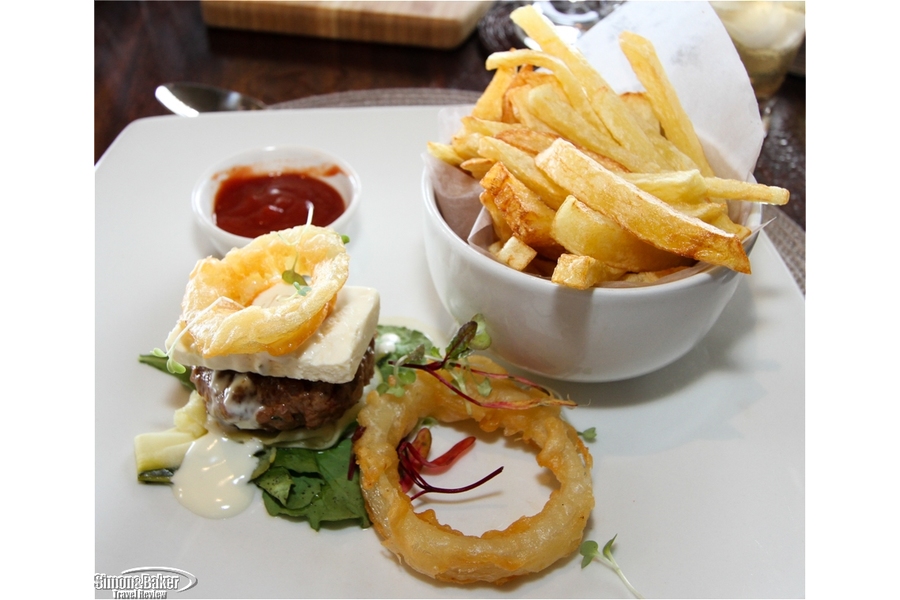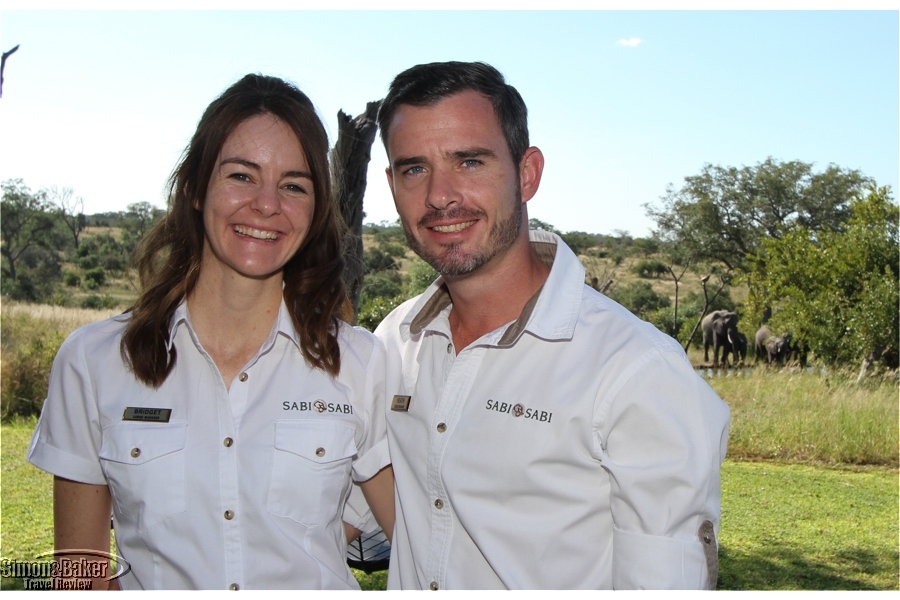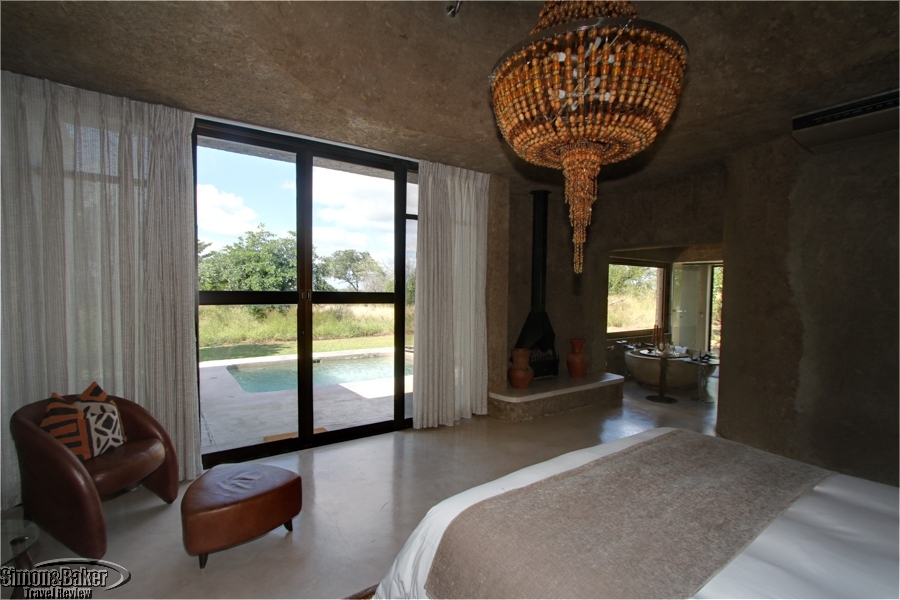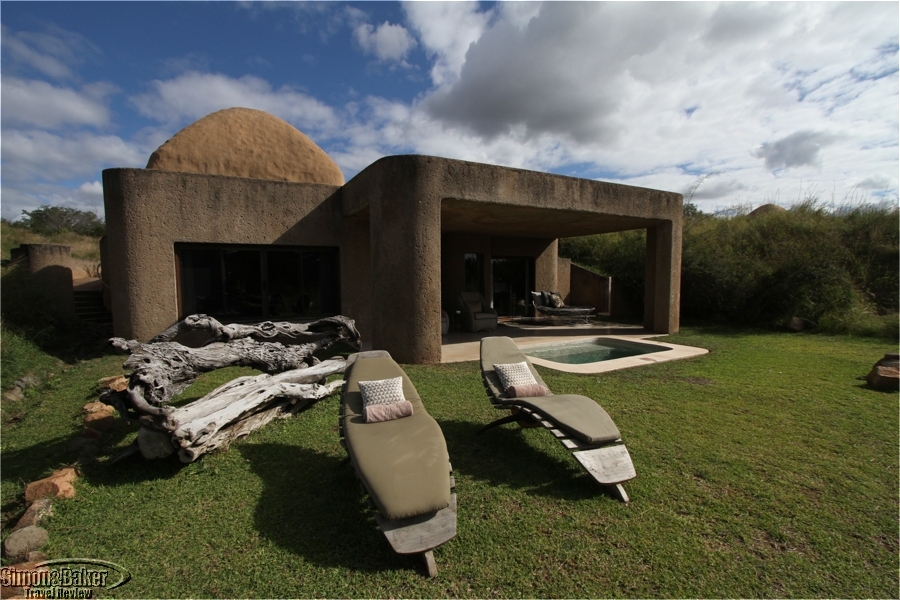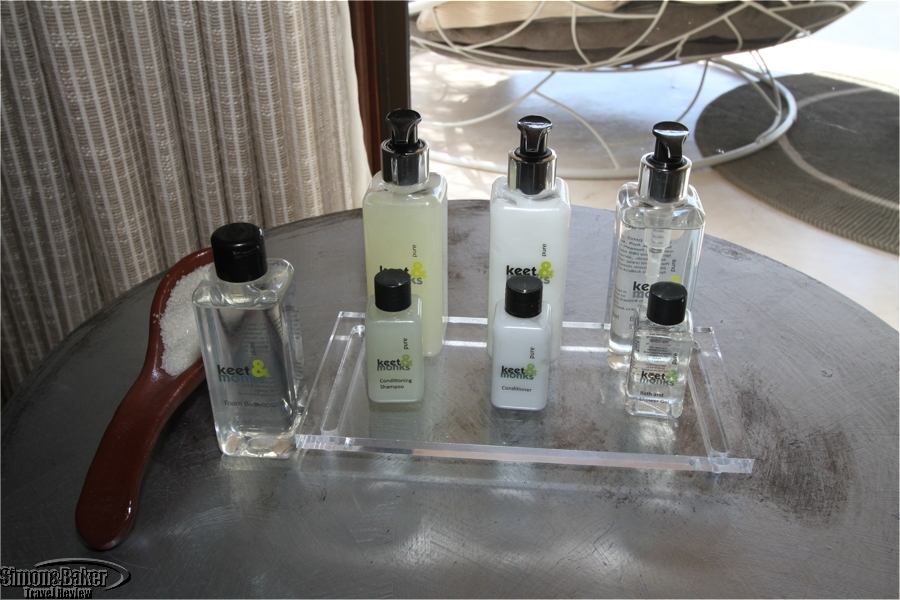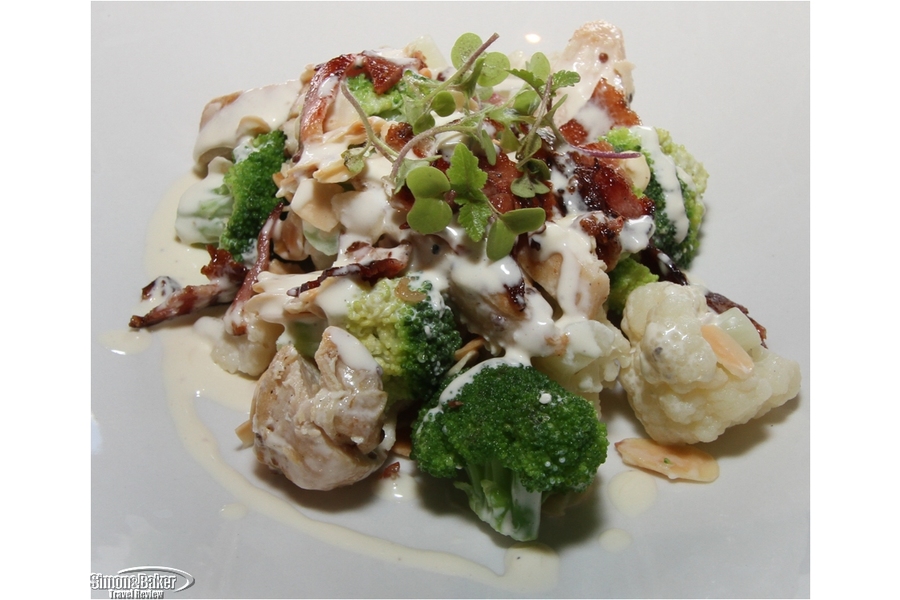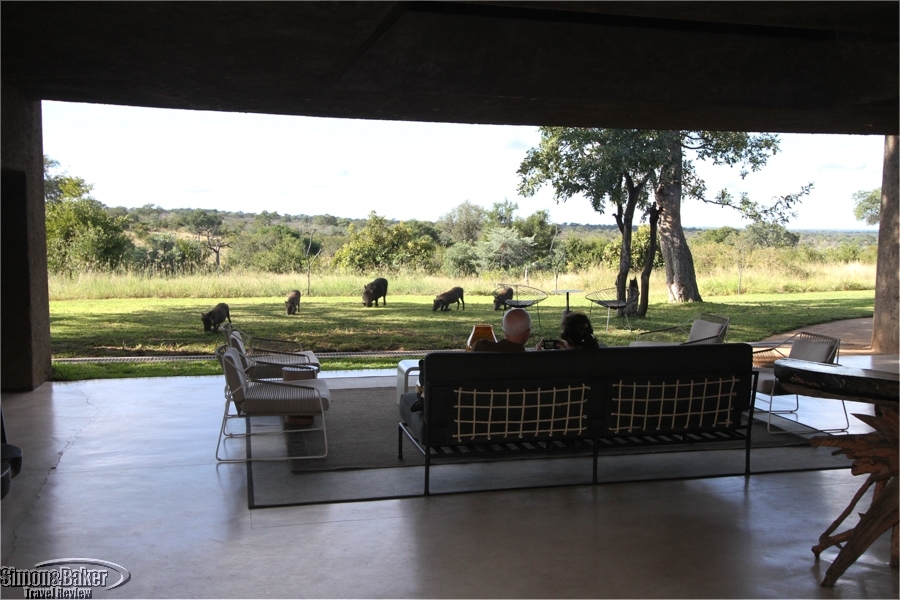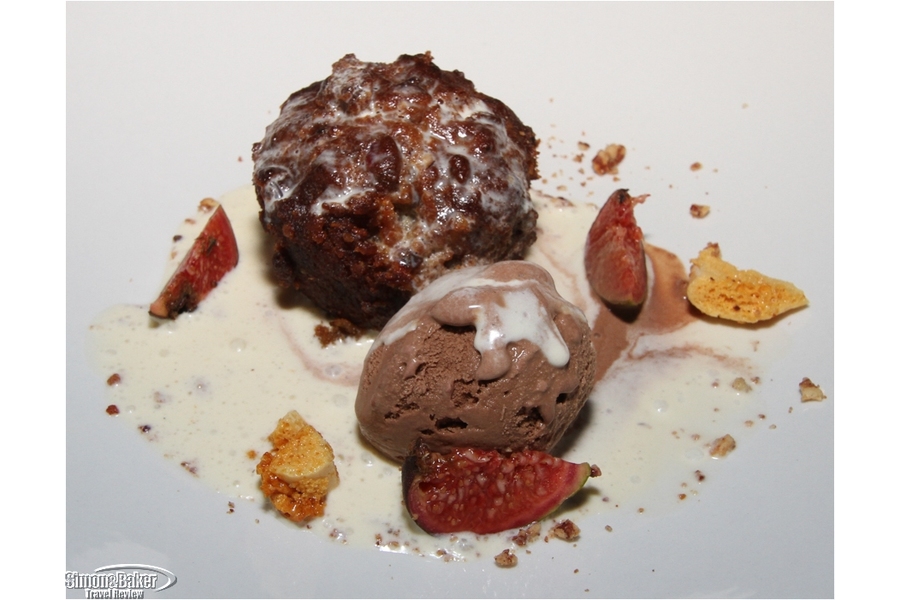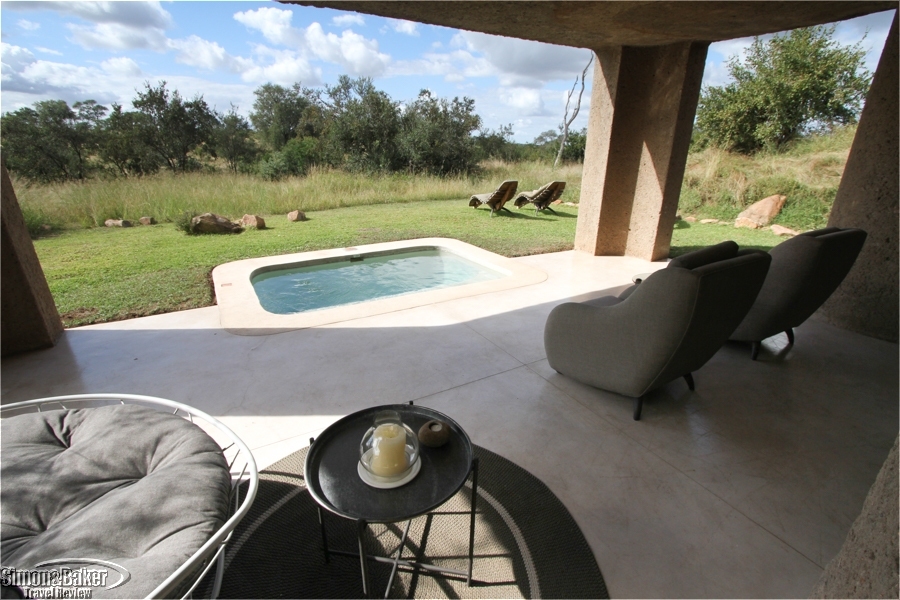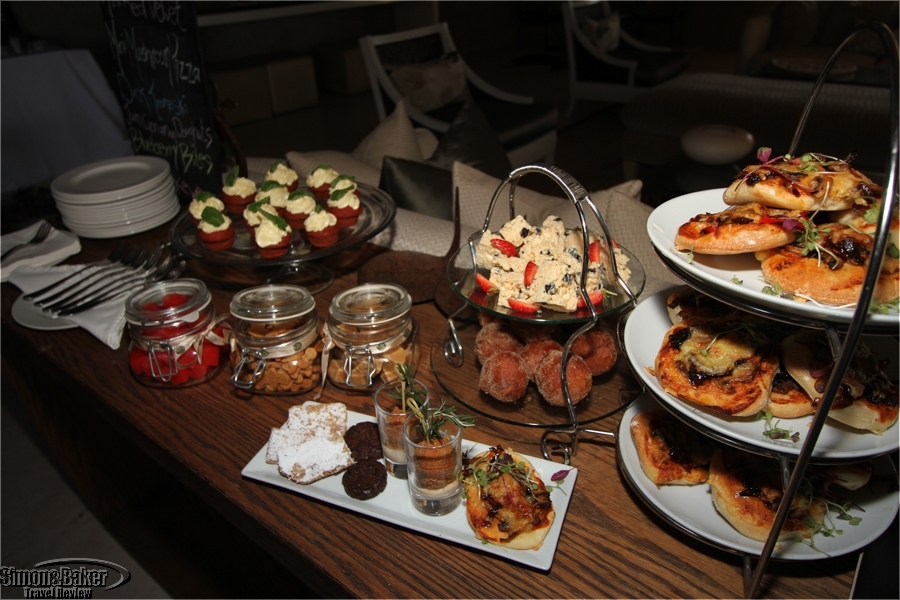 Because of its balanced combination of outstanding game viewing, well appointed and comfortable rooms, luxury facilities and amenities, gourmet meals and friendly service Earth Lodge was one of the highlights of our trip.
Overall Impression
Earth Lodge, one of four safari properties within the Big Five Sabi Sabi Reserve in South Africa's well known Sabi Sand Reserve, offered a balanced combination of outstanding and quality game viewing, well appointed rooms designed for comfort, luxury facilities and amenities, a gourmet orientation and friendly attentive service. I appreciated the availability of onsite spa treatments and the workout room with glass walls facing a water feature. In the early morning, dozens of twittering birds drew my attention during my exercise hour.
The name of the reserve, Sabi Sabi, was derived from the name of the Sabie River, which forms the southern boundary of the property. The word sabi is derived from the Shangaan (a local language) word "savu" which means "fear," referring to the dangers associated with the river such as crocodiles and hippopotamuses as well as floods; and indirectly the name means "fear fear," a spokesperson explained. Although there was no barrier separating us from the surrounding wildlife we felt no such apprehension. From the comfort of our seats in the dining room we watched a warthog family eating grass almost within touching distance. Later during our stay, a herd of elephants quenched their thirst from the water feature while we watched their antics from the shade of the main building. We looked forward to the twice daily game drives with Franscois Rosslee, our energetic and enthusiastic ranger. In his company we saw four of the Big Five and the elusive wild dogs.
Conradie Kruger, head chef, and his staff dedicated much effort to food preparation, presentation and dining location. For example, on our first night they surprised us with a semi private dinner shared with another couple and our ranger in the cellar. The following night we enjoyed cocktails by the fire pit and dined on the lawn beneath a starry sky. We looked forward to meal times and not just for the settings.
At Earth Lodge time disappeared in the blink of an eye, leaving me wanting to linger longer by the main area water feature, in a comfy hanging lawn chair with an expansive view of the bush and any four legged visitors or poolside in my spacious and secluded Amber Presidential Suite. It was with regret that we left after two nights, and we look forward to returning in the future.
Children
The lodge welcomed children 13 years old and older. Families with younger children were welcome if they booked the entire lodge exclusively. There were only adults at the lodge during our stay.
Class of Accommodation Luxury Five star Safari Lodge
Connectivity There was complimentary WiFi. Because of the location of the lodge, the signal could be interrupted due to wildlife influences or inclement weather.
General Managers Bridget and Heath Thompson
Handicapped Access No, there were no designated handicapped friendly rooms or facilities. To reach our rooms we walked down dirt pathways. From the main pathway several steps led to the room entrance.
Length of Stay Two nights
Location Earth Lodge was within the Sabi Sabi Reserve, which in turn was within the Sabi Sand Wildtuin, a private wildlife conservation area. The nearest airport was in Skukuza in the Kruger National Park, about 60 minutes drive from Earth Lodge. There was also a private airstrip on the reserve about 10 minutes drive from the property.
Managed African Cultural Tours (Pty) Ltd., Sabi Sabi Private Game Reserve
Number of Employees 52
Owned Hilton and Jacqui Loon
Size Vehicles from the 6,000 hectare Sabi Sabi Reserve were able to traverse 4,500 hectares of game viewing land. There were 12 Luxury Suites and one Amber Presidential Suite.
Year Opened and Date of Most Recent Renovation Earth Lodge opened in 2001. The lodge was fully refurbished in 2010 with continuous upgrades through 2016. Recent work included soft upgrades, new décor and furniture, a new wine cellar, and a new fire pit lounge.
Lobby and Common Areas It is difficult to do justice to the property's architectural and distinctive decorative style. Photos provide a partial impression. We especially liked the central garden and water feature and the lodge's bush fronting unobtrusive open air design and comfortable yet stylish furnishings. A salient feature in the main building were chairs in a shallow pool of water. They were popular in the summer our hosts explained when I asked about them. Promotional materials described Earth Lodge as "a masterpiece of innovative architecture, organic design and dramatic minimalism which are the cornerstones of this award-winning and internationally renowned game lodge," and a "true reflection of an African lodge, Earth Lodge embodies the spirit of South Africa and takes its cue from the vast mineral wealth of the country, with veins of these elements subtly reflected in décor and furnishings throughout the lodge." It had original handcrafted works of art in the main areas and in the guestrooms.
Bathroom
From the bedroom a few steps to the left there was space for luggage, a walk-in closet and a doorless bathroom. To the right of the entrance there were twins sinks built into a earth tone base and set beneath a rectangular frameless mirror almost the length of the wall. Next to the sinks in the corner was a doorless shower. It had a glass wall facing the bathroom and a partial glass wall facing the back terrace, the pool and the bush. Opposite the sinks was an over large, polished concrete oval shaped bathtub. Sliding glass doors opened the bathroom onto the back terrace and pool. The toilet was in its own room with a door. Outside, to the left of the terrace there was an outdoor shower.
The Presidential Suite main bathroom had twin sinks, twin showers in a doorless space with a glass wall facing an inner sand garden, and outdoor shower. The bathroom also had an oversize, oval concrete bathtub next to a a glass wall facing the bush. There was a second bathroom in the hallway with a shower.
Room
We stayed in Room 4, an 80 square meter Luxury Suite, and in the 220 square meter one-bedroom, two bathroom Amber Presidential Suite. Both were in standalone structures, had polished concrete floors, area rugs, large bead chandeliers, private plunge pools and the same type of décor and art work as the lodge common areas. The furniture was comfortable and pretty. It was pleasant to spend time between game drives in our rooms.
From the main building dirt pathways led to the rooms. From the pathway the conical shape of the top of Room 4 was visible. The rest of the room was built into the landscape. Several concrete steps and walls led to the wood entrance door. The entrance foyer had a high thatched roof ceiling with a modern twig design lamp hanging in the middle of a sitting space atop an area rug. It was furnished with two cloth armchairs with a round table between them. To the left there was an upright fan. To the right an armoire housed a mini bar with a mini refrigerator and a hot beverage service. Expansive windows faced the covered back terrace, pool and bush.
Behind the sitting space was a second sitting area with a cloth sofa framed by identical upright lamps. In the center there was a rectangular glass and metal coffee table atop a cowhide. Opposite the sofa a large wood piece attached to the wall served as a desk. There was an armless chair next to it. There were snacks, a telephone, informational folders, sherry and a one liter bottle of still Aqua Pure spring water on top of it.
A large bed atop an area rug, framed by identical rectangular night tables with lamps, was set against the back wall. The temperature was controlled by a ceiling air conditioning unit and a fan. At night, there were plenty of lights providing ample lighting. During the day, sliding glass doors, windows, and two skylights filled the room with soft sunlight.
The Presidential Suite had a bush and pool facing master bedroom, spacious en suite bathroom and oversize walk-in closet. There was also a second full bathroom, library, living room, dining room and kitchenette.
The living room had a fireplace, sliding glass doors leading to a covered terrace that ran the length of the suite. Next to it the dining room had seating for six. The library had a glass top desk and an armless wicker chair as well as sliding door access to the covered terrace.
Food
With the exception of one dinner we dined alone at our own table. Following a wake up call at 5:30 a.m. we gathered in the main building for tea and rusks (extra crunchy mildly sweet cookies good for dunking) before our game drive. We had breakfast after the game drive (at around 9 a.m.) and lunch at about 1 p.m. in an open air dining room. High tea, served at 3:30 p.m. immediately before the game drive, was elaborate with a variety of tempting treats and beverage options. It was a favorite. Dinner was at 7:30 p.m. The kitchen adapted exceptionally well to dietary restrictions and preferences for meals and snacks. For example, the chef kindly prepared a separate tray of gluten free items for the afternoon tea service. And whenever there were snacks he prepared separate gluten free snacks.
The reserve's meal philosophy was "Simple Done Well" defined as "Simply prepared but executed with class and focusing on flavour over fuss." According to a spokesperson, the chefs took "great pride in keeping menus fresh and updated on a regular basis, matching seasons and trends;" featuring well known ingredients, such as beef, pork, lamb and chicken and venison dishes such as kudu, impala and gemsbok; they designed menus to suit many palates; as far as possible the chefs "try their best to stick to grass fed and pasture raised options despite the remote location."
Amenities
Included in the nightly rate were twice daily game drives, "environmental awareness walking safaris," meals, snacks and water. In the room there were Keet & Monks bath products (shower and bath gel, shampoo, body lotion, conditioner); slippers; bathrobes, electronic safe, complimentary bottled water, Nespresso machine, vanity kit, hot beverage (tea and coffee) service, air conditioning, hairdryer, and sherry. There were also animal check lists for guest use.
Facilities Amani Spa, Boutique Shop, Gym, Wine Cellar, Bar, Library and Lounge.
Fitness Center and Spa There was an air conditioned workout room in a standalone building facing a water feature. It housed two treadmills, rowing machine, spin bicycle, weight machine and small circuit area. Steps from the main building a garden of succulent plants signaled the beginning of the lodge spa.
Shop Behind reception there was a shop with items sourced predominantly from South Africa including branded clothing (limited selection of sizes), jewelry, coffee table books, art, and accessories.
Game Viewing
Our ranger, Franscois Rosslee, had six years of experience and was certified as Full Trails Guide Level 2 by the Field Guides Association of Southern Africa (FGASA). Our tracker was Louis Mkhansi.
Our guide showed us several plant species, including Russet bush willow, Apple leaf, Marula tree, Knob thorn, Sycamore fig, Leadwood, Silver cluster-leaf, Red bushwillow, Devil's thorn. During a sundowner drink stop one evening, he used a special light to show us the yellow-legged-tree-scorpions that infested dead trees.
We saw the following animals: rock monitor, buffalo, Burchell's zebra, dwarf mongoose, elephants, giraffe, impala, kudu, leopard, lion, nyala, scrub hare, side-striped jackal, spotted hyena, tree squirrel, warthog, waterbuck, wildebeest, wild dog.
We saw or heard the following birds: African fish eagle, African hoopoe, arrow-marked babbler, blue waxbill, Burchell's starling, Cape glossy starling, Cape turtle dove, common scimitarbill, crowned lapwing, fork-tailed drongo, go-away-bird, greater blue-eared glossy starling, green woodhoopoe, grey heron, grey-headed bush-shrike, hammerkop, magpie shrike, Natal francolin, pearl-spotted owlet, red billed hornbill, southern yellow-billed hornbill, spotted eagle-owl, Swainson's spurfowl, tawny eagle, Verreaux's eagle owl, Cinammon-breasted bunting, Pied crow, African mourning dove, Purple roller, Lesser striped swallow.
Activities There were two daily game viewing drives in an open Toyota LandCruiser safari vehicle, in the early morning around dawn and in the late afternoon around sunset. We went on four game drives and one bush walk during our stay. During that time we shared the vehicle with two other guests for three out of the four game drives.
Other
As with all the safari properties we visited in South Africa, Earth lodge required that we sign an exhaustive indemnity release as part of the check in process. After dark a staff person escorted us to and from our rooms. The Sabi Sabi Reserve properties, including Earth Lodge, were members of the National Geographic Unique Lodges of the World. In 2016, the reserve received two stars for Best Design and Most Original Wine List by The World of Fine Wine, a magazine, website and app.
The majority of the staff were from and lived in the local communities of Huntington, Lillydale and Justicia. The Sabi Sabi properties community projects focused on ecotourism, education and community with and eye on sustainability, ownership and accountability, according to promotional materials.
Cleanliness
Very good
Date of Last Visit April 2017
Reviewers
Article by Elena del Valle
Photos by Gary Cox
Service Our rooms were serviced twice daily. Our ranger and tracker, the managers, and chef were pleasantly friendly and service oriented.
Would You Stay Again? Yes
Contact Information
Address:

Sabi Sabi Earth Lodge
Sabi Sabi Private Game Reserve
Sabi Sand Wildtuin
Mpumalanga, South Africa

Phone:

Earth Lodge +27 13 7355-261
Sabi Sabi Head Office +27 11 447-7172

Website:
Email: