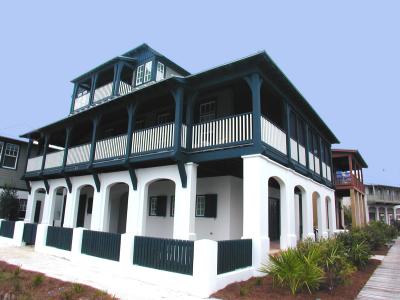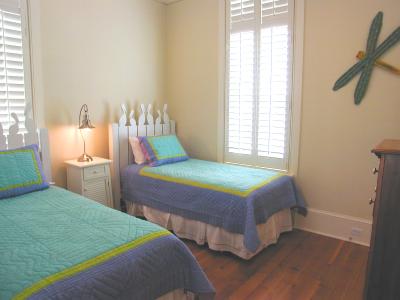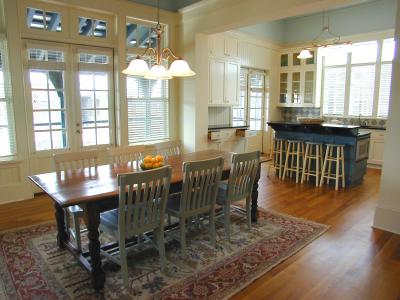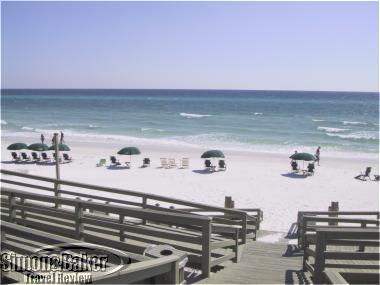 Our only unmet wishes were for high speed Internet access, bath robes and slippers.
Overall Impression
Rydquist Cottage was much more than a cottage. It was a three story four-bedroom bright and spacious multi-million dollar house. Just two blocks from the Florida Panhandle's white sand beach, it looked new and spotless. Decorated in a homey style with comfort in mind, it was conveniently situated within a few minutes walk of the Rosemary Beach town hall and retail shops. It offered excellent partial views of the beach and gulf waters from several areas. Our favorite view was from the second floor porch.
We enjoyed strolling around the neighborhood; working out at the health club; going for a dip in one of the village's five swimming pools; sampling wines at the nearby Medusa Rouge or having dinner at an area restaurant. Our favorite activities were going for a long barefoot beach walk or enjoying a sunset barbeque on the fabulous gulf beach.
Rosemary Beach was the perfect place to get away from it all and relax in a fairytale upscale Southern planned community. Once there, except for a beachfront cottage, we could not have found a better, more comfortable home in Rosemary Beach. Our only unmet wishes were for high speed Internet access, bath robes and slippers.
Concierge Services
The Rosemary Beach Cottage Rental Company offered the following concierge services: Tee time and dinner reservations, beach services, deep sea fishing, massage and other small services, delivery of groceries, car and bicycle rental.
Director Of Guest Services Brandi Purvis
General Manager Ken Gifford
Handicapped Access Limited. No elevator
Length Of Stay Three nights
Location In Rosemary Beach, a planned community in the Florida Panhandle. Within Rosemary Beach, the house was two blocks from the beach on the central western end of the neighborhood
Managed Rosemary Beach Cottage Rental Company
Maximum Occupancy 10 people
Owned Rydquist Family
Size 3,000 square feet including 4 bedrooms and 4.5 bathrooms
Year Opened-Renovated 2003
Description
A ground floor entrance led to a wood floor foyer followed by the main staircase. To each side of the entrance there was a bedroom with an en suite bathroom. A children's room (and bathroom) with built-in full-size bunk beds and a fun checkerboard patterned floor was to the right. A master bedroom with a king size bed was to the left. Each floor offered porch space. The ground floor porch was an inner facing open porch. As they climbed the wooden stairs, visitors found a third bedroom with twin beds and a hallway bathroom. The kitchen, dining room and living room were on the same floor making up one continuous social area featuring windows and a porch about three quarters of the way around. There was a half bathroom on the second floor next to the stairs.
The top of the house was reserved for the second master bedroom and its adjoining porch. At the center of the wood floor room there was a king size bed. On the southernmost corner of there room, there was a walk-in closet. The other corner served as a mini library. A large bathroom was in the back. It featured a Jacuzzi bathtub, a separate shower, a water closet and his and hers sinks.
Amenities
Aveda soap, shampoo and body lotion in all the bathrooms. Linens and once a week clean up service.
Facilities Two master bedrooms with king size beds and private en suite bathrooms; guest room with twin beds and private bathroom; children's rooms with two sets of full size bunks and a private bathroom; fully equipped kitchen; laundry room (adjacent to kitchen) with full size washer and dryer; two fireplaces; four television sets, two DVD's and VCR's and a 5-disc stereo player in the children's bedroom.
Other For families wishing to explore the area, a car was a must for any but the shortest of stays. Dining and shopping options in the Rosemary Beach neighborhood were limited. The only groceries available were at a tiny temporary shop some 10 blocks from the Cottage. The supermarket was in a nearby town.
Check-In-Check-Out Process Ease
Excellent
Cleanliness Excellent
Date Of Review April 2004
Would You Stay Again? Yes
Contact Information
Property Address :
Rydquist Cottage
41 S. Green Turtle Lane
Rosemary Beach, FL; 32461
Contact:
Rosemary Beach Cottage Rental Company
P.O. Box 611040
Rosemary Beach , FL 32461
Tel:
Fax :
Toll Free :