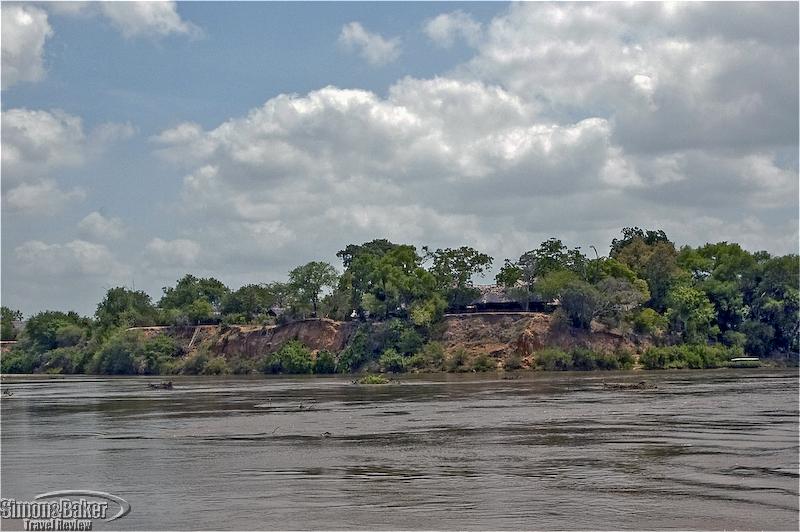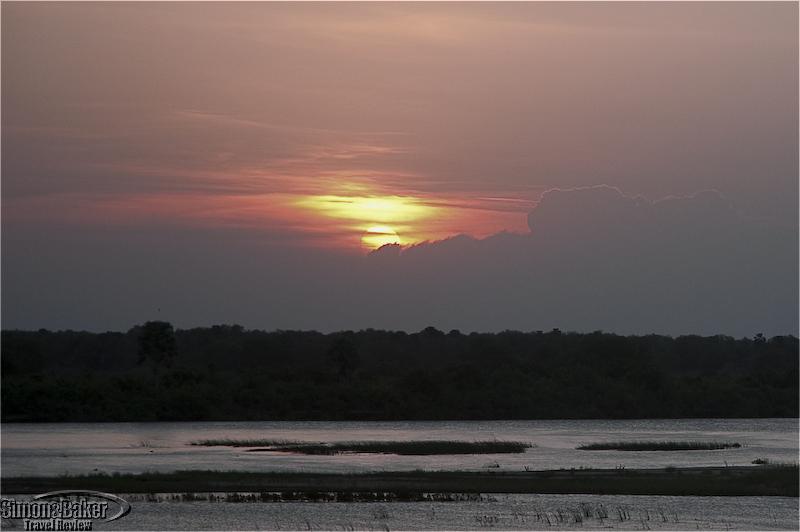 Rufiji River Camp stood out for its spectacular setting in the heart of some of the best wildlife viewing in East Africa, its laid back atmosphere, and as the only property to offer boat safaris during my visit to Tanzania.
Overall Impression
Stretched along a bluff overlooking the Rufiji River at the especially scenic eastern tip of the famed Selous Game Reserve in southeast Tanzania, the Rufiji River Camp delivered an outstanding variety of game viewing opportunities. First identified as a protected area over a century ago, Selous expanded over time to become the largest faunal reserve in Africa. In 1982, it was designated a World Heritage Site by the United Nations Educational, Scientific and Cultural Organization (UNESCO) for its wildlife concentration and diversity and its undisturbed environment. The profusion of wildlife was obvious even as I made my way from the airstrip, turning the relatively short distance to the camp into an extended game drive.
We detoured to the shores of several oxbow lakes where huge flocks of storks and herons fed before soaring in a great aerial ballet against the cloudless sky. Along the way we met large breeding herds of elephants nudging their calves onward as they foraged through the underbrush. Families of giraffes swayed across our path, pausing to prune the underside of thorn acacia trees into perfect umbrellas while they waited for their wobbly calves to catch up. There were buffalos and zebras and antelopes everywhere, and a large pride of lions enjoying their siesta, with a pair or lionesses patiently nursing their cubs.
The camp's privileged location on the river, which included its own boat slip and game-watching boats, made for a rare opportunity to enjoy a floating safari. I opted for an all-day excursion with a leisurely cruise along the riverbanks, the islands and oxbow lakes upriver from the camp, and an idyllic riverside picnic. Birding on the river was a photographer's dream. It allowed me to capture such close-up gems as the instant of realization of a Goliath heron that the fish it had just caught for its breakfast was larger than it could swallow.
At the time of my visit, the camp was undergoing a complete restoration. The guest accommodations had been recently replaced and decorated. My new, deck-elevated side-entrance tent under thatch was especially airy and welcoming. It had a wrap-around veranda with two separate lounging areas that gave a whole new meaning to the term "armchair safari." It overlooked the river with its large pods of hippos, and the far bank where crocodiles lazed in the sun and elephants came to drink. The tent was nestled in a grove of mature trees. Any rustle in the canopy was a bird sighting opportunity, or a visit by a hopeful vervet monkey ready to make a daring dive for any snack I may have left unguarded.
The sprawling new lodge, located immediately behind the existing common area in the center of the camp, was nearing completion. In spite of the commotion created by the construction during the day, the camp ran smoothly. The staff were efficient and friendly and all activities and meals were punctual. My guides and drivers, on land and on the river, were pleasant and knowledgeable.
Rufiji River Camp stood out for its spectacular setting in the heart of some of the best wildlife viewing in East Africa, its laid back atmosphere, and as the only property to offer boat safaris during my visit to Tanzania.
Camp Manager
Rudi Goerke
Children The camp welcomed children of all ages by prior arrangement
Class Of Accommodation Luxury river lodge
Handicapped Access The camp was fully wheelchair accessible. Guest tents as well the entire first floor of the new lodge, including the dining room, lounge and bar had ramp access.
Internet Connectivity A WiFi connection was operational in the late afternoon and early evening in the pool area and the bar. The connection was slow but reliable.
Length Of Stay Three nights
Location On the eastern bank of the Rufiji River, in the northeastern part of the Selous Game Reserve
Owned-Managed the Fox family
Size The property consisted of 11 new guest tents with four VIP tents still under construction. It could accommodate a maximum of 44 guests and employed a staff of 28, including seven guides. There were seven game viewing vehicles and three pontoon boats.
Year Open-Renovated The original camp opened on the site in 1982. It was acquired by the Fox family in 2009 and was in the final stages of reconstruction at the time of my visit. Completion was scheduled for June 2011.
Lobby And Common Areas The common area was all that remained from the previous camp. It was scheduled to be demolished upon completion of the new lodge. Meanwhile, it consisted of a high peaked thatch roof held by rope-covered metal posts over a stone terrace. A rectangular bar with a masonry base topped by a hardwood slab and surrounded by six wooden barstools marked the entrance. It led to a long open space with a lounge to the right, the dining area to the left and a panoramic river view. The lounge was furnished with contemporary teak sofas and armchairs with bottle green canvas cushions arranged around a rectangular teak table. A high bookcase topped by a sculpture of a crocodile held a small collection of books on East African safari-related topics and a number of paperbacks in various European languages as well as Afrikaans. The dining room had square wooden tables surrounded by matching ladder-back chairs with green seat cushions. The tables could be placed together to accommodate large groups of guests.
Bathroom
In a rear of the bathroom, a masonry half-wall held a vanity made of a brown polished concrete slab countertop with two white ceramic sinks. A framed mirror was propped up between the two sinks. An open shower with a raised stone base occupied the opposite corner. There were wooden towel rods handy to the shower and the vanity. The flush commode was in a separate doorless enclosure.
Tent My 450 square foot (42 square meter) tent, Number 7, was raised on a dark, polished hardwood platform under thatch. It had an L-shaped veranda that outlined the broad side of the tent, where the main entrance, a double accordion door made of a wood frame holding mesh panels, was located. The veranda wrapped around the front of the tent with its additional zipped mesh opening, where it overlooked the river. The bedroom area occupied the front two-thirds of the tent, divided from the bathroom at the rear by a canvas partition. The bedroom furniture was made of casual contemporary teak. There were two king size beds separated by a bedside table that held two reading lamps with parchment shades. The beds were covered with taupe and green-striped cotton throws. On the opposite wall, a drop leaf desk with a wooden chair and a luggage stand occupied the front corner. A clothes-hanging rack and a carved storage chest occupied the rear corner. The beds were draped in mosquito netting.
On the river side of the veranda, a woven rattan Parsons love seat with green cushions and a matching armchair faced each other. The entrance side of the veranda extended gazebo-like toward the bush. The gazebo was furnished with a tan rolled arm leather sofa and matching armchair, and a rattan chair identical to that at the front of the veranda. This grouping was arranged around a small rectangular coffee table. A canvas and rope swing chair hung at the front corner of the veranda, facing the river.
Food The food was plentiful and wholesome, prepared using mainly fresh products from local sources. Breakfast featured a full English breakfast menu as well as a plate of cut fresh fruit and a basket of freshly baked rolls. Breakfast beverages were tea, coffee and assorted fruit juices. Lunch was served buffet style. It consisted of an assortment of salads, cold meats, savory pies and dessert. Dinner was served from 8 p.m. to 9:30 p.m. It featured a three-course menu starting with a soup that was served at the table, followed by a buffet-style main course that included a variety of meat and vegetable offerings. Dessert was served plated. A vegetarian meal option was available by prior request. In addition to scheduled meals, complimentary coffee and tea were available throughout the day in the dining area, with cake served at teatime.
Amenities
Room amenities included daily laundry, bottled water, insect control room spray, a flashlight and an electronic safe. Bathroom amenities included bath and hand towels, face cloths, individual size bottles of house brand shower gel and hand soap.
All meals and daily game viewing activities were included. Other than the water provided in the room, all soft drinks, bottled water and alcoholic beverages were available at the bar and priced individually.
Facilities There was a dining room, lounge, bar and a swimming pool.
Pool The 500 square foot (47 square meter) bell-shaped pool was about five foot deep. It was set under a thatched roof in the center of a wide stone terrace that held a dozen lounge chairs, a few of them shaded by the roof, and the others arranged in sunny spots. Pool towels were self-service. As I have often found it to be the case in tropical areas, the thatch cover kept the pool so chilled that it was uncomfortable for swimming.
Game I Sighted Included
buffalo, elephant, giraffe, black-backed jackal, hippo, spotted hyena, lion, monitor lizard, Nile crocodile, common duiker, greater kudu, hartebeest, impala, waterbuck, warthog, waterbuck, wildebeest, zebra, yellow baboons, vervet monkey.
Birds included: carmine bee eater, white-fronted bee eater, bubul, Egyptian goose, emerald-spotted wood dove, juvenile and adult African fish eagle, martial eagle, great white egret, black cattle egret, cattle egret, hammerkop, Goliath heron, black heron, gray heron, sacred ibis, hadeda ibis, pied kingfisher, woodland kingfisher, red-billed oxpecker, three-banded plover, white-headed plover, European roller, lilac-breasted roller, marabou stork, saddle-billed stork, spoonbill stock, yellow-billed stork and African golden weaver.
Game Viewing Selous is unique among Tanzania's most renowned game areas in that it is a game reserve, thus allowing for a larger range of activities than the more regulated national parks. In addition to game drives and boating excursions, there was an opportunity for walking safaris. During game drives, it was possible to go off road for close-up game viewing. Game sighting and birding on land and on the river were superb. All my game drives were in one of the camps custom-designed, canvas-topped, open-sided vehicles, and the river excursions were in open pontoon boats. I was fortunate that I never had to share a vehicle during my stay, which allowed me to set my own pace and focus exclusively on my personal areas of interest.
Activities In addition to twice-daily game drives, boat and walking safaris, all-day game drives and boat excursions with a picnic lunch were available.
Other
My GSM 900/1800 compatible international cellular phone service was fully operational at the lodge and intermittently throughout the park.
The camp was powered by solar energy. All tents had solar lighting and solar-heated hot water. There was a convenient outlet in my room that could be used to charge my camera, phone and computer batteries.
Cleanliness
Excellent
Date Of Visit January 2011
Reviewers Article and photos by Josette King
Service My tent was serviced daily. Every member of the staff I met was friendly and efficient. Eric, my guide, was knowledgeable and patient.
Would You Stay There Again? Yes
Contact Information
Address:
Foxes Safari Camps
P.O. Box 10270, Tazara
Dar es Salaam
Tanzania
Phone:
Mobile:
Emergency:
UK Phone:
Fax:
Website:
Email: