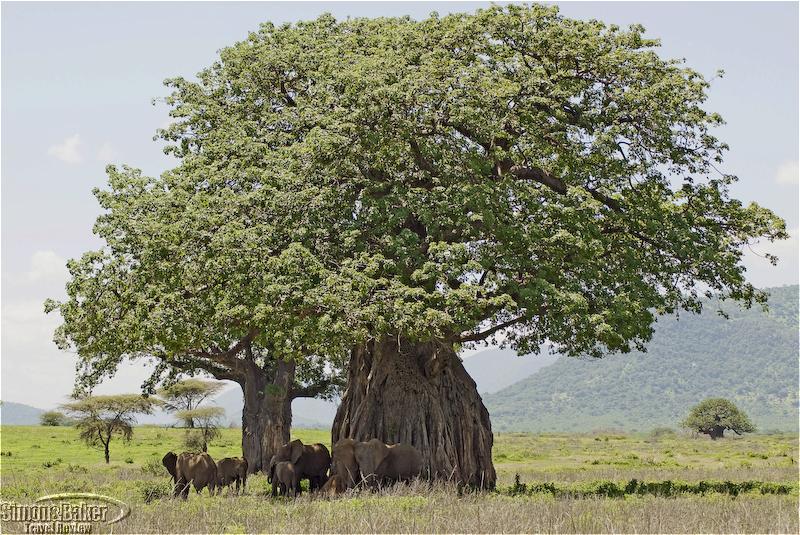 The combination of outstanding wildlife in the dramatic environment of Ruaha National Park, the easy-going comfort of the lodge and its superb riverside location made for a memorable safari experience; one that I will recommend to friends looking to venture out from the usual game-viewing destinations.
Overall Impression
Strung along the rocky bank of the river that gave it its name, Ruaha River Lodge was one of only a handful of permanent accommodations within the rugged immensity of the Ruaha National Park, in the highlands of central Tanzania. The 3,980 square mile (10,300 square kilometer) park is the second largest in the country after the Serengeti. It is reputed for its craggy scenery as well as the abundance and variety of the species that can be found there. Yet visitors are relatively few so that the park retains a great wilderness atmosphere.
The lodge made the most of its spectacular setting. Nestled within a grove of ancient riverine trees, it was constructed of local granite and thatch that blended unobtrusively with its surroundings. The common areas and the guest bandas (Swahili for cottage) overlooked the river. My own banda was only a few feet away from the river's edge. On the night of my arrival, I was dreamily lounging on my deck, watching the moon rise over the Charawindi Hills in the distance, when three adult hippos filed past and with much stomping and snorting proceeded to graze just beneath my deck. By then Ruaha game-viewing excitement was already the norm for me, it having begun before the plane had even touched the ground, with a trio of giraffes disinclined to relinquish their claim on the landing strip. It had taken repeated efforts from the awaiting guides and rangers to convince them otherwise. Then a family of warthogs joined the fun. After a couple of aborted approaches, we did land in the end, and before long Josephat, my guide, and I were happily rocking along a rough trail through some of the most striking landscapes I have enjoyed anywhere in Africa.
Not only was the topography spectacular, a broad undulating plateau framed by high escarpments dotted with colossal boulders, but the entire area was covered with stands of mature baobabs. There had been recent rains, so that the giant trees had lost their familiar skeletal appearance. They now formed huge leafy umbrellas where entire families of elephants came to shade themselves from the midday sun. Some of the most majestic trees looked like they had been carved by artistic titans, their trunks deeply gouged and occasionally hollowed through. The handy work of generations of elephants, Josephat informed me. In times of draught they attack the baobabs for their moisture, and as a source of potassium. But lest I became obsessed with baobabs, Josephat also made sure to produce such treats along the way as a large pride of lions enjoying their afternoon siesta and my first ever encounter with bat-eared foxes lounging near their den.
It was quite late by the time we reached the lodge, where assistant manager Mary was on hand for a warm welcome. A hearty buffet luncheon was waiting for me, which she recommended I enjoy before she showed me to my banda and ensured that I was comfortably settled. A short tour of the common area and a run through of the available activities made it clear to me that Ruaha River Lodge was a casual and laid-back environment focused on the comfort of its guests, as I consistently experienced throughout my stay. The staff and management were unfailingly pleasant and helpful. Josephat, who I was fortunate to have to myself for most of my game drives, encouraged me to set a pace that would best allow me to get maximum enjoyment of my Ruaha safari experience.
The combination of outstanding wildlife in the dramatic environment of Ruaha National Park, the easy-going comfort of the lodge and its superb riverside location made for a memorable safari experience; one that I will recommend to friends looking to venture out from the usual game-viewing destinations.
Camp Manager
Matte Erno
Children The lodge welcomed children of all ages. The riverside dining room was designated as adults-only. I did not notice any children anywhere at the lodge during my stay.
Class Of Accommodation Superior river lodge
Handicapped Access No
Internet Connectivity The lodge had a WiFi connection in the manager's office that could be used to check e-mail. Connection was slow but reliable.
Length Of Stay Three nights
Location On the Great Ruaha River, which outlines the eastern boundary of the Ruaha National Park in central Tanzania; 375 miles (600 kilometers) south west of Dar es Salaam, Tanzania's larges and most cosmopolitan city.
Owned-Managed The Fox Family
Size The property consisted of 24 cottages that could accommodate a maximum of 70 guests. It employed a staff of 45 including 15 guides and drivers and 11 game-watching vehicles.
Year Open-Renovated The lodge originally opened in 1979 with only a few of bungalows as the first privately owned facility in the park. It was gradually expanded before being extensively renovated to its current size in 2004.
Lobby And Common Areas
The property was divided into two camps of 12 large guest
bandas
. Each camp had its own common area that included a lounge, restaurant, bar and a panoramic view of the river under a soaring thatch roof held up by rough-hewn posts. One lounge was located on the riverbank, the other at the top of a knoll that overlooked the property. The hilltop lounge offered an especially stunning overhead perspective of rock pools were big game came to drink.
The riverside common area was a vast rectangular space with a light brown polished concrete floor surrounded by a low ledge of local granite. The front and sides of the common area were open to the river. The rear was enclosed with bamboo screens that held hanging tribal rugs and framed antique prints of local game. The lounge featured four groupings of brown leather Victorian-style rolled arm sofas and matching wingback armchairs arranged around rectangular coffee tables sitting on cinnamon-colored cotton rugs. The bar was at the far end of the lounge, its granite base topped with a dark wooden stab. The dining area was furnished with an assortment of round and rectangular tables covered in cinnamon-colored linen. They were surrounded by director chairs with brown canvas backs and seat cushions covered in color-coordinated local ethnic print. The entire space looked in need of a bit of sprucing up. Metta Erne, the property manager, mentioned that it was scheduled to be redecorated in the near future.
The hillside common area looked freshly renovated. It consisted of a series of wooden platforms anchored to the rocky ledge at the top of the knoll, and accessed by two stone stairways. The lounge was furnished with alternating groupings of brown leather Victorian-style rolled arm sofas and matching wingback armchairs and similar pieces covered in bright blue canvas with ecru toss pillows. They were arranged around coffee tables sitting on slate-colored cotton rugs. At the rear of the lounge, the bar was a wooden slab over a granite base built directly into the ledge. The dining area furnishings were similar to that of the riverside dining room. A collection of attractive local carvings and a series of antelope and buffalo horns completed the décor.
Bathroom
At the rear of the
banda
, the bathroom was a large open space with a semicircular outer wall with four small high windows. Set against the back wall, a vanity made of a light brown polished concrete slab over a masonry base held twin white ceramic sinks. Wood-framed mirrors hung above the sinks. The flush commode stood between the vanity and an open shower. In the corner of the room, the shower was a large stone platform with a crimson masonry backdrop. A towel stand sat next to the bathroom door. Lighting was provided by two small white glass globes set high on the wall, one near the shower and the other above the vanity. Overall, I found the bathroom to be gloomy. The electricity only operated morning and evening, and even then, the two small light fixtures were insufficient to be effective in such a large space. In the daytime, the windows provided sufficient airflow and privacy but inadequate light.
Room My 540 square foot (50 square meter) stone and thatch banda, Number 16B, had a large front deck that extended to the river's edge. The banda had a wood and screening double door with a combination lock. The floor throughout was a slab of light brown polished concrete. The banda was divided into two rooms, with the living area occupying the front two-thirds, and the bathroom in the rear. There were large screened picture windows along the front and side walls of the cottage draped in ecru cotton with prints of the big five (lion, leopard, buffalo, rhino and elephant). At the front of the living area, a rolled arm loveseat and armchair, both upholstered in bright blue canvas with light brown throws and green toss pillows, and a rectangular coffee table atop a brown cotton rug. There was a writing table with a director's chair in the front corner of the room, to the right of the entrance door. A long credenza with a wood top over a bamboo base with built-in storage drawers and shelves separated the sitting and sleeping areas. There were two four-poster beds, one queen size and one twin, draped in mosquito netting and separated by a bedside table. They were covered with cinnamon-colored cotton throws with toss pillows and bed scarves that matched the print of the window draperies. A bench that doubled as a luggage rack stood at the foot of each bed. An electric sconce hung on the wall above each bed. Large local batiks hung high in the pitch of the roof above the front door and between the beds.
Meals The food was plentiful and wholesome, prepared using mainly fresh products from local sources. Breakfast was served from 7 a.m. to 10:30 a.m. It featured a full English breakfast menu as well as a plate of cut fresh fruit and a basket of freshly baked rolls. Breakfast beverages were tea, coffee and assorted fruit juices. Lunch was served buffet style from 1 p.m. to 2:30 p.m. It consisted of an assortment of salads, cold meats, savory pies and dessert. Dinner was served from 8 p.m. to 9:30 p.m. It featured a three-course menu starting with a soup that was served at the table, followed by a buffet-style main course that included a variety of meat and vegetable offerings. Dessert was served plated. A vegetarian meal option was available by prior request. In addition to scheduled meals, complimentary coffee and tea were available throughout the day in the dining area, with cake served at teatime.
Amenities
Room amenities included daily laundry, bottled water for drinking and oral hygiene, insect control room spray and an electronic safe. Bathroom amenities included bath and hand towels, face cloths, individual size bottles of house brand shower gel and hand soap.
All meals and daily game viewing activities were included. Other than the bottled water provided in the room, which was replenished daily, soft drinks, bottled water and alcoholic beverages were available at the bar and priced individually.
Facilities There were two dining rooms, lounges and bars.
Game Viewing
Game sighting and birding were unfailingly superb at Ruaha. In addition being home to over 10,000 elephants, as well as large prides of lions and impressive herds of greater kudus, the park is ideally situated in an ecological transition zone where east and southern African flora and fauna overlap; which makes for an exceptionally varied range of game and birds. All my game drives were in one of the camp's custom-designed, canvas-topped, open-sided vehicles. Although it had three tiered rows of seats that could have comfortably accommodated up to six guests, I shared my vehicle only once with two other guests. I enjoyed, at my leisure, a lengthy sighting of bat-eared foxes (my first ever), and discovered agama lizards with their amazing jewel-tone colors. I was also able to sight a number of birds unknown to me, with sufficient frequency that I could identify them by the end of my visit.
Game I sighted included: buffalo, elephant, lion, hippo, giraffe, warthog, zebra, impala, bush hyrax, bat-eared fox, black-backed jackal, spotted hyena, slender mongoose, Kirk's dikdik, Grant's gazelle, impala, greater kudu, vervet monkey, waterbuck, yellow baboon, Nile crocodile, monitor lizard and agama lizard.
Birds included: buff-crested bustard, cisticola, knob-billed duck, tawny eagle, martial eagle, red-billed francolin, crested francolin, spar-winged goose, Goliath heron, African hoopoe, gray-billed hornbill, von der Decken's hornbill, woodland kingfisher, yellow-collared lovebird, African Scops-owl, rufous-crowned roller, European roller, lilac-breasted roller, black-faced sand grouse, magpie shrike, Abyssinian scimitarbill, yellow-billed stork, saddle-billed stork and white-headed buffalo weaver.
Activities In addition to twice-daily game drives, an all-day game viewing option with a picnic lunch was available.
Other
My GSM 900/1800 compatible international cellular phone service was fully operational at the lodge and throughout the park.
Electricity was provided from 9 a.m. to 1 p.m. and 6 p.m. to 10:30 p.m. by a diesel-powered generator. There was a convenient outlet in my room that could be used to charge my camera, phone and computer batteries. Water was solar heated.
Cleanliness
Good
Date Of Visit January 2011
Reviewers Article and photos by Josette King
Service My banda was serviced daily. The staff was consistently friendly and efficient. Josephat, my guide, was knowledgeable, attentive and pleasant.
Would You Stay There Again? Yes
Contact Information
Address:
Foxes Safari Camps
P.O. Box 10270, Tazara
Dar es Salaam
Tanzania
Phone:
Mobile:
Emergency:
UK Phone:
Fax:
Website:
Email: