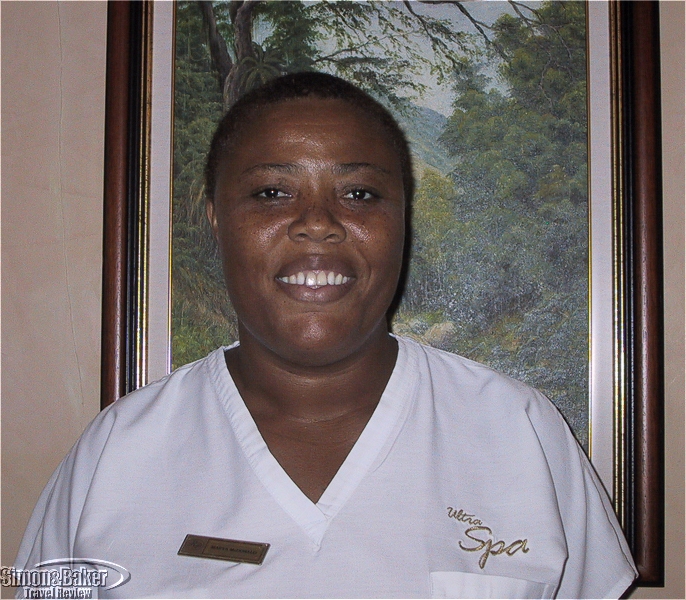 If I had to do it over again and could spend the time, I would dedicate at least a full day to the spa. After a workout routine, I would luxuriate in the spa and take advantage of the beauty salon services.
Overall Impression
The serene, quiet and cozy ambiance of the Royal Spa was a good match for the Royal Plantation where the spa was housed. Although we noticed by the number of guests calling and having treatments that the spa was popular, once inside it was tranquil. The staff were friendly and helpful, never chatty. The treatments we tried were good, the facilities were spotless, and the ambiance was elegant and welcoming.
My therapist was able and efficient. I arrived feeling rushed after a full day of activities and lunch, concerned about meeting my friends immediately after the spa treatments. I left feeling less stressed and smiling. During my visit I had a quick steam followed by a seaweed wrap and exfoliation and a massage. If I had to do it over again and could spend the time, I would dedicate at least a full day to the spa. After a workout routine, I would luxuriate in the spa and take advantage of the beauty salon services. Perhaps the next time . . .
Handicapped Access
The Spa's response: "The Royal Spa is able to and has accommodated handicapped guests with assistance. The spa is all on one level after entering a 5″ step up unto the verandah, which wheel chairs have mounted without any problems. Our Mahogany doors are wide and our spa rooms spacious enough to accommodate an independent wheelchair user."
Location On the Royal Plantation Hotel grounds in Ocho Rios
Managed Tanya Vassell
Number Of Staff 16
Owned Gordon "Butch" Stewart
Size The overall spa was housed in 3,842 square feet of space including four spa suites.
Spa Director Karen Sprung
Special Training Staff members received most of their training in Jamaica. Some had exposure and experience gained from international trainers from as far as Japan and several from the U.S.A. and Canada.
Treatment Room The treatment room was quiet and large enough to accommodate the two of us comfortably. It had an en suite shower and plenty of space for the therapist to place her unguents, creams and other treatment paraphernalia. The temperature was pleasant and it was very clean.
Year Opened-Renovated Established in 2001. Facility upgrades were ongoing, though when we were there it was quiet and relaxing and we saw no construction.
Treatments Available
Various kinds of massage such as Swedish, sports, 4-handed, couples, chair, pregnancy, and hot stone. Also available: reflexology, aromatherapy; body scrubs with grains and plant extracts, salt with aromatic oils, and seaweed; wraps with essential oils, seaweed, mud, self-heating, water lily and aloe Vera; facials such as men's, aromatherapy, sun lovers, deep cleansing, seaweed, oxygenating, power repair, and eye treatments.
Hydrotherapy options: essential oils, mud, seaweed, mineral salt and underwater lymphatic drainage. Make-up applications, beauty treatments with paraffin, waxing, hair and nail services were available in the beauty salon.
DÉCor-Common Areas The Spa had an Asian Jamaica fusion decorative style with a mahogany and marble finish. There was artwork from famed Jamaican artists, such as Richard Hall and Herbie Rose. Wassi Art adorned the spa's Venetian plastered walls. Comfortable lounging chairs designed by Laurie Bream, with Philippine and Thai accents, complemented the exotic look. The spa was styled like a traditional plantation home with a verandah at the entrance. The spa, gym and beauty salon entrance was through a courtyard, set amongst lush tropical flora, with impressive royal palms and a fountain in the middle.
Amenities
Robes, slippers, shower caps, disposable underwear and bath sheets for guest use. There were also toiletries (shampoo and shower gels, conditioners, hand and body lotions from the spa's popular signature collection, aloe fresh deodorants, shaving emulsions, cotton balls and swabs, pads and tampons, razors and combs.
In the relaxation area, visitors could enjoy self serve herbal teas, whole fresh fruits and chilled water. Cold towels were conveniently positioned for guests exiting the steam and sauna.
Facilities The Spa housed a gym, beauty salon, four spa suites, gender specific lounge areas, equipped with eucalyptus steam baths and saunas as well as showers and lockers.
Lockers And Bathrooms
There were 16 lockers (34″H X 20″D X 12″W), with keys available for clients use. The small bathroom and adjacent sitting area were inviting, immaculately clean and beautifully furnished.
Other The Royal Spa was the First Leading Spa in Jamaica and one of only forty internationally for 2004. It also received for the third year running the Five Star Diamond Award from the American Academy of Hospitality & Sciences.
Cleanliness
Excellent
Date Of Review June 2005
Number Of Treatments Three
ReviewersArticle by Elena del Valle
Photographs by Elena del Valle
Service Spa services were available en-suite, on the beach and at the multifaceted spa suites 24/7 during operating hours or by appointment. The staff we interacted with by phone and in person were polite, helpful and knowledgeable about the services and treatments available.
Treatments Experienced I first had the Seaweed Body Peel during which the therapist used lithothamnium calcareum polishing seaweed to cleanse dead cells away and stimulate the skin. The skin exfoliation was followed by a warm shower to wash off the slightly smelly seaweed. Next, she painted my body with a seaweed unguent and wrapped me in a combination of foil and plastic like Mexican tamale. I was afraid I would get cold but the foil insulated my body heat; I was warm and comfortable while the seaweed's active ingredients worked their magic. After a short while the therapist returned, unwrapped me and invited me to shower again. Once I rubbed off the seaweed smelling mud, my skin felt soft and the scent disappeared. At the conclusion of the Seaweed Wrap we remained in the same treatment room for the Sports Massage. The gentle massage was relaxing and the therapist experienced. It was a fitting follow up to the seaweed exfoliation and wrap.
Would You Return? Yes
Contact Information
Address:
Royal Plantation
Main Street,P.O. Box 2
Ocho Rios, St. Ann, Jamaica
Phone:
Fax:
Website:
Email: