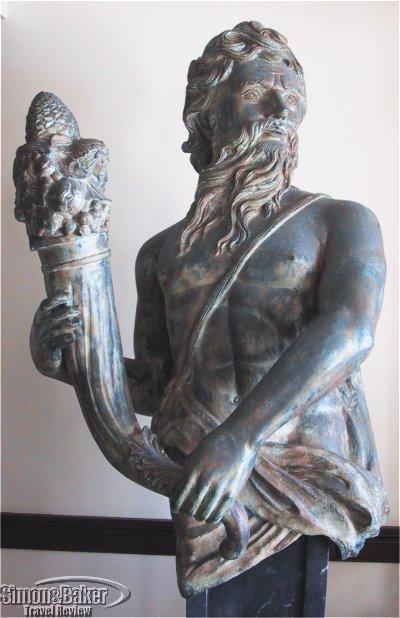 This property has now become a Sandals resort.
The elegant, classy Royal Plantation was full of history, dedication, determination and most of all an ability to make guests feel welcome, pampered and relaxed.
Overall Impression
I arrived at the Royal Plantation after a pleasant two-hour drive from the Montego Bay airport tired and hungry. A short while later I was at the hotel's beachside restaurant a step from the sand, facing a beautiful inviting beach and munching on a burger while I waited for my room to be ready. All the morning's frustrations including my long flight routed through Kingston, cancelled airport meeting with fellow travelers whose flights were delayed, and my "international" cell phone not working were slowly forgotten thanks to the hotel's ambiance and the staff's friendly can-do attitude.
Soon I was exploring the property, discovering its lush landscaped gardens, visiting the gift shop (where I satisfied a chocolate craving), fitness center (planning an early morning workout) and spa. Evening found me with a glass of sparkling water in hand at the manager's cocktail reception searching for my travel buddies. There I met some of the hotel staff including Peter Fraser a most charming general manager and Suzanne Millwood, the hotel manager, a miracle worker and immeasurably patient professional.
The elegant, classy Royal Plantation was full of history, dedication, determination and most of all an ability to make guests feel welcome, pampered and relaxed. It offered the possibility of serene quiet, spa services, fun and activity filled days, gourmet meals including afternoon tea, a seafood restaurant and a caviar bar (the only one we know of in the Caribbean), outstanding affable and efficient service and a wonderful beachfront location. What more could anyone ask for? Internet access. They had it.
Concierge
Dwight Douglas
Connectivity There was an Internet access (ADSL) in the game room for $0.60 per minute. Guests with their own laptop computers could connect with dial-up service directly from their rooms. The guest's computer had to be configured by a staff person to access the Internet using a local Internet service provider. The cost was $1.00 for the first three minutes and $0.50 per minute for additional time.
General Manager Peter A. Fraser
Handicapped Access Suites on the first floor of the east wing nearest the lobby had wide doorways and step-less access to the living area.
Length Of Stay One night
Location In Ocho Rios, on the northern coast of Jamaica
Owned-Managed Sandals & Beaches Resorts
Pets Allowed No
Size Set on an eight acre property, it had 74 suites (six suite categories) and 178 staff members
Year Opened-Renovated Established in 1957 with the last renovation in 2000
Lobby And Common Areas Old and new blended seamlessly in the property's British influenced Georgian décor. Features we noticed included antiques, attractive and comfortable mahogany furniture, and designer touches.
Bathroom
The bathroom was next to the entrance. It had double sinks and a Jacuzzi bath with a separate shower. Imported marble tile and marble counter tops were a stylish touch.
Room Our 465 square foot Luxury Oceanfront Junior Suite located on the third floor in the western side of the hotel, faced the pool and ocean. It had two double beds with wood night tables and lamps, a walk-in closet with a built in electronic safe, an en suite sitting area facing the ocean and a small French balcony. The sitting area was our favorite part of the suite. In the center of it there was a comfortable cloth chair and wood table where it was possible to contemplate the view and pass the time. To one side there was a small dining table and on the other side we found the well stocked minibar. The furniture was made of stained Jamaican mahogany. The suite included satellite TV, VCR and CD
Food And Restaurants
We had a memorable dinner served in the second floor private room and prepared by Le Papillon staff. First we were served chilled Veuve Cliquot Yellow Label Ponsardin NV. A wonderful tasting of Iranian caviar imported from France accompanied the champagne, which was opened using the romantic "
sabrage
" or saber method by an experienced
maitre d'hotel
. A subtle Asian chicken broth with asparagus, ginger and soba noodles was next. A garden salad with red and yellow tomatoes, fresh basil and truffle oil helped us transition to the Surf and Turf with Yam Mash and Buttered Broccoli main course. Dessert was a Strawberry Kiss followed by coffee and tea.
A Chateaux St. Jean Gewurztraminer 2002 from California (white) wine with noticeable rose and lychee flavors was our favorite wine that week. Another California wine, Ferrari Carano Merlot 2000, went well with the surf & turf.
Many (70 percent) Royal Plantation guests stayed at the property on the all-inclusive plan. This allowed them to carry on carefree during their stay without concerning themselves with the price of meals, wines and other details. We particularly liked the hotel's a la carte policy (only one meal a week was buffet style).
Amenities
There were Royal Plantation brand scented toiletries including shampoo, conditioner, body lotion, and shower gel. These came in extra large, easy to squeeze bottles we liked. Guests wishing to take additional bottles home for souvenirs could purchase them in the spa.
Facilities Swimming pool, Jacuzzi, two beaches, caviar bar (the C Bar), gift shop, tennis courts, fitness center, spa, beauty salon, and meeting room. Three restaurants: The Bayside, Royal Café at the Beach and Le Papillon restaurant for elegant dining,
Fitness Center And Spa The spa facility included a gym, beauty salon, four spa suites, and gender specific lounge areas equipped with eucalyptus steam baths and saunas plus showers and lockers. The 3,800 square foot facility was styled like a traditional plantation home with a verandah at the spa entrance. The 582 square foot gym provided ample space for the three treadmills, two stationary bicycles, step machine, two elliptical machines, three benches and free weights plus bars. There were also stretching balls, mats and ropes.
Pool Beyond the main entrance and reception areas, on a terrace facing the ocean we found the 4.6 foot deep pool and Jacuzzi. There were plenty of lounge chairs and although we didn't see any umbrellas the tall trees provided shade for those shy of the sun or taking cover from the heat. The pool, 20 feet wide at its widest point and 36 feet long, was large enough to accommodate bathers with room to spare.
Other
A member of the Leading Small Hotels of the World, the hotel's meeting facilities could accommodate up to 212. The dress code ranged from Resort Casual (nice shorts or jeans, swim wear must be covered and no bare feet) to Resort Evening Attire (dress pants for men, shirts with sleeves and collar were required while jeans, sneakers, shorts, t-shirts, tank tops, swim wear, flip-flops and slippers for men were not permitted). Though we applauded the resort's efforts to maintain a dignified look, dining rooms and common areas where we dined were al fresco (without air conditioning) except for the private room where we had dinner and it was exceedingly hot and humid. This meant, staying cool while dressing according to the code and looking presentable were sometimes at odds. The Hotel won the December 2004 World Travel Awards Caribbean's Leading Resort.
The hotel offered a Hurricane Blue Chip Guarantee: "In the unlikely event that hurricane force winds (as defined by the U.S. National Weather Service) directly hit the Royal Plantation while you are a guest, interrupting the use of all the included activities, Royal Plantation will offer a free replacement vacation to be taken. This replacement stay will be for the same duration as the one originally booked, regardless of how many days were affected by the hurricane. The replacement stay will be in an equivalent room category to the one originally booked, and will be subject to certain blackout dates. This offer is subject to change and may be withdrawn at any time without notice. The replacement trip must commence within one year of your original holiday and is exclusive of air. Dates will be subject to availability, and may also be subject to Sandals imposed blackout restrictions."
Check-In-Check-Out
Excellent
Cleanliness Excellent
Date Of Review June 2005
ReviewersArticle by Elena del Valle
Photographs by Elena del Valle
Service One of the hallmarks of the Royal Plantation was its outstanding service. Staff were detail oriented, had a pleasant and welcoming attitude (at their prompt, we shook hands with many of the staff we encountered), were polite and accommodating. The service attitude was uniform in its excellence throughout the property; at reception, in the hallways if we were disoriented while exploring, the beach restaurant, tea service, cocktail reception, gift shop, and spa. This "white glove" style of service was one of the features we most enjoyed there.
There were beach butler and 24-hour concierge services. For guests who wanted to feel completely pampered the hotel offered a private butler service for an additional fee.
Would You Stay There Again? Yes
Contact Information
Address:
Main Street
P.O. Box 2
Ocho Rios
St. Ann, Jamaica
West Indies
Phone:
+876 974-5601
1-888-48-ROYAL U.S.
+44-(0)20-7581-9895 U.K.
Fax:
Website: