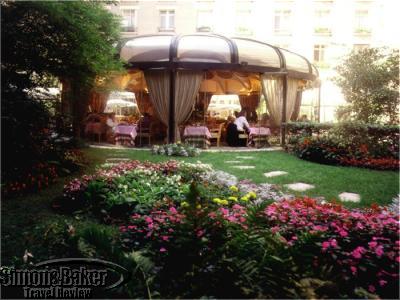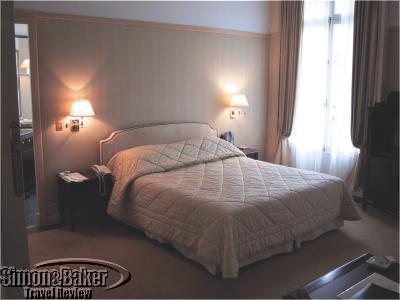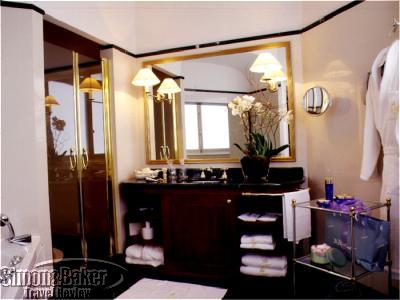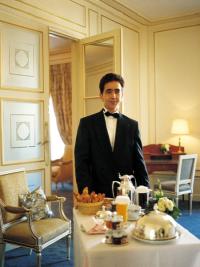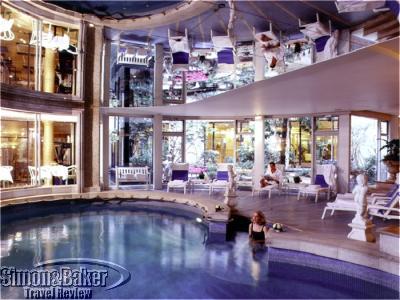 There was a selection of meeting rooms with high technology audio, video and projection equipment available for rent.
This hotel has become the Paris Raffles Hotel
Overall Impression
: In a city where basic accommodations cost a king's ransom, and many hotels take their guests for granted, we found the hotel refreshing and a good value. It is in a fabulous location in the prestigious eighth arrondisement. We were pleased by the quiet room and large bathroom (including a whirlpool bathtub and separate shower). The high speed connectivity was particularly welcome. We also prized the on-sight fitness center and spa including an inviting swimming pool. There were two well rated restaurants an elevator's ride away, and some of the better room service food we have had in a while.
We appreciated the bilingual service oriented staff accustomed to demanding international customers; excellent dining choices within the property and a place to work off the calories and relax after a stressful day. The many advantages overshadowed the slightly weathered appearance in our room and some of the common areas, in spite of a recent renovation. There was a selection of meeting rooms with high technology audio, video and projection equipment available for rent.
Class Of Accommodation
Five stars
Concierge Daniel Flandrin
Connectivity For a supplement of $20 per 24 hours, our room offered a high-speed DSL Internet connection.
General Manager: Noumane Aidi
Handicapped Access Yes
Length Of Stay One night
Location In the prestigious eighth arrondissement a few blocks from the Champs Elysees
Managed Groupe Royal Monceau
Metro Line 1 Charles de Gaulle Etoile
Owned Private owner
Size 203 rooms, including 45 suites
Year Opened-Renovated Originally established in 1928 and last renovated in 2001
Lobby And Common Areas The high ceiling lobby featured comfortable couches and Gobelin tapestries. From there visitors and guests could reach guest rooms via an attractive staircase or the elevators. A small shop sold guidebooks and a variety of international newspapers and magazines. A cozy bar and the entrance to two of the hotel's restaurants were on the other side of the lobby. The fitness center and spa could also be reached from there. During our visit, the lobby was a pleasant place to sit while waiting to meet someone before a meal or if you simply were not ready to face the January cold outside.
Room
Our room was comfortable in size and design. An armoire near the king size bed contained a television with a remote control on the top; there was a well stocked mini-bar at the bottom. A comfortable desk was placed near the entrance hall adjacent to a sofa and two chairs. It was possible to watch television from the bed, sofa and chairs or desk chair. There was plenty of closet space. We made use of the closet safe with ease during our stay.
Our room looked a bit worn. The carpet needed replacing and the furniture refinishing. Although it was in a quiet corner and we appreciated the courtyard peace, it was also the last room in our hallway. This meant that in order to reach the elevators we had to pass the frayed and sometimes odoriferous service area.
Bathroom
Our bathroom was large, especially by Parisian standards, and bright with plenty of sunshine filtering through the large opaque glass window. There were two vanity sinks, a large whirlpool bathtub and a separate small rainforest style shower stall. There were multiple shampoos, body lotion and other toiletries in two different product lines including some from the Bulgari Green Tea line
As is often the case in France, the water closet was separate from the rest of the bathroom. The one in our room included a pretty miniature sink inside it.
Our only challenge was operating the modern whirlpool in the bathtub and shower stall. The whirlpool controls were hard to move. It took 15 minutes for two of us to decipher the control panel. We could not find instructions in the room and did not want to call room service at 11 p.m.
Food And Restaurants
Guests choices included Italian and classic French fare at the hotel's two gourmet restaurants: Il Carpacio and Le Jardin. The spa also had a restaurant, Restaurant des Thermes, open for breakfast and lunch. For more relaxed dining, the hotel offered 24-hour room service.
One night, we did not feel like dressing for dinner so we tried the room service. Our club sandwich was appetizing with chicken and fabulous bacon. The French fries came in a platter that fed two of us with spares. They arrived freshly fried and hot! The chef salad was well prepared and served with a flavorful dressing on the side. The order arrived a prompt half an hour after we called for it.
Amenities
Good quality room amenities, including bathroom supplies, bathrobes, a fruit basket upon our arrival and a box of delicious chocolates. Small touches like complimentary wash cloths, made us feel welcome.
Facilities Two gourmet restaurants, a spa restaurant, a bar, a fitness room and spa.
Fitness Center And Spa Use of the swimming pool, fitness center and spa areas was complimentary for hotel guests. In addition to the work out area, there was an indoor swimming pool. In the spa, there were sauna and steam rooms segregated by gender. The spa offered a good selection of services though advance booking was required for the beauty treatments. I enjoyed a relaxing visit to the sauna and two treatments. It was the perfect choice for a rainy winter day. Everything was clean. The masseuse was polite and well trained.
Pool Yes
Conference Facilities Meeting rooms with a total of 6,000 square feet, for up to 400 people were available. Audio, video, projection equipment and simultaneous translation staff were also available.
Check-In-Check-Out Process Ease
Excellent
Languages: French, English
Cleanliness Excellent
Date Of Review January 2004
Ease Of Reserving A Room N/A
Would You Stay Again? Yes
Contact Information
Address:
Royal Monceau
37 Avenue Hoche
Paris 75008
France
Phone:
Fax:
Website:
http://www.royalmonceau.com/
Email: