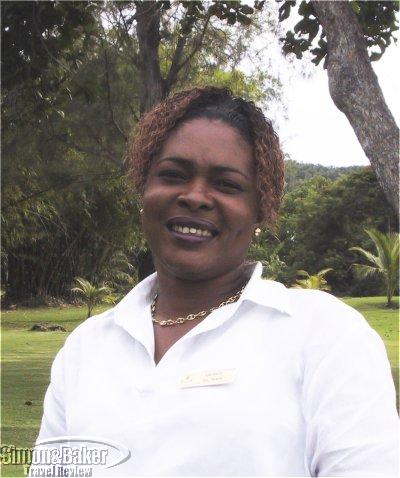 It was at meal times, except breakfast which the house staff prepared, and to work out that we abandoned our cozy nook in search of nourishment.
Overall Impression
Our spacious villa at Round Hill, a 110-acre haven constructed for wealthy foreigners in the 1950s on the grounds of a former pineapple and allspice plantation, felt like a home away from home. Built on an encircling hill overlooking a small cove and beach, Round Hill is home to a small two-story hotel, Pineapple House Hotel, and 27 privately owned rental villas. The practical and appealing architectural design ensured maximum exposure to the view of the bay and the hill while providing privacy from passersby and neighbors.
We knew the neighboring villas were occupied because we heard our neighbors talking a couple of times while we were poolside in our villa or walking in Round Hill. We only saw them at meal times in the common areas like the restaurant, on the path to the reception, or at the spa. Staying at a rental villa afforded us the option to stay in or explore; be sociable or retreat to the quiet and privacy of our space. It was at meal times, except breakfast which the house staff prepared, and to work out that we abandoned our cozy nook in search of nourishment.
Concierge-Bell Captain
Kingsely Blake
Connectivity High speed Internet access was possible at the Round Hill Business Center , a small air conditioned room with three GAPS computers, three Hyundai ImageQuest flat screen monitors and printers close to the lobby area. Access was available via a prepaid card available in one hour minimum increments for $13.50 per hour. Alternatively, guests who brought their own laptop computers could connect at the Business Center and purchase 24-hour passes ($25 each) that could be used at the guest's discretion.
General Manager Josef F. Forstmayr
Handicapped Access Due to the hilly terrain and old design of the property it was not easy to get around on foot.
Length Of Stay Two nights
Location Eight miles west of Montego Bay on the north coast of Jamaica
Owned-Managed Round Hill was owned and managed by t wenty-seven shareholders (individual villa owners) headed by a board of directors, chairman and vice-chairman operated by Round Hill Developments Limited. Villa 18, where we stayed, was owned by Mr. and Mrs. Mike Gatewood of Houston .
Pets Allowed No
Size 110 acres, 36 rooms in the hotel and 27 individually owned villas with 74 suites and staff between 150 and 200 depending on the season
Year Opened-Renovated Our villa was built in 1953 and renovated in 2003
Lobby And Common Areas Local interior designer Sue Callahan was responsible for our villa's plantation style indoor living outside. There were homey and stylish Ralph Lauren (owner of two villas at Round Hill) touches in the villa and throughout the property. New touches and old combined for a retro modern tropical island feel.
Bathroom
Our en suite bathroom had double sinks, separate shower with half a door and bath tub. The marble floor and color scheme were ivory.
Villa-Room Villa 18 where we stayed during our brief visit had five rooms in 5,000 square feet of space. Round Hill offered the villa, built in 1953, for rental in its entirety. It was also available by the suite with a maximum of two simultaneous suite rentals. Our suite (#80) in the villa, originally designed as the master bedroom, was spacious, comfortable, and quiet with a pretty view of the bay. It connected directly with an adjoining suite of which we just caught a glimpse before the doors were locked. The centerpiece of the high ceiling suite was a king size four poster bed with a night table on either side and a CD player on one of the night tables. The bed, floors and other furniture were made of Jamaican mahogany; there was also cedar. The bedroom colors were mahogany and white. There was a full size closet built into a wall and in front of it a wood dresser. On the opposite wall there was a wood desk and chair.
Food And Restaurants Our a la carte dinner at the restaurant was a pleasant affair. We dined, as close to the water as was possible, on an open terrace across from the Ralph Lauren decorated main bar. The following day, I missed lunch at the restaurant because I arrived after 2:30 p.m. Instead I enjoyed a delicious mozzarella and tomato salad and refreshing lime and pineapple smoothie at a picnic table under the shade of a tree on the spa grounds.
Amenities
Microfiber bathrobes and British Elemis toiletries (we loved the subtle scent) including shower gel, shampoo, conditioner and body lotion.
Facilities Business center, spa and beauty salon, fitness center, five all-weather tennis courts and a pro shop, Padi dive and water sports center, walking/jogging path, restaurant, hotel, reception, beach, West Indian art gallery, sundry shop, and logo clothing shop. There were also beach, pool and cocktail bars; a club for children, a small library, and a lounge with a 61" Sony television and card tables.
Pool Our villa had a pool and Jacuzzi, five lounge chairs and two umbrellas, a wood swing with white cushions, three wood and metal chairs with matching white cushions and a table. In addition, there were two swimming pools at Round Hill, a small one at the spa and a beachside pool scheduled for remodeling.
Fitness Center And Spa
A few minutes walk from our villa, the spa, situated in a former plantation great house, hugged the hill overlooking the water. It housed a small beauty salon, several treatment rooms, including an outdoor one with a tub for hydrotherapy treatments, a small pool and an air conditioned fitness center. The only dissonant sound that shattered the tranquility of the adult centered spa was caused by construction work performed by a nearby road repair crew. Each morning during our stay I worked out at the fitness center. I was able to sample a couple of spa treatments. I received a Well Being Massage, although my first choice had been another treatment. Althea, my therapist, was reserved and courteous. The treatment began with a cactus hair brush, which she gently ran over arms and legs. After pouring the De-stress essential oil blend (one of four options) she began. Her skilled touch was feather light and soothing. Perhaps it was a Well Being Massage I needed after all because following the treatment I was relaxed and felt good.
Since hair braiding was one of the more popular selections at the spa I set out to try it. As soon as I had time, I called for an appointment. Ann Marie, who had a radiant smile, braided "half my, head" in a left hand cornrow style. She worked quickly and ably. I received many compliments on my new hairdo, which lasted about a week, in Jamaica and at home.
Other
Over time, many rich and famous guests have made Round Hill their playground. Among them: Noel Coward, John F. Kennedy, Grace Kelly, Cole Porter, Paul McCartney, Demi Moore, Jeremy Northam , and Sigourney Weaver.
Round Hill, a member of marketing consortium Elegant Resorts International, offered guests courtesy shuttles for golf (twice daily) and shopping excursions (daily). Villa owners were required to make their villas available for rent through the association rental pool for a minimum of six months out of the year.
Check-In-Check-Out Process Ease
Excellent
Cleanliness Excellent
Date Of Review June 2005
ReviewersArticle by Elena del Valle
Photographs by Elena del Valle
Would You Stay There Again? Yes
Contact Information
Address:
P.O. Box 64
Montego Bay
Jamaica, West Indies
Phone:
Reservations & Information: +1 800 972 2159
+1 876 956 7050
Fax:
Website:
Email: