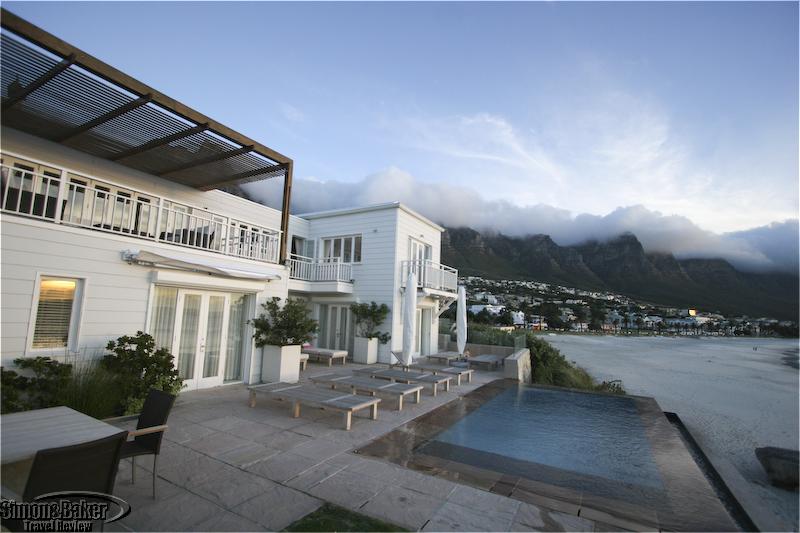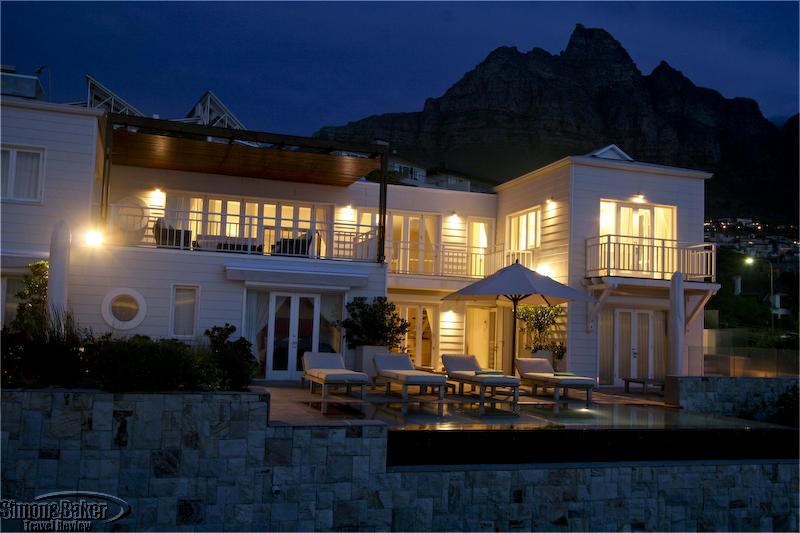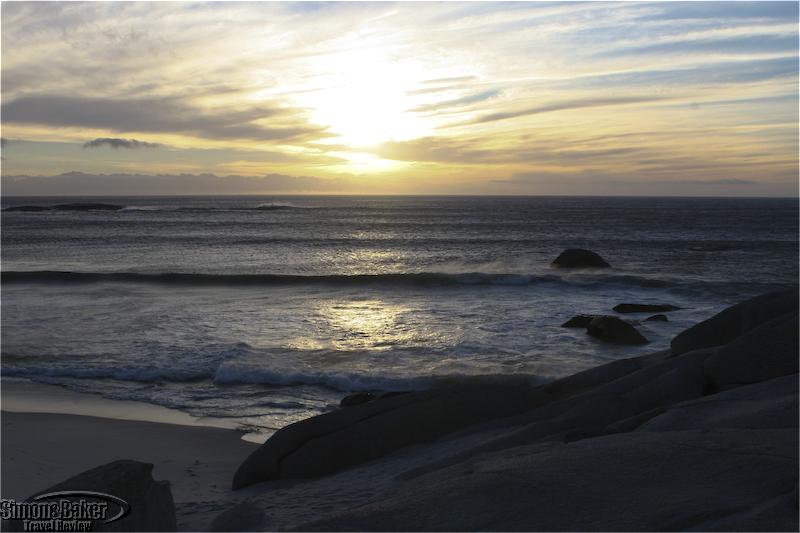 We loved the villa's new look, excellent sea and beach views, Camps Bay and beach access, sunlit and bright décor with skylights and blonde woods.
Overall Impression
Rock House Villa is a vacation home to see and be seen in. The $4 million (36 million rand) beach house is in Camps Bay, Cape Town's beach playground. Although there are a couple dozen homes in the Camps Bay beachfront neighborhood where Rock House Villa is situated, the house occupies a special location, jutting out among the beach rocks with prime ocean frontage and an outstanding side view of Camps Bay.
From its corner position we had excellent views of the sea, the beach and the neighboring rocks that are a natural part of the bay. The two-story four-bedroom house, custom made for a hotel industry executive from Spain, is stylish and modern with all the creature comforts including a live in staff person, direct beach access just steps from the house entrance, indoor and outdoor social areas, and views of the beach and bay from almost every room.
Additional noteworthy features included handsome, functional and comfortable interior, heated pool, state-of-the-art security system, and well equipped kitchen. We quickly discovered that the area fronting the villa was public. During the day it filled with beach goers and surfers who had a clear view of most areas of the house, especially the pool and outer deck. It was easy to imagine celebrity house guests watching and being watched by sunbathers and passersby. We loved the villa's new look, excellent sea and beach views, Camps Bay and beach access, sunlit and bright décor with skylights and blonde woods.
Class Of Accommodation
Private luxury villa
Connectivity There was a rental Vodacom mobile device available.
Handicapped Access No, it was necessary to walk down a concrete staircase to reach the entrance of the house from the street. Once inside steps led to the interior's two stories.
Length Of Stay Three nights
Location On Camps Bay beach and adjacent to Glen Beach near Cape Town, South Africa.
Managed Brian Berril Management
Owned The owner declined to be identified
Pets Allowed No
Size Four bedrooms, three and a half bathrooms and two stories within a 540 square meter building. It was designed to accommodate eight guests. There was a live in staff member, Stephen, with separate quarters in the rear of the property.
Year Established The house was built in 2005 and the most recent renovation took place in 2007.
Common Areas
The living, dining and kitchen areas as well as an office were upstairs while the bedrooms a second living area and pool deck were downstairs. The house was designed to take advantage of cooling ocean breezes. There were remote controlled air conditioning units in the bedrooms. Upstairs the white kitchen had a full size refrigerator, Siemens stove and fan, Bosch oven, washer, dryer, dishwasher, Sharp microwave oven, and Espresso coffee maker. There was a complete dinnerware and glassware service. Adjacent to the kitchen there was an ocean facing dining room with a large blonde wood table. Downstairs, there was a green leather sectional sofa, and an entertainment center that provided music around the house and deck. Almost every room had a view of the beach, ocean or both.
DÉCor The interior decoration was by Francois Du Plessis Interiors. The style was contemporary with French and South African influences and white and beige as the predominant interior and exterior colors. The sunlit house was filled with local art and had ample social areas. The art in the house included works by Anton Karstel, Colbert Mashile, Gerald Tabata, and Solomon Siko. Floors were a mix of wood in common areas and carpets in the bedrooms.
Bathroom
The handsome master bathroom had a bidet, toilet, twin glass bowl sinks, oval shaped bathtub, and twin rain forest shower heads. It had a marble floor and was decorated in white and beige tones.
The shared hallway bathroom had separate shower and bathtub. The walk in glass enclosed shower was attractive. There was also a sink, toilet, and oval bathtub.
Rooms The white master bedroom had a queen bed facing the pool deck and ocean beyond it. The back of the bed was a concrete feature with built in space on the top and inside. Two large glass doors faced the pool area and a large window faced Camps Bay Beach. There were double curtains, gauzy white curtains and thicker curtains that kept out the bright sunlight. There was a wood stool at the base of the bed and a wood desk with small leather seat in the corner. Behind the bed there was a closet built into both sides of the wall. A large glass door and glass wall led to the en suite master bathroom.
Across the hall from the master bedroom there were three bedrooms. Two faced the ocean and shared a bathroom and a third, on the opposite side of the hallway, had an en suite bathroom. The bedroom closest to the master bedroom had a queen bed framed by glass night tables and built in closet.
Amenities
There was Charlotte Rhys liquid soap and body lotion, coffee, tea and a basket of snacks for guest consumption. There were electronic safes and large white cotton bathrobes for guest use.
Pool The house had an outdoor heated pool.
Other
There was a live in staff person. He looked after the house, cleaning, laundry and was eager to assist us with any issues during our stay.
There was a basket of locally produced goodies and a bottle of wine on our arrival. After our long international flights they were particularly welcome.
Cleanliness
Excellent
Date Of Review November 2008
Reviewers Article by Elena del Valle
Photographs by Gary Cox
Would You Stay There Again? Yes
Contact Information
Address:
IconVillas
153 Buitenkant Street
Gardens, Cape Town
South Africa
Phone:
Fax:
Website:
Email: