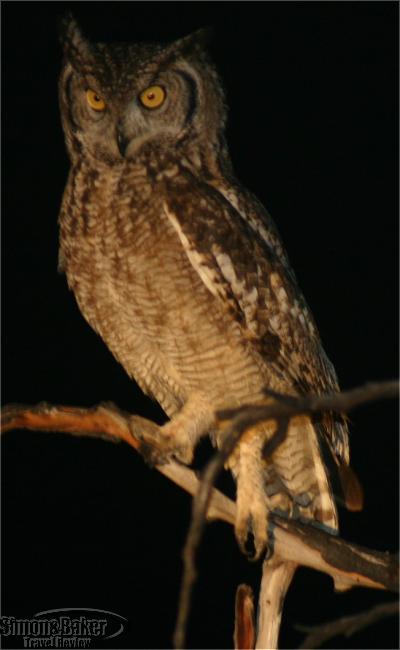 We examined trees, branches, leaves, insects, reptiles, flowers, fruits, nests, and the water buffalo carcass.
Overall Impression
Imagine waking to the sound of a young wounded water buffalo being hunted by a pack of hungry lions as it searches for the safety of the herd. Now imagine walking out into the bush to see how the drama ended; standing fifty yards from a pack of lionesses tearing apart a carcass when they pick up your scent and scramble. Though we were warned that it is rare for visitors to have close encounters with animals during bush walks, lady luck was with us that day. We followed our able and patient guides to the kill shortly after breakfast our first morning at the only wilderness concession inside Kruger National Park and a big five area, Plains Camp at Rhino Walking Safaris.
Beyond this exciting first meet with the lions, Rhino camp offered a novel perspective. On foot, we found the bush environment intimidating, marvelous, surprising, noisy, and amazingly attractive in spite of the unlikely possibility of any big five viewings. In the company of our experienced armed guides we walked in thick and tall grass for hours (sometimes four or more at a time) in the bush taking only brief brakes. We examined trees, branches, leaves, insects, reptiles, flowers, fruits, nests, and the water buffalo carcass.
Class Of Accommodation
Plains camp offered luxury tents, the Sleep-Out Camp was a tree structure on which comfortable tents were set up by guests for overnight stays and Rhino Post Safari Lodge housed guests in luxury rooms.
Handicapped Access Uneven terrain made wheelchair access difficult
Length Of Stay Three nights: One night in each camp
Location In the Mutlumuvi Concession, a wilderness area of Kruger National Park , 20 km northeast of the Park's main rest camp, Skukuza
Managed The Concession managers were Nikki and Gervit Meyer and the Plains Camp Supervisor was Pieter Pretorius
Owned The land was owned by the South African government. The concession was awarded for 20 years to Rhino Walking Safaris Pty, created by Brett and Paige Gehren .
Size Maximum of eight guests in four tents at Plains Camp (or four platforms at the Sleep-Out Camp); 16 beds at the Rhino Post Safari Lodge and a maximum of 33 people (including staff and guests) in the entire 12,000 hectares concession
Year Opened-Renovated Rhino Post Safari Lodge and Plains Camp December 2003, Sleep-Out Camp in May 2004
Lobby And Common Areas: Plains camp was rustic and reminiscent of the classic Safari era. There was antique memorabilia and the camp layout was set around the plunge pool and camp fire. Set amid Tamboti trees, Rhino Post Safari Lodge was decorated in a contemporary African style with stone, canvas, thatch, and Moranti wood throughout with a touch of regional artifacts, bed fabrics from Senegal , place mats from Swaziland , and lampshades from Zululand . Some of our favorite features included the glass enclosed dining room and wood bar made of 22 African woods. There were thousands of Macadamia nut shells on the ground.
Room
Plains Camp: Set in an Acacia thicket our camp was surrounded by an electric fence. Our 40 square meter explorer type tent was off the ground on a wood floor. It was equipped with two single beds side by side with night tables on each side, a luggage rack, a desk and chair and two wood chairs on the porch.
Sleep out: We spent the night in the only sleep-out camp inside Kruger Park in a swiftly pitched (by us) tent among Leadwood and Timbati trees. Though it was winter, our comfortable sleeping bags, which were at the sleep out, kept us warm.
Bathroom : Plains Camp: the bathroom area was at the back of our tent. It included a toilet, sink and shower with a smart tree like set up. There were plenty of towels. Sleep-Out Camp: our common area, four meters above the ground included a walkway set approximately 10 feet off the ground which connected four sleeping platforms. These were another 10 feet above the walkway. A maximum of eight guests shared two bathrooms (indoor toilet, shower and small sink) located on the walkway level. Rhino Post Safari Lodge: the bathroom was to one side of our comfortable bed. It featured an inviting claw foot bath tub with a view of the dry riverbed and his and her sinks. There was a water closet further back and beyond it there was an outdoor shower.
Food Executive Chef Stefan Louw, a Cordon Bleu Cooking school graduate, and chef Hannetjie Van Heerden were in charge of meals. We enjoyed some tasty meals at Plains Camp and at the sleep-out, where our guides grilled dinner featuring delicious home made breads and desserts including a memorable lemon merengue pie.
Amenities
Toiletries and bush walk back pack
Facilities Plains Camp: Swimming pool and lounge deck, an Africana book collection and period antiques; Sleep-Out Camp: Two bathrooms, four sleep-out decks and tents, kitchen/fireside/dining section; Rhino Post Safari Lodge: a common room with a bar, a pool and deck within feet of the riverbed, a glass enclosed dining room and lovely wine cellar.
Pool Plains Camp: There was a small plunge pool though it was much too cold for us to take advantage of it during our visit, and three lounge chairs. Rhino Post Safari Lodge: there was a small pool and lounge chairs adjacent to the riverbed.
Game Viewing Located in wilderness area not accessible to the public in the past, Rhino Post Camp purposely limited its impact to the environment in the design and construction of its facilities.
Activities Bush walks, game viewing drives, and sleep outs. We walked from Plains Camp to the Sleep-Out Camp in the afternoon and back the following morning. Small packs were provided for the guests to carry clothing and provisions for the overnight trip.
Other Guests were free to select the number of nights from Rhino Post Safari Lodge, Plains Camp and the Sleep Out. A generator provided electricity for the camps and water was from a borehole (well). Septic tanks were used to keep the area pristine. An Internet connection was planned for 2005.
Check-In-Check-Out Process Ease
Excellent
Cleanliness Excellent
Date Of Last Visit May 2004
Reviewers Article by Elena del Valle
Photographs by Chester Godsy and Joni Johnson-Godsy
Service Staff were friendly, helpful and welcoming. We especially appreciated and admired the bush skills and patience of our Plains Camp guides. Pieter, our camp supervisor answered all our questions, kept us from harm, guided us flawlessly through the bush and looked out for our overall comfort and safety throughout.
We enjoyed the downtime we spent with the staff in the evenings, discussing the day's sightings and adding another dimension to the fun and learning about the bush. The experience with the lions had affected us all, and Pieter explained to us why he had made odd sounds when the lions scattered. We were in awe of his ability to keep a cool head with nearly a dozen lions scrambling all around us. Gerrit tells a fine story and had us in stitches over an encounter between a honey badger and a lion.
Would You Stay Again? Yes
Contact Information
Reservations:
P.O. Box 181
Juskei Park 2135
Johannesburg, South Africa
Phone:
Lodge Phone:
Website:
Email:
Lodge Email: