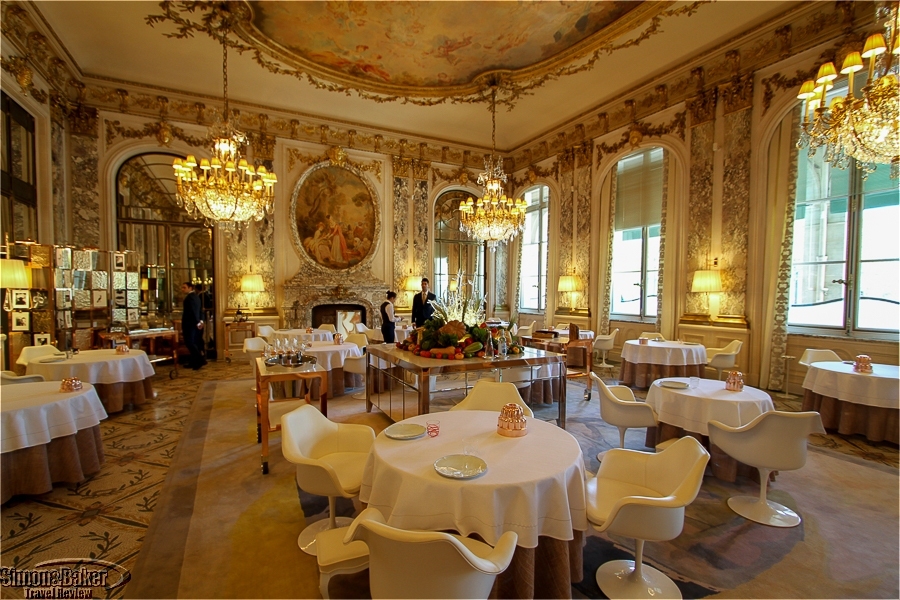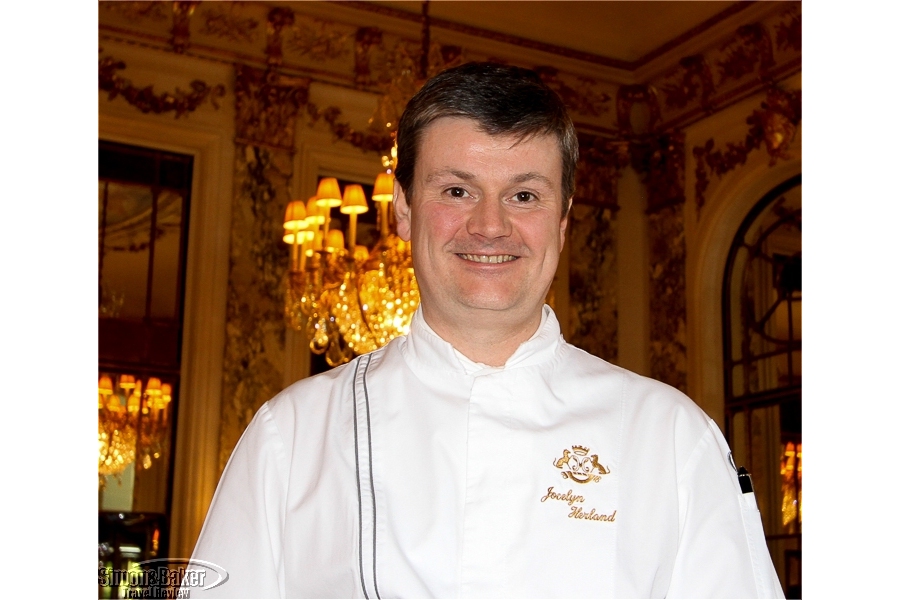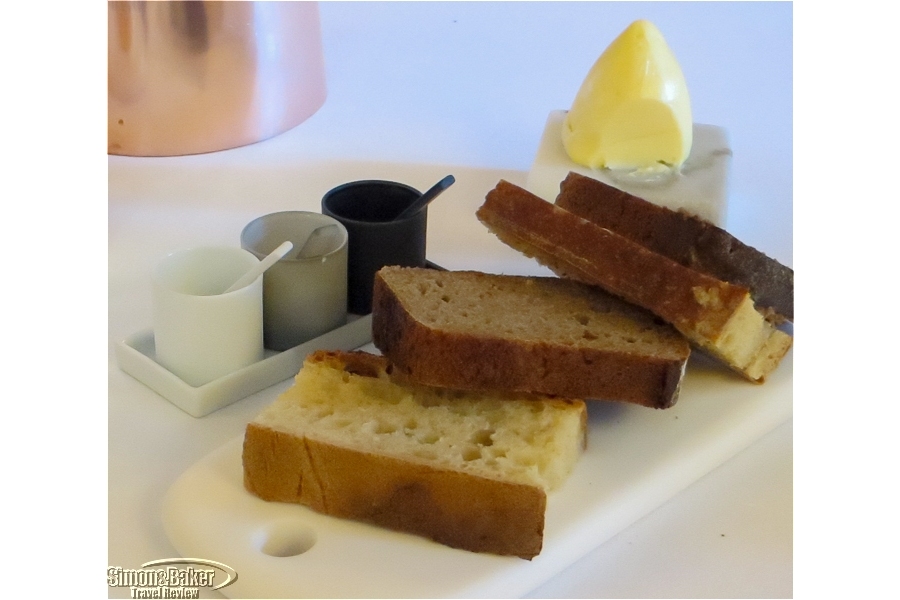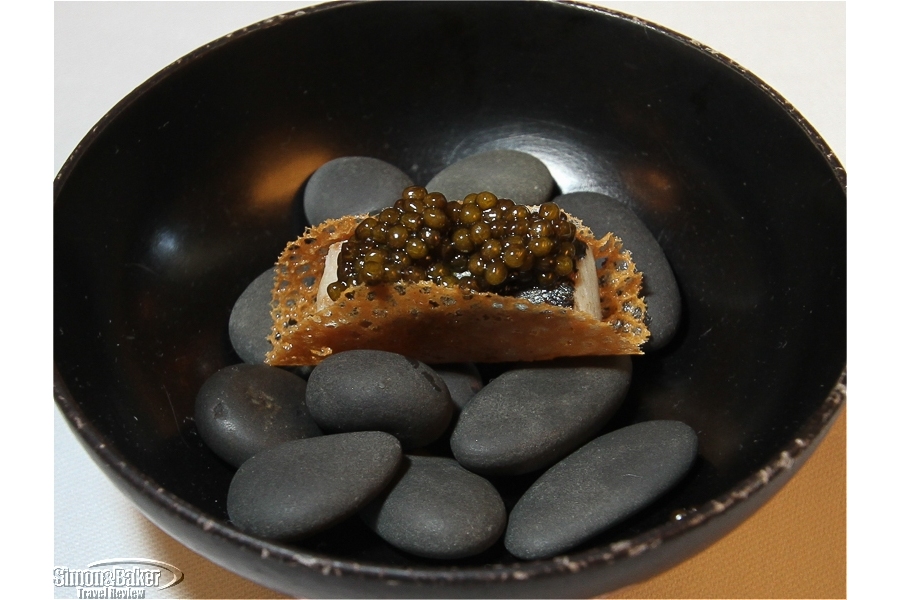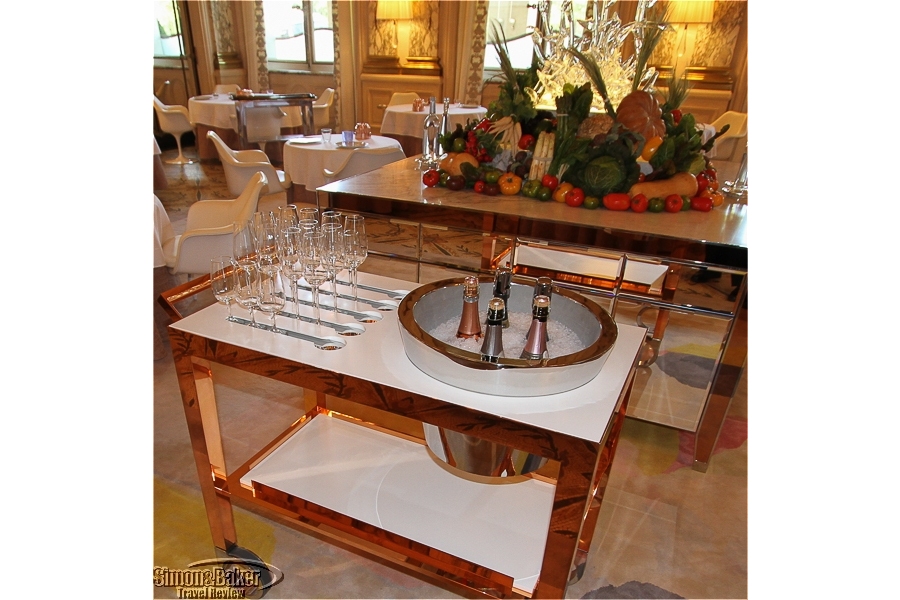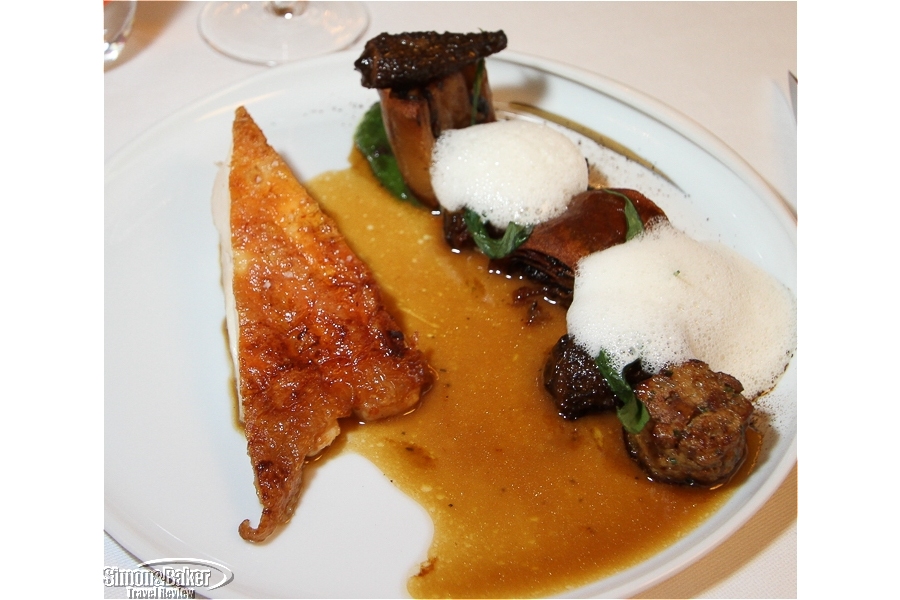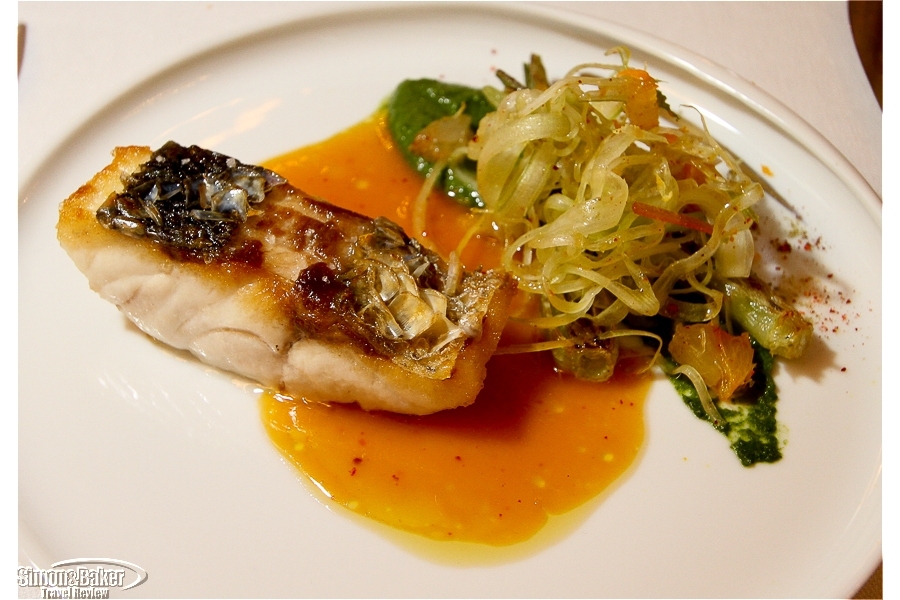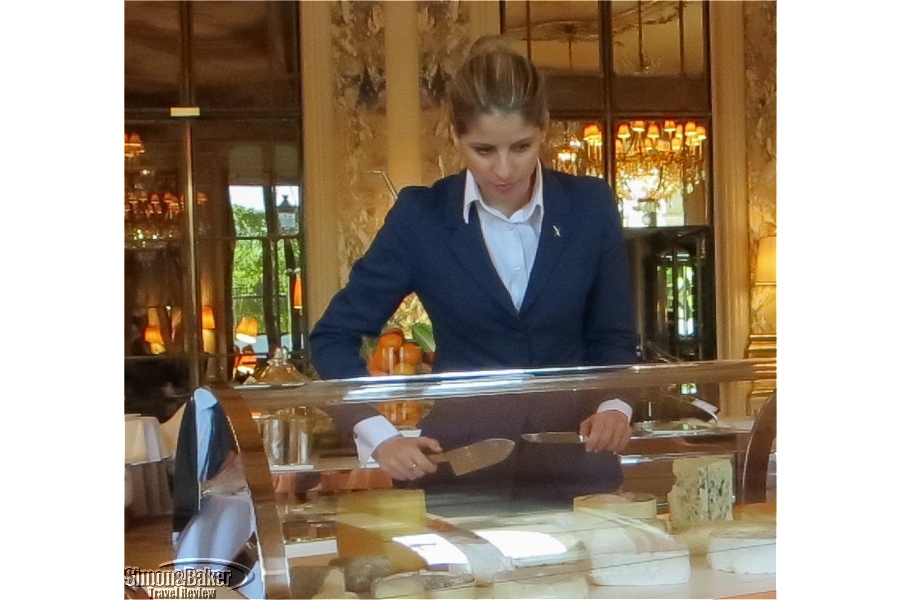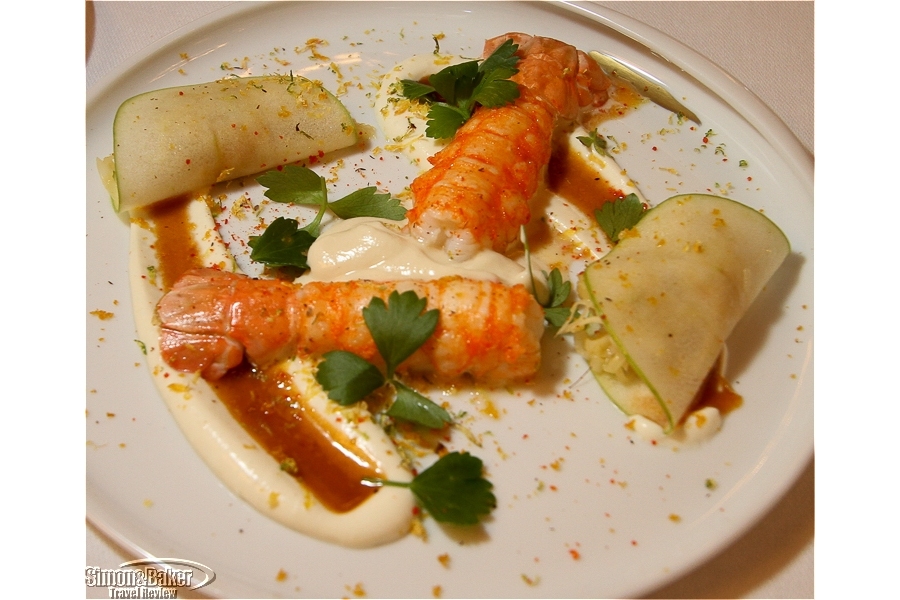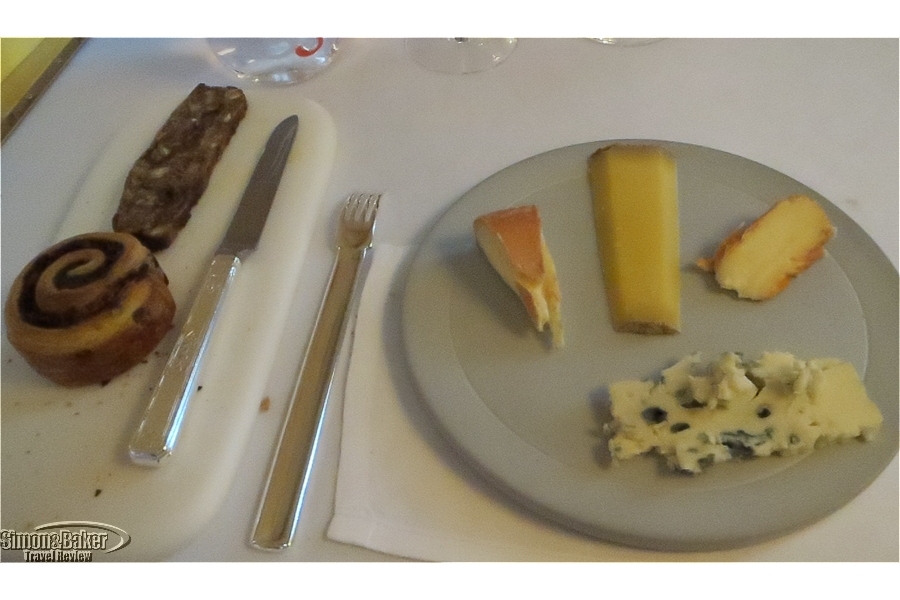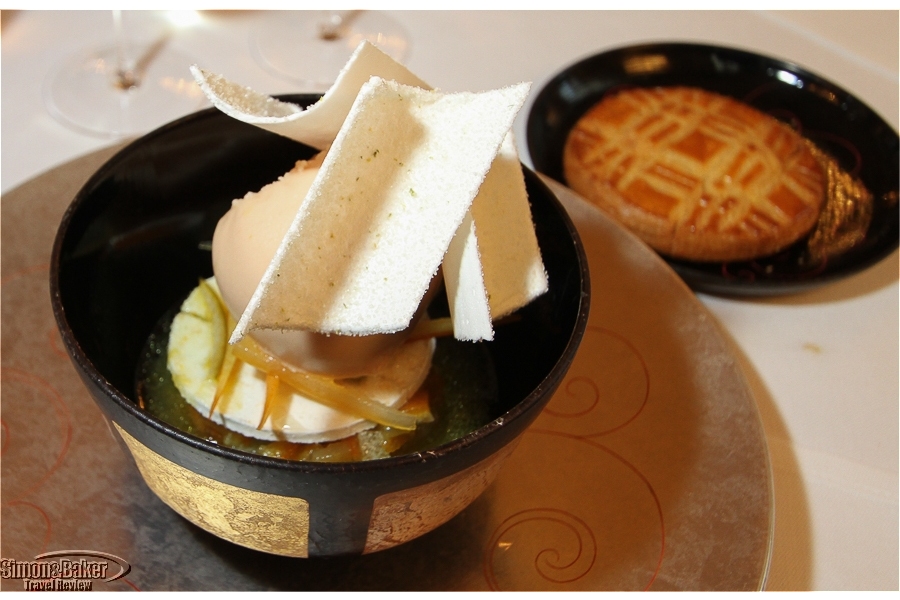 The next time we visit Paris lunch at Restaurant le Meurice Alain Ducasse will be on our wish list.
Overall Impression
Sometimes when the world seems out of balance a little indulgence can make things better, a least for a short while. Such was the case at the Restaurant le Meurice Alain Ducasse, where we had a satisfying gourmet lunch this spring. Outside the restaurant the touristy rue de Rivoli was noisy and busy with pedestrian and automobile traffic. Inside the low hum of fellow diners was the only sound and timid sunlight filtered through the salon's large windows. We liked the dining room's ornate décor, inspired by Salon de la Paix at the Château de Versailles, as well as the daytime view from the entrance across the rue de Rivoli to the Tuileries Garden. From our window side table we had a view of the pretty dining room.
As the gourmet dining scene has shifted in Paris and worldwide it has become ever more challenging to anticipate the quality of a fine dining meal. We appreciated the efforts of Jocelyn Herland, executive chef, and his staff to focus his culinary finesse on basic fresh ingredients. Frédéric Rouen, restaurant manager, and his staff ensured we had a pleasant experience. Our multi-course meal was well prepared, artfully presented and served with care and attention to detail. The memorable dining room, elegant setting and amenities and attentive and friendly service enhanced our experience. The next time we visit Paris lunch at Restaurant le Meurice Alain Ducasse will be on our wish list.
About the Pastry Chef
Cédric Grolet was born and raised in Firminy, close to Saint-Étienne, France. After earning his degree in Pastry, Chocolates and Ice creams from Puy-en-Velay, he was awarded a vocational diploma at the well-known École Nationale Supérieure de la Pâtisserie at Yssingeaux. At Fauchon, he accompanied Christophe Adam and Benoit Couvrand to Beijing to train their new teams. On his return to Paris, he took on the coveted position of Research and Development at Fauchon, where he remained for five years. He joined Le Meurice as a sous-chef in 2011, before rising rapidly to his current position.
Chef de Cuisine A restaurant representative declined to identify one.
Executive Chef Jocelyn Herland under the supervision of Alain Ducasse who arrived at Le Meurice in September 2013.
Handicapped Access No
Head Sommelier Damien Azemar.
Location On the ground floor of the Hotel Le Meurice in the heart of Paris, France
Opened-Renovated The most recent renovation was May 2016.
Owned and Managed Dorchester Collection which was owned by the Brunei Investment Agency
Pastry Chef Cédric Grolet
Restaurant Manager Frédéric Rouen – As soon as he had completed his training, he decided to devote his career to Palace Hotels. After an internship at the Royal Club at Évian, he became an apprentice chef and then chef de rang at the Connaught Hotel, a Five Star venue in London at the time. He returned to France to work with Joël Robuchon at avenue Raymond Poincaré as an apprentice waiter, then as demichef de rang and eventually as chef de rang. When Alain Ducasse took over the management of the establishment in the summer of 1996 he invited him to join his team. In time Rouen became maître d'hôtel at restaurant Alain Ducasse au Plaza Athénée. In December 2007, he was named restaurant manager at Jules Verne. From there he moved to the Ritz, before becoming restaurant manager at le Meurice in 2012.
Size The 150 square meter restaurant could accommodate 50 guest with a staff compliment of 30 (estimated).
Type of Restaurant Fine dining striving to return back to basics "…to respect the rhythm of the seasons, when the product is at its best."
About the Executive Chef Born in Auvergne, France, Jocelyn Herland discovered the pleasure of eating at his grandparents side. In 1990, he earned his vocational training certificate (CAP) in cooking. Later he earned a pastry certificate (CAP), followed by a professional baccalauréat. He worked at the Clos de Longchamp, first in the dining room with Francis Coulon, then in the kitchens with Jean-Marie Meulien. After fulfilling his military service obligations, he worked at La Table du Marché with Christophe Leroy. In 1997, he became chef de partie at Le 59, Alain Ducasse's restaurant on avenue Poincaré in Paris. In 2000, he moved to the Restaurant Opéra at the Hotel Intercontinental in Paris, followed by the Royal Monceau in the same city. In December 2003, he joined Christophe Moret at the Alain Ducasse au Plaza Athénée restaurant first as sous-chef, then chef adjoint. Later Ducasse offered him the head chef position of Alain Ducasse at The Dorchester for its opening in London November 2007. The restaurant received three Michelin stars in 2010. In January 2016, he became executive chef in the kitchens of the Hôtel Le Meurice.
Decor-Ambiance Philippe Starck worked on the décor of the dining room in 2007 and in again in May 2016, striving for "romantic elegance and a refined timeless style." The original interior designers of the dining room were inspired by the Salon de la Paix at the Château de Versailles, featuring antique mirrors, crystal chandeliers, bronzes, marble walls, tile floors, and wall and ceiling frescoes. The 2016 updates included a fresh vegetable and fruit display in the center; comfortable Knoll Armchairs; a re-edition of the Tulip d'Eero Saarinen model in white leather; an original Murano glass sculpture by Aristide Najean; bronze and stainless steel screens on the inside of which there was a transparent geometric mosaic composed of messages, photos and sketches as well as pink copper items; and a faux fire in the fireplace. At the table there were crisp linen napkins to match the tablecloth, silverware, and crystal ware, including refined service items such as a silver bottled water holder. There was a convenient small footstool for personal items.
Meal
We had a six course menu. It began with a glass of 2010 Louis Roederer rose champagne and Maquereau Racines au gros sel with Asian caviar served in a bowl with decorative black rocks at the bottom. It had a stout fish flavor (not a favorite). We liked the steamed vegetable starter. It was sourced in Normandy and Versailles and consisted of onions, beets, carrots, artichoke, potatoes, and turnips served with an olive dip. We were able to choose from country, rye and baguette breads. The baguette was slightly warm when it arrived at our table. There was salted and unsalted Normandy butter.
My lunch partner had Pate chaud de pintade au chou followed by Homard, topinambours, prepared with pig ears and powdered hibiscus. Then he had Volaille, morilles a chicken, mushroom and wild garlic dish followed by a cheese course.
For me, there were Langoutines roties. Then there was Bar, agrumes, fenouil, a fish dish with citrus and fragrant fennel. Agneau, artichauts, citron was next. The lamb dish was served with artichoke and a tasty lamb ball (a favorite). It was followed by a cheese course.
There were some 20 cheese on the cheese cart. I had Comté, Epoisse and Munster. My companion had a similar selection and Roquefort. Our cheeses were served with a small side salad with a creamy dressing as well as black olive brioche bread (a favorite), figs, nuts and prunes. A staff member replaced our lunch napkins with smaller dessert napkins at the end of the cheese course.
The menu concluded with two excellent desserts, Chocolat de notre Manufacture with chocolate from the Alain Ducasse chocolate Paris shop (a favorite) for me, and Vacherin aux agrumes for him. My chocolate dessert was served with a side dish souffle and his was served with an exceptional almond cookie.
After dessert there were Fruits et sorbets and Mignardises. We sampled the strawberry sorbet with fresh blueberries and the mango with fresh mango slices. My meal was accompanied by a 2014 Alsance grand cru Muenchberg Domaine Ostertag and a 2011 Nuits-Saint-Georges Domaine G. Julien, supple and smokey with hazelnut and dark cherry undertones. The wine specialist paired a 2012 Hermitage Domaine du Colombier and 2011 Suisse Humagne Domaine C. Abbet with his meal. The wine expert's recommendations and insights were a good complement to the meal.
Special Menus The restaurant offered three Lunch Menu options: two courses for 85 euros, three courses for 110 euros, and four courses for 130 euros. There was also a six course Collection Menu for 380 euros. Prices did not include beverages.
Other At the time of our visit the restaurant had two stars in the Michelin Guide.
Date of Review
May 2016
Number of Visits One
Reviewers
Article by Elena del Valle
Photos by Gary Cox
Service Staff were staff attentive and pleasant. The service was outstanding. We never had empty glasses or suffer any neglect during the meal service.
Would You Dine Eat There Again-Recommend It? Yes
Contact Information
Address:

Restaurant le Meurice Alain Ducasse
228 rue de Rivoli
75001 Paris
France

Phone:
Website:
Email: