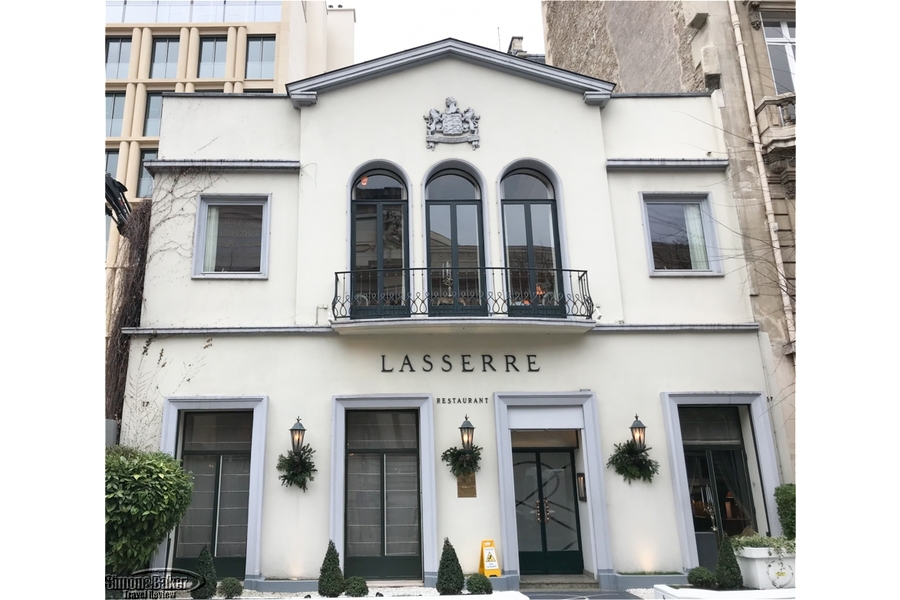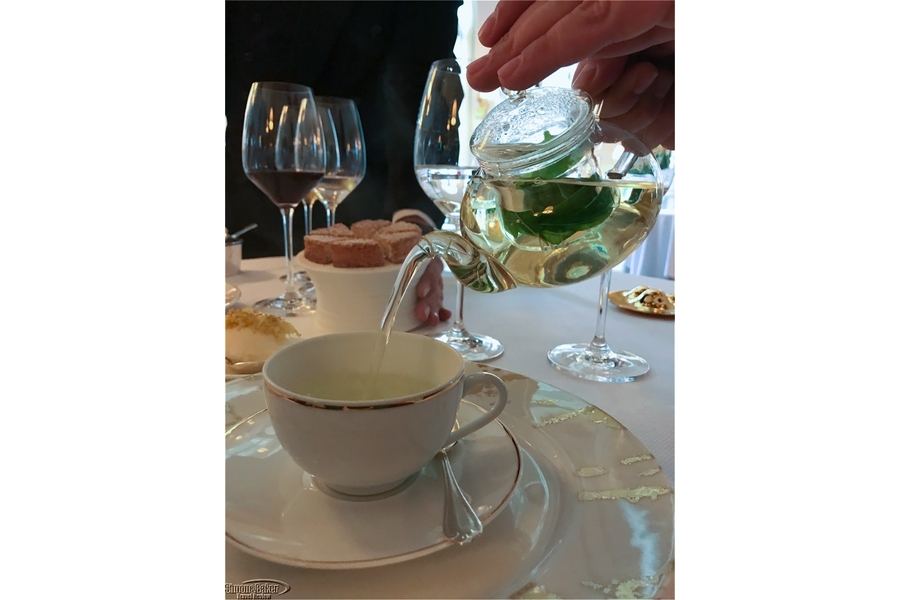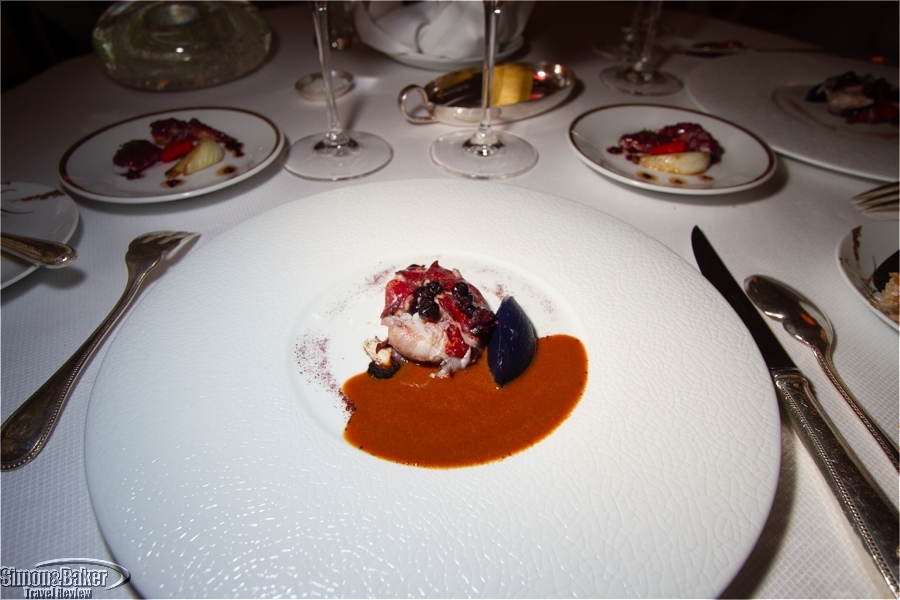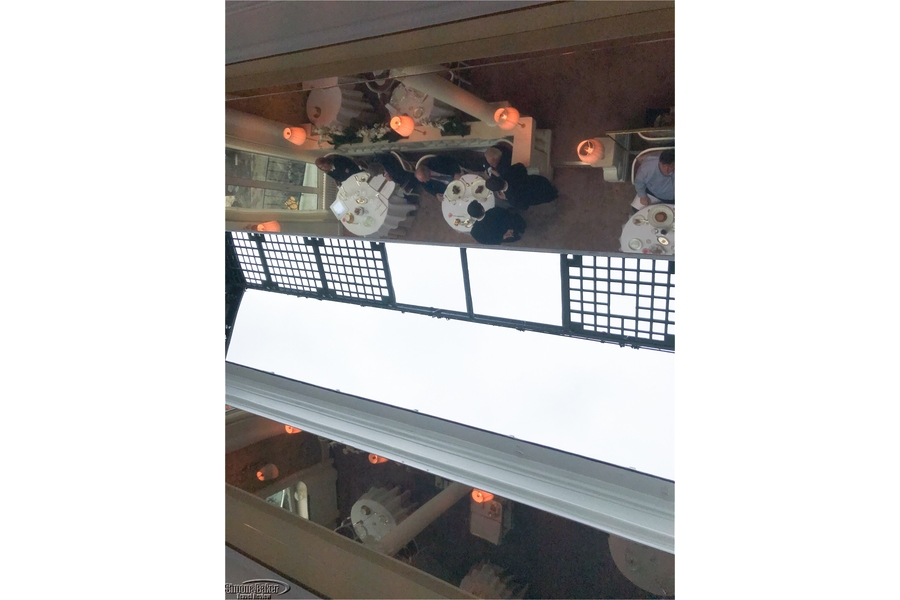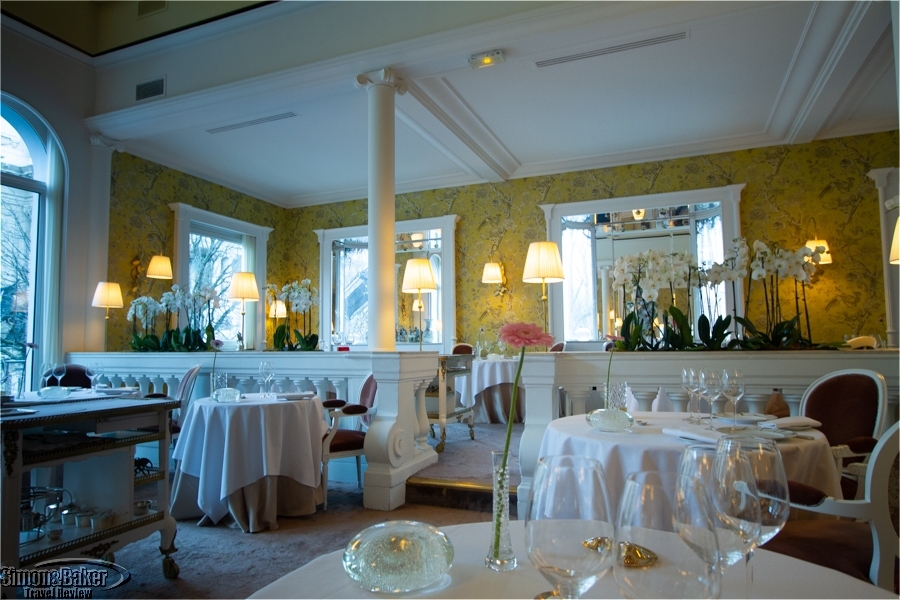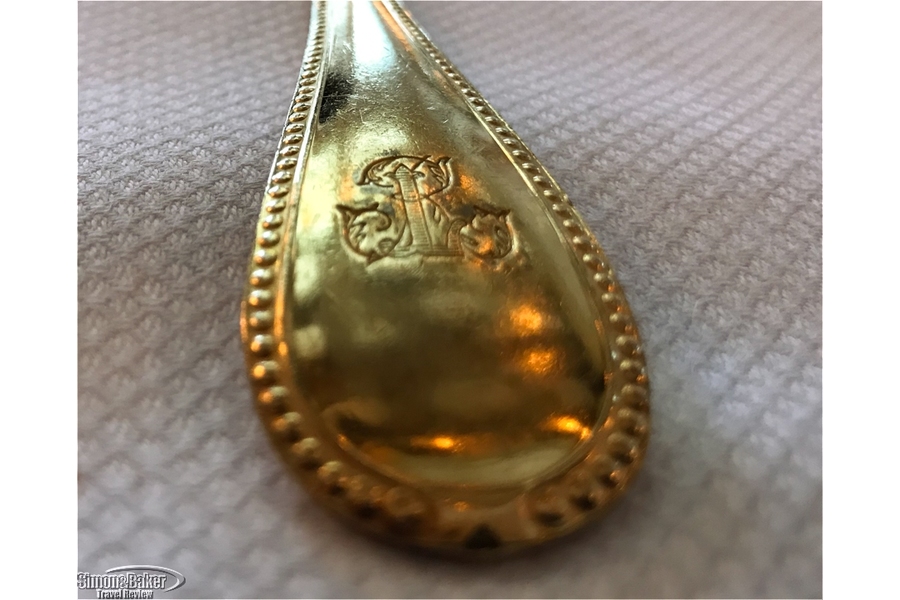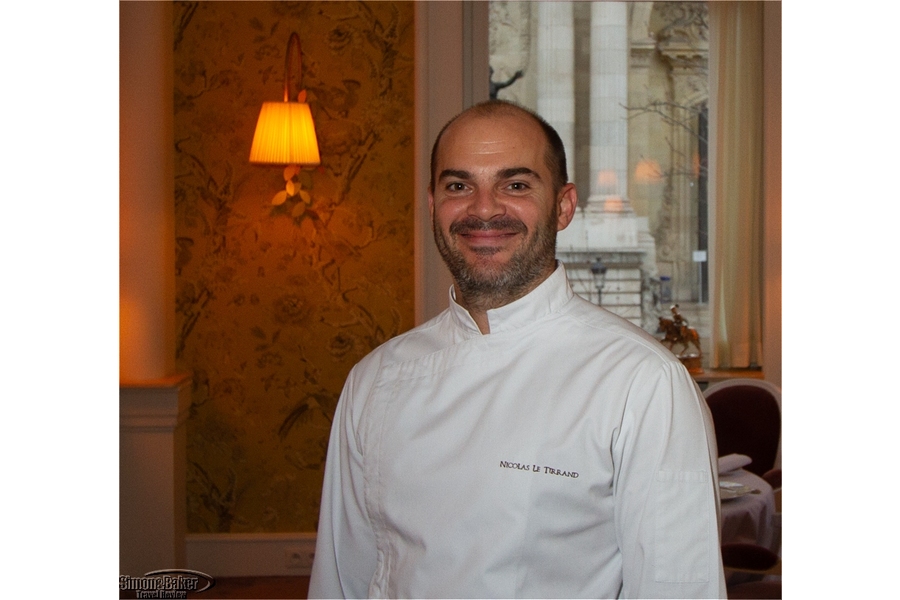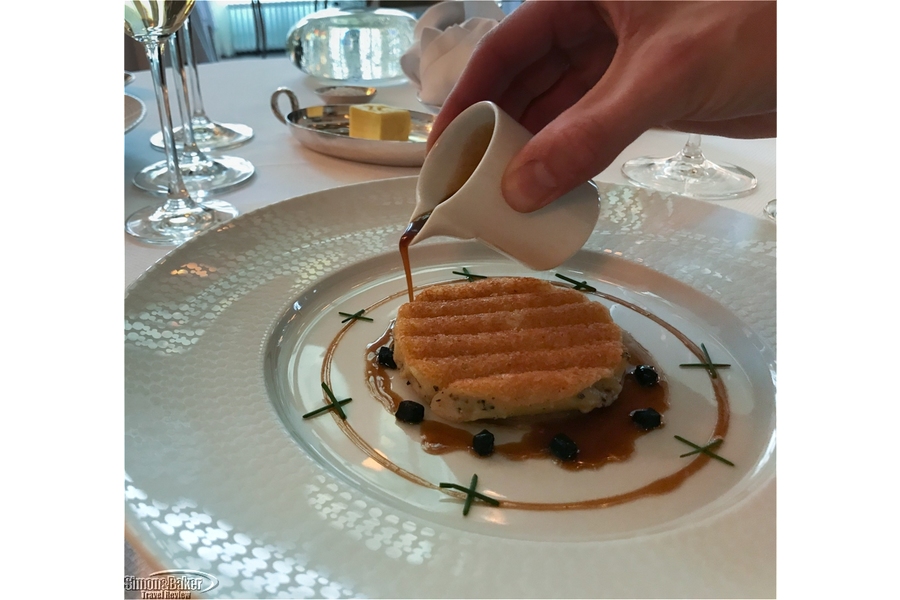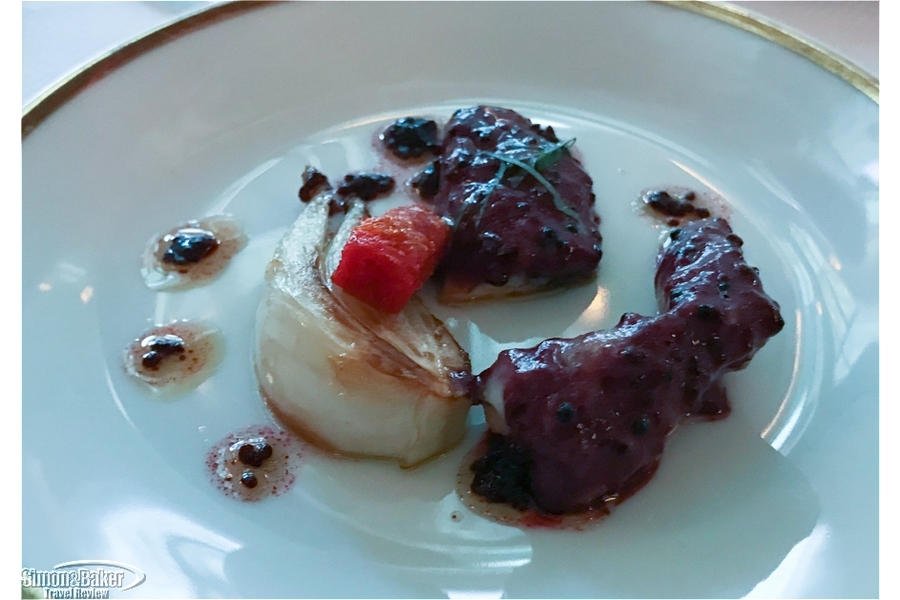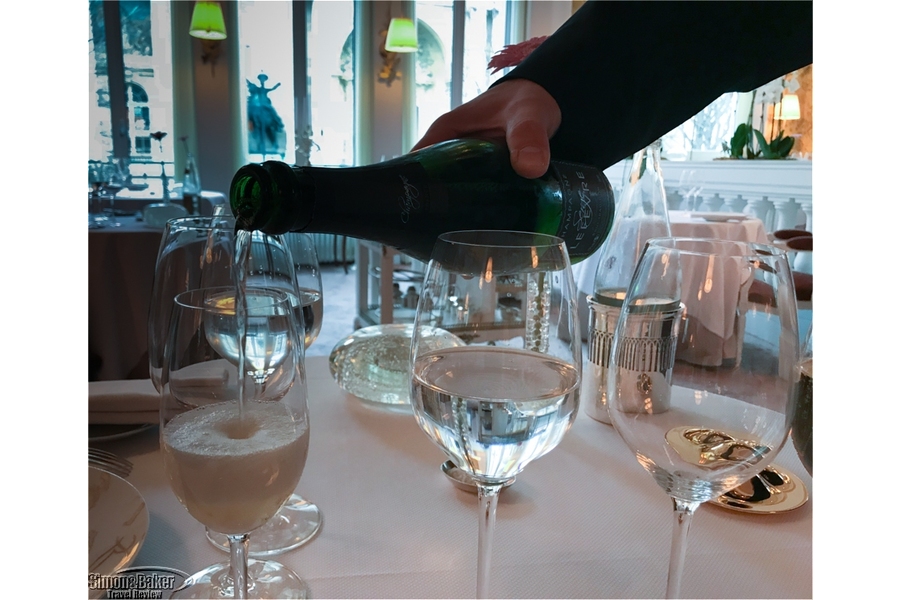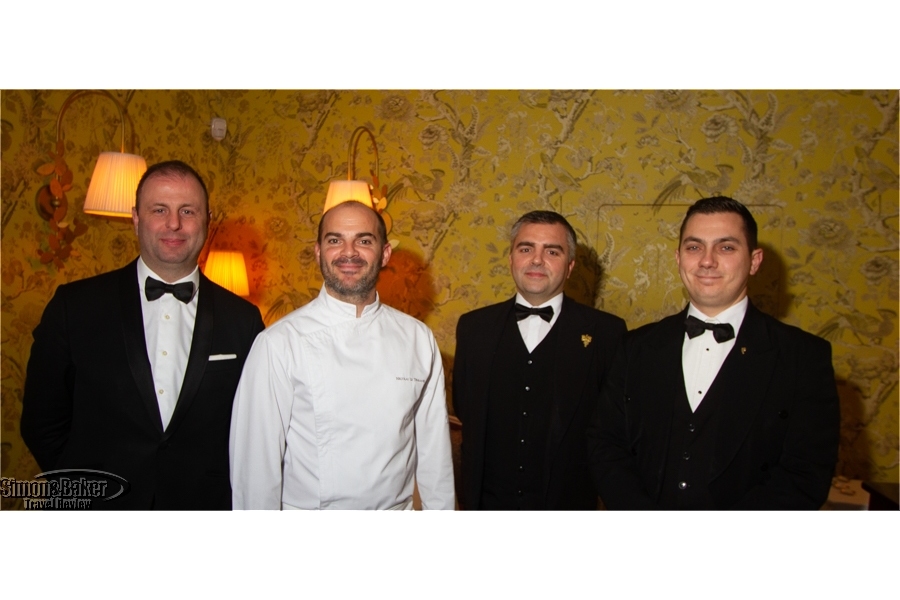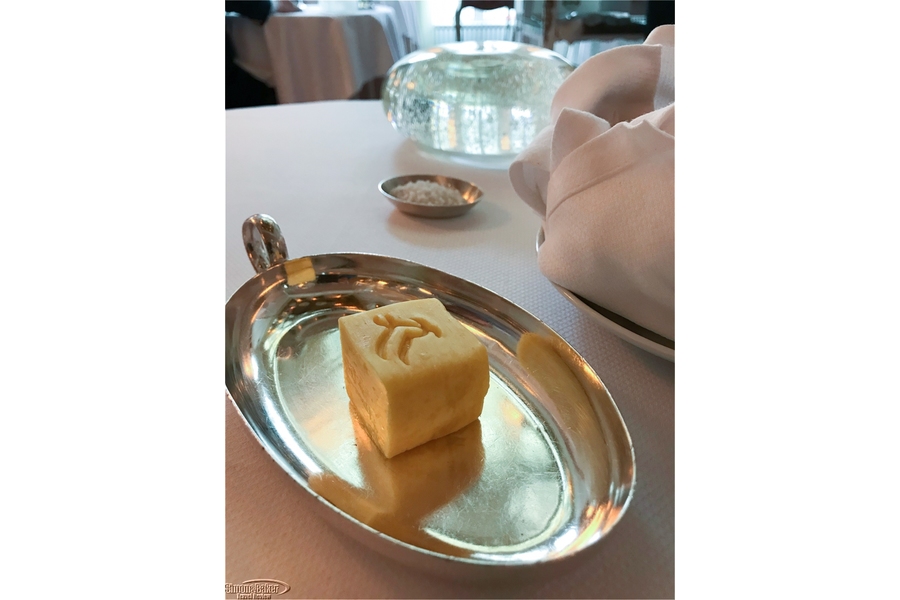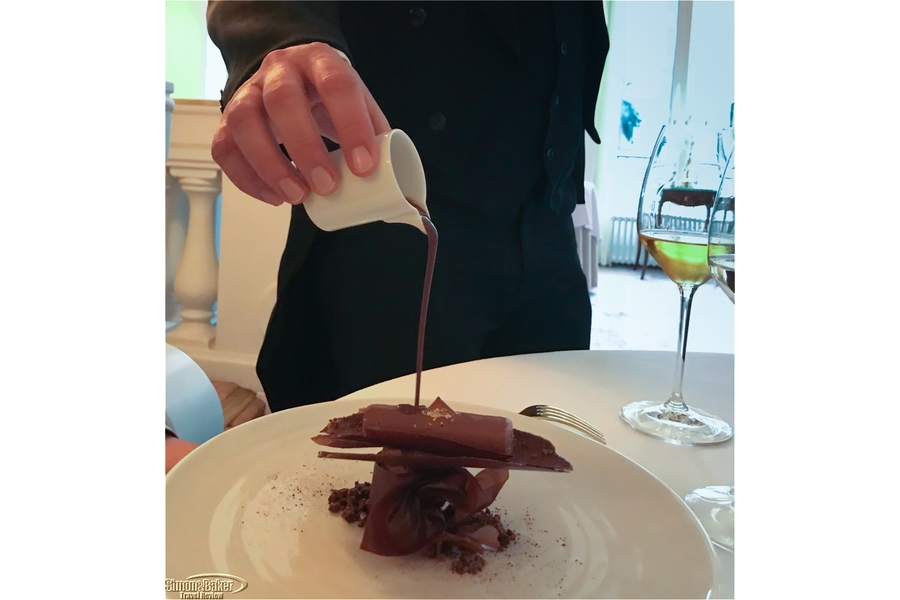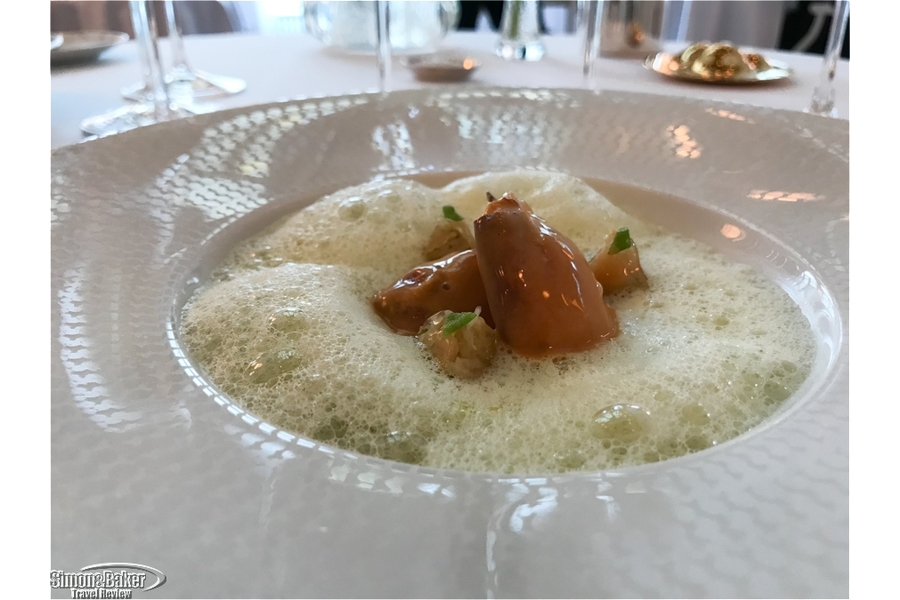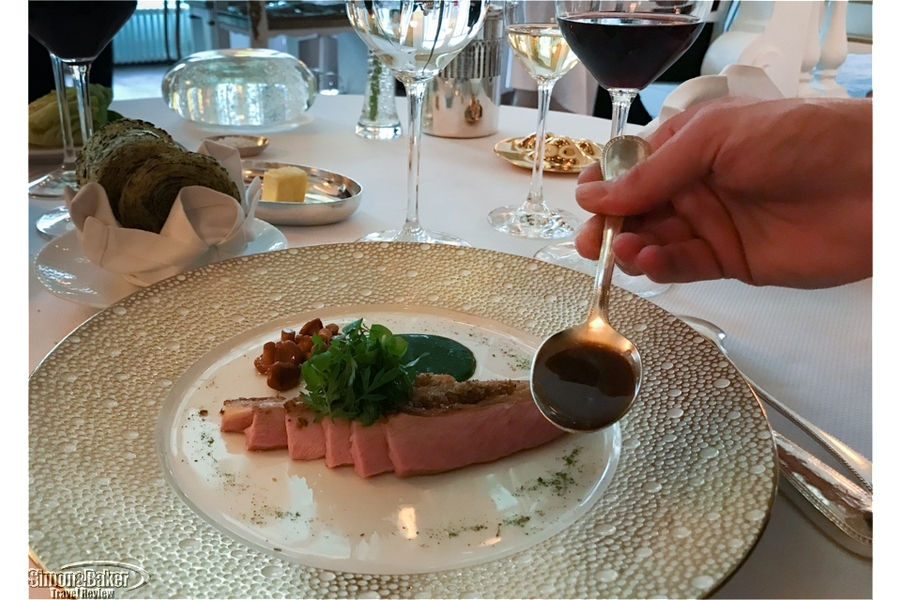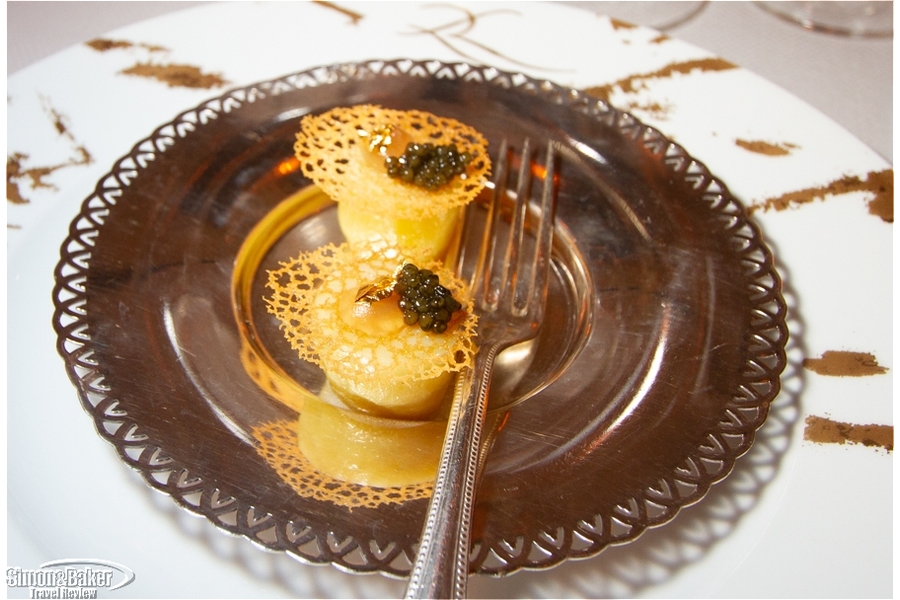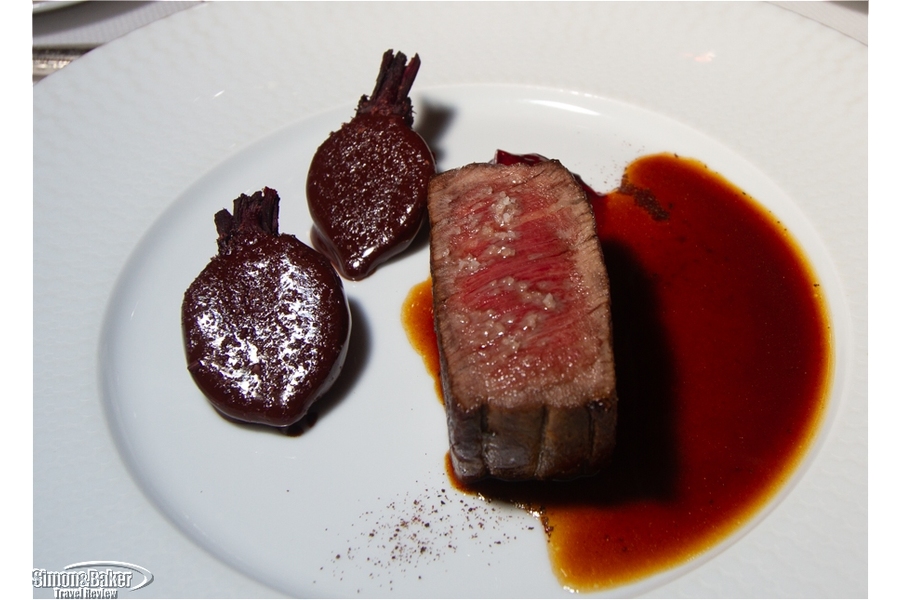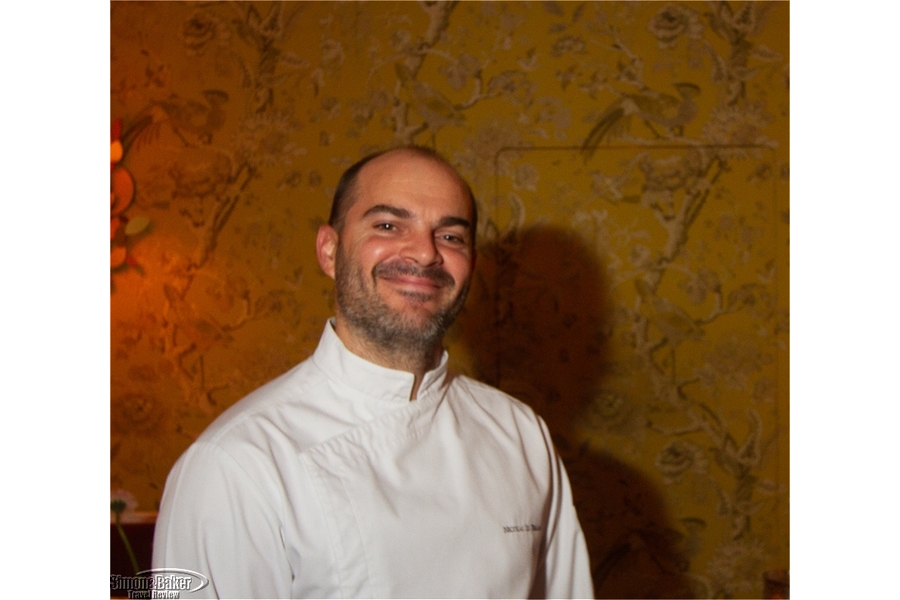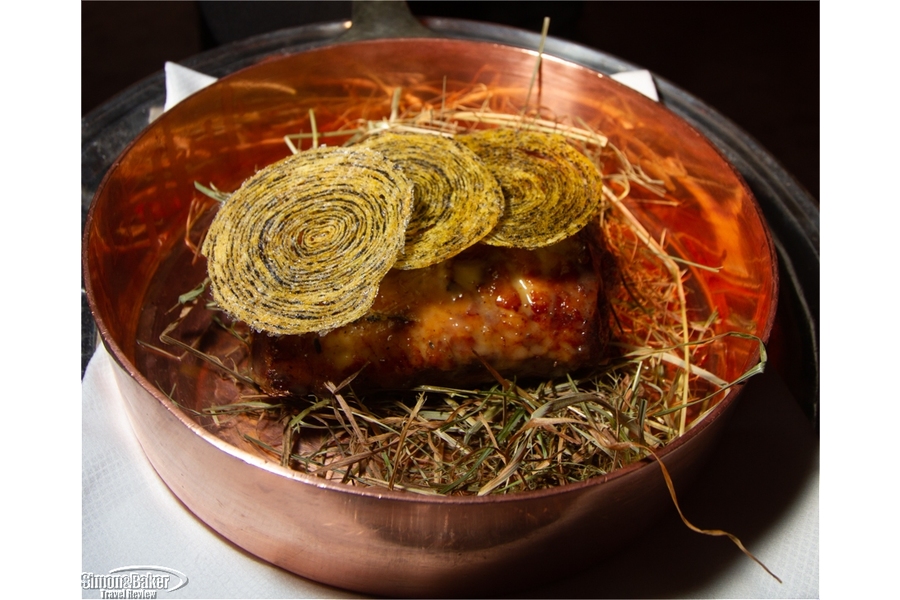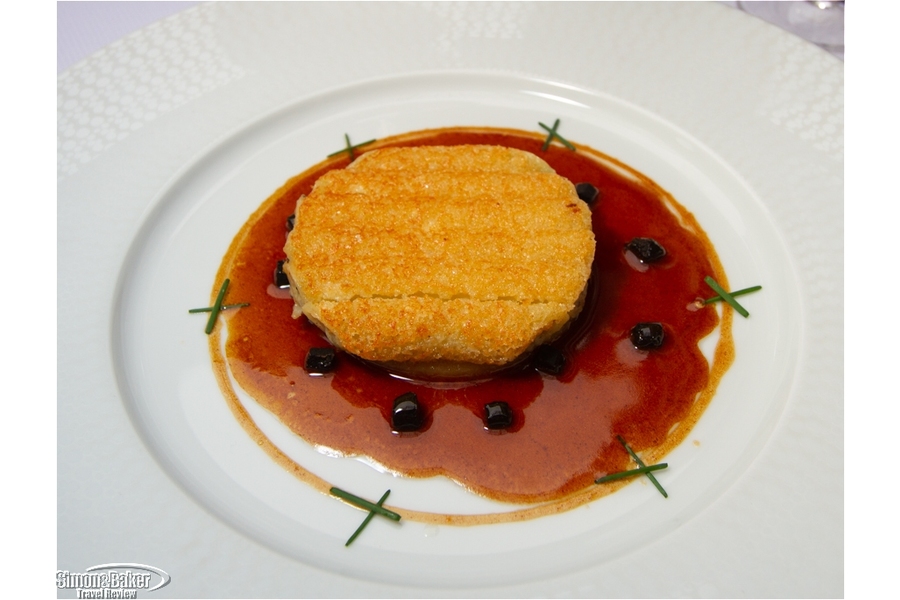 In the future, should I be in need of an elegant gourmet venue to celebrate a special occasion in that neighborhood Lasserre will be on my short list for its excellent service, beautiful interior with an inspired view and aspirational Tasting Menu.
Overall Impression
It had been 12 years since we had dined at Lasserre, named for René Lasserre, who created the restaurant almost 80 years prior, and we wondered how it might have changed. From the valet at the entrance to the all male formally attired dining room staff inside the service was as attentive as I remembered. From the ground floor we climbed a short staircase one floor. Our escort pulled thick curtains aside to reveal an elegant dining room with elaborate and tasteful décor. Dim fall light filtered through large street-facing windows. Beyond them we had a bird's eye view of the Grand Palais, one of the city's well known historic monuments.
We were there on a fall day in the midst of weeks of Yellow Vest demonstrations often centered on the upscale western neighborhoods of the city, including the famed Golden Triangle where the restaurant is located. Perhaps because of that ours was one of only a handful of tables that day.
Our intimate table occupied prime real estate in a corner of what appeared to be the best section of the salon, two steps down from the arrival level. From our well cushioned and comfortable seats we had an unobstructed view across the dining room and through the windows to the facade of the world famous building across the street. Above us a mirrored ceiling drew our attention, partly because it showcased the room from an unexpected angle and partly because despite the outdoor chill we anticipated the roof to open during the meal.
Despite occasional noise from an adjacent construction site I liked that, except for the piano player's soft sounds, it was quiet in the space we shared with few other diners. Guests were French speaking and middle-aged. Lunch was artfully presented and "modern" in style, eliciting mostly sighs of pleasure and satisfaction. We liked the well prepared dishes, each one cooked in a way that brought out the natural flavors to their best advantage. In the future, should I be in need of an elegant gourmet venue to celebrate a special occasion in that neighborhood Lasserre will be on my short list for its excellent service, beautiful interior with an inspired view and aspirational Tasting Menu.
About the Executive Chef
Nicolas Le Tirrand trained in Pavillon Ledoyen, Plaza Athénée, Four Seasons George V, and 39V. At Lasserre he sought to be rigorous, straightforward and contemporary.
According to his biography, he is a patient, workaholic and bon vivant cook, who masters the art of assembling, seasoning and cooking at the perfect temperature; and a chef, thanks to his leadership abilities, who wishes to be particularly aware of product sourcing, waste management and globally on ecology.
Executive Chef Nicolas Le Tirrand
Handicapped Access Yes. The restaurant was on the first floor. There was an elevator.
Head Sommelier Stéphane Jan
Restaurant manager Gerald Louis Canfailla
Languages Spoken In addition to French some staff spoke English and were able to welcome guests in English.
Location On the well known Franklin Roosevelt Avenue in the ritzy eighth arrondissement.
Opened-Renovated The restaurant opened in 1942. In 2017, it underwent a "full renovation."
Owned A restaurant spokesperson declined to identify the restaurant owner for undisclosed reasons.
Pastry Chef Jean Lachenal
Size The restaurant was 170 square meters large and could accommodate up to 80 guests. We estimated a staff compliment of 30.
Decor
The décor was designed to emphasize a sense of the theatrical. A tiny elevator, upholstered with black fabric embroidered with a multitude of doves, the house symbol, transported guests between two levels. There was a 35 square meter 66-year old sunroof that once during our meal opened onto the Parisian sky. There were white orchid plants like sentinels standing along the dining room.
Our table, and the dining room in general, faced the Grand Palais entrance. Three vast arched bay windows enhanced the view. The interior design was inspired by a winter garden to be warm and bright. The artistic inspiration of the sunbathed room was a nod to the architectural finesse of the Grand Palais, its original frescoes and monumental equestrian statues. Eight mirrors were positioned to allow the eyes to wander around the room with discretion as a nod to the founder, who was said to enjoy looking without being seen.
The sunroof was covered by a golden mirror to reflect the whiteness of the moldings and wood panels. The walls were covered by elaborate anise-green fabrics with contemporary patterns, representing birds, slender branches, flowers, butterflies, and grapes vines. The grey carpet had long and thin bronze embroidered creepers on it. There were also some antiques on display such as an earthenware piece from Saxony with a colorful parrot on top. It formed part of a collection of bird-shaped silver artifacts accumulated over the years.
Meal
We had a delicious six course Tasting Menu without wine. The appetizers were:
A la nage Tourteau de casier en fine gelee de navet daikon, ecume de liveche et pince tiede
(a favorite); and
Dans l'esprit Lasserre Gratin de macaroni a l'artichaut et a la truffe noire
(macaroni gratin with artichoke and black truffles).
The main courses were: Sur sarments de cassis Homard bleu de Loctudy aux baies, crème de chou rouge a l'ail noir, jus de presse (blue lobster from Loctudy and a favorite); Fleuree de sel et d'epigrammes salle d'agneau de lait et girolles etuvees, fines arlettes de pommes de terres iodees (lamb with seaweed and potato crisps, chanterelle mushrooms and watercress); A l'unilaterale chateaubriand et quelques bettraves a la vinaigrette de cacao, vrai jus (chateaubriand with a lettuce heart served warm with olive oil to cleanse the palate with beets and cacao vinegar). The chocolate vinegar and beet were a worthy contrast to the meat.
The desserts were: Foisonne a la minute Chocolat du Perou "60% de cacao" sous de fines feuilles a la fleur de sel (60 percent dark chocolate from Peru with fleur de sel leaves); and Confite du four Banane dans sa peau sur fraicheur de rhum, ecume de cafe et crème glacee epicee aux eclats de noisette (banana prepared with rum, coffee and iced cream served with hazelnuts).
Special Menus Six course Tasting Menu for 195 euros.
Cellars Wine and Alcoholic Beverage Selection
The restaurant had 50 varieties of alcohol, including rare products such as a 1914 cognac, 1890 Cognac AE d'or, and 1918 Armagnac Sempe. It also had 1,300 wine labels from all the French regions, including Domaine Armand Rousseau, Romanée Conti (Burgundy), Petrus, Lafitte, O brion, Chateau Margaux (Bordeaux), Didier Dagneau (Loire), Chateau Rayas, Domaine Henri Bonneau, and Domaine Gangloff (Rhone).
Other Amenities included WiFi, valet service, and live piano music. The entire meal was prepared using fresh (not frozen) ingredients, 50 percent of the ingredients were organic (all the vegetables were organic). Jackets were required for men.
Date of Review
December 2018
Number of Visits One
Reviewers
Article by Elena del Valle
Photos by Gary Cox
Service Staff were serious, attentive, efficient and polite. I was escorted down the elevator and back from the ground floor lady's room. Our napkins were replaced with fresh dessert napkins when we concluded the savory portion of the meal.
Would You Dine Eat There Again-Recommend It? Yes
Contact Information
Address:

Restaurant Lasserre
17, avenue Franklin Roosevelt
75008 Paris, France

Phone:
Website:
Email: