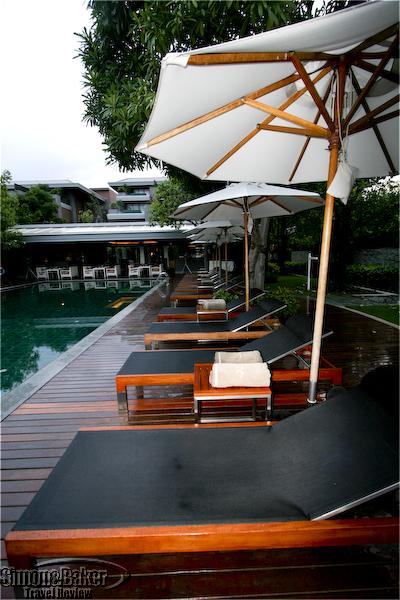 I look forward to revisiting the Rest Detail the next time I am in the area and will recommend a jet lag stop over there to friends and acquaintances.
Overall Impression
After hours of flying and connections at two airports I was tired when I landed in Bangkok, Thailand. The 11 p.m. arrival and 11 hour time difference made things worse. Instead of spending time in Bangkok I had opted to stay in the coastal town of Hua Hin, a two and a half hour drive from the airport, to ease my way through the jet lag in a quiet resort town instead of a city of millions. As I exited the customs area and thought of spending more time en route to my final destination I wondered if it had been the right decision.
By 3 a.m. I was comfortably settled in a handsome two-level beachfront suite at the Rest Detail Hotel Hua Hin, one of the property's premier suites. A shower and some sleep did wonders to improve my jet lag and the next morning I approached the restaurant with a ravenous appetite. Although the staff spoke limited English and I spoke no Thai I perceived a warm welcome. With their help and some exploring on my part I easily discovered the property and its facilities as well as the surrounding beachfront. I spent a few hours walking around the town, visiting a silk co-op store, the shopping mall, and a Thai night market.
At the Rest Detail I found an ambiance of respite away from the hustle and bustle of the city, friendly and service oriented staff, especially Jakkaphat Sooksabai "Tar", my pavilion attendant who was helpful, friendly and seemed to always be available. I particularly liked the quiet and luxurious seclusion afforded by my suite with a beach view, the delicious food at Rest Gastro, the pretty main pool suitable for swimming and the on site spa. It was evident the staff dedicated much effort to meals, details like turn down cookies (varied every night), amenities, decor and the overall cleanliness and appearance of the small hotel.
Although the weather was mostly overcast with light rain while I was in Hua Hin my stay was relaxing and just what I wanted. As we drove away the morning of my departure and I waived good by to Tar and some of the hotel staff I had met I smiled knowing I would miss them and thought what a great idea it had been to drive to Hua Hin. I look forward to revisiting the Rest Detail the next time I am in the area and will recommend a jet lag stop over there to friends and acquaintances.
Children
Yes, children of all ages were welcome.
Class Of Accommodation Five Star luxury hotel and spa
Concierge Ms. Kanlaya Chankhao, guest relations manager
Connectivity There was complimentary WiFi (6 megabit per second) in the suite and throughout the property.
General Manager Jakri Rujirat
Handicapped Access Main building rooms were designed for wheelchair access although that was not the case for Pavilion and Village accommodations.
Length Of Stay Three nights
Location The hotel is 220 kilometers southwest from Suvarnabhumi airport, the international airport serving Bangkok, Thailand.
Owned And Managed The hotel was owned by BoonKongchuen Land Co. Ltd. (Paithoon Boonkongchuen, managing director)
Pets Allowed No
Size The 2.8 acre hotel property had space for 56 guest rooms and employed 120.
Year Opened-Renovated The hotel was established April 2008
Lobby And Common Areas
The hotel had an open design in the lobby and pool. The interior design was the work of dwp Design Worldwide Partnership and the furniture was provided by Lee Victor Furniture Co., Ltd.
The owners entrusted Ms. Ploy Chariyaves, a columnist and travel writer, to come up with a modern concept for the design. Ploy emphasized detail: "I chose the playful three wise monkeys logo and concept because I was familiar with them since I was a child. They are a symbol of living a wise life, closing ourselves out from the noise of the busy world to relax and take time out. It's not another chic or boutique hotel. We are a 'detail' hotel and I incorporated every detail as a result of my traveling experiences into the hotel's concept, based on my personal experience and those of family, friends and colleagues who gave invaluable input."
She meant for make the hotel very spacious, open, airy, with tropical seaside colors, a white background with splashes of color, tile mosaics, chandeliers, waterfall features and outdoor Jacuzzis and pools in the villas, double daybeds built out over the swimming pool in the Pool Village, individual letterboxes for each room and villa, and the incorporation of the three wise monkeys theme throughout the hotel.
Bathroom
The master bathroom had a spacious shower with a glass door, twin sinks below a large mirror and a toilet. The bathroom door had turquoise and white stripes and the wall facing the door in the bathroom was covered with striking colorful tiles
Room My suite, the 260 square meter two level Beach Rest Pavilion, faced the beach. There were two entrances, a private courtyard and plunge pool. A handful of steps led from the beach facing lawn to the suite's entrance of several sliding glass doors. Inside there was a sitting room with an iPod player with speakers, a flatscreen television and a DVD player. Past the sitting room on the right side of the room there was a bathroom divided into three parts, water closet, sink and shower. Glazed pretty glass walls provided privacy within the bathroom. To the left of the stairs there was a wet bar with two stools facing a full size refrigerator stocked with cold beverages and water. To the left of the wet bar there was a dining area and a second flat screen television on a table. Sliding glass doors led to a partial wrap around veranda facing the beach, the suite pool and the main pool area of the hotel. My favorite feature was the suite's excellent beach view from the entire upstairs area.
Stairs led to a two bedroom sleeping area one level below. Straight down the stairs there was a bedroom with twin beds and an en suite bathroom with a shower. To the right of the stairs there was a master bedroom with a king bed, and en suite bathroom. The bed was flanked by identical night tables. In the rear of the bedroom there was a wall facing vanity with an armchair and an upright small wood framed mirror. On the opposite corner there was a flatscreen television and a DVD player. To the left of the bed there was a half step down to a full size plastic bathtub. Double khaki colored curtains could be closed for privacy. Across the room sliding glass doors behind identical double khaki colored curtains led to a private courtyard with patio furniture below the suite's plunge pool which was shared by the two bedrooms.
Food And Restaurants
Rest Gastro served Mediterranean cuisine. In the morning there was a generous buffet breakfast (6:30 a.m. to 10:30 a.m.) offering East and West items such as Thai soup, steamed dumplings (a favorite), jasmine rice, cold cuts, cheese, salad, Chinese broth, boxed cereals, yogurt (plain and with fruit), freshly made juice to order (two types per day such as watermelon, carrot, pineapple and melon), pastries and breads, sliced fresh fruit, chocolate fondue, and eggs made to order.
I had dinner twice during my stay and sampled a Thai style noodle dish, seafood fondue set dinner, and rock lobster salad (a favorite). Desserts too were delicious. One night there was warm chocolate fondant with vanilla ice cream served with a berry and passion fruit coulis. The following night I chose mango sorbet from the a la carte menu. There was also tea service in the afternoons between 2 p.m. and 6 p.m. Mine was served in my suite with several kinds of sweet bites including cheese cake, panna cotta, chocolate cake and marble cake and three savory items including chicken wings and delicious fresh crab on bread. Room service was available 24 hours a day. When I arrived at 3 a.m. there was a welcome platter of finger foods and fruit which was just what I needed after two days of travel.
Amenities
There was complimentary WiFi, bottled water, fruit, use of bathrobes and slippers, a music loaded iPod and dock, dual-line phone with voice mail, DVD player, large LCD screen TV, satellite and cable TV with multi-language channels, electronic personal deposit box, mini bar, padding silk duvet, hairdryer, "erb" Thai home spa amenities set, full-height mirror, use of beach accessories (beach bag, sandal, tunic shirt and fisherman pants), coffee and tea making facilities, and umbrellas.
Facilities There were two on site restaurants, a bar, a swimming pool, a small gift shop and a spa.
Pool My suite pool was 2 meters wide by 5 meters long and 1.25 meters deep. The main swimming pool was 8 meters wide by 25 meters long and 1.5 meters deep.
Spa There was a 252 square meter spa housing five treatment rooms. I gladly indulged in three treatments during my stay.
Conference Facilities There were two meeting rooms with visual equipment: The Wise which was 8 meters by 17 meters (136 square meters) capable of accommodating up to 100 people and The Thought which was 8 meters by 7 meters (56 square meters).
Cleanliness
Excellent
Date Of Review September 2010
Reviewers Article and photographs by Elena del Valle
Service My suite was serviced twice daily. Although communication was challenging at times since I spoke no Thai and few staff understood English the staff were accommodating and friendly. Tar, who was assistant guest relations manager when he wasn't busy with pavilion guests, checked me in when I arrived and offered to have the kitchen prepare a meal for me; I was more tired than hungry and opted for fruit instead. During my stay, he checked on me intermittently and served as my guide around the town when I went exploring one day, translating and pointing out the salient sights. His assistance enhanced my stay.
Would You Stay There Again? Yes