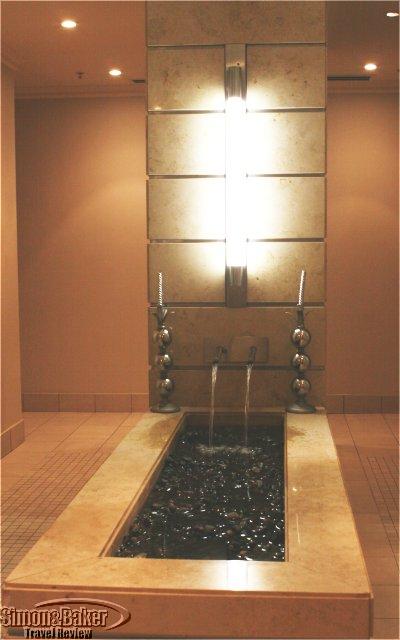 I look forward to my next visit.
Overall Impression
What could be better after 48-hours of travel than an afternoon of spa pampering? Massages, body wraps and scrubs, facials, manicures, and pedicures all sounded appealing. The Renaissance Spa in the Michelangelo Towers next to the famous Nelson Mandela Square shopping arcade was a short cab drive from my Melrose boutique hotel. It offered a myriad treatment options and spa packages, as well as tanning and hair removal so I was sure I would find something I liked.
I spent a glorious Sunday afternoon indulging the senses with relaxing treatments at the spa. Elzette, my therapist for the afternoon, liked conversation. She was friendly, well trained with more than four years of experience as a therapist and most important liked her work. After a scrubbing and moisturizing treatment in the Rasul Chamber, a deep tissue massage with grape see oil and body butter helped me relax. We completed our afternoon together with a cleansing Guinot facial including and excellent extraction session and eyebrow shaping.
Overall, the Renaissance Spa offered a broad selection of treatment options in a secure, modern and attractive setting and central location. My spa afternoon in the spotless and eye-catching Italian style facilities was fantastic. I look forward to my next visit.
General Manager
Liza Rautenbach
Handicapped Access Yes
Location In the Michelangelo Towers in Sandton City, an upscale neighborhood in Johannesburg
Number Of Staff 14
Owned And Managed Paul and Gary Barkett
Size There were 10 treatment rooms in the 500 square meter (approximately 5,000 square feet) facility with a staff compliment of 10 therapists.
Special Training Staff received training at product houses and in house.
Treatment Rooms There were seven color coded treatment rooms.
Year Opened-Renovated Established in 1985. In 2005, the owners moved the spa to the newly built facilities at the luxury Michelangelo Towers.
Common Areas The spa was decorated in Roman style design with original artwork, "cascading waterfalls and elaborate chandeliers" and Italianate décor.
Amenities
Bathrobes, slippers, and disposable underwear.
Facilities There were indoor and outdoor pools, steam room, sauna, Rasul Chamber, and Sensation Shower.
Pool There was an outdoor rooftop pool surrounded by lounge chairs and a view of Johannesburg. There was a smaller indoor warm pool about one meter deep, described in spa brochures as a heated and oxygenated spa.
Lockers And Bathrooms There were separate men's and women's restrooms with 15 lockers and several showers in each.
Cleanliness
Excellent
Date Of Review November 2006
Number Of Treatments Three
Reviewers Article and photographs by Elena del Valle
Treatments Experienced My first treatment, recommended by the staff, was a 45-minute Rasul Chamber Dead Sea Body Exfoliation with Dead Sea mud. Rasul is a traditional Middle Eastern method of exfoliation and cleansing. It incorporates mud, herb-scented steam and a warm lavender-oil-infused shower. This treatment was designed to help cleanse the respiratory system, smooth the skin and detoxify the body, while revitalizing the chi or energy. To complete the ritual, warm tropical rain pours down from the dome of the Rasul Chamber to gently wash away the mud. To remain well hydrated, Elzette brought me a glass of chilled water while I was in the chamber. When the ceiling mist ended I rinsed off the excess mud with a shower in a corner of the chamber.
A 60-minute Swedish Massage designed with traditional massage strokes applied with firm pressure to improve circulation, ease muscle tension and enhance relaxation was next. My final treatment was a Guinot Classic Facial (60 minutes) featuring "skin analysis, cleansing, exfoliating and moisturizing."
Would You Return? Yes
Contact Information
Address:
8 Maude Street 8 floor
Sandown, Sandton
Phone:
Fax:
Website:
Email: