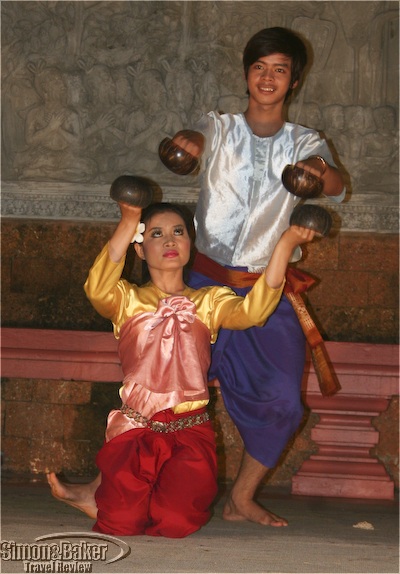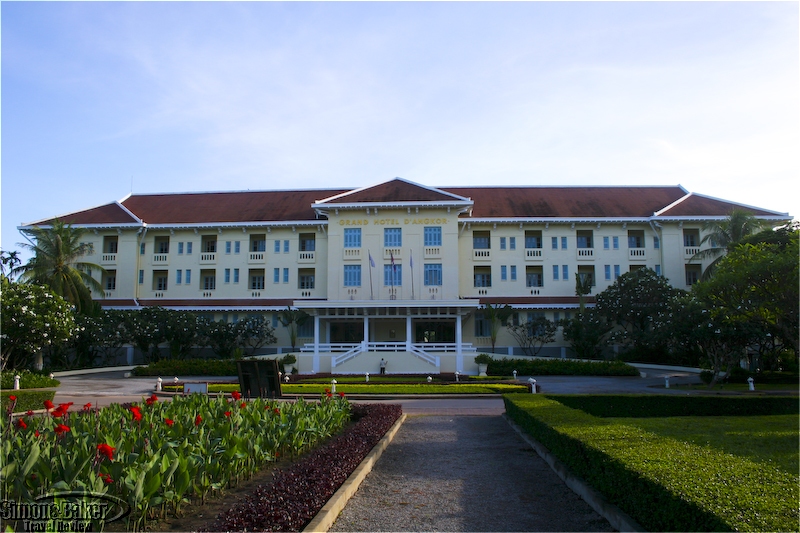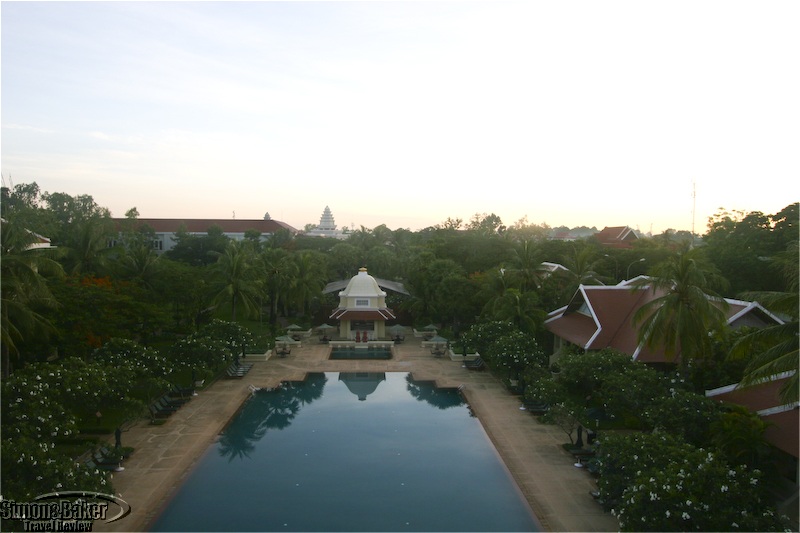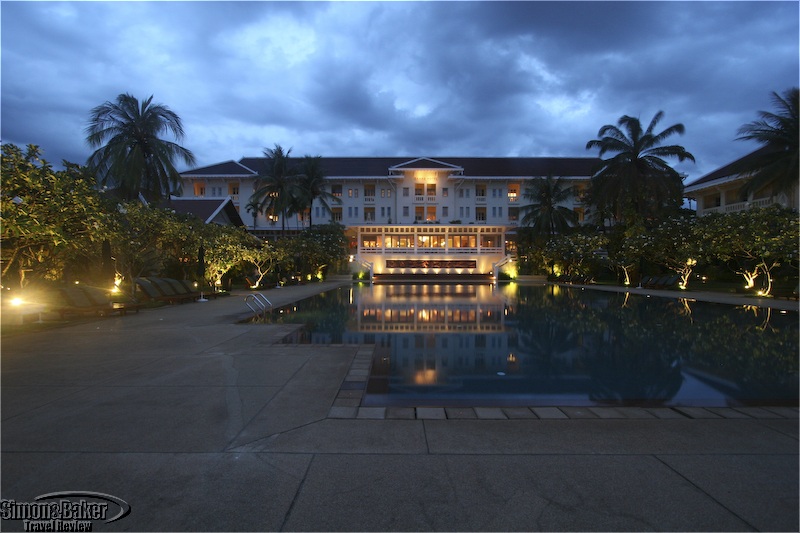 The combination of the nostalgic ambiance and decor, customer centered butler services, facilities such as the beautiful swimming pool (modeled after a temple pool), on site fitness center and spa; amenities like in-room high speed internet connectivity; and activities like lotus flower and palm demonstrations, cultural dance dinner, wine tasting and Khmer cooking class, made a fan out of me.
According to a company spokesman the Grand Hotel d'Angkor is currently closed and will re-open at the end of September 2019
Overall Impression
This well managed hotel, built around a heritage building and former hotel (dating back to 1932), had much to offer. My first and last impressions were very telling. When I arrived at the airport, two uniformed staff were there to pick me up (and drop me off on my late night departure) in a comfortable air conditioned classic model BMW.
The most noticeable feature of the hotel on arrival was the historic Cambodian ambiance including the building's design and furnishings, staffed cage elevator in the main building and Khmer uniformed doorman at the porte cochere entrance.
In addition to luxurious accommodations and facilities the staff were friendly and service oriented, and there were a number of on site activities on offer to keep me entertained during my week long stay. There was also a small shopping arcade with several appealing shops where I liked to browse. Although I enjoyed exploring Siem Reap sometimes it was nice to just enjoy the hotel activities and facilities without venturing out into the rainy environs and crowded Angkor temples.
I stayed first in a Personality Suite, a spacious room with a top floor view of the swimming pool, and concluded my visit in one of the property's Villas, a stand alone building with two bedrooms, a kitchen and a living and dining area, at the end of the pool area. Each had appealing features, although the Villa offered greater privacy and abundant space.
The combination of the nostalgic ambiance and decor, customer centered butler services, facilities such as the beautiful swimming pool (modeled after a temple pool), on site fitness center and spa; amenities like in-room high speed internet connectivity; and activities like lotus flower and palm demonstrations, cultural dance dinner, wine tasting and Khmer cooking class, made a fan out of me.
Children
Yes, the hotel was child friendly. Children aged five to twelve could stay free of charge with parents and were charged only for breakfast. Baby cots were available on a complimentary basis for infants. There was a children's pool and baby sitting service. During my low season visit I only noticed one young girl swimming in the pool with her parents.
Class Of Accommodation Luxury Five Star hotel and resort
Concierge Sambo Pat
Connectivity There was complimentary WiFi internet throughout the hotel. Internet access in the main building was continuous and reliable. In the Villa it was uneven. At times I was unable to access the internet at all. Other times it was easy and fast. When I asked about the connection, the staff explained they were having problems with their provider.
General Manager Robert Hauck
Handicapped Access The hotel welcomed handicapped guests and offered the the use of wheelchairs during their stay.
Length Of Stay Six nights
Location The hotel was in Siem Reap, about 8 kilometers from the airport and 8 kilometers from the Angkor temples.
Managed Fairmont Raffles Hotels International (FRHI)
Owned Prince Al-Waleed bin Talal
Pets Allowed No
Size There were 119 rooms and suites in two three-story buildings within a 14.8 acre ( 60,000 square meters) property and a staff compliment of 270.
Year Opened-Renovated In 1997, Raffles International Ltd. took over the management of the hotel, restoring and refurbishing the property before it reopened under the name Raffles Grand Hotel d'Angkor. In 2009, guestrooms were renovated. The following year, the shopping arcade and business center were renovated, and refurbishment of additional guestrooms was underway in 2011.
Lobby And Common Areas
The hotel's decorative style was Elegant French Colonial Art Deco. Features included marble floors in the lobby, original floral-motif cage Otis elevator restored from the heritage building dating back to 1929, staircase rail, custom made Cambodian silverware, doorman in traditional costume, Khmer background music in the lobby, wicker chairs, and framed antique photos of Angkor. There were 60,000 square meters of landscaped gardens and 120,000 blooms.
The hotel formed a U shaped set up where the legs of the U were detached from the rest. The closed part of the U was the original building dating back to 1932 while the legs of the letter were built in the recent past. In the middle there was a beautiful pool designed to emulate the pool of a temple and behind it there was a water fountain made of two red stylized Khmer lions facing the main building. The pool bar was immediately behind the water fountain and behind it there was an outdoor dining area and a stage for performances. To the right of the main building and detached from it stood a building housing the spa and fitness center. In front of and across the street from the main building the hotel owned a handsome manicured park.
Bathroom In the rear of the master bedroom I found the master bathroom. It had gray marble floors and walls, twin sinks atop a marble counter, a toilet in the corner, a clawfoot bathtub in the center and an extra large walk-in shower with a glass door and a built-in seat. There was a large framed mirror above the sinks and a vanity mirror to the right.
Rooms
I spent three nights in a 48 square meter Personality Suite and three nights in a 318 square meter Villa.
On arrival I stayed in Room 4114, the John Thompson Personality Suite (named for the first photographer to photograph the Angkor Wat Temple in the 1800s), a 48 square meter room on the fourth and top floor of the main building overlooking the center of the pool and reached via a 1920s elevator with an attendant. The spacious room had a short hallway entrance. Inside, the first features I noticed were wood floors and a rug in the middle, high ceilings, central air conditioning and a fan. A comfortable wood four poster bed with four feather pillows and duvet was set against the wall on the right side of the room. A rattan sofa was at the foot of the bed facing a metal and glass oval table, rattan armchair and round rattan table with glass top. Across from the rattan furniture there was a large three part armoire facing the bed. A central panel housed a modern Sony television on the top and an electronic safe, mini bar with a mini refrigerator on the bottom. The right side had hanging space and four bathrobes, two pairs of slippers. The left side had drawers on the bottom and hanging space at the top. Two of the armoire doors had full length mirrors. In an inset area in the far wall there was a luggage rack with a recessed light in the ceiling. The rest of the lighting was provided by two upright lamps and two night table lamps as well as recessed lights in the entry hallway.
To the right of the armoire there was an oval wall facing desk atop which there was a phone, a notepad and pen and a vase with fresh orchids. Two small framed black and white photos adorned the walls. To the right of the desk, a French sliding glass door led to an enclosed balcony with sitting space for two and a perfect view of the pool and the rear of the property. A folding horizontal gray curtain over the sliding glass door and nearby large window provided privacy at night.
Food And Restaurants
I had breakfast daily in the main restaurant adjacent to the lobby and shopping arcade. On offer were a variety of cut fresh fruit, Western breads and pastries, jams, dim sum, salad ingredients, cold cuts, and cheeses. It was also possible to request made-to-order vegetable juice, eggs, pancakes and Cambodian dishes (my favorites).
One night during my stay I enjoyed an Asian buffet dinner with cultural performance at Apsara Terrace. The restaurant was at the end of the pool area facing a theatre style stage surrounded by traditional Cambodian boundary stones and wooden gates at the entrance. Because I attended a wine tasting at Le Grand cellar I arrived late for dinner as the performance was beginning. Not wanting to miss the show I waited until the end to serve myself from the many dishes on offer, many more than I had time for or was able to sample.
On a previous visit to Siem Reap I dined at Restaurant Le Grand where I had an elegant Royal Cambodian cuisine tasting menu dinner with recipes originated from the royal household. It was touted as having the most extensive wine cellar in Siem Reap. During my stay, I attended a cooking class at Le Grand one day. It included a visit to the market with the chef and a cooking demonstration. It was quite fun.
Amenities
Personality Suite amenities included a surprise item at turn down like Khmer desserts, notecard with an historic excerpt from Cambodian Glory by H.W. Ponder published in London in 1936, Elephant Chocolates box (2 elephant shaped sweets each in dark chocolate, milk chocolate and white chocolate). Other Suite amenities: Champagne breakfast, tropical fruit plate in room replenished daily, air-conditioning with individual thermostat control, international direct dialing, additional socket for fax/modem, shaver outlet, hair dryer, in-suite safety box, minibar, flatscreen color television with satellite channels and cable, two cotton bathrobes, handmade slippers, complimentary postcard and postage, butler service, and iPod dock.
Bathroom amenities: Raffles Amrita Spa toiletries in the room and suite: comb, brush, loofah, shower cap, sewing kit, shaving kit, dental kit, mouth wash, shower cap, soap, shampoo, conditioner and two types of bath fine salts.
Added Villa amenities: DVD player, Bose sound system, in-villa computer with complimentary WiFi internet access, and personal butler service. There was also Evian water, Otard V.S.O.P Cognac and Johnnie Walker Red Label Whisky in decanters, a mini bar with two mini refrigerators, one with canned beverages and the second one with a locked glass door housing full size bottles of Champagne and wine. There was an extra large fruit bowl with pineapple, dragon fruit, bananas, mangoosteen, oranges and mangoes.
During my stay I received a welcome elephant candle, scarf with the hotel name embroidered on it, Khmer desserts (for turn down on the first night). Fruit plates in the room and suite had a plentiful supply of my favorite local fruit, mangoosteen and mango.
Facilities Spa, Jacuzzi, steam rooms, saunas, fitness center, 35 meter lap pool, three restaurants (Cafe d'Angkor serving international cuisine, Apsara Terrace serving Asian Buffet with cultural performance and Restaurant Le Grand serving Royal Cambodian Cuisine), three bars, two tennis courts, business center, meeting rooms, shopping arcade, and tour desk.
Fitness Center And Spa The spa and fitness center shared a building. The fitness center was 4.70 meters by 9.85 meters in size and the spa was 323.68 square meters in size. There were 11 TechnoGym machines in the air conditioned work out area as well as free weights. I usually had the room to myself when I went to work out in the early morning.
Pool The main swimming pool, 35 meters long by 18 meters wide with a depth between 1.2 meters and 1.5 meters, was meticulously cleaned, daily. Hotel staff maintained the pool deck area in an excellent state. They were constantly picking up leaves and flowers from the palm trees and frangipani trees that surrounded the pool area. There was also a Kid Pool 7 meters by 7 meters and 0.5 meters deep. Poolside the lounge chairs were covered with green and white striped towels. The day I had a window of opportunity I selected a shady option and a minute later one of the pool staff brought me a tray with lemongrass spritzer, pineapple chunks, a cold towel and a glass of iced water. I loved the scent of frangipani especially at the entrance to the spa.
Conference Facilities
There were two meeting rooms, Le Grand Extension (17 meters by 6 meters by 3.3 meters) and Elephant Bar Annex (10 meters by 7 meters by 2.6 meters). The hotel's standard meeting package included microphone, speakers, flip chart, markers, whiteboard markers, pencils, writing paper, LCD projector, screen, and podium.
Other The hotel offered novel and fun events on site. This was convenient as I didn't always feel like venturing out on the town, especially in the rainy weather. I attended mixed drink tasting, lotus plant demonstration and tasting, palm demonstration and tasting (including wine), dessert, wine tasting with the wine steward featuring three types of wines, and the Apsara dance and dinner events during my stay.
The hotel had been listed in the Travel & Leisure 500 Best Hotels in the World 2003 – 2011 and appeared in the 2010 Conde Nast Traveler Gold List (United States edition) World's Best Places to Stay.
Responsible Tourism Efforts included: Installation of heat pump for domestic hot water use in guestrooms instead of a steam boiler; electric power conversion to an EDC electric power supply and keeping the generator on standby only; waste management disposal system, e.g. separation of food and non-food items; organic composting system; a 300 square meter culinary herb and spice vegetable garden; used cooking oil was donated to Siem Reap Children's Hospital; the establishment of a green committee; promotion of employee environmental awareness through monthly quizzes; upgrading of water filtration system for low chemical consumption and longer life span of linen; use of energy saving posters and tips/reminder during daily briefings; locally produced guest giveaways; replacement of ambience air-fresheners in public areas with locally made lemongrass burners, which became a signature scent for the hotel; furniture in the public area made of natural products such as wicker, which could be easily repaired locally; gourmet food festivals organized with local farmers (present to display their products); electricity, gas and steam daily consumption prominently displayed at the staff entrance to create awareness; extensive use of local products; and support of local suppliers, producers and talent.
Cleanliness
Very good
Date Of Review June 2011
Reviewers Article and photographs by Elena del Valle
Service The rooms were serviced twice daily. Although some of the staff's thick accents sometimes were hard to understand almost all the staff I met spoke some English. Most staff I encountered knew my name and I heard them greet other guests by their names as well. I appreciated the cold scented towels the staff offered me on my return to the hotel from any outing and the "welcome home" greeting anytime I returned to the hotel. It took a while to make my way from my room to the restaurant or other common areas because along the way I invariably encountered staff who greeted me by name and asked how I was, if I had slept well, if it was my first time in Cambodia, if I was enjoying my stay and so on. Many of them looked like they genuinely wished to converse so I took the time to speak briefly with any of the staff who appeared interested and answer their questions. The dining room staff, all of which spoke English, were unfailingly attentive and friendly.
Would You Stay There Again? Yes
Contact Information
Address:

1 Vithei Charles de Gaulle
Khum Svay Dang Kum
Siem Reap
Kingdom of Cambodia

Phone:
Fax:
Website:
Email: