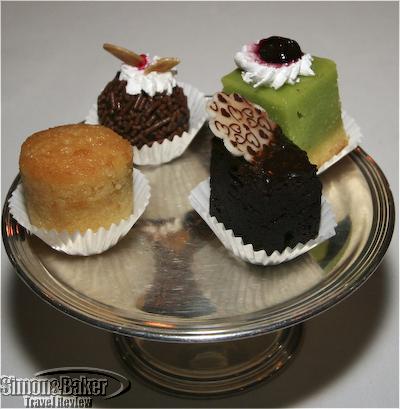 I would consider Le Grand a top option to celebrate a special occasion in Siem Reap.
Overall Impression
Before entering Restaurant Le Grand for a midweek dinner we enjoyed
amouse bouche
and mixed drinks in the Raffles Grand Hotel d'Angkor lounge to the sounds of live piano music. The savory bites and specialty drinks were a preview of the tasty dinner that awaited us in the adjacent dining room.
Le Grand, the fine dining restaurant at the Raffles Hotel in Siem Reap, Cambodia, offered a selection of a la carte dishes based on ancestral Cambodian recipes from the Royal family as well as classical French selections. A single white candle softly lit our table, enhancing the gentle lighting of the elegant dining room to match the quiet ambiance. Wine lovers would appreciate the well stocked mini cellar a few steps from our table.
An attractive air conditioned dining room, an elegant dinner service, a well stocked cellar, service oriented staff and a lovingly prepared tasting menu with wine pairing made my visit a worthwhile treat. I would consider Le Grand a top option to celebrate a special occasion in Siem Reap.
About The Executive Chef
I Mawa Iwayan possesses a master certificate from Cornell University School of Hotel Administration. He "was trained with many European chefs and worked in fine resorts all around Asia and in the Caribbean."
Executive Chef I Wayan Mawa
Handicapped Access According to a restaurant representative the dining room was "easily accessible by handicapped people."
Head Sommelier Eat Socheata, a Cambodian woman, supervised the wine collection.
Location On the ground floor of the hotel.
Opened-Renovated Le Grand restaurant, part of the Grand Hotel, now a Raffles Group property, was initially opened in 1932 by French investors. The Grand Hotel D'Angkor was closed in 1970 during the Polpot Regime. In 1997, it re-opened as a Raffles property. In 2006, the Al Fresco Terrace was renovated and converted into an indoor two-room dining area facing the hotel pool. Later in the same year, the hotel built a wine cellar.
Owned And Managed Raffles Grand Hotel d'Angkor
Pastry Chef Maing Meang Seap completed her education at the Swissotel Moscow and also in Singapore.
Restaurant Manager Since 2008 Jean-Philippe Beaujean has been in charge of the restaurant.
Size The 247 square meter restaurant employed nine service staff, one sommelier and six kitchen staff and was able to seat 70 guests in a fine dining configuration.
Sou Chef Mr. Ming Ting
Type Of Restaurant Khmer cuisine
DÉCor-Ambiance The restaurant features refined stone carving replica of Bayon Temple relief and relics from the Angkorian period, in a quiet and romantic ambiance.
Cellars Wine And Alcoholic Beverage Selection
There were more than 400 different references in the restaurant wine list, including wine from France, Italy, Spain, Germany, Chile, Argentina, South Africa, Australia and New Zeeland. Among the noteworthy labels were Chateau Margaux, Chateau Figeac, Château Cheval Blanc, Château Mouton-Rothschild, Château Lafite-Rothschild, Château Latour, Château Pétrus, Corton, Côte Rôtie, Solaia and Henschke.
Special Menus A four course set menu, the Royal Dynasty Menu, was available for $75 and with a wine pairing for an additional $45. It included an assortment of appetizers, a soup, a selection of main courses and a sample of desserts.
Meal The Tasting Menu began with a selection of bite size Khmer starters. A Sour Soup with Tomatoes and Pineapple set the stage for the meal. Next we were served Seared Beef Tenderloin with Coconut Milk, Coriander and a touch of Peanuts. There was Red Chicken Curry with Coconut Milk and Sweet Potato; Braised Fresh Water Lobster in Ginger and Caramel; Wok-fried Kai Lan with Oyster Sauce and Steamed Jasmine Rice. For dessert the chef sent Khmer sticky rice dumplings with coconut milk and ginger sauce and steamed banana with coconut milk. The wines were a 2008 Cloudy Bay sauvignon blanc from New Zealand and a 2005 Footbolt Shivas from Australia. Petit fours were served at the end of the meal.
Other The restaurant had been recognized by Wine Spectator magazine with two glasses, every year, since 2005.
Date Of Review
September 2010
Number Of Visits One
Reviewers Article and photographs by Elena del Valle
Service Staff were very attentive and service oriented.
Would You Dine Eat There Again-Recommend It? Yes
Contact Information
Address:
Raffles Grand Hotel d'Angkor
Siem Reap, Cambodia;
1 Vithei Charles de Gaulle
Khum Svay Dang Kum
Siem Reap, Kingdom of Cambodia
Phone:
Fax:
Website: