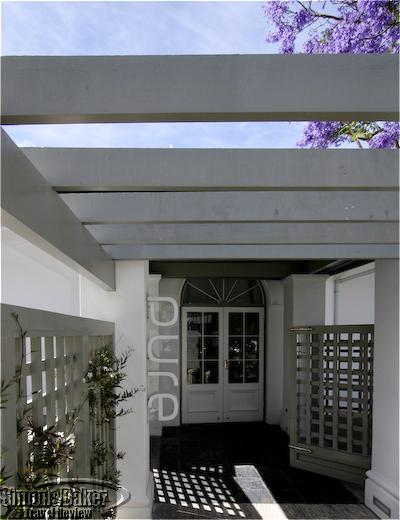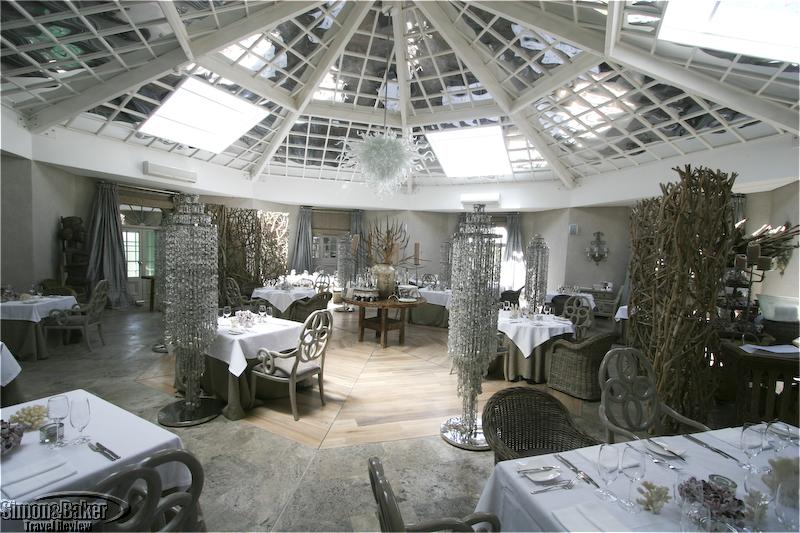 We will seriously consider a return visit to Pure the next time we're in the area.
Overall Impression
Pure was a joyful discovery. It was tucked away in a pretty and newly renovated hotel in Hout Bay, a small coastal town near Cape Town. While we had been intrigued by the name, it was the recommendation of a fellow foodie that drew us to discover Pure and visit the town overnight.
Inside Pure, the first thing we noticed was its whimsical African modern décor. Once seated, it was Chef Alex Mueller's cooking and his tasting menu that kept us intrigued the whole night. He had a light and playful touch in the kitchen. His dishes emphasized the flavor of the individual ingredients and blended easily to satisfy and surprise our palates. We will seriously consider a return visit to Pure the next time we're in the area.
About The Executive Chef
Born and raised in Oberstdorf, Germany, Alex Mueller started his culinary career at the age of 22. He had a background in competitive professional cross country skiing but decided to change course and accept an apprenticeship at Exquisit in Oberstdorf, Germany. It was at that luxury hotel where he fell in love with cooking and completed his training in June 1998.
From there he then started his first job as a chef at a Michelin rated restaurant in Villini Lindau, Germany. In November 2004, Chef Mueller opened Marend, his own boutique gourmet restaurant in Sonthofen, Germany.
He and his wife Claudia married June 2006 and their first child, Emma, was born in August 2007. In 2006, they moved to South Africa where they took over the management and kitchens of the newly refurbished Hout Bay Manor.
Prior to Pure, he worked at Landhaus Hubli, Davos, Switzerland; Gourmet restaurant Silberdistel at the Hotel Sonnenalp, Ofterschwang/Oberallgäu, Germany; Albergo Losone, Ascona, Switzerland; Hotel Excelsior, Arosa, Switzerland; private sailing yard Miss Austria; and Hotel Ascolago, Ascona, Switzerland.
Chef De Cuisine Martin Dannecker
Executive Chef Alex Mueller
Handicapped Access Pure is situated on the ground floor of the hotel with easy flow ramps and pathways.
Location In the Hout Bay Manor in Hout Bay, South Africa
Opened-Renovated November 2007
Owner Sue Strüngmann
Pastry Chef Yandiswa Zoli
Restaurant Manager Alexa Huxter
Size The restaurant had space for a maximum of 58 guests. Seventeen staff, eight in dining room and nine in kitchen, worked at Pure.
Type Of Restaurant Fine dining with an emphasis on pure ingredients
DÉCor-Ambiance The décor at Pure was proudly South African including driftwood screens from Knysna, center chandelier made by Red Hot Glass in Paarl, and home-made beaded chandeliers by Cecile and Boyd. The restaurant was designed and decorated by the owner in conjunction with interior designer Boyd Ferguson of Cecile and Boyd.
Meal
We had the Tasting Menu with a bottle of Graham Beck Brut Rose. The dishes that day were: Variation of Quail with Nectarines and
Foie Gras
(Breast, Quail Cherrie and Galantine); Langoustines with Asparagus and Grapefruit
Beurre Blanc
; Three Times Tomato Soup; Strawberry Risotto with Smoked Duck Breast; Kingklip (a local fish) on Millie Pap Soufflé and Mediterranean Marinade; Venison in Three Ways (Smoked, Seared and Fried); and for dessert there was All about Lemon (Marshmallow, Soufflé, Ice Cream and Crème Brûlée).
Special Menus Although the actual menu varied every five weeks to adjust to seasonal supplies, there were three tasting menu options depending on the number of courses: seven courses for 480 rand and with wine 655 rand; five courses 340 rand and with wine for 465 rand (without soup and kingklip); three courses for 300 rand; and with wine for 375 rand.
Cellars Wine And Alcoholic Beverage Selection
Alexa Huxter and Alex Mueller were in charge of wine selection. Pure favored wines from local small estates. The staff liked to support the wineries in the surrounding area.
There were 150 wines, including bubblies, in the wine list including wines from Kling (Sauvignon Blanc), the first vineyard to produce and make its own wine in Hout Bay. There was also a limited release of Waterford Method Cap Classique Brut, and Waterford The Gem 2004; some bottles of Bouchard Finlayson Tete Cuvee Pinot Noir 2005. Others represented included: De Meye, Eikendal, Anura, Raka, Constantia Glen, Sterhuis, Bouchard Finlayson, Nitida and among the bigger farms: Buitenverwachting, Groot Constantia, Jordan, and Springfield.
Pure also carried a large selection of spirits and South African made fruit Grappa from King Leo Distillery such as Grape, Nectarine, Prune, Butternut, Apple and a selection of Rooibos infused grappa and Kirshwasser. Pure cellars had a collection of 33 types of international wines and about 300 bottles featuring French crus, Barolo, Rioja, and Riesling.
Date Of Latest Visit
November 2008
Number Of Visits One
Reviewers Article by Elena del Valle
Photos by Gary Cox
Service Staff were service oriented.
Would You Dine Eat There Again-Recommend It? Yes
Contact Information
Address:
Baviaanskloof, Off Main Rd
Hout Bay, Cape Town
South Africa
PO Box 26232,
Hout Bay, 7872
Phone:
Fax:
Website:
Email: