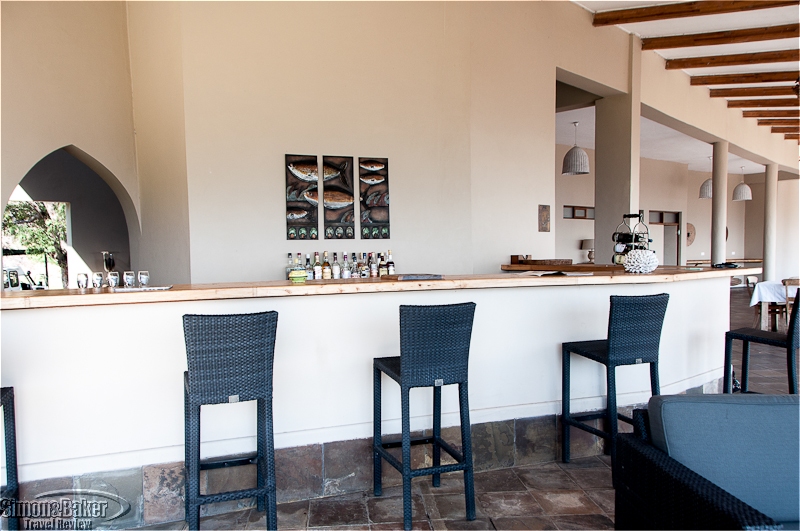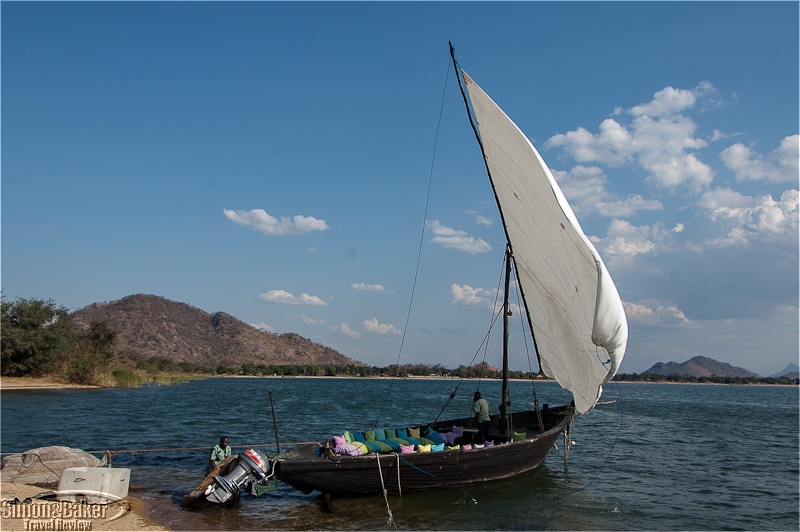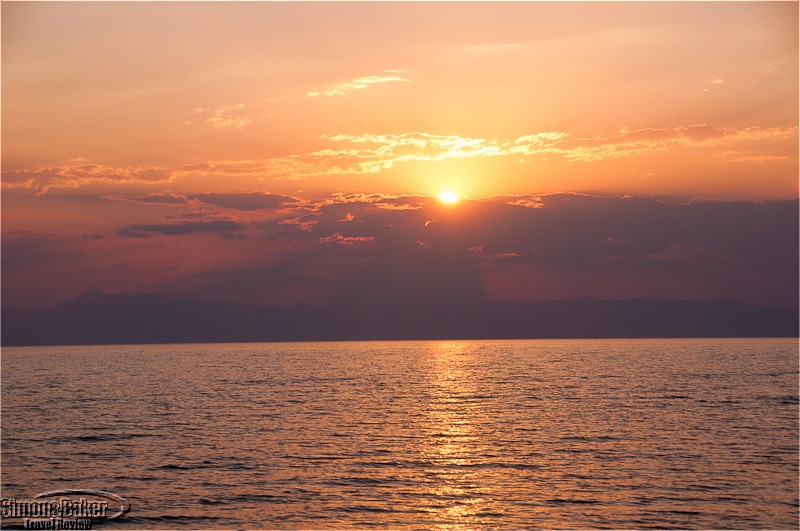 Pumulani offered me an unforgettable lakeshore experience that stood out for its topography, biology and still pristine state, one that I will yearn to repeat whenever travel plans take me anywhere in East or Southern Africa.
Overall Impression
Located on the western side of Malawi's Nankumba Peninsula, an area widely recognized as one of the most scenic around Southern Africa's Lake Malawi, Pumulani was discretely tucked into a steep hillside. The only luxury property along the protected shores of the 9,400 hectare (36.30 square mile) Lake Malawi National Park and UNESCO World Heritage Center, Pumulani was designed by Dutch architect G. Hooft Graafland. In addition to a striking main lodge high on the hill and wide open to the endless lake vistas and the long aquamarine infinity pool below, he designed the property's ten spacious rooms nestled into craggy granite outcrops around the hillside, each with a secluded private deck with lake views. Under their vegetal roofs of endemic grass meant to help offset their footprint and regulate their interior temperature, the rooms all but disappeared within their lush forest surroundings.
In addition to my superb accommodations, what I appreciated most was the friendly and flawlessly attentive personalized service of the Pumulani management and staff. I quickly noticed that things always seemed to happen at the very moment I thought of them. I arrived by road, after a slower than anticipated ride through bustling market towns, so it was well after lunchtime by the time I reached the property. As I was being escorted to my suite after a warm welcome from Alex Eigner, the lodge manager, as my stomach was about to remind me about lunch, a menu materialized, with the assurance that my choices would be ready when I was. When I returned to the lodge shortly thereafter, I found a table set on a crisp white tablecloth under a market umbrella on the terrace, facing the shimmering expanse of the lake. Lunch was just prepared chicken and wild mushrooms spring rolls on a bed of caramelized eggplant and a lovely, lightly dressed salad of field greens and sun ripened local tomatoes. Scrumptious. So was the traditional spongy caramelized Malva Pudding dessert with its warm custard sauce.
As I was leaving the terrace, another query: would I care for a sunset cruise on the dhow that day. It sailed at four o'clock. When I showed up at the beach I found two of the beach staff busily stacking bright pillows on the benches of the traditional handmade wooden ship, hoisting its iconic triangular sail and setting up a bar for sundowner cocktails and nibbles, for me alone. I couldn't have wished for a more idyllic sunset, enjoying the rustling of the sail in the gentle breeze and the haunting call of African fish eagles along the shore. Later that night, as I was gazing at millions of pinpoint stars hanging in the black velvet sky, Alex just happened by to ask: "would you like to have a look in the telescope?" The telescope in question was a professional size affair mounted on a wooden platform, where one of the guides, an expert astronomer, walked me through the constellations and the planets.
At Pumulani, even the wildlife was service minded, such as the family of vervet monkeys that showed up at dawn each day in a tree over the deck of my room to wake me up in time to enjoy the sunrise. Then, I took the short walk from my front door to the pool where between laps I watched fishing boats return home after a night on the lake.
The property stood out for its five star trimmings such as sundowner dhow cruise, outstanding anticipatory service, gourmet food, state of the art features ranging from architecture to telescopes with the lake as the backdrop. With its unique brand of luxury hospitality and peerless surroundings, Pumulani offered me an unforgettable lakeshore experience that stood out for its topography, biology and still pristine state, one that I will yearn to repeat whenever travel plans take me anywhere in East or Southern Africa. As I recently heard myself explaining to friends pondering an African safari: "consider making Pumulani a mandatory detour. If you don't, you may never know what you missed but I will be sorry for you that you did."
Camp Managers
Alex and Karien Eigner.
Children Pumulani welcomed children of all ages. A specially appointed family room was at the lowest part of the property, near the beach. Staff could be available with prior notice to organize supervised water and land activities for children.
Class Of Accommodation Luxury beach lodge.
Connectivity Pumulani was the only property I visited in Malawi that had working WiFi connections throughout the day (although at the erratic mercies of the local service provider). As I found it to be the case throughout the country, my GSM 3G/4G international cellular phone did not operate. However 2G communications were possible with a local GSM card.
Handicapped Access Motion impaired guests could be accommodated by prior arrangement on a case by case basis.
Length Of Stay Three nights
Location On the western side of the Namkumba Peninsula, at the southern end of the lake, the edge of the Lake Malawi National Park, and a three hour drive east from Lilongwe.
Owned-Managed The property was part of the Robin Pope Safaris portfolio owned by Molecaten, a private Dutch family owned company. Cees Slager was chief executive officer of Molecaten. Ton de Rooy, a family member, was general manager for East Africa.
Size The property consisted of ten rooms that could accommodate a total of 26 guests. It employed a staff of 40 including four management personnel and five beach attendants, boatswains and guides. Vehicles included one transfer motor vehicle, one dhow, three sailboats, two motorboats and eight kayaks.
Year Open-Renovated Pumulani opened in July 2008, and had been the object of meticulous maintenance ever since, according to property representatives.
Lobby And Common Areas
The lodge was furnished in an understated contemporary style with inviting groupings of similar rattan sofas and armchairs arranged about the covered space and open terrace of the bar. Coordinated high chairs were lined in front of a long bar topped with a slab of light polished wood. The dining area had rectangular natural wood tables, that could comfortably accommodate up to four guests, and matching ladderback chairs. The tables were lined along the terrace, generously spaced to ensure privacy while offering everyone a front row view of the lake. Tables could also be arranged in the sheltered area if desired. A few steps away from the lodge, a semicircular sandy terrace with a low fieldstone wall held a fire pit surrounded by bright coral canvas director chairs for evening cocktails or nightcaps under the stars.
A soaring two story foyer housing a spacious bar, lounge and dining areas in a lake facing enfilade, all offering sheltered and open sky options, was a striking decorative element in itself. The lodge had walls and ceilings of cream painted plaster and natural wood ceiling beams offset by dark flagstone tiled floors throughout. In the foyer, the focal point was an oversized tribal shield hanging above a semicircular writing desk with an intricate driftwood base and plate glass top, and a black high back desk chair in the center of the outer wall. Along the central wall that divided the foyer from the bar, two black woven rattan sofas with light gray cushions faced each other across a large coffee table.
Bathroom
The vast bathroom (three meters by six meters or 9.7 feet by 20 feet) was to the right of the bedroom. It had an open corner double shower area tiled with Persian green mosaic. A deep claw footed bathtub of gleaming white porcelain stood on a low wooden platform in the center of the wall that separated the bathroom from the foyer. Next to it, a towel rack held white terrycloth bath and hand towels. On the opposite wall, two matching circular washbasins and a supply of washcloths and toiletries sat on the wooden top of a long masonry vanity. Two tall mirrors built into the wall and surrounded by green glass mosaic hung above the sinks. The lavatory was behind a full height partition at the far end of the room.
Suite My 130 square meter (1,400 square foot) suite, Number Two, was a wedge shaped retreat perched high on a hill, one level below the main lodge. The interior was divided by a wall into separate sleeping and living areas. The walls and ceilings were cream plaster with exposed ceiling beams and tan polished concrete floors. A long foyer included a pantry with a bar sink, under counter refrigerator, and a tea and coffee service. It opened into a sitting room and bedroom at the far end of the structure. Both rooms opened onto a large deck with a view of the bush and the lake. The two sitting room outer walls were a blend of floor to ceiling windows and sliding double doors that gave the space an inviting sunroom atmosphere. Furnishings included a long rolled arm sofa upholstered in mauve chintz with bright blue accent pillows, a rattan chest that doubled as a coffee table and two rattan slipper armchairs with matching cushions. A large butler's tray held a generous assortment of reading materials on wilderness related topics.
The bedroom occupied the rear corner of the suite. Its far wall was a set of glass sliding doors with tan canvas draperies. A king size bed draped in a pristine mosquito netting canopy and a wide headboard that doubled as bedside table occupied the center of the back wall. A luggage rack on the left and low shelving unit on the right provided storage space. A semicircular polished wood shelf hung in the center of the opposite wall beneath a tall wood framed mirror. The shelf and a white bentwood desk chair doubled as a roomy writing area and dressing table. A rattan slipper armchair sat in the far corner of the room near the glass doors. Matching chair cushions and bed scarf in shades of pastel blue and green added a touch of color to the décor. In addition to a ceiling fan, the bedroom had a silent ceiling hung air conditioning unit. An arched doorway in the central wall led to the bathroom. Throughout the suite, lighting was provided by bleached driftwood floor lamps and wall sconces with gray linen shade. The deck ran the width of the suite. It was furnished with two blue and white director's chairs and a small round coffee table under a market umbrella.
Food Chef Tapiwa Stepen Mamutse and his team served an imaginative variety of international cuisine prepared with fresh, organically grown produce, poultry, dairy and fish sourced from vetted local suppliers. A cold breakfast of freshly baked breads, yogurt, cut local fresh fruits, granola, assorted fruit juices, tea and coffee was served buffet style. There was also an extensive English breakfast menu. Lunch and dinner were a la carte, with lunch consisting of a choice of two main courses and dessert. The three course dinner also featured two main course choices. Special dietary requirements could be accommodated by prior arrangement.
Amenities
In my room, the pantry had a tea and coffee service including an electric kettle, granulated coffee, an assortment of caffeinated and herbal teas and a jar of freshly baked cookies. Its refrigerator was stocked with an assortment of complimentary soft drinks, beer, cider and bottled water, and fresh milk. Room amenities included tissues, room and body insect repellent spray, emergency whistle, electronic safe,
kikois
(local thick cotton sarongs), thick terrycloth bathrobes and slippers, votive candles, insect repellent body cream, golf umbrellas and a basket convenient to carry personal items around the lodge.
Bathroom amenities included pump bottles of good quality eco friendly house brand shower gel, shampoo, body moisturizer and hand soap as well as a shower cap and a hairdryer.
Meals, soft drinks, house alcoholic beverages, and daily laundry service were included in the nightly rate. Local snorkeling, fishing, sailing, kayaking and related equipment, nature walks, mountain bike tours and village tours as well as sunset cruises on the traditional dhow were also complimentary. Vintage wines, connoisseur spirits, and motorized water sports such as diving, snorkeling excursions, waterskiing and tubing were available at additional cost.
Beach Raised walkways and stairs led down from every part of the property to a private golden sand beach surrounded by mature trees with hammocks gently swinging in the breeze. Wooden lounge chairs with bright canvas cushions under striped market umbrellas were arranged around the sand. At the rear of the beach under the trees, there was a beach bar on a low, shaded wooden deck. Light snacks and drinks were available there. In addition to the bartender, beach staff assisted with water sports equipment and handed out beach towels on demand.
Facilities A dining room, lounge and bar, beach and beach bar, gift shop and swimming pool.
Gift Shop A small gift shop was located off the lodge's foyer. It carried a limited assortment of crafts and lodge branded safari accessories.
Pool The 15 meter (50 foot) long by five meter (16.5 foot) wide infinity pool was one flight of stairs below the main lodge, on a terraced deck with a dazzling view of the lake. It was surrounded by nine lounge chairs with dark gray canvas cushions, shaded with large canvas umbrellas. A long wooden bench with crimson and yellow striped pillows was set into the hill's field stone retaining wall. At night, underwater illuminations turned the pool a dramatic sapphire blue that reflected the stars and the moon above.
Activities In addition to a wide array of water sports and breakfast or sunset cruises in the traditional dhow, the property offered guided walks and mountain bike rides from the lodge into the hills for birding or simply to enjoy the lake views. It was also possible to go on a guided visit to the nearby village. I particularly enjoyed dawn swims in the swimming pool. They were unlike anything I have experienced anywhere in Africa.
Other
Electricity was available around the clock. The property was on the national electric grid and was equipped with a backup generator able to replace electricity from the grid within a few minutes in case of power failures. There were several outlets in my room, conveniently fitted with universal adapters to accommodate North American, European and South African plugs.
Pumulani was opened for guests from April through January. The water supply was from a bore hole tested on a regular basis and suitable for oral hygiene. The property recommended and provided bottled drinking water.
The property operated within high standards of responsible tourism practices, with staff recruited mainly from nearby villages on the lake. Staff members were trained on site with a focus that went beyond their specific functions to achieving an overall understanding of the lodge's operation and an opportunity for professional advancement. Pumulani was recognized in 2011 and 2012 as Malawi's Leading Hotel by World Travel Awards.
Cleanliness
Excellent
Date Of Last Visit October 2013
Reviewers Article and photographs by Josette King
Service My suite was serviced twice daily. Every member of the staff with whom I came in contact was friendly and attentive.
Would You Return? Yes
Contact Information
Address:
P.O. Box 30722
Lilongwe 3
Malawi
Phone:
+265 (0) 179 4491
+265 (0) 179 5483
Website:
Email: