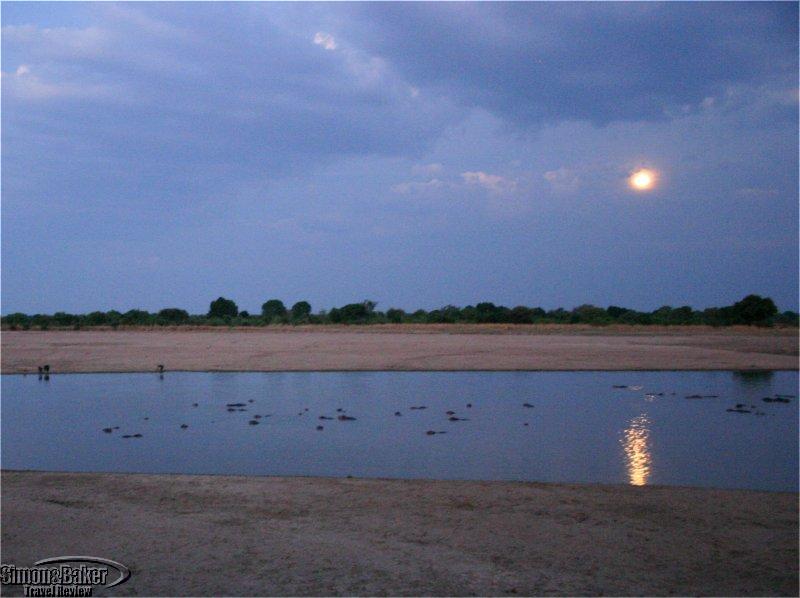 We look forward to a future trip to Zambia including the Puku Ridge Tented Camp.
This property is under new management and closed for renovation
Overall Impression
Located within the borders of South Luangwa National Park, Puku Ridge Tented Camp had a traditional safari feel with modern comforts and amenities. Each tent was built on a concrete slab for a sturdy yet sophisticatedly rustic feel. The décor was simple and romantic, highlighting a beautiful sunken bathtub. The camp was situated on a ridge overlooking the African
veldt
(a field), which had abundant wildlife and beautiful sunrises in the mornings. Because the camp was inside park borders, animals wandered through as they pleased.
The staff at Puku Ridge were warm, friendly and service oriented with an emphasis on details. South Luangwa National Park was exceptional for game viewing. Our visit was at the end of the dry season before the roads disappear under the soggy bog of the rainy season. There were many more accessible roads than we are accustomed to seeing in national parks. Although inside the national park, game viewing was restricted to the main roads, the restriction during the dry season had seemed to have little or no impact on our game viewing. We were able to move freely around the portion of the park that had roads, enhancing our chances of seeing a large variety of animals. South Luangwa was teeming with wildlife when we visited the area.
We really liked Puku because of the setting and the excellent game viewing available in this remote region of the country. The safari camp accommodations combined with comfortable modern amenities and excellent service made this a truly enjoyable experience that we will never forget. We look forward to a future trip to Zambia including the Puku Ridge Tented Camp.
Class
Spacious walk-in canvas safari tents with a wrap around view of the flood plains below
General Manager Petros Guwa
Handicapped Access No
Length Of Stay Two nights
Location The Camp was located in a remote wildlife area in South Luangwa National Park, Zambia. The closest town was Mfuwe and the closest large town was Chipata. The drive from the Mfuwe airport to the lodge is approximately 45 kilometers (28 miles).
Owned And Managed Star of Africa Ltd.
Size The Puku Ridge Tented Camp occupied 20 acres in the South Luangwa National Park. There were six walk-in canvas safari tents and guests were looked after by 18 staff members. The South Luangwa National Park is 9050 square kilometers in size.
Year It was opened in 2003
Lobby And Common Areas The Camp had traditional African art with tented safari bush camp décor. There were artwork prints of African animals on the walls in the single covered tented "room" which included sitting and eating areas, a bar and an adjacent pool. From the "lobby" there was a raised deck that ran out into the trees providing a good place to sit and view wildlife. The staff served breakfast and lunch on this raised platform.
Bathroom
Our tent had private bathroom facilities and a tub sunken into the concrete floor. There were his and hers sinks, a laundry basket, a private toilet and indoor and outdoor showers. The private toilet was located inside the room and had wooden walls with a door.
Room We stayed in the Giraffe tent, which was about 42 x 17.5 ft. (735 square feet). It faced east into a veldt (a field) and had an excellent sunrise view. This room had a sitting area with two chairs, a table and lamp, two twin beds, a couch and table, an armoire, two night stand tables with lamps, two luggage tables, a dressing seat on the end of the bed, a vanity area (table, lamp, chair) over looking the bush. Our room had a private viewing deck facing the bush. There were glasses, candles with matches, a hot water maker and a hair dryer.
Food
Meal times were adjusted to our game drives. A wide range of cuisine was served blending local ingredients with international flavors. Three meals a day were served outdoors. At dinner we enjoyed sharing a table with other guests, our guide and the camp manager. The family style gathering gave us an opportunity to learn many things about the local culture.
Continental breakfast consisted of homemade bread toast, homemade muffins, cereal, fresh juice, tea and coffee. Lunch was served at a private table and included homemade bread, onion quiche, mixed vegetable salad, raisin coleslaw, beats, fresh juice and water. For dinner we had roasted pork on rice with steamed vegetables, onion soup, and desert. We chose wine and water to drink.
Amenities
Puku amenities and services included, laundry, evening camp fire, three meals a day, return ground airport transfers to and from Mfuwe International Airport, two game viewing activities per day including, walking safaris and night game drives, park entry fees, soft drinks, local beers, and house wines. Our room had complimentary bottled water, tea, coffee, sugar, creamer, coffee cups, liquid soap, hand lotion and bar soap.
Pool There was an outdoor pool, about 30 by 12 feet wide and four foot deep. The pool was fed with bore hole water (pumped well water) which contains natural mineral salts.
Game Viewing
We participated in two game drives per day. On our morning game drives we would take a short break; on our evening game drives we would stop for sundown drinks and watch the sunset. Our guide was knowledgeable, courteous and helpful throughout. During the day we had one guide who drove the vehicle, and on the night drives there was an additional spotter who would operate a spotlight.
On one of our game drives we spotted a pride of lions which were within 10 to 20 feet of our vehicle; we were able to photograph them for a long time. When we were there, the South Luangwa River had the largest hippo population in the world. It was really exciting to watch the hippos and large Nile crocodiles in the river when we stopped for sundown drinks at the end of the day. We saw a vast number and variety of birds on our game drives, including the legendary crowned crane, one of the most beautiful water birds we have ever seen. It was a great deal of fun trying to capture the perfect camera pose of the many birds we saw on our games drives. In addition to the numerous other sightings we also spotted some animals unique to the area like Thonicraft's giraffe (indigenous to the Park), Crawshay's zebras, and puku.
During our game drives we saw: White bellied stork, egrets, baboon, waterbuck, Crawshay's zebras a subspecies of Burchell zebras, puku, impala, hippo, fish eagle, grey heron, Egyptian goose, blacksmith plover, elephant, crowned cranes, hidida ibis, carmine bee eater, long tailed starling, guinea fowl, lilac breasted, roller, franklin bird, genet, white tailed mongoose, marabou stork, baboon, buffalo weaver, monitor lizard, white fronted bee eater, elephant shrew, grey hooded king fisher, fish eagle, African hawk eagle, jacana bird, spotted bush snake, tawny eagle, spar winged goose, open billed stork, cape turtle dove, lions
Activities . Puku offered a broad range of game drives in the South Luangwa National Park using open 4 x 4 vehicles. There was one other guest staying at Puku during our visit; we shared the game drive vehicle with this guest. Night drives using spotlights enabled us to see nocturnal animals. Game walks were conducted by a guide and an armed national parks scout.
Other
Due to the proximity to wild and dangerous animals, only children aged 12 years and above were welcome at the Camp.
Amazingly this camp ran on electric utility power, even though it is quite remote. Our room had 220 VAC power at 50 Hz with NW-135C adapters.
We visited at the end of the dry season. Although temperatures during the day reached more than 100 F degrees, they fell quickly at night and cooled off to a comfortable level. We found the hottest three hours in the afternoon to be a good time to get out of the heat, but we were active during all other hours of the day.
Check-In-Check-Out
Excellent
Cleanliness Very clean.
Date Of Last Visit November 2005
Reviewers Article by Chester Godsy
Photographs by Joni Johnson-Godsy
Service Excellent The camp staff were gracious and helpful at all times. Our host Petros and our guide John were friendly, accommodating, knowledgeable, and a pleasure to be with. The experience of our hosts was reflected in the level and quality of service they provided.
Would You Stay There Again? Yes
Contact Information
IMPORTANT:
NOTE
We have been informed that this property has changed ownership.
Address:
Star of Africa
Postnet Box 218
Private Bag E891 Manda Hills
Lusaka, Zambia
Phone:
+260 271366
+ 260 271508
+271509
Fax:
Website:
Email: