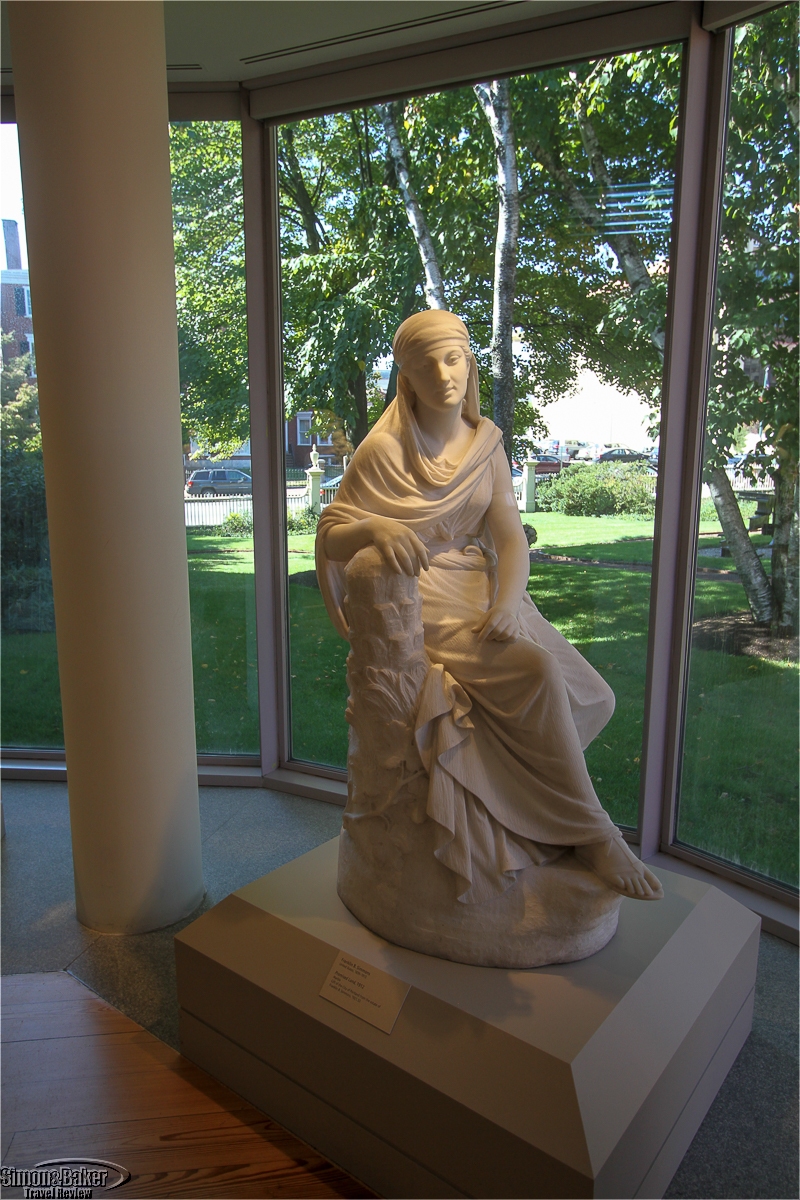 Overall, we enjoyed our time at the Portland Museum of Art, and would return in the future should the opportunity to visit Portland present itself again.
Overall Impression
When we planned our trip to Portland, Maine we didn't anticipate spending time at a fine arts museum. After walking by the distinctive entrance of the Portland Museum of Art (PMA) a number of times, curiosity drew us inside. The light filled and spacious interior was inviting so we made time to return one morning, and to go to the Winslow Homer Studio in nearby Prouts Neck. It had been declared a National Landmark in 1966 and purchased by the Portland Museum of Art in 2006.
Approximately 150,000 people visit the Portland Museum of Art annually. That explained why it was uncrowded and serene without being stuffy. What a refreshing experience compared to some of the iconic metropolitan museums where every hall housing a famous artwork means a huge mass of fans, and sometimes long waits for everything from ticket purchases to viewing.
In contrast, we spent a delightful hour or more exploring the exhibits. There was art from Realism, Impressionism, and Surrealism, including works by John Singer Sargent, Edgar Degas, Claude Monet, Pablo Picasso, and Pierre Auguste Renoir. The State of Maine Collection featured works by Winslow Homer (he of the Studio), Marsden Hartley, Rockwell Kent, Louise Nevelson, and Andrew Wyeth.
The museum exhibits were displayed in three interconnected and architecturally significant buildings. Through the glass walls of the interior we caught glimpses of the city's Arts District and outdoor sculpture in the Joan B. Burns Sculpture Garden.
We made our way with ease and the leisure to stop and contemplate favorite pieces, crossing from one building to another and from one story to the next to browse at the museum's American, European, and Contemporary art. Thanks to the relatively small size of its permanent collection, 18,000 objects within 67,500 square feet, it was an unhurried pleasure. Our visit to the Winslow Homer Studio days later was equally rewarding, especially from an art history perspective. Overall, we enjoyed our time at the Portland Museum of Art, and would return in the future should the opportunity to visit Portland present itself again.
Average Duration Of Visit
About one hour
Children Children of all ages were welcome.
Description The Museum's American, Post War and Contemporary, and European collections were divided into four main exhibit areas: McLellan House, dating back to 1801; L. D. M. Sweat Memorial Galleries dating back to 1911, Charles Shipman Payson Building dating back to 1983, and the Winslow Home Studio first renovated for the artist's use in 1883.
Established The museum was founded in 1882.
Handicapped Access It was wheelchair accessible, according to a spokesperson.
Location In the Portland Arts District
Number Of Employees 75
Owned-Managed The museum was a nonprofit organization.
Size The museum occupied 67,500 square feet of space spread across three buildings, plus the Winslow Homer Studio, in four stories that were home to 18,000 objects in its permanent collection.
Restaurant The PMA Café by Aurora Provisions, run by a catering company, was in the lower ground floor and open during regular hours. No admission was required to visit the cafe. It offered locally produced foods, seasonally inspired soups and salads, gourmet sandwiches, wraps, pastries and locally roasted coffee.
Souvenir Shop Open during museum hours, the PMA Store showcased handcrafted jewelry, cards, home goods, and gifts by Maine artists and artisans. There were also art books and children's books. No admission was required to visit the shop.
Tours Yes
Other Small group tours of the museum owned Winslow Homer Studio, where American artist Winslow Homer (1836-1910) lived and painted many of his masterpieces from 1883 until his death, departed from and returned to the Portland Museum of Art main location by van. PMA Movies showcased select foreign, classic, and art films.
Month And Date Of Visit
September 2014
Reviewers Article by Elena del Valle
Photos by Gary Cox
Would You Visit This Attraction Again Yes
Contact Information
Address:
Seven Congress Square
Portland, Maine 04102
United States
Phone:
Fax:
Website:
Email: