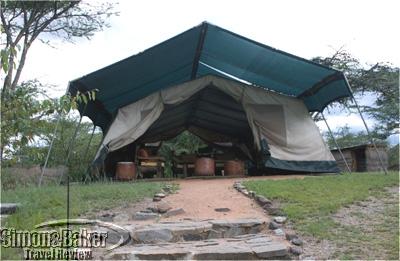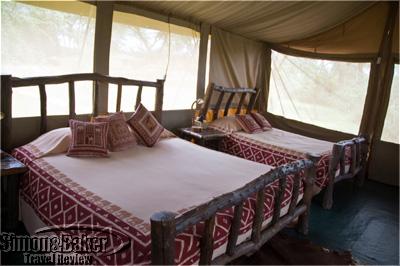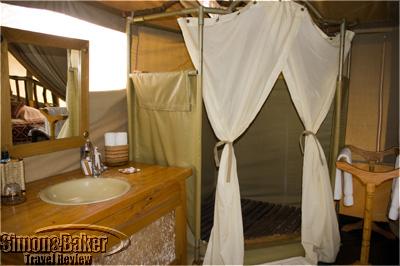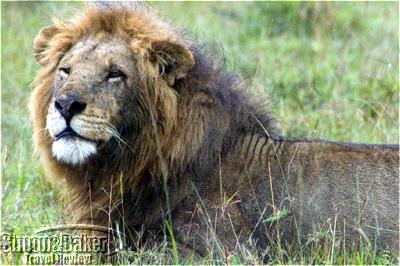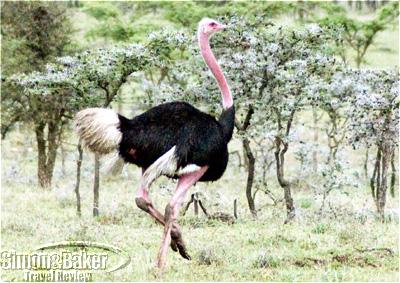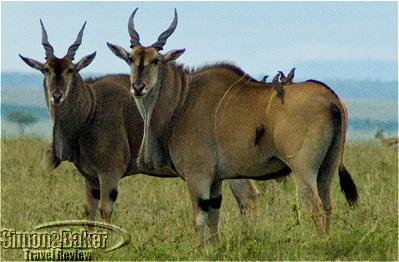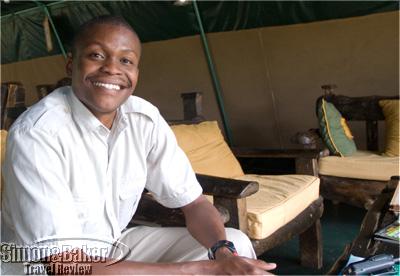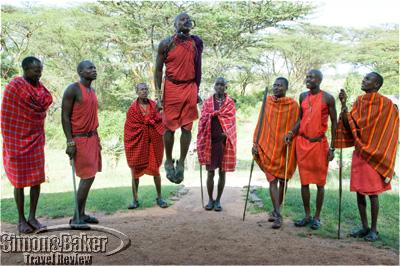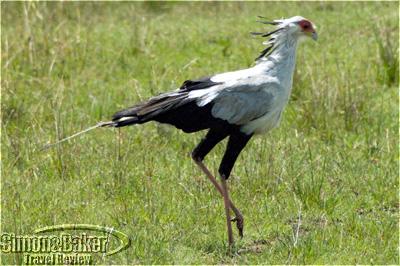 This genuine involvement on the part of the Masai staff, coupled with the close proximity to abundant game in this remote location, made my visit to Mara Porini Camp especially fulfilling and memorable.
Overall Impression
Porini is Swahili for "in the wilds." Nowhere did I find a more vivid proof of it than at the Mara Porini Camp. The intimate luxury camp was nestled in a soaring grove of yellow-barked acacia, within the Ol Kinyei Conservancy, a private 8,500 acre (3,500 hectare) swath of the Serengeti-Masai Mara ecosystem set aside by the local Masai land-owners for the exclusive use of Mara Porini guests. This pristine wilderness of open savannah plains and rolling hills, riverine forest, permanent streams and spectacular views across the Masai Mara was home for the broad variety of species for which the park is famous, including resident big cats.
The 12-seater Cessna made a quick stop for me at the remote Siana Springs airstrip, where I was greeted by my guide John Adamba and spotter Marima. Within minutes we were rocking along a rough dirt road and across streams swollen by the onset of the autumn rains. This was Masai country at its most colorful, dotted with low bomas, fences of acacia branches encircling small villages of flat-roofed mud huts. Tall warriors in their blood-red robes went about their daily activities. Children waved at our open Land Rover before returning their attention to their herds. Soon the prairie became wooded rolling hills, and signs of human life vanished. Gazelles, antelopes and giraffes replaced cattle. What was meant to be a 25-minute ride to the camp became a leisurely game drive as John good humoredly stopped at every turn to let me photograph zebras defensively clustered in confusing patterns, or a new-born topi calf taking its first wobbly steps. Further on, Marima quietly pointed at a lioness concealed in the thicket.
At the camp, I was welcomed by manager Ernest Kavingo and the Masai staff members who immediately escorted me to my comfortably furnished, eco-friendly accommodation: a spacious tent with private bathroom, bush shower and solar electricity. Its large verandah overlooked the Laetoli, a permanent brook, and the bush beyond. But I didn't linger, as it was already afternoon and hints of hunger drew me to the common tent where a delicious plated lunch awaited. This perfect balance of comfort, privacy and thoughtful pampering was the norm for the duration of my stay.
There were a variety of game viewing options, including game drives in the conservancy either as a destination, or as part of the day-long drive to the famous Masai Mara National Reserve, which was only 10 miles (17 kilometers) away. Within the conservancy, in addition to the wide variety of grazing animals and smaller predators, I was fortunate to observe at length members of the resident pride of lions, while night drives gave me the opportunity see nocturnal animals including a leopard. I also enjoyed an early morning botanical walk where a local Masai guide explored the local flora and fauna in more detail with me, and I enjoyed eye-level encounters with large herds of gazelles. The cooperative and exclusive venture between the owners of the camp, Gamewatchers Safaris, and the community-owned conservancy created a noticeable sense of partnership . As I was getting ready to depart, they gathered in front of the common tent and treated me to a farewell warriors' dance. This genuine involvement on the part of the Masai staff, coupled with the close proximity to abundant game in this remote location, made my visit to Mara Porini Camp especially fulfilling and memorable.
Class Of Accommodation
Luxury tented bush camp
Communications There was no Internet connection at the camp. Bluetooth and mobile phone service was unreliable. When available, it required a GSM 900/1800 compatible international cellular phone.
General Manager Ernest Kavingo
Handicapped Access No
Length Of Stay Three nights
Location In the Ol Kinyei Conservancy, northeast of the Masai Mara reserve in southwest Kenya. The nearest airstrip, Siana Springs, was nine miles (15 kilometers) away. The Ol Kinyei Conservancy was 155 miles (250 kilometers) from Nairobi by road, a journey that was estimated to take four to five hours.
Owned-Managed Gamewatchers Safaris and Jake Grieves-Cook was managing director
Power All electricity was solar generated. The tents had electric lighting, but not sufficient power to charge batteries. Batteries for cameras, telephones and laptops could be charged from a small solar-powered generator in the camp manager's office tent.
Size The seven acre (three hectare) camp consisted of six guest tents capable of accommodating up to 12 guests. It employed a staff of 27, including three guides and three spotters.
Year Open-Renovated The camp opened in 2005. Since then it had been the object of meticulous on-going maintenance.
Lobby And Common Areas Located on a knoll overlooking the camp, the common tent housed a lounge and dining area. Two rectangular wooden tables surrounded by rough-hewn high-back wooden chairs with yellow seat cushions occupied the rear of the tent. A matching credenza held a coffee and tea service. The front of the tent was furnished with two oversized wooden sofas with thick ecru canvas cushions and multicolored pillows and two matching armchairs arranged around a large square coffee table. Circular cowhide footrests completed the décor. At the bottom of the knoll, level with the guest tents, there was a camp-fire surrounded by green canvas directors chairs. This was an inviting gathering spot for evening cocktails or after-dinner fireside chats.
Bathroom
A roomy bathroom occupied the rear quarter of the tent. Inside the bathroom, a tan porcelain sink was set in the wooden countertop of the vanity, topped by a square mirror. A flush commode occupied one rear corner of the bathroom, with a large shower with canvas walls and curtain in the opposite corner. There was cold running water in the sink. Hot water was delivered on demand for the bush shower in a canvas bucket hanging above the tent. A tall towel rack sat next to the shower. It held two each oversized white bath towels, face towels and face cloths.
Room My 360 square foot (33.5 square meter) tent, Number five, sat two steps above ground on a wooden platform covered with weatherproof floor matting. At the front, the platform extended the width of the tent to form an awning-shaded deck that overlooked the brook. It was furnished with two directors chairs and a small coffee table. The tent entrance was the usual zippered "door." Side walls were zip-up flaps over mosquito-netting covered "windows." Inside, one queen-size and one double bed with rustic wooden headboards, each with its own bedside table and reading lamp occupied one side of the tent. The opposite side held a writing desk with a wooden chair, a luggage rack, a vertical canvas shelf and a clothes-hanging rod. The back wall separated the sleeping room from the bathroom. Cowhide floor rugs covered the floor matting. Indoor lighting was produced via solar electricity.
Food The food was plentiful and wholesome. A choice of continental or full English breakfast was prepared and served on demand. Lunch was buffet-style and included an assortment of salads, savory pies, cold meats, fruit and cheeses. Dinner was plated and formally served. It started each night with a hearty homemade soup, followed by a meat or fish main course. Desserts were delicious cakes or puddings. All baked goods were produced daily in the kitchen's brick oven. For our full-day visit to the Masai Mara National Reserve, a picnic lunch of cold chicken, vegetable pizza wedges, apples and cookies was provided.
Amenities All game watching activities, meals, soft drinks, water, coffee, tea as well as a limited selection of alcoholic beverages were included in the nightly rate. Alcoholic beverages available at the camp were house wines, beer and gin . Following the morning wake-up call I was offered tea or coffee and freshly baked cookies delivered to my tent. Bathroom amenities included hand-made natural bath soap, a pump bottle of body lotion and a ceramic container of soap powder for personal laundry. Bottled water was provided for oral hygiene and drinking. A basket held spray cans of room and body mosquito repellent. Evening turndown service included a hot water bottle slipped in the bed, as the onset of the short rainy season (November) made for cool nights.
Game Viewing
Game viewing was outstanding both in the Ol Kinyei Conservancy and in the Masai Mara National Reserve, with the Conservancy offering the opportunity for night-time game drives with a powerful spotlight to view nocturnal animals, which was not allowed in the park. Game drives took place in one of two custom-designed canvas-topped, open-sided Land Rovers, each with three tiers of two individual seats. Although the vehicles could seat six guests, we were never more than three in my vehicle. My very knowledgeable guide John Adamba and spotter Marima delivered an abundance and variety of game that made each drive an exciting new adventure.
During my visit, I sighted: elephant, lion, leopard, serval cat, bat-eared fox, spotted hyena, banded mongoose, common duiker, Kirk's dik dik, Grant's gazelle, Thompson's gazelle, kongoni, topi, wildebeest, hartebeest, impala, bushbuck, eland, buffalo, Masai giraffe, warthog, hippopotamus, Burchell's zebra, vervet monkey, olive baboon. Birds included: Maasai ostrich, secretary bird, kory bustard, white-bellied bustard, lappet-faced vulture, black-chested snake eagle, lilac-breasted roller, yellow-billed hornbill, yellow-billed oxpecker, slender-tailed nightjar, African Hoopoe.
Activities In addition to morning, sundowner and evening game drives, nature walks with Masai warriors were available.
Other
Because of the proximity to wild game, children had to be at least nine year old to stay at the property. Mara Porini Camp was run and maintained according to strict responsible tourism guidelines regarding conservation of the environment (including use of natural resources and solid waste and sewerage disposal) as well as providing development opportunities for the local community. At the time of my visit 90 percent of the staff was from the local Masai community.
Shortly after my visit Porini Safari Camps and parent company Gamewatchers Safaris were honored with the Responsible Tourism Award for "Best for Conservation of Endangered Species outside Protected Area" at the World Travel Market in London. The award, sponsored by Virgin Holidays, recognized Porini/Gamewatchers "for demonstrating that a high revenue, low impact tourism development approach can benefit the local Masai through developing conservancies and tourism in partnership with safari companies to create employment and community income and to conserve their land for wildlife."
Cleanliness
Good
Date Of Last Visit November 2008
Reviewers Article and photographs by Josette King
Service My tent was serviced twice daily, a morning cleaning and evening turn down service . Every member of the staff I encountered was attentive, friendly, helpful and well trained.
Would You Stay There Again? Yes
Contact Information
Address:
Porini Safari Camps
Village Market Complex
P.O. Box 388-00621
Nairobi, Kenya
Phone:
+ 254 (20) 7123129
+ 254 (20) 7121851
+ 254 (20) 7122504
Fax:
Website:
Email: