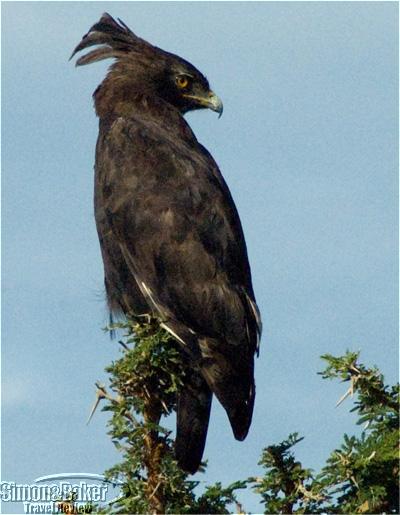 Olare Orok Conservancy was 155 miles (250 kilometers) from Nairobi by road, a journey that was estimated to take four to five hours.
Overall Impression
Porini Lion Camp far exceeded any promise its name may have implied! Lions? I had little doubt there'd be lions. The camp was located in the Olare Orok Conservancy, a 23,000 acre (9,000 hectare) private game reserve on the northwest boundary of the Masai Mara National Reserve, which is reputed for its lions. But even at my most optimistic, I hadn't expected an entire pride of lions, 17 in all, to materialize in the savannah grass 10 minutes into my first game drive! They were rousing from their afternoon siesta, feigning nonchalance as they began to focus on an approaching herd of zebras. I was able to observe the team effort of their stalking process and the zebra's ultimate narrow escape. We moved on, only to stop again instants later at the edge of a clearing were a breeding herd of elephants was feeding. I was privileged to observe a newborn elephant calf's first unsteady steps, and its efforts to figure what to do with its unwieldy nasal appendage in its awkward attempt to suckle. A few feet away, its sturdier week-old cousin was trying to uproot a twig, before loosing interest and taking off, puppy-like, in hot pursuit of a bird. By sundown, without leaving the conservancy, we had also sighted buffalos and a leopard for four of the Big Five! We viewed the "fifth'" at close range early the next morning. Shortly after we crossed the boundary of the Masai Mara National Reserve we happened onto a pair of black rhinos engaged in their courtship ritual. But even this exciting sighting was soon overshadowed by a cheetah and her three young cubs enthusiastically tucking into their impala breakfast.
This superb safari experience was further enhanced by the exceptional quality of the camp. Strung along the bank of the Ntiakatiak River, a seasonal river with some permanent hippo pools, the camp featured oversized tents of the latest design. All outer walls were floor to ceiling zippered panels that could be completely open from inside the tent to reveal mesh panels for outstanding light and air circulation. The interior color scheme was ecru and ice blue with bold tangerine accents; the clean-lined pale wood furniture was reminiscent of modern Italian design. A deep ground-level veranda ran along the entire length of the tent. My tent overlooked a rolling hill where large herds of gazelles came to graze. The result was a serene environment perfectly suited to fully appreciate the grandeur of the African bush.
Porini Lion Camp and its host game reserve, the Olare Orok Conservancy, were a cooperative venture between Gamewatchers Safaris (Porini's parent company) and the local Masai landowners. The majority of the camp staff were local tribesmen, including my guide, John Totona Giololo, and spotter, George Kiama Morunya. Both were justifiably proud of the rich fauna and breathtaking vistas of their corner of the Mara and clearly committed to ensure that I experience it. Every member of the staff I came in contact with was equally well trained, friendly and attentive to my smallest needs and wishes. With its eye-popping game viewing, superb accommodations, strict environmentally-friendly practices and excellent staff, Porini Lion Camp was one of the best bush camps I have ever visited!
Class Of Accommodation
Luxury tented bush camp
Communications There was no Internet connection at the camp. Bluetooth and mobile phone service was unreliable. When available, it required a GSM 900/1800 compatible international cellular phone.
General Manager Alphonse Omondi
Handicapped Access Mobility impaired guests could be accommodated by prior arrangement on a case-by-case basis.
Length Of Stay Three nights
Location In the Olare Orok Conservancy on the northern border of the Masai Mara National Reserve in southwest Kenya. The nearest airstrip, Ol Kiombo, was eight miles (13 kilometers) away. Olare Orok Conservancy was 155 miles (250 kilometers) from Nairobi by road, a journey that was estimated to take four to five hours.
Owned-Managed Gamewatchers Safaris (Jake Grieves-Cook, Managing Director)
Power All electricity was solar generated. The tents had electric lighting, but not sufficient power to charge batteries. Batteries for cameras, telephones and laptops could be charged from a small solar-powered generator in the camp manager's office tent.
Size The 12 acre (five hectare) camp consisted of 10 guest tents capable of accommodating up to 24 guests. It employed a staff of 33, including five guides and three spotters.
Year Open-Renovated The camp opened in 2006
Lobby And Common Areas The spacious common tent was a combination lounge and dining area. It was divided by a pastel blue canvas partition, with the lounge utilizing one-third of the space. The dining area occupied the remainder of the tent. It was furnished with four polished beech-wood tabletops on wrought iron trestles, surrounded by matching contemporary metal and beech wood chairs with pastel blue canvas cushions. A long wooden credenza outlined the room divider. The lounge was furnished with two wooden sofas and four matching armchairs with blue canvas cushions and saffron-colored tossed pillows. An awning-shaded veranda ran the length of the tent. It continued the interior scheme with light wood and russet canvas director armchairs and beech wood and metal occasional tables.
Bathroom
The stylish bathroom occupied the rear quarter of the tent. A blue pottery washbasin sat on top of a wooden vanity. The backdrop was beech wood slats on which white sconces hung on either side of a large rectangular wall mirror. The flush commode occupied one rear corner of the bathroom, with the opposite corner taken by a large shower with ecru canvas walls and curtains. Hot water was delivered on demand for the bush shower from a canvas bucket hanging above the tent. A tall wrought iron floor lamp and towel rack sat next to the shower. It held two each oversized white bath towels, face towels and face cloths.
Room My 500 square foot (47.5 square meter) tent, Tembo (Swahili for elephant), sat on level, sandy ground covered with light blue weatherproof floor matting. A matching blue canvas partition separated the sleeping room from the bathroom that occupied the far quarter of the tent. At the front, an awning-covered veranda ran the length of the tent. It was furnished with two directors chairs and a small occasional table. The entrance was a large zippered panel in the center of the tent. Inside, furniture was of contemporary beech wood and ice blue canvas, with tangerine accent pillows and scattered rugs. Two beds (one queen-size and one double) with high, spindled wooden headboards, each with a bedside table and reading lamp occupied the side opposite the entrance door. The bathroom partition featured a center doorway closed by blue tweed woven cloth panel. On one side of the opening a director's armchair sat in front of a writing desk holding a desk lamp and small mirror, to double as a dressing table. On the other side of the door, a tall canvas-sided hanging closet sat next to a four-drawer wooden and canvas bureau and a wrought iron floor lamp. Indoor lighting was provided through solar electricity.
Food The chef, Isaac Wambua, was exceptional! He produced refined menus that went far beyond the best of bush camp fare. I was astounded, when I arrived in the early afternoon to find a beautifully dressed plate of freshly grilled vegetable and perfectly ripened cheeses waiting for me; and a tad disconcerted when I discovered that what I had considered a satisfying lunch was merely my "starter"! My surprise grew further the next morning, when in addition to a hearty English-style breakfast, the elegant Masai dining room attendant placed in front of me a plate of neatly folded paper-thin crêpes with delicately crisp edges that would have been at home in the Paris kitchen of my childhood. For the remainder of my stay, breakfast became "crêpes only, please."
Amenities All game watching activities, meals, soft drinks, water, coffee, tea as well as a limited selection of alcoholic beverages were included in the nightly rate. Alcoholic beverages available at the camp were house wines, beer and gin. The morning wake-up call included tea or coffee and freshly baked cookies delivered to the tent. Bathroom amenities included natural hand-made bath soap, a pump bottle of body lotion and a ceramic container of soap powder for personal laundry. Bottled water was provided for oral hygiene and drinking. A basket held spray cans of room and body mosquito repellent. Evening turndown service included a hot water bottle slipped in the bed, as the onset of the short rainy season (November) made for cool nights.
Game Viewing
Game viewing was outstanding both in the Olare Orok Conservancy and in the Masai Mara National Reserve. The conservancy offered night-time game drives with a powerful spotlight to view nocturnal animals, which was not allowed in the park. All game drives took place in one of the three custom-built, open-sided Land Rovers, each with three tiers of two individual seats. Although the vehicles could accommodate up to six guests, I had the good fortune to be alone in my vehicle for all my game drives, with my knowledgeable guide John and amazing spotter George who from a moving Land Rover at an improbable distance could discover a leopard in the dense thicket of the riverbank.
During my visit, I sighted: lion, elephant, buffalo, leopard, rhinoceros, cheetah, caracal, spotted hyena, honey badger, bat-eared fox, slender mongoose, warthog, Nile crocodile, hippopotamus, leopard tortoise, Masai giraffe, eland, oribi, Kirk's dik dik, Grant's gazelle, Thompson's gazelle, topi, wildebeest, hartebeest, impala, Burchell's zebra, vervet monkey. Birds included: Masai ostrich, secretary bird, white-browed coucal, white-bellied bustard, long-crested eagle, rufus-napped lark, bateleur eagle, black-headed heron, white-headed vulture, malachite kingfisher, Ruppell's long-tailed starling, grey heron, tawny eagle, woolly-necked stork, spur-winged plover, northern wheatear, red-necked spurfowl, steppe eagle, pigmy falcon, northern white-crowned shrike, auger buzzard
Activities In addition to morning, sundowner and evening game drives, nature walks with Masai warriors were available.
Other
Because of the proximity to wild game, children had to be at least nine year old to stay at the camp.
Porini Lion Camp was run and maintained according to strict responsible tourism guidelines regarding conservation of the environment (including use of natural resources and solid waste and sewerage disposal) as well as providing development opportunities for the local community. At the time of my visit 90 percent of the staff was from the local Masai community.
Shortly after my visit Porini Safari Camps and parent company Gamewatchers Safaris were honored with the Responsible Tourism Award for "Best for Conservation of Endangered Species outside Protected Area" at the World Travel Market in London. The award, sponsored by Virgin Holidays, recognized Porini/Gamewatchers "for demonstrating that a high revenue, low impact tourism development approach can benefit the local Masai through developing conservancies and tourism in partnership with safari companies to create employment and community income and to conserve their land for wildlife."
Cleanliness
Excellent
Date Of Last Visit November 2008
Reviewers Article and photographs by Josette King
Service My tent was serviced twice daily, a morning cleaning and an evening turn down service . Every member of the staff I encountered was attentive, friendly, helpful and well trained.
Would You Stay There Again? Yes
Contact Information
Address:
Porini Safari Camps
Village Market Complex
P.O. Box 388-00621
Nairobi, Kenya
Phone:
+ 254 (20) 7123129
+ 254 (20) 7121851
+ 254 (20) 7122504
Fax:
Website:
Email: