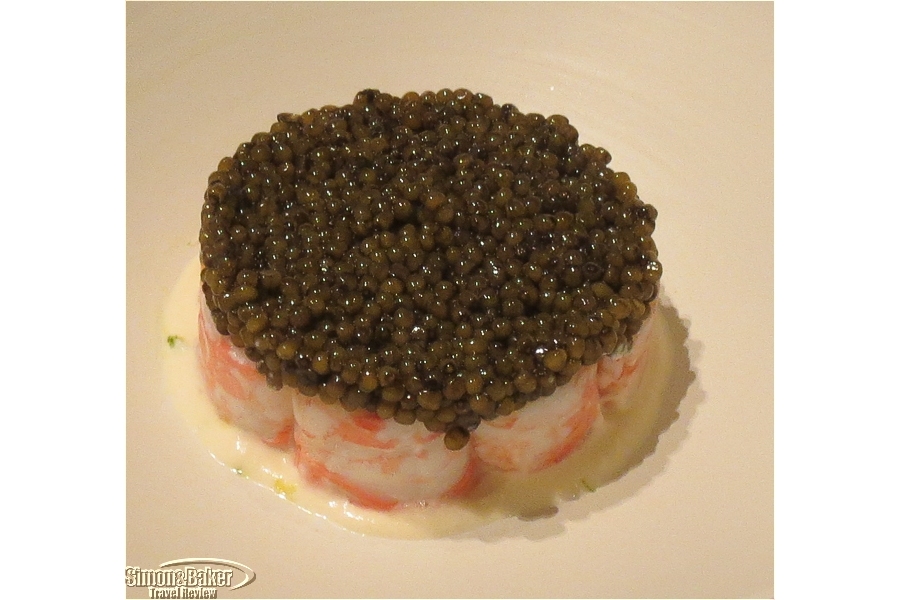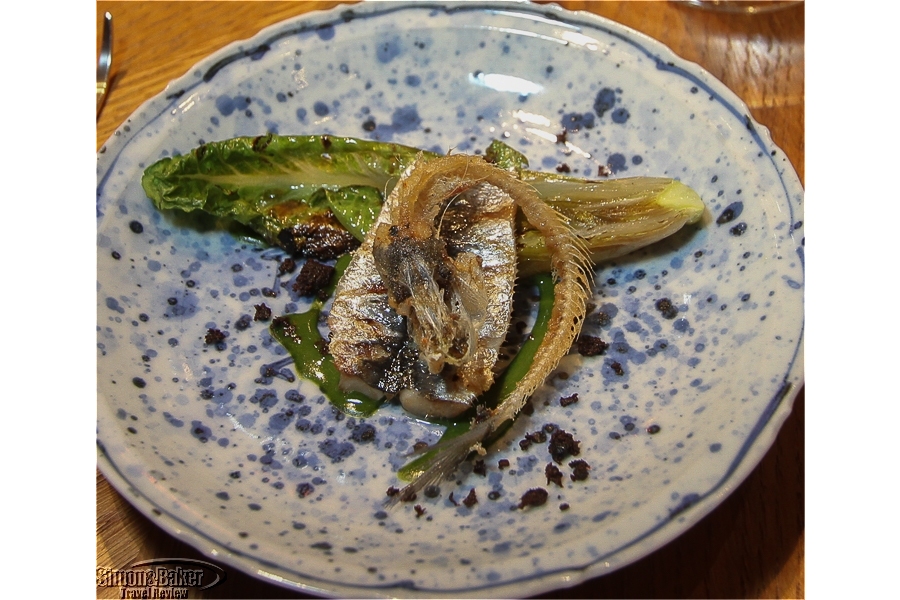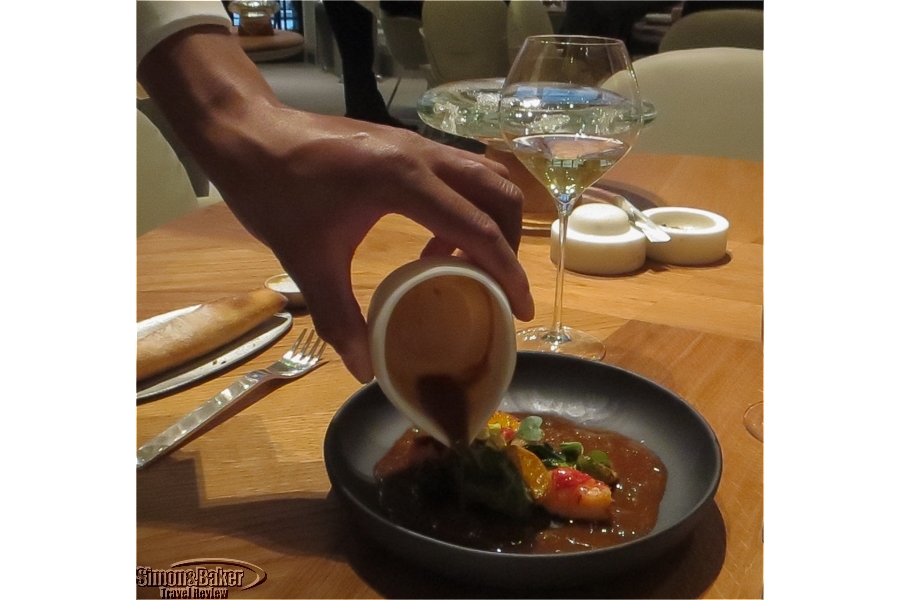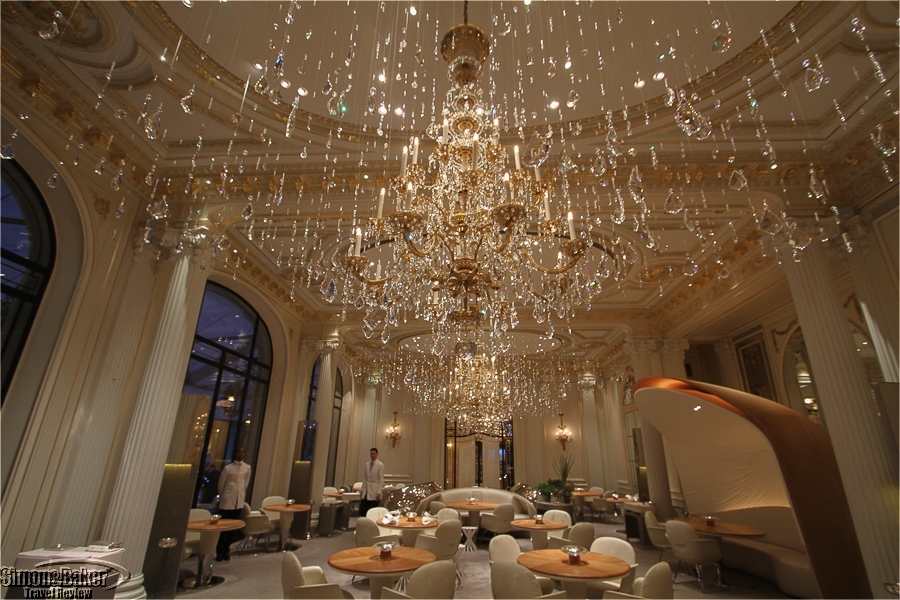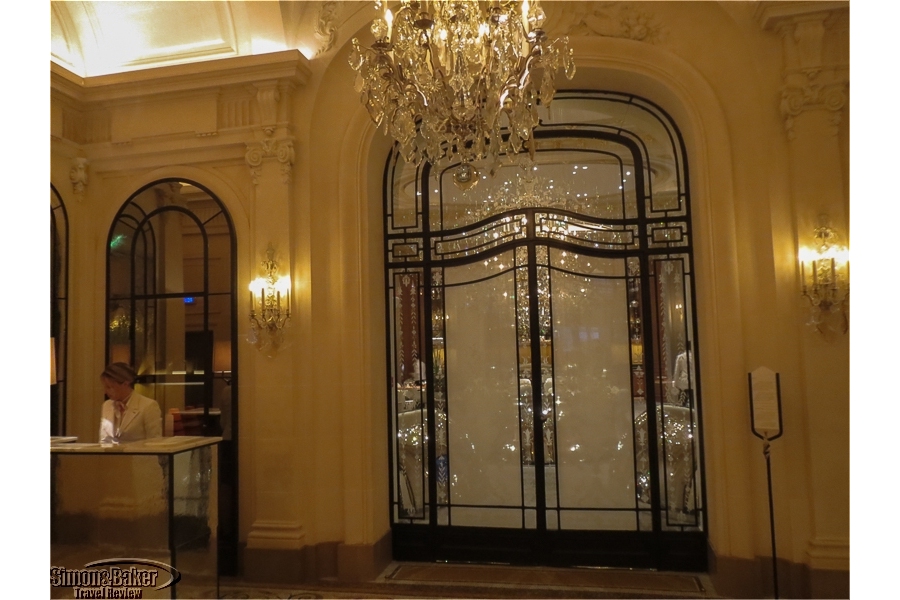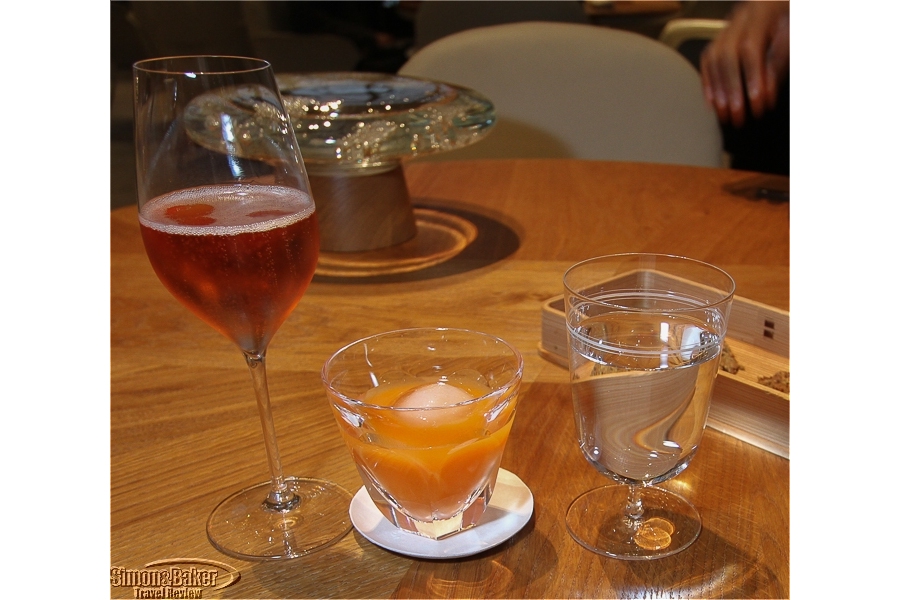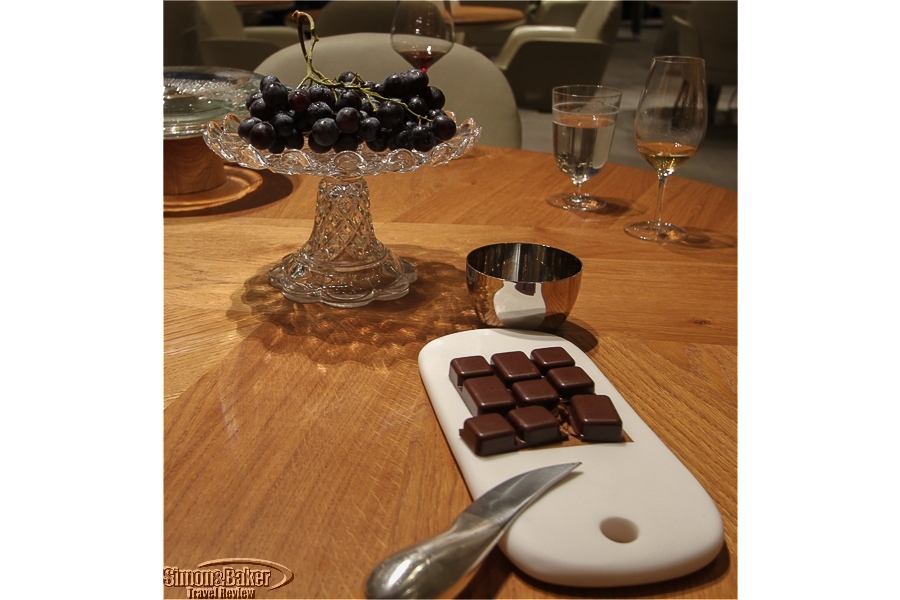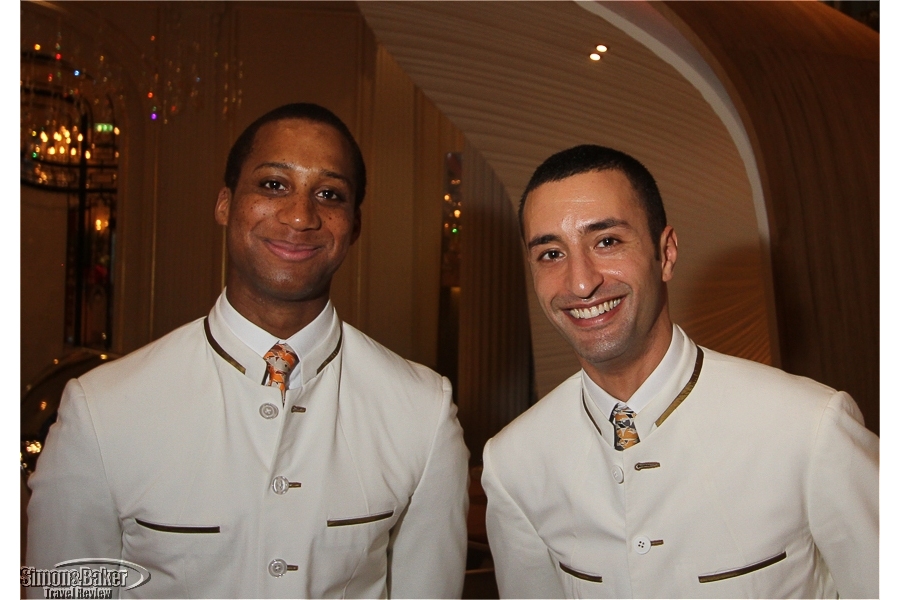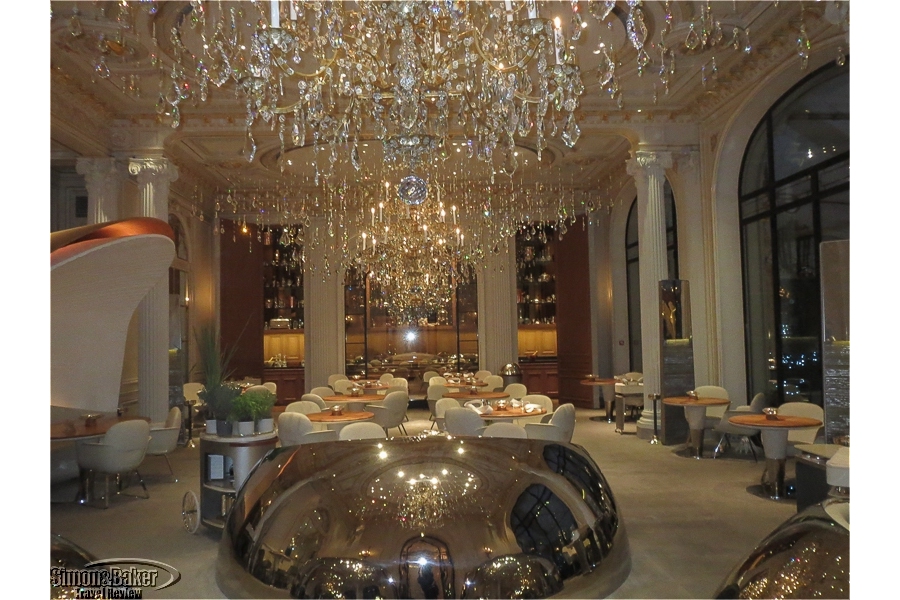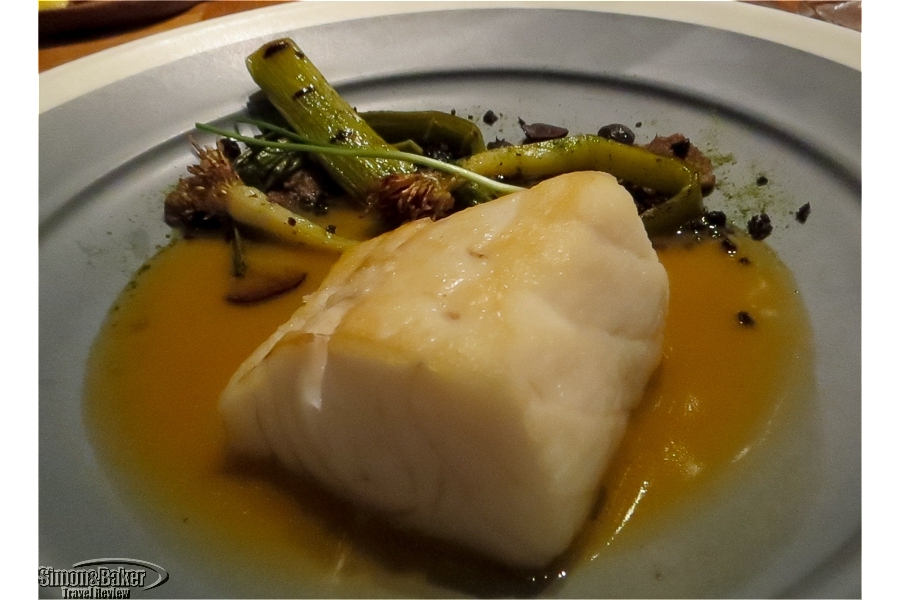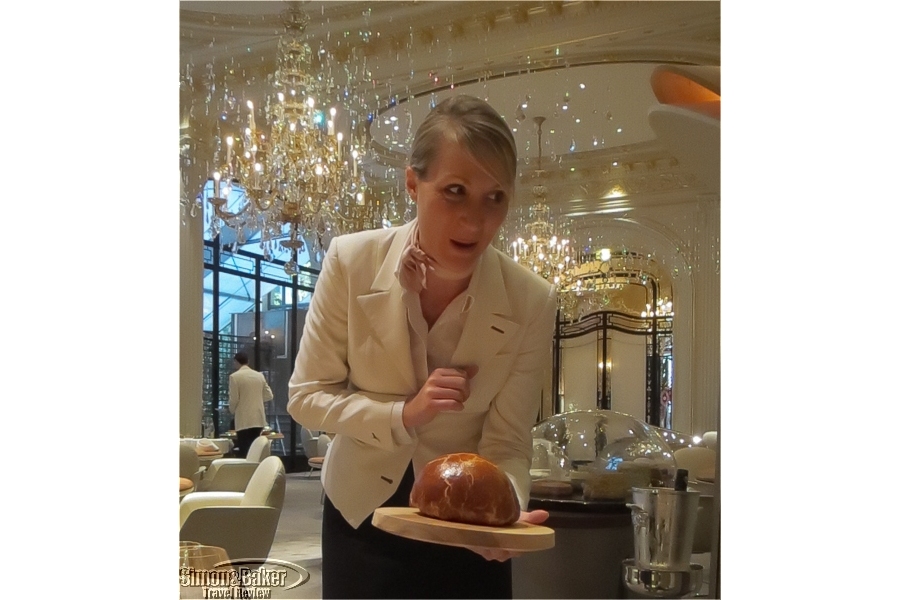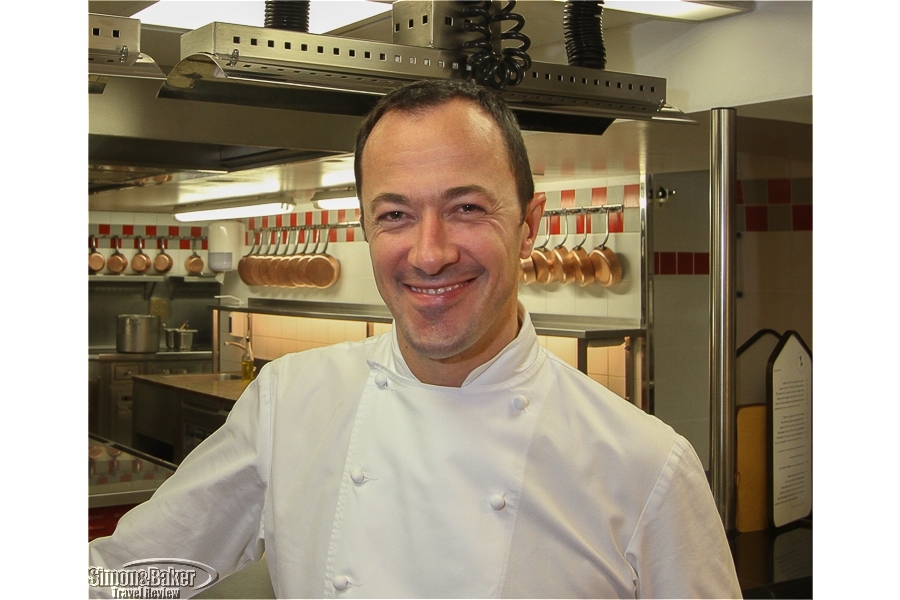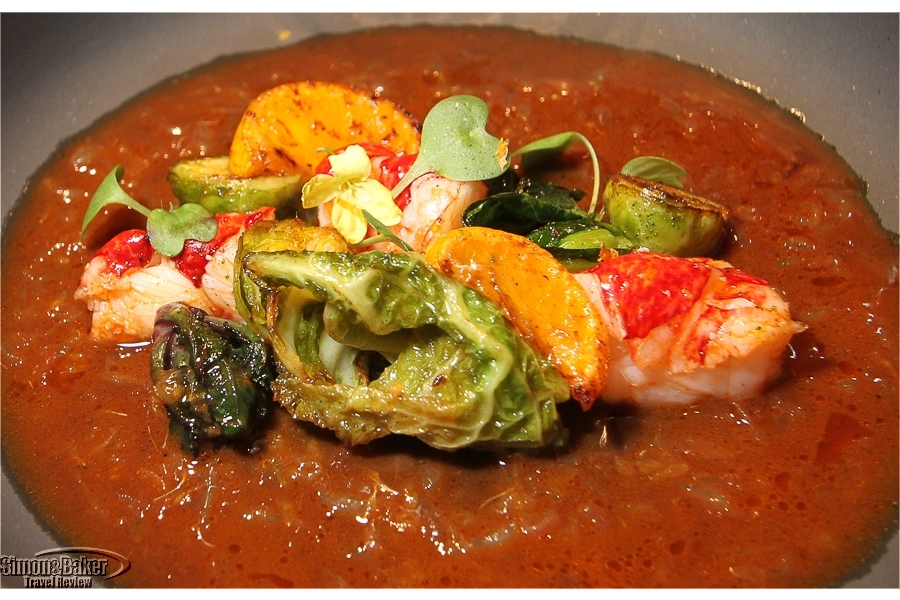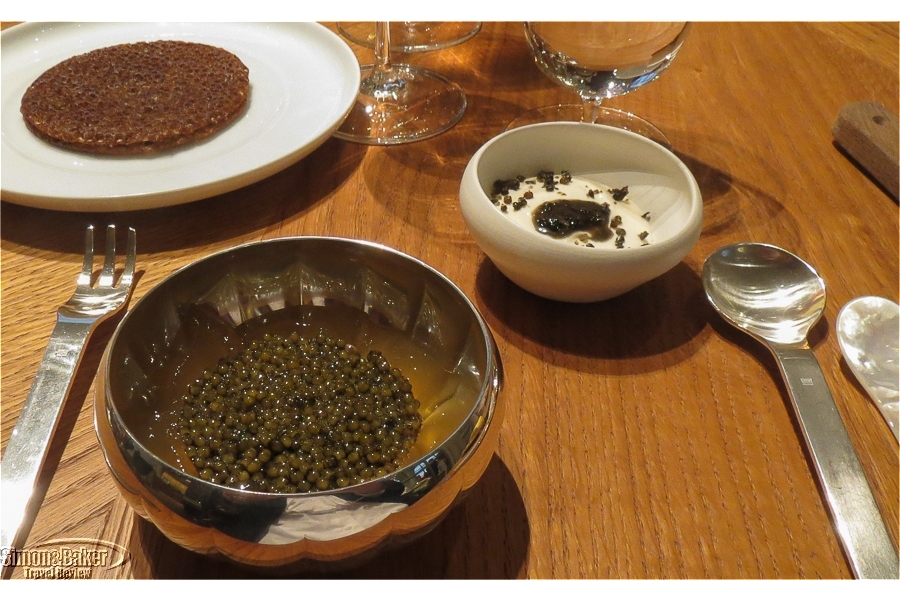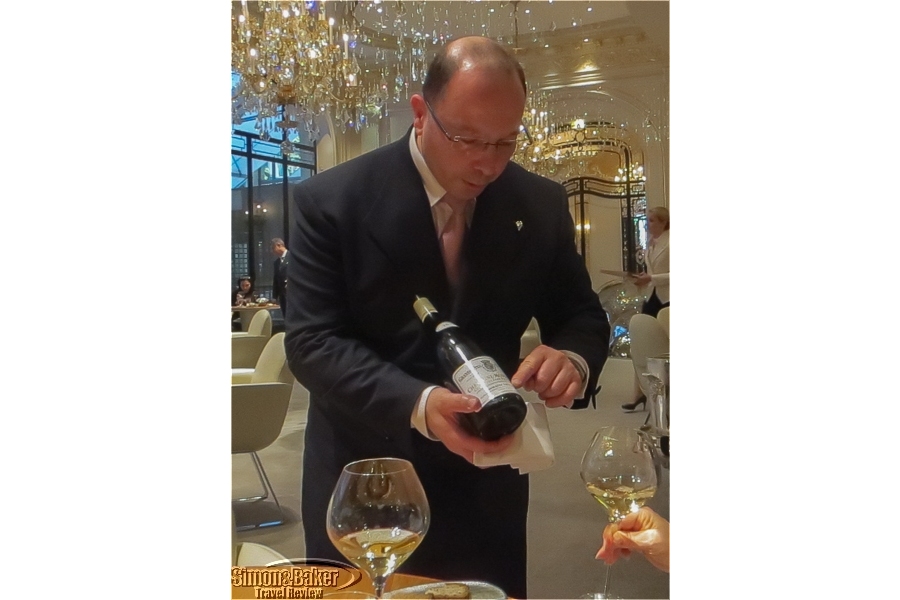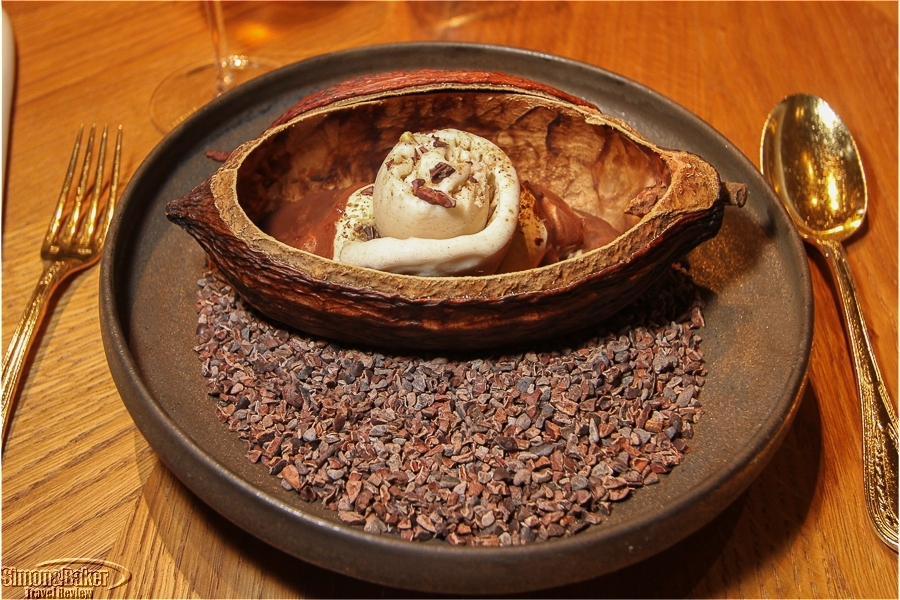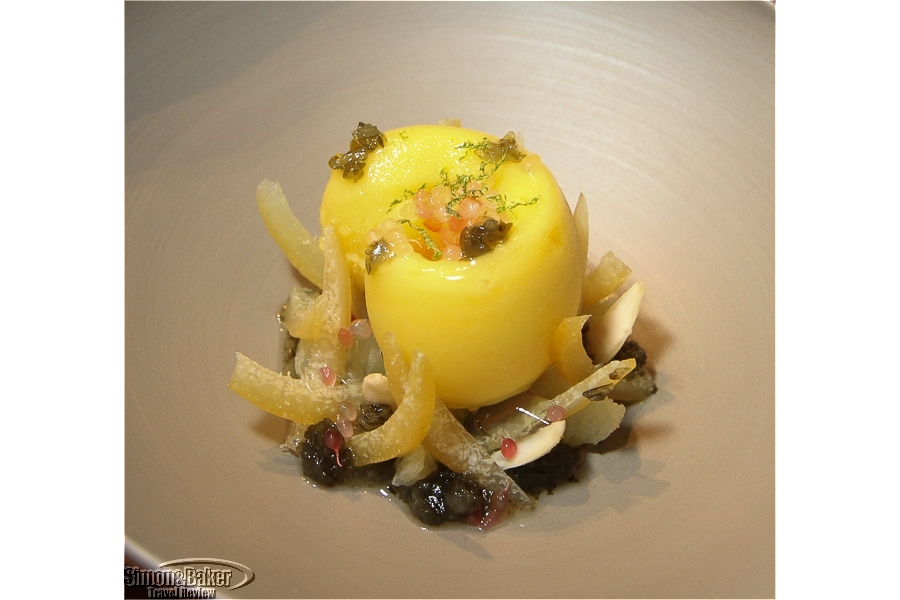 I would recommend Alain Ducasse au Plaza Athenee to our gourmet acquaintances who appreciate seafood, cereal and vegetables with light flavors, and those who are diehard aficionados of Alain Ducasse wanting to experience his most recent restaurant.
Overall Impression
As soon as we entered we focused our attention on the restaurant's partial decorative transformation since our last visit. Armed with a glass each of well chilled rose champagne we set out to discover the reincarnation of Alain Ducasse au Plaza Athenee. A server brought us complimentary carrot, celery and apple juice with an ice cube, setting the tone for the rest of the healthful meal. Hors d'œuvre bites followed on the heels of a staff person who explained the menu's cereal, vegetable (produce were brought from the garden of the Chateau de Versailles through an exclusive partnership) and seafood options. While it was possible to order some meat products they were not listed on the regular menu because they were discouraged.
The changes to the restaurant were not only aesthetic. The previous chef had moved on to the gourmet restaurant at Hotel Le Meurice, another Alain Ducasse venue in Paris owned by the same company, and a new chef had taken his place. Although, as in the past, every dish was beautifully and delicately presented, the menu had been designed with an eye toward health, quality and renewable resources. We were pleased that staff members were as attentive as ever, and the dining room was in many fundamental ways unchanged. The menu and the manner of its interpretation, however, were completely new. The cuisine presented a novel approach to fine dining. It was hard to imagine the reinvented restaurant with its mild flavors and healthy approach to dining having any resemblance to the old Alain Ducasse restaurant on rue Raymond Poincare of many years past with its heavy testosterone and cigar ambiance.
New restaurants take a while for the dust to settle until they find their footing and fans. Such, I imagine, will be the case with the new Alain Ducasse au Plaza Athenee restaurant. Launching an innovative fine dining establishment is a labor of love, bravery and patience. We appreciated the ethos of artisan and renewable resources as well as the emphasis on premium seafood, vegetables and cereal, although they were far removed from the classic French cuisine model. I would recommend Alain Ducasse au Plaza Athenee to our gourmet acquaintances who appreciate seafood, cereal and vegetables with light flavors, and those who are diehard aficionados of Alain Ducasse wanting to experience his most recent restaurant.
About The Executive Chef
A native of Franche-Comte, the chef completed his initial training in France. He worked for a year in the British West Indies where he became acquainted with Caribbean spicy cuisine. When he returned to France, he spent two years at Helene Darroze in Paris before working at Maison Potel et Chabot. From there he went to the Plaza Athenee, first as chef de partie and then as sous chef. After that he became chef at La Cour Jardin. Later he worked at Spoon des Iles in Mauritius. To prepare for the opening of his restaurant in Doha, Alain Ducasse entrusted Romain Meder with the mission of exploring Lebanese, Moroccan and the Western side of Indian cuisine to define a contemporary Middle Eastern cuisine. The young chef spent a year and a half immersed in those traditions as well as the use of spices and of vegetables before leading the kitchen of the Museum of Islamic Art in Qatar.
About The General Manager Mr. Courtiade had worked with Alain Ducasse since 1991. Initially he aspired to become a pastry chef. He worked at the Auberge des Templiers, a two star hotel in Sologne, before moving on to the Versailles Cercle des officiers. He worked as headwaiter at La Ferme de Mougins, La Terrasse in Juan-les-Pins, and Allodis Meribel. In 1989, he settled in the restaurant La Belle Otero at the Carlton hotel in Cannes. In 1991, at age 25, he was awarded the Trophée Jacquart de Meilleur Chef de Rang de France. At that time he began work with Alain Ducasse at Le Louis XV in Monaco, then London, followed by a position as first maitre d'Hotel in Paris, at the Alain Ducasse restaurant on avenue Raymond Poincare. In August 2000, he became restaurant manager.
Executive Chef Romain Meder
General Manager Denis Courtiade
Handicapped Access The ground floor restaurant with no stairs welcomed handicapped guests.
Head Sommelier Laurent Roucayrol had worked with Alain Ducasse since 1993. Laurent Roucayrol discovered his vocation after finishing the Ecole Hoteliere de Saint Cloud in 1990. He gained experience in various restaurants, and in 1996, he met Gerard Margeon who hired him as second sommelier at the Alain Ducasse restaurant on rue Raymond Poincare in Paris. When Alain Ducasse moved to the Plaza Athenee, he became head sommelier.
Location On the ground floor of the Hotel Plaza Athenee off the Champs Elysees area in the prestigious eighth arrondissement
Managed Alain Ducasse as head of the eponymous restaurant management company Alain Ducasse Enterprise oversaw the food service at the hotel and restaurant. When not focused on the Alain Ducasse au Plaza Athenee he led three restaurants each awarded three Michelin stars in Monaco (Alain Ducasse à l'Hotel de Paris), Paris (Le Meurice Alain Ducasse) and London (Alain Ducasse at The Dorchester). A native of the Landes region in the southwest of France, he had dedicated thirty years to being a chef, restaurateur, hotelier and teacher. His company owned or managed 24 restaurants in eight countries, a publishing house, Ducasse pastry and culinary arts schools in France, the Philippines and Brazil, and a hotel chain of 500 hotels in France.
Owned Dorchester Collection (Sultan of Brunei)
Pastry Chef Thomas Croize
Size The 164 square meter space could accommodate up to 50 guests with a staff of 40.
Type Of Food The restaurant's cuisine focused on a "trilogy of fish, vegetables and cereal"
Year Opened-Renovated Although a restaurant by the same name occupied that space since 2000, the new restaurant had a redecorated dining room, new chef and completely different approach to dining when it opened in August 2014. Patrick Jouin and Sanjit Manku changed the decor, light, table settings, and seating arrangements. They selected tables made of wood, leather and stainless steel.
Style Of Decor
After closing for months long renovations the restaurant reopened with a new look to match the new chef and new menu. The most striking feature of the re stylized large dining room was the polished stainless steel backs of some of the seats. They reflected the many lights in the room, creating a youthful retro look slightly reminiscent of a dance floor. Gone were the pristine tablecloths. They were replaced by bare oak table tops in a modern theme that figuratively mirrored the dinnerware (in various materials such as ceramic, glass, porcelain, metal and wood from China, Europe, and Japan), elegant glassware and silverware including mother of pearl spoons for caviar. A crystal mushroom held a lit tea candle at our table. The white leather seats too were new. My stool, made of a synthetic material, appeared a tad flimsy. Thankfully my favorite features, the chandeliers and the Swarovski
Crystal drops I had fallen in love with years earlier, were still there.
Patrick Jouin and Sanjit Manku set out to shake up all the fine dining codes, to present "a radical and surprising aesthetic." They relied on local craftsmen to create the furnishings. The atmosphere was said to differ between lunch and dinner. The tables were made of wood, leather and stainless steel. Huge silver bells, meant to recall the service bells in aristocratic households in the last century, reflected the crystal drops of the chandeliers.
In the evenings, the back wall opened up to reveal a cabinet of culinary objects reflecting a history of tableware. From our seat we glimpsed some of them at lunch. Some were sourced from Alain Ducasse's personal collection. The silver pieces were on loan from the Christofle Museum and crystal ware from Cristalleries Saint-Louis with the goal of encouraging conversation and enhancing "the sense of curiosity within the restaurant."
Menu
The only set menu available was the Jardin-Marin. It consisted of three half portions, a cheese course and dessert from the a la carte menu for 380 euros. A la carte prices started at 250 euros. Prices included taxes and service.
Wine And Spirits On offer was a selection of wines at full maturity in a section titled The A l'apogee. Examples were a 1990 vintage champagne Grand Siecle by Laurent-Perrier, a 1998 white Chateau Rayas (Chateauneuf du Pape), and a 1990 red Pommard 1er cru Clos des Epeneaux (Comte Armand).
Those booking the Table Cabane, shaped like a hull and situated in the left side of the dining room, had access to a special wine selection including Chateau Petrus (1988 and 2003) from Pomerol, Chateau de Fargues (2004 and 2008); some first grands crus such as Chateau Margaux, in red (1990 and 1996) and in white (2012) from Pauillac the Chateau Mouton Rothschild in red (1990 and 1995) and in white (Aile d'Argent , 2010); and dry white Bordeaux wines from Domaine Chevalier (1996 and 2010) from Pessac-leognan.
Meal
As soon as we were seated, in the left rear of the dining room, someone offered us a beverage. There were three types of champagne by the glass including a Pol Roger rose and a house label (made by Lanson). A smiling server in a white uniform jacket brought us a glass each of complimentary carrot, celery and apple juice with an ice cube. Someone else placed the single page menus, in French only, on a stand in front of each of us, explaining that she was available to answer any questions we might have. A staff person brought two types of amouse bouche, a mushroom tart and a red mullet carpaccio on a wheat cracker. Another offered us a slice of cereal country bread and placed an oversize wood spoon with a large slice of butter atop for each of us. Also on offer were rye and baguette bread. A staff person ground fresh pepper while we watched and set it in a pretty marble bowl next to a glass candle holder, the single decorative item on the table. We each had a small silver colored dish with a matching top with our own sea salt.
Our multi course menu began with a whole grilled sardine with its eatable spine and head on display atop grilled baby greens and an herb coulis. There was also a small bowl of chick peas, buckwheat and sea bream. A server handed us lighted scented moist napkins to cleanse our hands.
I had Langoustines bretonnes, caviar dore, nage reduite (Langoustines from Britanny with golden caviar). It was served with a langoustine bouillon to be had at the same time as the langoustines. My lunch partner had Lentilles vertes du Puy et caviar, delicate gelee (Green lentils from Puy with caviar) served with a bowl of cream and a small buckwheat pancake.
Then I had Saint-Jacques d'Erquy, chou-fleur en fine croute, tartufi di Alba (Scallops from Erquy with cauliflower in pastry with white Alba truffles) and comte cheese. The lightly cooked scallops went well with the sauce. My partner's Choux et clementines, homard du Cotentin tiede, reduction d'une daube (Cauliflower with warm Cotentin lobster) were a touch too tart for my taste although he seemed to enjoy them.
Next was Bar de l'Atlantique saigne, jeunes poreaux, olives noires (Atlantic sea bass with black olives) served with a slice of olive bread. My partner had Tripettes de stockfish en fin ragout comme a Monte-Carlo (Cod with tomato and olive sauce with lettuce on the side). After that, our server arrived with a pan of crunchy and flavorful Italian black rice with seafood chunks in bouillabaisse sauce. There were four cheeses in the trolley for Fromage frais et affines pour vous , the cheese course. Our platter had two slices each of Comte, munster with cumin, Stilton and a cheese from the Basque Region. It was accompanied by some lettuce with vinaigrette dressing. We had Citron nicois et algues kombu a l'estragon, a bitter and tart seaweed and citrus dish. There was also Savarin with aged Martinique rum.
The sommelier selected a lovely 2008 Les Cailloux Chateaneuf-du-Pape for the savory portion of the meal; a Portuguese wine for my lunch partner's Chocolate et cafe de notre Manufacture, sarrasin torrefie (Chocolate and coffee from the Alain Ducasse chocolate factory) dessert; and a 2009 sauternes to match my Peau de lait cru de Normandie, fraises des bois (A creamy dessert made from Normandy milk and strawberries).
By the time the herb cart with fresh mint, lemongrass, thyme, pineapple, and sage rolled around the dining room was empty. I looked longingly at the choices while my partner ordered a Java blue coffee. It was served with chocolate ganache and muscat grapes.
Other
As we approached the hotel where the restaurant is housed we noticed police near the sidewalk. There were no sirens or lights and no sense of urgency. When we reached the corner nearest the Hotel Plaza Athenee a middle aged policeman stepped in our path, asking in a brisk tone where we were headed as if he would tackle us to the ground if we gave the wrong answer. It was only after we explained we were going to lunch at the hotel that he moved aside and let us pass. Later we found out a Middle Eastern dignitary had arrived at the hotel shortly before we did and had been the reason for the police presence. Perhaps because of our encounter with the policeman I was particularly appreciative of the professional attitude of the staff at the restaurant entrance.
From our seats we had a view of the hotel's inner courtyard where staff were doing maintenance work. Laurent Roucayrol received the 2012 to 2013 Prix du Sommelier de l'Annee from L'Académie Internationale de Gastronomie. Gerard Margeon was named Sommelier of the Year by Andrew Harper for 2015.
Latest Visit
2014
Prior to that 2003 2007 2008 and 2010
Reviewers Article by Elena del Valle
Photos by Gary Cox
Service The superlative service was attentive, discrete and warm without being stuffy. Staff members, many of them English speaking, were welcoming and efficient with a smile at the ready. Their translation of the French menu items initially and when they served individual dishes was fluid. When I got up to visit the restroom, one of the servers escorted me to the restaurant door and pointed to the area I sought. We were provided dessert napkins at the end of the meal. Michael Tedji, one of the regulars at our table, was especially helpful.
Would You Dine There Again? Yes
Contact Information
25, avenue Montaigne
75008, Paris, France
Metro:
Telephone:
Fax:
Email:
Website: