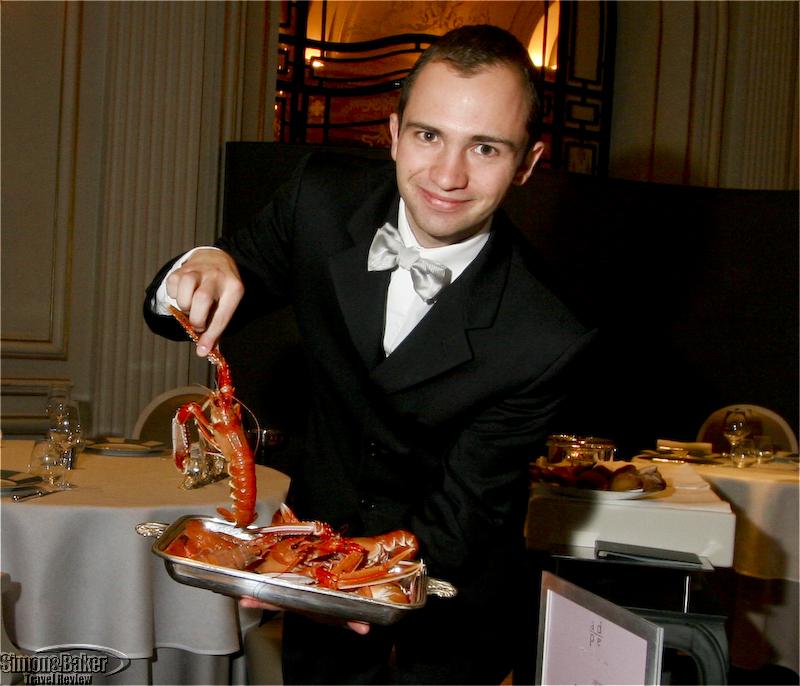 This restaurant is on our very short list of places to consider when we want to feel special and bask in the pleasure of gourmet dining at its finest in the most renown fine dining city in the world.
Overall Impression
Once again lunch at Restaurant Alain Ducasse au Plaza Athénée at the prestigious Plaza Athénée Hotel in Paris was outstanding. Although the last time we were there the food was excellent this time it was even better. The popular restaurant named for the famous French chef remains in the top tier of gourmet dining. An elegant dining room, sophisticated ambiance, very good service, and marvelous contemporary French food allowed to enjoy a noteworthy experience.
From beginning to end, the meal was extraordinary. This is one of the places to visit for a celebration. This restaurant is on our very short list of places to consider when we want to feel special and bask in the pleasure of gourmet dining at its finest in the most renown fine dining city in the world.
About The Chef
Chrisphone Moret grew up in Saint-Benoit-sur-Loire, about 30 kilometers from Orleans, where he helped his grandparents at their farm. In 1984, he took his first culinary steps at the Hotel de la Poste at Corps la Salette. He later worked in various parts of France including Alsace, Avignon, in the Atlantic coast, and near Nice. Eventually he joined the team of Le Louis XV in Monaco. Later, after spending three years on his own, he rejoined the Alain Ducasse team at the Raymond Poincaré address in Paris. For five years he was in charge of Spoon Food & Wine in Paris before becoming chef at the Restaurant Alain Ducasse au Plaza Athénée.
About The Executive Chef At 16 Alain Ducasse began a two year culinary apprenticeship at a restaurant in Eugénie-les-Bains. Later on he went to Moulin de Mougins and Mionnay. By 1980 he was chef a L'Amandier. From there he went to La Terrasse at the Hôtel Juana in Juan-les-Pins. After much success at Le Louis XV in Monaco, he opened restaurants in Paris and later New York and continues trailblazing. Most recently he took over the Jules Verne, the restaurant in the iconic Eiffel Tower. His culinary empire employs 1,900 divided between Europe, Asia, Africa, North America and the Middle East. This includes ADF, his culinary training center and cooking school for amateurs, the Identité Culinaire program of international culinary consulting activities and Éditions d'Alain Ducasse, (the Alain Ducasse Culinary Encyclopedia and Spoon Cook Book ).
Chef Christophe Moret
Executive Chef Alain Ducasse
General Manager Denis Courtiade who has worked with Alain Ducasse for 15 years
Handicapped Access The ground floor restaurant welcomed handicapped guests.
Location Off the Champs Elysees area in the prestigious 8th arrondissement
Managed Hotel Plaza Athénée, a member of the Dorchester Group
Owned Sultan of Brunei
Pastry Chef Nicolas Berger came to the Restaurant Alain Ducasse au Plaza Athénée from the Alain Ducasse restaurant at the Essex House in New York.
Size The dining room occupied 200 square meters of space in which 50 guests could be seated. There was a staff of 55 including 23 kitchen staff members and 21 in the dining room.
Sommelier Laurent Roucayrol has worked with Alain Ducasse since 1993. He worked in collaboration with Gérarard Margeon who oversaw wines for Alain Ducasse restaurants. Prior to working at the Alain Ducasse au Plaza Athénée, he worked at the Restaurant Alain Ducasse on Poincare street, L'Auberge de la Truite, Le Toit de Passy, Le Grenadin, Le Camelia, Le Fouquet's Europe, and Le Poivrier among others.
Type Of Food Contemporary French cuisine
Year Opened-Renovated The restaurant opened in 2000 and the most recent renovation was in 2005.
Style Of DÉCor
The dining room was characterized by a classic and modern combination designed by Patrick Jouin under the theme of magic and poetry. The décor was revised in 2005. While subtle and elegant the dining room was large and impressive. To enter the dining room we passed through discreet engraved glass doors. The phrase "
on lute, on ficelle, on assemble, on concasse, on hache, on émince, on pane, on évide
…" ("We seal in, tie up, mix, crush, chop, mince, coat, scoop out…"), was inscribed on an immense pillar in the entranceway.
The Corian seats were comfortable and came with a built in place for a small bag which we both took advantage of for hand items. There was a wood framed fireplace at the opposite end of the dining room and a striking light feature hanging from the ceiling in an archipelago of crystal drops.
The graphic designs were by Philippe David, china was by Jaune de Chrome, glassware by Riedel, flatware by Christofle and Béard, curtains by Edmond Petit, carpets by Andrew Hartley (Hartley of Paris), lighting by Ets Panavision, and my favorite, the chandeliers, were by Swarovski. The new uniforms were designed by couturier George Feghaly.
Menus
In addition to the a la carte menu, updated daily depending on market selections, the restaurant offered two set six course menus: Plaisirs de table at 260 euros including appetizer, starter, fish course, meat course, cheese from the trolley, and dessert from the à la carte menu (guest choices); and a Collection de Saison at 360 euros including appetizer, starter, fish course, meat course, cheese from the trolley, and dessert from the à la carte menu (chef selection from the season specialities).
Specialties Seasonal dishes
Wine And Spirits Details The restaurant boasted a "thoroughly modern" wine list with selections from 1,000 French vineyards and an inventory of 35,000 bottles. There were several choices of champagne by the glass, and "A deliberately short and balanced wine list, changed three times a year" designed to capture the "quintessence of French winemaking and vineyards."
Meal
This time we were seated in a corner at the front of the dining room next to the entrance. The silver service, crystal, dinnerware and RH knives and silverware were exquisite. There was half salted and unsalted butter stamped with the ubiquitous ADPA initials to accompany our two types of bread, cereal and epi.
Every dish was delectable, even more impressive than the last time we were there. We had a glass of house champagne accompanied by a warm spinach pastry, truffle cracker and Spanish jamon serrano on toast amouse bouche dishes.
The seven course meal followed: Caviar Oscietre d'Iran langoustine rafraichie, nage réduite, bouillon parfumé , barely cooked langoustines with caviar served with a clove and ginger broth; Noix de Saint-Jacques et chou-fleur a la grenobloise, perfectly cooked scallops with cauliflower Grenoble style; Turbot de Bretagne en matelote, an extraordinary Brittany turbot in a hearty red wine sauce; and Pigeonneau laqué au thé fumé, navets nouveaux en aigre-doux , fabulous pigeon with cheese and beet flavors.
Then we succumbed to the cheese course of Appelation d'Origine Controle (AOC) selections. I sampled three cow's milk and one goat's milk cheeses: velencay, a goat cheese from Berry; langres, from Champagne, Comté from Franche Comté (Jura), and fourme d'Ambert, a four year old from Auvergne. My husband had six cheeses, two of cow's milk: the Comté and a blue des causses de Rouergue from Averyon; roquefort d'Aveyron, an ewe's milk cheese; and three goat's milk cheeses: lingot de Touraine, selles-sur-cher de Touraine and a crottin de chavignol from Berry from the trolley. These were presented with fruit and nut breads by a helpful server and followed by a black truffle wrapped salad that added a nice touch to the cheese course.
Before the desserts arrived the staff brought praline tartlets, beignets with passionfruit sauce and macarons . Then there was Fraise des Bois en couple glacée, sablé coco, forest strawberries with meringue and coconut; Caillé de Brebis caramel-poivre, miel d'arbousier, one of my favorite desserts under the sun; and Confiseries et Friandises to accompany our hot beverages. Someone I know says "happiness is the after dessert trolley at Alain Ducasse. " With no room to spare after the generous meal we gazed, like children at a candy shop, at the trolley and pondered carefully before making our selections.
This wondrous meal was accompanied by a 2006 Pouilly-Fuissé La Roche Domaine Chataigneraie – Laborier which had an alluring nose and a light flavor; a 1999 Bandol Château de Pibarnon Comté de Saint Victor with a heady and meaty nose and a velvety finish that wrapped around my mouth and lingered; and a 2007 Maury Pouderoux. We entrusted the wines selection to Laurent Roucayrol, the restaurant's wine expert.
Other Each table was placed at a discreet distance from the next. This afforded us privacy during the meal.
Latest Visit
2003
2007
2008
2010
2014
Reviewers Article by Elena del Valle
Photos by Gary Cox
Service The service was very good. Staff members translated the French menu with fluid ease and responded to our questions with pleasantly. When I got up to visit the powder room, one of the servers immediately escorted me to the restaurant door and pointed to the area I sought. I found a fresh napkin on my return.
Would You Dine There Again? Yes
Contact Information
Address:
25, avenue Montaigne
75008, Paris, France
Metro:
Telephone:
Fax:
Email:
Website: