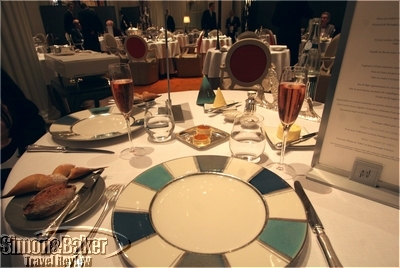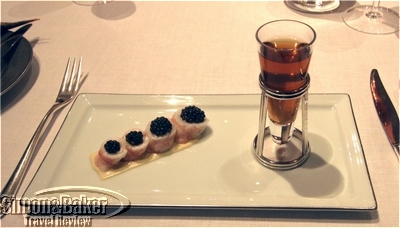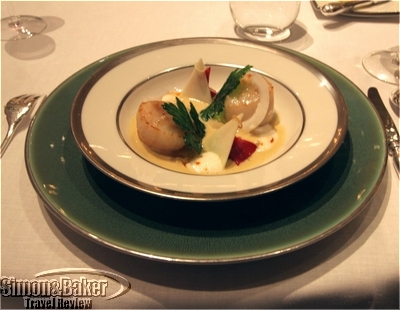 We hope that there continue to be inspired and talented individuals like Alain Ducasse and the staff at his Plaza Athénée restaurant willing and able to dedicate the time and resources that make such a top dining experience possible; and that there continue to be fine food lovers who value the ephemeral and extraordinary epicurean moments they bring.
Overall Impression
We were delighted to discover lunch at Restaurant Alain Ducasse au Plaza Athénée at the prestigious Plaza Athénée Hotel was better than we recalled from past visits. Over the years I've dined at several of the Alain Ducasse restaurants. First, at the Rue Raymond Poincaré restaurant, and later at the Plaza Athenée and New York restaurants. This has afforded me an opportunity to experience first hand the evolution of this world famous executive chef and his top restaurants. Our recent meal at the Plaza Athénée in Paris was by far the most noteworthy.
I suspect the recent changes in chef, décor, and pastry chef played a role and perhaps it was also natural development. Since 2005, the Restaurant Alain Ducasse au Plaza Athénée has been the home of Chef Christophe Moret whose dishes we thoroughly enjoyed. Subtle changes in the dining room décor lent the salon warm and appealing ambiance. We particularly liked the contemporary hanging Swarovski crystal decorative features.
Visiting the internationally famous restaurant was a feast for the senses. Enjoying a meal there was more like attending an event than simply satisfying physical hunger. An elegant dining room, extraordinary service, cordial staff and delicious contemporary French food placed the Plaza Athénée Restaurant in a category of its own, making it a mandatory stop for foodies with the means and desire to splurge and be spoiled.
In an increasingly competitive culinary environment influenced by the growing trend toward more informal service and higher profits, it's encouraging to find successful restaurants like this one that proudly offer a luxurious dining experience. We hope that there continue to be inspired and talented individuals like Alain Ducasse and the staff at his Plaza Athénée restaurant willing and able to dedicate the time and resources that make such a top dining experience possible; and that there continue to be fine food lovers who value the ephemeral and extraordinary epicurean moments they bring.
About The Chef
Chrisphone Moret grew up in Saint-Benoit-sur-Loire, about 30 kilometers from Orleans, where he helped his grandparents at their farm. In 1984, he took his first culinary steps at the Hotel de la Poste at Corps la Salette. He later worked in various parts of France including Alsace, Avignon, in the Atlantic coast, and near Nice. Eventually he joined the team of Le Louis XV in Monaco. Later, after spending three years on his own, he rejoined the Alain Ducasse team at the Raymond Poincaré address in Paris. For five years he was in charge of Spoon Food & Wine in Paris before becoming chef at the Restaurant Alain Ducasse au Plaza Athenée.
About The Executive Chef At 16 Alain Ducasse began a two year culinary apprenticeship at a restaurant in Eugénie-les-Bains. Later on he went to Moulin de Mougins and Mionnay. By 1980 he was chef a L'Amandier. From there he went to La Terrasse at the Hôtel Juana in Juan-les-Pins. After much success at Le Louis XV in Monaco, he opened restaurants in Paris and later New York and continues trailblazing. Most recently he took over the Jules Verne, the restaurant in the famous Eiffel Tower. His culinary empire employs 1,900 divided between Europe, Asia, Africa, North America and the Middle East. This includes ADF, his culinary training center and cooking school for amateurs, the Identité Culinaire program of international culinary consulting activities and Éditions d'Alain Ducasse, (the Alain Ducasse Culinary Encyclopedia and Spoon Cook Book ).
Chef Christophe Moret
Class Of Restaurant Luxury gourmet
Executive Chef Alain Ducasse
General Manager Denis Courtiade has worked with Alain Ducasse for 15 years
Handicapped Access Yes
Location Off the Champs Elysees area in the prestigious 8th arrondissement
Owned-Managed Hotel Plaza Athénée, a member of the Dorchester Group
Pastry Chef Nicolas Berger came to the Restaurant Alain Ducasse au Plaza Athénée from the Alain Ducasse restaurant at the Essex House in New York.
Size The dining room occupied 70 square meters of space in which 50 guests could be seated and looked after by a staff of 55.
Sommelier Laurent Roucayrol has worked with Alain Ducasse since 1993. He worked in collaboration with Gérarard Margeon who oversaw wines for Alain Ducasse restaurants.
Type Of Food Contemporary French
Year Opened-Renovated The most recent renovation was in 2005.
Style Of DÉCor
The dining room was characterized by a classic and modern combination designed by Patrick Jouin under the theme of magic and poetry. The new décor, revised in 2005, was more to our liking than the previous design. Although subtle and elegant it was large and impressive. To enter the dining room we passed through discreet engraved glass doors. The phrase "
on lute, on ficelle, on assemble, on concasse, on hache, on émince, on pane, on évide
…" ("We seal in, tie up, mix, crush, chop, mince, coat, scoop out…"), was inscribed on an immense pillar in the entranceway.
For those who like to name names, the china was by Jaune de Chrome, glassware by Riedel, flatware by Christofle and Béard, curtains by Edmond Petit, carpets by Andrew Hartley (Hartley of Paris), lighting by Ets Panavision, and my favorite the chandeliers were by Swarovski.
Furniture was part of the dining room's redo and it was evident right away. The Corian seats were comfortable and came with a built in place for a small bag which we both took advantage of for hand items. We noticed the lovely wood framed fireplace just a few feet away from our table and stared intermittently at the beautiful feature hanging from the ceiling in an archipelago of crystal drops.
Menus
There was a Plaisir de Table menu for 240 euros and a Collection de Saison option for 360 euros.
Specialties Seasonal dishes
Wine And Spirits Details The restaurant boasted a "thoroughly modern" wine list with selections from 1001 French vineyards. In addition to the Alfred Gratien Rosé we selected, there were two other choices of champagne by the glass, a vintage Henriot and a house bottle. There was "A deliberately short and balanced wine list, changed three times a year" and designed to capture the "quintessence of French winemaking and vineyards."
Meal
The first thing we noticed after we sat down was a sensuous and heady aroma enveloped part of our table. We were seated in a corner at the rear of the dining room next to the entrance to the kitchen and adjacent to a service table which was temporary home to an Alba truffle the size of one of the British Isles, making it possible for us to enjoy the truffle experience beyond the generous portions the servers shaved over our dishes during the meal. After a pleasant gentleman took our order and before our meal was served we had some time to observe our table and enjoy our light and foamy crab pre-appetizers. The silver service, crystal, dinnerware and RH knives and silverware were exquisite. There was half salted and unsalted butter stamped with the ubiquitous ADPA initials to accompany our two types of bread, cereal and epi.
Our meal was delicious and impeccably served from the Alfred Gratien Rosé aperitif champagne to the confiseries et friandise at the end. We began with a one of the house specialties: a serving of mouth watering and delicate half cooked shrimps with oscietra caviar and ginger ( Caviar oscietre d'Iran langoustine rafraichie, nage réduite, bouillon perfumé ). The next course was scallops in a coconut curry sauce ( Noix de Saint-Jacques snackées, coco/curry ). Next there was a tomato dish ( Royale de Tomate araignée de mer, émulsion coraillée ) before the beautiful Brittany lobster ( Homard de Bretagne roti, gnocchi truffés Parmentier ). Our main course was another house specialty, a slightly sweet Alba truffle flavored chicken with Madeira port ( Volaille de Bresse sauce Albufera, tartufi di Alba ). Every dish was delectable.
After a cheese course served with a side salad (I had munster, livarot, and Roquefort) , we transitioned to desserts, a caramel pear dessert ( Caillé de Brebis caramel-poivre, miel d'arbousier ) and a Monte Carlo style rum pastry ( Baba au rhom comme a Monte-Carlo ) served with Neisson rum. Few restaurants are able to match the artistry of the main meal with the desserts. My pear sweet course was an example of a dessert that reached the heights of the meal. There were so many candy choices with coffee we were unable to sample them all. Some of the ones I remember were fried bites of dough with berry jam and chocolate and vanilla macarons.
We relied with confidence on the restaurant's able wine experts to pair suitable wines with our meal. They served us 2006 Saint-Aubin1er Cru Les Murgers des Dents de Chien Maison Champy, 2003 Gevrey-Chambertin Domaine Harmand-Geoffroy and 1998 Chateau Raymond Lafon from Sauternes.
Other Each table was placed at a discreet distance from the next. This afforded us privacy during the meal. There was a sign at our table requesting that we refrain from smoking until the end of the meal. We greatly appreciated that. Now that no smoking laws have taken effect in France I imagine this will no longer be necessary.
Ease Of Reserving
The dining room was full the day we were there. Advance reservations were necessary.
Latest Visit 2003 2007 2008 2010 2014
Reviewers Article by Elena del Valle
Photos by Gary Cox
Service A restaurant of this caliber should provide seamless service where staff is attentive to diners' every need and the pace of their meal. The Plaza Athénée Restaurant lived up to that standard with plenty of room to spare. In spite of a full dining room, the staff excelled in their attention to our lunch experience. They translated the French menu with fluid ease and responded to our questions pleasantly. When I got up to visit the powder room, one of the servers immediately escorted me to the restaurant door and pointed to the area I sought. I found a fresh napkin on my return. Denis Courtiade's approach of "Serve neither from the right side nor the left, but only and always from the best side" resulted in impeccable service that was simultaneously warm and convivial.
Would You Dine There Again? Yes
Contact Information
Address:
25, avenue Montaigne
75008, Paris, France
Metro:
Telephone:
Fax:
Email:
Website: