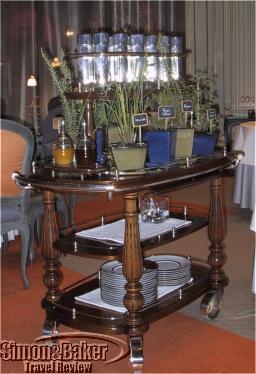 When the maitre d'hotel presented a gorgeous white truffle and sliced this delight over our "Volaille de Bresse", we experienced gourmet nirvana.
Overall Impression
The inventive dishes designed by the world renowned Alain Ducasse are only one reason to visit the Plaza
Athénée Restaurant.
An understated and elegant dining room, extraordinary service and wonderful French food made this restaurant one of Paris' mandatory gourmet stops. The little touches, like a cart of fresh herbs to scent the fingerbowls, and a selection of delightful candy jellies and caramels made the meal truly special. When the maitre d'hotel presented a gorgeous white truffle and sliced this delight over our "Volaille de Bresse", we experienced gourmet nirvana.
If money was no object, we would visit this French icon's establishment frequently. When we were there you had to be prepared to spend between $600 and $1,000 for a meal for two. It could be much more depending on diners' menu choices and their wine selection.
Chef&Rsquo;S Training Or Salient Characteristics
At 16 Alain Ducasse began a two year culinary apprenticeship at a restaurant in Eugénie-les-Bains. Later on he went to Moulin de Mougins and Mionnay. By 1980 he was chef a L'Amandier. From there he went to La Terrasse at the Hôtel Juana in Juan-les-Pins, where he received much praise. After much success at Le Louis XV in Monaco, he opened restaurants in Paris and later New York.
Class Of Restaurant Gourmet
Days-Hours Of Operation: Thursday and Friday's for lunch 1 pm to 2:30 pm and Monday through Friday from 8 pm to 10:30 pm for dinner.
Executive Chef Alain Ducasse
Chef:Christophe Moret
General Manager: Denis Courtiade (has worked with Alain Ducasse for 11 years)
Handicapped Access Yes
Location Off the Champs Elysees area in the prestigious eighth arrondissement
Metro Line 1 FDR or Alma Marceau
Owned-Managed: Hotel Plaza Athénée, a member of the Dorchester Group
Pastry Chef: Frédéric Robert (has worked with Alain Ducasse for 23 years)
Sommelier Laurent Roucayrol the day we visited. Wine list for all Alain Ducasse properties designed by Gérard Margeon.
Type Of Food Contemporary French
Year Opened-Renovated: 2000
Style Of DÉCor Classic and modern combination designed by Patrick Jouin that resulted in a slightly incongruous eclectic mix of elements including large chandeliers with shade covers and two modern themed posters on the back wall. To enter the dining room we passed through discreet engraved glass doors.
Special Menus-Pricing
190 Euros culinary delights menu or 280 Euros for Seasonal Collection.
Specialties: Seasonaldishes
Size: 50
Wine And Spirits Details Cellars were headed by Gérard Margeon, the head sommelier for all the Ducasse restaurants. They boasted of having wines from 1001 French vineyards. We enjoyed our multi course meal with a 2001 Saint-Joseph Saint-Pierre Yves Cuilleron. This was followed by a 1998 Le Clémentin du Chateau Pape Clément Pessac-Léognan.
Food
We liked the way the menus were constructed during our visit: Our menu selection consisted of several half portions of standard menu items. Seafood selections from the menu were available on a pricier menu option.
Our Seasonal Collection meal was delicious; from the dry Paul Drouet aperitif champagne to the mignardises at the end. We began a crescendo of dishes with a serving of delicate shrimps with oscietra caviar. The duck liver foie gras was smooth and tasty. The subtle Brittany lobster spiced with curry was followed by Alba truffle flavored chicken. After a cheese course, we transitioned to a caramel pear and ice cream dessert.
Few restaurants are able to match the artistry of the main meal with the desserts. Our sweet course was an example of a dessert that reached the heights of the meal. There were so many petit four choices with coffee we were unable to sample them all. We particularly remember the red berry candy.
Conference Facilities-Private Meeting Rooms
Conference facilities were available at the hHotel.
Other When we visited the restaurant, each table was placed at a discreet distance from the next. This afforded guests privacy during their meals. A staff of 55 was dedicated to diners' culinary needs. The Plaza Athénée Restaurant is one of three renowned restaurants operated under the Alain Ducasse, "a purveyor of happiness and pleasure," name. They are: Essex House in the U.S. (New York), France (this restaurant) and Le Louis XV in Monaco.
When we were there, the restrooms available to restaurant guests were shared with lobby and tea guests. We were disappointed to find the restroom overcrowded and dirty, especially for the caliber of restaurant and hotel we were at. Frequent visits by maintenance staff or a separate restroom for Plaza Athénée guests would have been welcome.
Preferred Reservation Method Phone, email.
Ease Of Reserving
Advance reservations necessary.
Latest Visit 2003 2007 2008 2010 2014
Service A restaurant of this caliber and prices should provide seamless service where staff is attentive to diners' every need and the pace of their meal. The Plaza Athénée Restaurant lived up to that standard. In spite of a full dining room, the staff excelled in their attention to our lunch experience. They translated the French menu with fluid ease and responded to our questions without the slightest hint of snobbery or condescension.
Would You Dine There Again? Yes
Contact Information
Address:
25, avenue Montaigne
75008, Paris, France
Metro:
Telephone:
Fax:
Email:
Website: