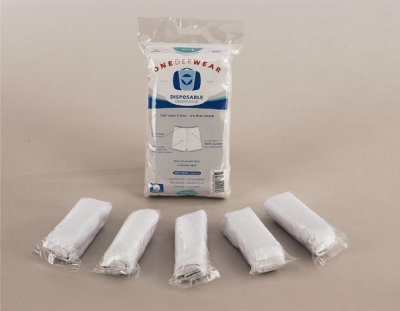 We look forward to taking the OneDerWear on future trips including African safaris.
Overall Impression
There are times in a traveler's life when disposable underwear can be heaven sent. For many, the concept is appealing for everyday use, hospital visits, unexpected situations, gym and spa visits, camping, and medical conditions to name a few. The OneDerWear was perfect for many of our travel needs. Laundry and dry cleaning can be a challenge during a trip; even luxury hotel s encounter problems and deliver damaged, stretched, faded, torn, shrunk or otherwise unusable clothes to guests. This is especially likely traveling internationally and in remote areas where washers and dryers may not be available. We have encountered eco friendly properties in isolated places where there is no running water or electricity. We think the 100 percent cotton OneDerWear ideal for these situations.
An example of a OneDerWear type of trip is a safari in Southern Africa . Visitors to those destinations though rewarded with fabulous game viewing, luxurious accommodations and attentive staff, may have luggage weight restrictions. In Botswana , for example, transport to the game lodges is usually by chartered small airplanes which can only carry a limited amount of weight. Passengers on those trips have to consider every item they bring with them, its use on the trip and weight. Although complimentary hand laundry service is included in the daily rates, water is limited and some properties will not accept underwear (for social reasons). It is in cases like these where the OneDerWear can come in handy.
We tried the bikini and classic brief styles. We appreciated the choice of styles and found the women's panties practical, comfortable, washable (wearers are not required to throw them out immediately) and hygienic. Each pair was individually wrapped in plastic. We look forward to taking the OneDerWear on future trips including African safaris.
Colors
white
Machine Washable yes in warm water with non-chlorine bleach, tumble dry low when necessary. OneDerWear , though reputed to tear after a few washes, survived repeated washes (without chlorine)
Made In Vietnam
Made Of biodegradable 100 percent cotton fabric approved by Cotton Incorporated
Manufacturer-Distributor Break Room Concepts
Retail Price OneDerWear come in packages of five with the following prices per package : women's bikini and thong: $7.99 women's classic brief $8.99
Men's brief $8.99 and boxer brief $9.99
Sizes S, M, L, XL, XXL (women's thong was only available in S, M, L). We tested the bikini and classic briefs.
Styles There were three women's and two men's OneDerWear style choices.
Type Of Product Disposable underwear for men and women
Weight less than 1 oz each
Other Break Room Concepts also makes disposable socks
Country(S) Tested
U.S.
Date Of Review March 2005
Number Of Days Tested three weeks
Would You Use This Product Again? yes
Contact Information
Address:
1158 26 Street Ste 570
Santa Monica , CA 90403
Phone:
Fax:
Website:
Email: