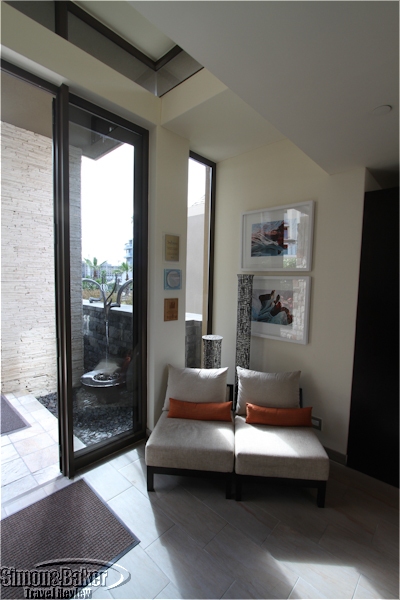 The next time we are in Cape Town a visit to the One&Only Spa will be a priority, especially the Bastien Gonzalez pedicures.
Overall Impression
After a Monday morning of pampering at the spa at the well known One&Only Hotel within the V & A Waterfront we understood why the spa was popular with locals. About 80 percent of the spa guests were local, we found out following our visit. Patronage from area residents who are knowledgable of choices and able to get around easily, is often an indication of high quality, I find.
Far from the tourist crowds attractive sunlit, spacious facilities on a man made island within the hotel and residential complex were just the beginning. The spa had friendly staff with a professional attitude and well delivered treatments within a quiet, clean and relaxing environment. In addition, some of our favorite treatments, the Bastien Gonzalez pedicures, were available exclusively at that spa in South Africa.
Following our treatments we were escorted to a relaxation area with hot and cold beverages, fruits and snacks (we especially liked some of the sweet snacks) and invited to take advantage of the spa facilities at our leisure. While the sauna and steam room were tempting I went for a swim at the hotel infinity edge pool just a few steps away, across a small bridge. It was the perfect end to a wonderful morning and worth repeating. The next time we are in Cape Town a visit to the One&Only Spa will be a priority, especially the Bastien Gonzalez pedicures.
Handicapped Access
There was an elevator providing access to all spa areas as well as two rooms designed with handicapped guests in mind.
Location In the heart of the V&A Waterfront in Cape Town
Number Of Staff There were 18 staff members including nine Espa therapists, four Bastien Gonzalez manicurists and pedicurists, five front of house reservationists and a manager. Our therapists that day were Alexandra Zaderer with eight years of experience (three of them at the One&Only Spa); Marlise Uys who had seven years of experience (three of them at the One&Only Spa); and Michelle Russell who had six 6 years of experience (two of them at the One&Only Spa).
Owned and managed Kerzner International and One&Only Resorts
Size The one thousand square meter spa was a single story in one section and two stories tall in another.
Spa Manager Rosemary Read
Special Training All therapists were Espa trained. The training, according to a One&Only Spa spokesperson, consisted of four weeks of intense training and continuous refresher training, especially following the introduction of new treatments. Therapists were required to have CIDESCO (Comite International d'Esthetique de Cosmotologie) and ITEC (International Therapy Examination) qualification, and had to have worked in industry for more than three years before working at the One&Only.
Treatment Rooms There were 10 treatment rooms: eight single treatment rooms and two couples spa suites. There was also a Yoga Pavilion for outdoor and indoor treatments as well as two Bastien Gonzalez Studios (individual treatment rooms). The tables in the treatment rooms we had our treatments were adjustable and comfortable.
Year Opened-Renovated The spa was established April 2009.
Common Areas The facilities were designed with an African Zen style featuring minimalist features, wood and textured surfaces.
Food And Restaurants Spa guests could order from the Isola Pool Restaurant serving healthy snacks, lunches and light meals and Reuben's Restaurant serving South African dishes in a brasserie ambiance .
Amenities
In the lady's locker rooms there were amenities such as cotton wool pads, ear buds, dental and shaving kits and shower caps. Inside my locker with a key there were towels, robes, and Toweling Slippers. There was a swim suit dryer near the showers (I couldn't manage to dry my swimsuit in it).
Facilities Vitality Pool, Sauna and Steam Room, Ice Crusher Fountain, Experience Showers, Relaxation and Tea Room, and Spa Gardens.
Pool Spa guests had access to the hotel's 350 square meter heated infinity pool (excluding Festive Season). Within the spa there was an indoor Vitality Pool heated to 33 degrees Celsius.
Lockers And Bathrooms
There were 18 lockers in the ladies section and 10 in the men's.
Other The spa had received: Readers Choice Award For the Best Hotel Spa In Africa 2010 and 2011, Top 10 Best Interior Design Spa Award 2011 (worldwide), Favorite Spa In Africa 2011 at the Spa Finder Award, Best Hotel Spa in Africa and the Middle East 2011 at the Sliver Sage Awards, and Best Hotel Spa In Africa 2011 at the World Spa Awards.
Cleanliness
Excellent
Date Of Review March 2012
Number Of Treatments Six
Reviewers Article by Elena del Valle
Photos by Gary Cox
Would You Return? Yes
Treatments Experienced
We each had three treatments: a pedicure, a massage and a facial. First we had hourlong pedicures at the Pedi:Mani:Cure Studio by Bastien Gonzalez with treatment rooms on the reception level floor. Named for a French podiatrist the Bastien pedicure therapists strived to "eliminate nail problems or signs of skin rigidity that could lead to corns, calluses or other painful skin thickening." My therapist shared tips for foot health and after cleaning and buffing feet and nails throughly massaged my lower legs and feet focusing on muscular flexibility, joint mobility, blood circulation and skin elasticity. We departed the studio with clean looking, soft feet and naturally shiny nails that remained so weeks later.
Following the pedicures we descended down a central staircase to the lower level locker rooms, where we would have the remaining treatments, to change. After leaving our clothes and personal items in a locker we exited the lockers area to find our therapists waiting. Mine introduced herself and escorted me to the treatment room. After disrobing I settled on the comfortable massage table for a 60-minute Essence of Africa Treatment, a new treatment that combined traditional African techniques and a special blend of indigenous oils and ingredients. Developed in conjunction with international spa specialists Espa, whose brand and treatments were exclusive to One&Only Spa, the Essence of Africa Signature Journey relied on traditional African tools such as the wooden rungu stick, and age-old healing ingredients, like baobab tree oil and rooibos (South African red tea) leaves believed to uplift the senses, improve skin elasticity and reduce stress. It was the definitive indigenous signature treatment on the One&Only Spa's menu. The therapist dedicated about half of the time to a scrub and the rest of the time to a back and neck and shoulders massage. The combination worked well. My travel partner had a muscle relaxing sports style full body massage which he liked.
Immediately after the massages and in the same treatment rooms we each had a 60-minute facial. My travel partner had a Purifying Facial, Shoulder and Scalp Massage designed to work at a deep level to cleanse and hydrate the skin and ease muscular tension. A triple cleanse with hot towels was included to sooth and soften the skin and facial hair to aid in clearing the complexion and preventing blocked pores. A relaxing massage of the face, shoulders and scalp was part of the treatment to release tight muscles and tension. I had an Intensive Facial, similar in many ways to the Purifying Facial he had with the added bonus of hydrating and skin nourishing products.
Contact Information
Address:
One&Only Cape Town
Dock Road, V&A Waterfront
Cape Town 8001
South Africa
Phone:
Fax:
Website:
Email: