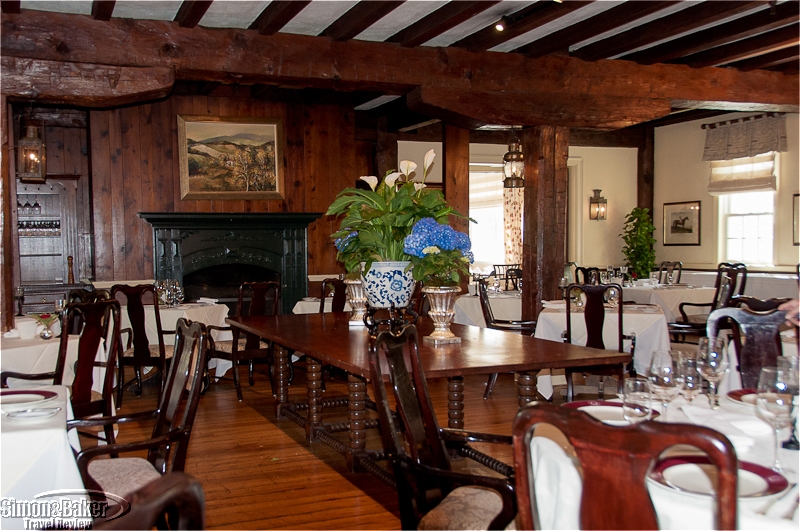 Then there was the meal itself, flawlessly prepared and elegantly presented classic dishes based on local fare with imaginative twists to intrigue the palate. All of which made for an outstanding dining experience.
Overall Impression
The Old Mill Room was the historical heart of the Boar's Head. Built from the timber of an abandoned 1834 gristmill originally located along the banks of the Hardware River, it was moved piece by piece to be integrated in the construction of the inn's main building in the early 1960's in an effort to preserve and repurpose a valued piece of local history. The gristmill was famous for having survived the ravages of the Civil War and gone on to operate a whole six decades after it.
Everything about the Old Mill Room spoke of a bygone era. The ceilings were held by heartwood pine pillars and beams, the broad plank floors still bore the scars from long ago rolling barrels, and old grain bins had contributed the distressed wall paneling that surrounded the dining room fireplace.
Wrought iron ceiling lights and hurricane lamp wall sconces that could in earlier times have accommodated flickering candles cast a soft glow on the generously spaced tables clad in crisp floor length linen. Gleaming silver and stemware complemented the fine china. With their broad burgundy lips and discrete gold trim, the dinner plates were a nod to presidential patterns of old. Thomas Jefferson would have approved. As he would doubtless have also approved of the polished staff who were the embodiment of Southern hospitality, gracious and ever attentive while remaining unobtrusive.
Then there was the meal itself, flawlessly prepared and elegantly presented classic dishes based on local fare with imaginative twists to intrigue the palate. All of which made for an outstanding dining experience.
About The Executive Chef
Bill Justus began his culinary career as an ACFEI (American Culinary Federation Educations Institute) apprentice at the Athletic Club of Columbus, Ohio, before going on to hone his skill throughout the South for over three decades. He assumed ever increasing responsibilities, including 15 years with the Opryland Hotel in Nashville, Tennessee, where he rose to executive sous chef for the 11 restaurants and lounge property. From there, he became executive chef of the Hershey Lodge in Pennsylvania and then The Callaway Garden Resort in Pine Mountain, Georgia, before joining the Boar's Head and its landmark Old Mill Restaurant.
In addition to his commitment to supporting local producers and delivering his guests the freshest possible farm to table experience, Chef Justus was especially proud of the Boar's Head partnership with Morven Kitchen Garden. This long time organic parcel of land gifted to the University was cultivated by students as an educational opportunity to study food production and design sustainable agricultural technologies. The cooperative program complemented the Old Mill Room sourcing from local purveyors with daily deliveries of seasonal vegetable and herbs. Chef Justus delighted in pointing out that typically, produce from the Kitchen Garden found its way to guest plates within a few hours of being harvested. The Old Mill Room menu evolved periodically to spotlight the seasonal bounty of the region. "It's a team effort between the kitchen and the restaurant management," said Justus. "We strive to delight our guests with innovative and stylish dishes while preserving the classic quality of our cuisine and favorite dishes."
Chef Francisco Ayala. Although recently promoted at head of the Banquets team, Chef Ayala still had not entirely relinquished his previous responsibility as chef de cuisine of the Old Mill Room, where he still enjoyed stepping back into his previous persona and working closely with Chef Justus during exceptionally busy times.
Executive Chef Bill Justus
Handicapped Access Yes
Location The Old Mill Room was located in the Boar's Head Inn in Charlottesville, Virginia, 115 miles (185 kilometers) southwest of Washington, D.C. and 70 miles (110 kilometers) northwest of Richmond, Virginia.
Owned The University of Virginia Foundation owned and managed the property.
Pastry Chef Erinn Le Clair, a Johnson and Wales University graduate.
Size At full capacity, the dining room could seat 160 guests. It employed a staff of 57 including 17 kitchen personnel.
Type Of Restaurant Continental gourmet dining with Virginia flair
Year Opened-Renovated The Old Mill Room opened in 1963. It was last fully renovated in 2011 and 2012.
DÉCor-Ambiance When the management of the Boar's Head undertook the property's renovation in 2011, their goal for The Old Mill Room was to create an environment "that was reflective of the rich history of the original building." The outcome was a space that effectively channeled the grace of the old South. The ancient wood structural elements dominated the room. The effect was enhanced by the pale plaster outer walls, pierced by large windows covered with translucent roman shades. A fireplace painted with a dark green glaze was set in the center of the paneled rear wall. An oil painting of a local landscape hung above it. Mahogany fiddle back armchairs, their seats upholstered in buttercup damask, sat around the formally set dining tables. An oversized groaning board table, with a cluster of potted flowering plants sitting in the center, completed the elegant simplicity of the décor.
Cellars Wine And Alcoholic Beverage Selection The wine list featured almost 300 labels, including a comprehensive selection of local Virginia wines as well the major wine growing regions of California and France. There was also a sampling representative of other vineyards around the world and a variety of well priced wines by the glass. A broad range of bar drinks was also available.
Meal
The Old Mill Room was open for breakfast and lunch as well as at dinnertime. Breakfast offerings, in addition to a copious buffet of Southern breakfast selection and freshly baked pastries also featured the assorted cereals, yogurts and sliced seasonal fruits many modern travelers have come to expect. A selection of Southern and international breakfast dishes was also available a la carte. My personal favorite was Wade's Mill Grits and forest mushrooms with poached eggs.
But it was at dinnertime that Chef Justus and his team gave the full measure of their talent. My meal started with an imaginative amuse bouche of chilled watermelon enhanced by a dollop of goat cheese mousse, a delicious palate cleanser. I followed with cocoa ancho crusted scallops. The mild, smoky flavor of the ancho chili peppers coupled with the slight bitterness of the cocoa were a delicious foil for the sweetness of scallops seared to perfection. The dish was served with a garnish of cauliflower puree, and a crisp fresh fennel salad. My dinning companion opted for a creamy sun choke vichyssoise that came with smoked trout and pickled leek and declared it excellent. While there were several tempting meat and poultry options on the menu, both of us opted for fish main courses. I had a blue cornmeal crusted sunburst trout fillet. It was served with lobster succotash, tiny roasted black Peruvian potatoes and a Pernod lobster sauce that added just a hint of anise to this unusual and colorful combination. My friend had pan seared halibut. The fish had a distinctly fresh out of the water taste (yes, I purloined a bite). It was accompanied with steamed clams in a light saffron sauce, sweet roasted onion and a crisp potato galette with pebbles of chorizo to spice it up.
Both of us happened to simultaneously order the raspberry creme brulee. That is a dessert that I order often and I must declare this particular one with its thick crust of perfectly caramelized sugar and smooth caramel custard beneath rated high on the brulee scale. It was garnished with a cluster of fresh raspberries and a lovely Linzer cookie. Throughout the meal we enjoyed a crisp, herbaceous Sancerre La Porte du Cailloux. And just when we thought things couldn't get any better our server recommended a Slider as an after dinner drink. This one was a creamy cloud like rye concoction artfully layered with coffee brandy, and topped chocolate shavings. It tasted like the ultimate indulgence, a second dessert.
Date Of Visit
April 2014
Reviewers Article and photos by Josette King
Service The service was excellent, friendly, attentive and professional.
Would You Dine There Again-Recommend It? Yes
Contact Information
Address:
The Boar's Head
200 Edman Drive
Charlottesville, Virginia 22903
Phone:
Toll Free:
+1 434-296-2181
+1 855-452-2295
Fax:
Website:
Email: