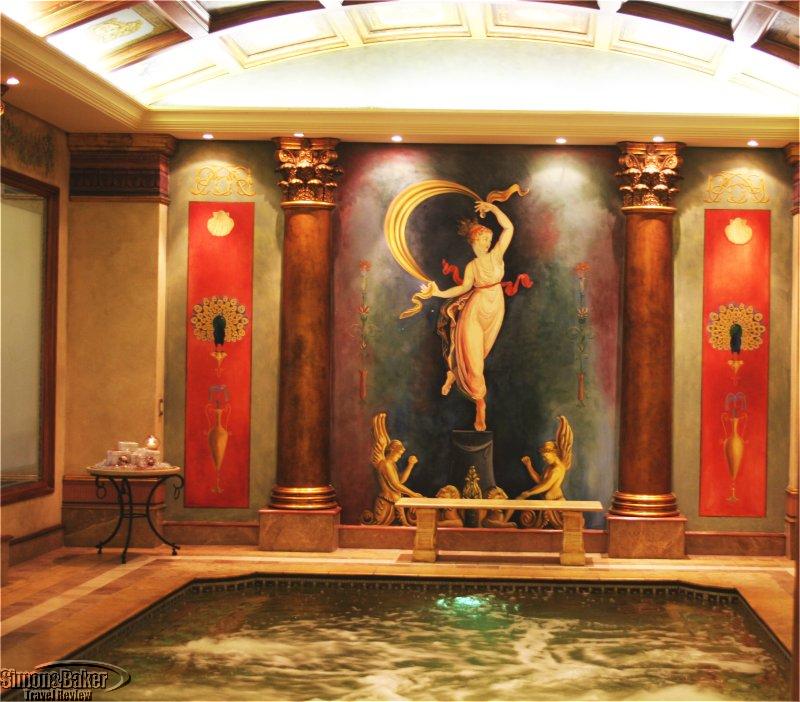 I can't wait to have another long layover in Johannesburg so I can head back to Octavia's.
Overall Impression
When I found out I had an eight hour layover in Johannesburg before boarding my international flight to Europe I booked spa treatments at Octavia's, which is located in a luxury hotel a stone's throw away from the Johannesburg airport. That was a fabulous way to kill time before my long evening flight.
I arrived half an hour before my first appointment. This allowed enough time to enjoy the ladies steam room before my first treatment with Janine. Although I had been to Octavia's several years earlier, I was surprised to discover Deanne Plunkett, the spa manager, remembered me and welcomed me back. Octavia's was the perfect place to spend time in between flights. Octavia's offered all the advantages of a city spa without the need of driving into Johannesburg.
An excellent luxury spa on its own right, Octavia's offered added advantages for travelers during a layover or in Johannesburg for a brief stay; its proximity to the airport made it easy and quick to reach. Its location within a gated and secure luxury hotel and exhibit complex meant even first time travelers to the area could be at ease. The afternoon of my flight there was a horrible back up on the highway. If I had gone into the city I might have been trapped in the traffic and missed my flight. Instead, the shuttle driver went around the back road from the hotel to the airport and dropped us off in front of the international departures area in a few minutes.
Octavia's offered quiet and elegant common areas; spacious and clean facilities; excellent treatments with top quality product lines; qualified, friendly and attentive staff; a complimentary shuttle from the airport; a complimentary toiletry kit; and the possibility of a snack in between treatments. In addition, spa guests were welcome to take advantage of the large work out room and hotel swimming pool. I can't wait to have another long layover in Johannesburg so I can head back to Octavia's.
General Manager
Deanne Plunkett
Handicapped Access Yes. There were paraplegic toilets. There were no steps in the facilities. Treatment beds were electronic and height adjustable to facilitate access for paraplegic guests.
Location Ground Floor D' Oreale Grande Hotel, Emperor's Palace, Kempton Park, Johannesburg, Gauteng. Usually a five minute drive from O.L Tambo International (Johannesburg International Airport)
Number Of Staff Eight therapists
Owned And Managed Mark and Paul Barkett
Size The 800 square meter (about 8,000 square feet) spa offered 10 treatment rooms, four showers each in the ladies and men's room.
Special Training Octavia's staff had a minimum of two years study with South African Association of Health and Skincare Professionals (SAAHSP) and the British Confederation of Skincare Therapists (Cibtac)
Year Opened-Renovated Octavia's opened in 2000
Common Areas The décor was "opulent" Roman design. The mosaic designs were state of the art with 18 carat gold inserts. The Roman Bath is an exact replica of one of the baths in Pompeii. The interior designer was Clair Chapel, who is responsible for many of the five star hotels in Gauteng.
Food I was served a tasty cold cut salad in between my treatments which I enjoyed next to the Roman Bath.
Amenities
Cotton bathrobes, slippers, Bulgari thé vert amenities kit with soap and 1 oz bottles of shampoo, body lotion, shower gel, and conditioner.
Facilities Heated Roman Spa Bath (4mX 6mX 1.5m deep), Swiss Showers, steam, and sauna.
Lockers And Bathrooms
The ladies lockers were spacious including a steam room, Vichy shower, four regular showers, and lockers. My locker had cotton bathrobe, cloth slippers, plastic wrapped hairbrush, Bulgari amenity kit, and bath towel.
Other A courtesy airport shuttle every 20 minutes provided reliable and complimentary transport to and from Johannesburg International Airport. Spa guests had access to the adjacent fitness center and the D'Oreal Grande Hotel swimming pool.
Octavia's received the following media awards: Les Nouvelles Magazine and Professional Health and Beauty Magazine spa awards: Finalist- Professional Spa of the Year, 2006 and Finalist- Les Nouvelles, Spa of the Year 2006.
Cleanliness
Excellent
Date Of Review November 2006
Number Of Treatments Three
Reviewers Article and photographs taken by Elena del Valle
Treatments Experienced Chocolate Mousse Body Wrap (45 minutes), 30-minute Back, Neck and Shoulder Massage and 90-minute La Prarie Cellular Hydrating Treatment.
Would You Return? Yes
Contact Information
Address:
Ground Floor
D'Oreal Grande
Emperor's Palace
64 Jones Road
Kempton Park 1620
PO Box 4023
Dainfern 2055
South Africa
Phone:
Fax:
Website:
Email: