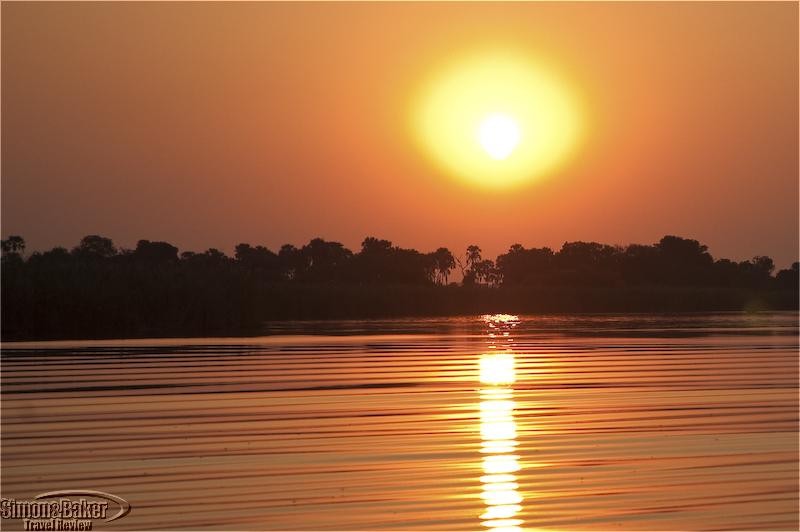 With its superb comfort, elegant décor, exquisite hospitality, and some of the best game-viewing I experienced in the Okavango Delta, Nxabega won a very high place on my short list of favorite safari destinations anywhere. To a question from a seat neighbor on the flight home, I heard myself spontaneously answer "if I could visit only one place in the Delta, I would make it Nxabega."
Overall Impression
This was my first experience in the Okavango Delta. I couldn't have wished for a better introduction to this unique landscape of papyrus-lined channels and water lily-filled lagoons weaving through shady glades and rich savannah grasslands than Nxabega Okavango Tented Camp. Set under a lush canopy of massive ebony trees in a remote 19,800 acre (8,000 hectare) concession, Nxabega ("place of the giraffe" in Basarwa, the language of the river bushmen) was an oasis of elegance and comfort in the heart of the Delta. From the instant the Cessna touched down, it was obvious that a fascinating adventure had begun. Exceptional rains had recently flooded the camp's own airstrip; we had landed on a nearby, higher ground landing strip, my guide informed me in the course of his warm welcome. We would now drive a few miles to Nxabega; and by the way, a leopard guarding his freshly killed impala had been sighted earlier this morning near our route; would I care to make a short detour to look for it?
A few miles' drive on the remote bush trails of southern Africa can easily take a couple of hours. Ours did. After a visit with an obviously satiated leopard who warily peered at us gawking at him through the thicket, we stopped for a bird-watching tailgate picnic lunch. Reedbucks scampered and lechwe practiced melting into the reeds. The camp's namesake, a regal bull giraffe, strutted across our path. Two hours and a few breath-holding channel-crossings over narrow tree-trunk bridges later, elated by this bountiful impromptu game drive, we pulled into the shaded clearing in front of the Nxabega main lodge to the warmest of welcomes from the assembled staff.
The main area, a multi-level platform of burnished teak flooring under a steep thatched roof, was equally welcoming. Within the expansive space, exotic wood paneling delineated several inviting seating areas decorated in stylish, locally crafted furnishing and artworks that gave me an immediate sense of comfort. The lodge opened on two sides onto a large shaded deck with its own seating and dining areas and a sweeping view of the surrounding permanent floodplain and lagoons. I was promptly escorted to my tent. My luggage had preceded me there, giving me ample time to settle in before teatime and the sunset game drive. My tented suite was raised on a high platform, its private open-air deck overlooking the floodplain with its frequent game activity (including a morning wakeup call courtesy of a bull elephant enjoying an early breakfast within inches from my window).
But I soon discovered that superior accommodations and outstanding game viewing were only the beginning. At Nxabega, the magic ingredient was the people! Whether guides and trackers, chefs, butlers, housekeepers or management staff, all exhibited the same high level of training and professionalism and a genuine personal commitment to pampering us. The food was excellent, as was the service. Every activity delivered lovely surprises. A seemingly routine afternoon drive to the nearby mokoro landing (a mokoro is a flat dug-out canoe commonly used to navigate the Okavango waterways) for a sundowners cruise included sightings of a dozing lion and a leopard draped on a horizontal branch high up a tree.
Our return to camp detoured to a clearing where dozens of lanterns were hanging from a giant tree. Under it, tables clad in crisp white linen were formally set with gleaming china and glassware. A full bar sat in a corner. The tantalizing aroma of grilling meat drifted from the opposite side of the clearing, and the entire camp staff was bustling about putting the finishing touches to a sumptuous bush barbecue under the stars. Another night, we were treated to a spirited after-dinner performance of close-harmony choral singing and dancing (I found out later that the Nxabega chorus had recently won the multi-national Sing for Life competition between 44 safari camps from Southern Africa).
With its superb comfort, elegant décor, exquisite hospitality, and some of the best game-viewing I experienced in the Okavango Delta, Nxabega won a very high place on my short list of favorite safari destinations anywhere. To a question from a seat neighbor on the flight home, I heard myself spontaneously answer "if I could visit only one place in the Delta, I would make it Nxabega."
Class Of Accommodation
Luxury tented safari camp
Communications . There was no mobile phone service in the area. Short-wave radio was the lodge's main means of communication. A satellite phone was available for emergencies. There was WiFi Internet access in the management offices where guests with their own laptop were welcome.
General Manager Dimari Du Plooy and Grant Oliver jointly managed the property. They were on leave at the time of my visit. Management duties were most effectively assumed by Assistant Managers Gioffa Tshipi and Joyce Lethogela.
Handicapped Access No
Length Of Stay Three nights
Location In the southern Delta, west of Chief's Island; 30-minute flight by light airplane from Maun, the main gateway into Botswana's safari areas.
Owned-Managed &Beyond, previously known as Conservation Corporation Africa (CC Africa), with headquarters in Johannesburg, South Africa, owned and managed the property. At the time of this writing &Beyond itself is owned by two major shareholders, Capricorn (the Enthoven family, originally from South Africa) and the Getty Family Trust.
Power The camp had diesel-generated power . My tent had electric lighting and sufficient power to charge batteries for cameras, telephones and laptops.
Size The 37 acre (15 hectare) camp consisted of 9 guest tents capable of accommodating up to 21 guests. It employed a staff of 45, including four guides and five trackers.
Year Open-Renovated The camp was purchased by Conservation Corporation Africa in 2000 and fully renovated in 2004. It has been the object of meticulous ongoing maintenance ever since.
Lobby And Common Areas The double door entrance to the main lodge led into the lounge and bar to the left, and dining room to the right. The back wall was of polished mahogany paneling with glass-fronted shelves displaying bush artifacts and a well-stocked built-in bar on the right. A ruggedly elegant style prevailed throughout. The dining room with its large, multi-tiered chandelier could seat up to 18 guests at a long family-style table surrounded by comfortable high-back Parsons-style chairs upholstered in dark brown leather. To the front and far sides of the lodge, several tall French doors opened onto the outdoor dining and seating areas (the doors could be closed in inclement weather). A credenza and floating partition made of framed local etchings on wood separated the dining room from the lounge. The bar and lounge featured several seating arrangements grouped around locally carved coffee tables on leather patchwork rugs. Tuxedo-style sofas and armchairs were a mixture of wooden pieces upholstered in brown and taupe velvet and woven reeds with thick dark beige cotton tweed cushions. Toss pillows were made from local textiles in various shades of tan. Coordinated seating arrangements continued on the side and front decks. The bar area also featured a large modern wood stove.
Bathroom
The bathroom occupied the rear quarter of the tent. It maintained the stylish simplicity and comfort of the suite. The oversized dark wood shower backdrop was centered on the back wall. It held a high rain showerhead and a chrome rack with toiletries. The shower area was sufficiently spacious as to make a water protection enclosure unnecessary. It was flanked on the left by a white porcelain flush toilet partially concealed by a large storage armoire. On the right of the shower, the sink was set in a wooden vanity topped by square framed mirror. Chrome and glassed sconces were set in the sides of the frame. A local hand-hewn table held a generous stack of bath and hand towels and washcloths.
Room My 800 square foot (75 square meter) tent, Number Nine, sat on a five-foot high (1.5 meter) wooden platform that included a front deck overlooking the flood plain. It was a haven of understated elegance and comfort. In addition to the immensely comfortable king size bed with its brown leather upholstered headboard and snow white high-count cotton bedding, furnishings were of dark polished wood with clean contemporary lines. They included two bedside tables with tall wooden bases and parchment drum lampshades, a writing desk holding a large, framed mirror and a pewter desk lamp, a high back desk chair, a tall bureau and a luggage rack. By the front door, a small stand held an ice chest stocked with an assortment of soft drinks, beer and bottled water. The floor was covered with taupe jute carpeting and cowhide patchwork throw rugs.
Food The food was excellent, varied, expertly prepared and beautifully presented. A breakfast buffet was served before the morning game drive. It included cereals, yoghurts, fruit, bread and porridge with fruit juices, tea and coffee. Lunch was served at individual tables, each set with assorted meat dishes and salads, freshly baked breads and a tray of well ripened cheeses. Teatime was around 4 PM, prior to departure for afternoon activities. It was usually a combination of savory snacks such as chicken skewers or salmon turnovers with guacamole or salsa-like condiments, and some form of pound cake served with tea, coffee and juice. The three-course dinner alternated between outdoors barbecue evenings and formally served plated meals. And lest we might go hungry, a midmorning refreshment break included homemade cookies, and sundowner drinks came with a variety of spicy goodies.
Amenities
Room amenities included an icebox filled with bottled water and a variety of soft drinks, beer and wine. There was a folder with an assortment of stationary on the desk. A tall floor fan had been thoughtfully placed against the wall facing the foot of the bed. It was never needed during my stay.
In the bathroom, there was an electronic safe in the armoire as well as mosquito and insect repellent spray, a high-density flashlight, an emergency horn, a golf umbrella and a hair dryer. In addition to the bath towels, two plush white cotton bathrobes were provided. In the shower and sink area there was face soap, laundry soap, pump bottles of body scrub, shampoo, conditioner and body moisturizing cream. Votive candles were arranged around the room. Meals, soft drinks and alcoholic beverages were included, as were the daily game viewing activities and daily laundry service.
Gift Shop A small cottage a few steps from the main lodge carried a limited assortment of chic Nxabega-branded safari wear as well as souvenirs, mainly wood carvings, antique trinkets, baskets and jewelry.
Swimming Pool The 10 foot x 20 foot (3 meter x 6 meter) pool was surrounded by a wide, tree-shaded deck. Ten lounge chairs with thick natural canvas-covered cushions were lined under large umbrellas and overlooked the floodplain. Pool towels were rolled at the foot of each chair, promptly replaced after use throughout the day. An icebox filled with cold drinks sat in the corner of the deck.
Game Viewing
Although the bush was very dense around Nxabega our guide, Maxy Tidimalo, and our eagle-eyed tracker, System, had an uncanny talent for discovering impossibly concealed game, whether a leopard high in a distant thorn acacia, a pair of giant eagle owls huddled in the dense foliage of a tree-top or a frog the size of a lapel pin in a sea of reeds. Their combined talent and eagerness to share information made for an outstanding Delta discovery experience.
Game I saw included: leopard, lion, reedbuck, elephant, giraffe, zebra, tsessebe, kudu, red lechwe, steenbok, chacma baboon, monitor lizard, leopard turtle, painted reed frog. Birds included: red-billed francolin, grey lourie, saddle-billed stork, marabou stork, pink-backed pelican, malachite king fisher, white-browed coucal, giant eagle owl, green-backed heron, brown snake eagle, African darter, grey heron, white egret, wattled crane, spur-winged goose, white-faced whistling duck and fish eagle.
Activities In addition to twice daily game viewing in open land cruisers through the varied landscape of the Delta (a single drive could take us through floodplain, woodland, thicket and savanna) activities included river cruises in an electrically powered "eco boat" or a mokoro and bushwalks through the riverine forest around the camp.
Other Although Nxabega didn't have a dedicated spa facility, there was licensed masseuse on staff who offered a range of treatment options, including Swedish and aromatherapy massages in the guest tents.
Cleanliness
Excellent
Date Of Last Visit October 2009
Reviewers Article and photographs by Josette King
Service Excellent. Every member of the management and staff I met was thoughtful, enthusiastic and eager to please. Attention to details was outstanding. After my butler noticed that I had enjoyed a particular beverage at the bar (a refreshing local sparking hard cider), I found some of it in my tent's icebox in the evening. The tent was serviced twice daily.
Would You Stay There Again? Yes
Contact Information
Address:
&Beyond
Private Bag X 27
Benmore, Johannesburg
2010, South Africa
Phone:
+ 267 686 1979
Emergency 24×7
+ 267 716 92997
Fax:
Website:
http://www.andbeyondafrica.com/luxury_safari/botswana/okavango_delta/and_beyond_nxabega
Email: