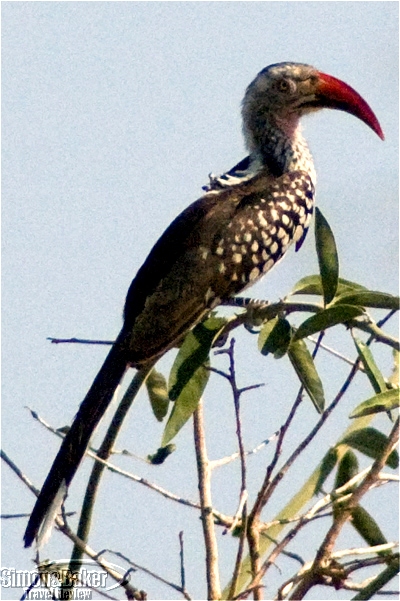 What a lovely place to begin a safari!
Overall Impression
Nkwali was located in the Game Management Area immediately across the river from the South Luangwa National Park, on a prime vantage point of the eastern bank of the Luangwa River. Discretely nestled in a grove of soaring ebony trees, the camp's six guest chalets and bar area offered a spectacular view of the steep far bank of the river and the acacia forest that constituted the boundary of the park. On the back side of the camp, the dining area was built on a low platform overlooking a small lagoon where a variety of game frequently came to drink. Nkwali successfully coupled the casual atmosphere and intimate proximity to wildlife that only a bush camp can offer with the indulgent amenities of the best safari lodges. From a comfortable lounge chair near the bar, I spent a contented afternoon siesta time watching a herd of elephants wading in the shallow waters of the west bank of the river. I then took their cue and went for a refreshing swim in Nkwali's swimming pool before teatime.
For all its superb isolation, Nkwali was only 45 minutes away from Mfuwe Airport, half of it on a paved road that ran through lively village scenes before turning into the bush close to the camp. Access to the park was either by boat directly from the camp, via a colorful hand-cranked pontoon or across the Mfuwe Bridge10 kilometers away. Game activity was as intense in the Game Management Area as in the park itself. The ten minute drive from the camp to the pontoon routinely took thirty minutes or more as we paused to watch the antics of a family of vervet monkeys, or a sudden domestic argument erupt from a cluster of hippos sunning themselves on the edge of the river.
My guide, Joseph Nfune, was a first rate professional. In addition to being thoroughly knowledgeable in animal behavior and natural history, he was quietly attentive to the wishes of "his" guests. After I casually mentioned my special desire to see a leopard, I was treated on my second morning drive to a lengthy close up viewing of a leopard, then two separate lion sightings for good measure! Locating the leopard took cooperative efforts from Joseph and one of his colleagues who engaged in an extensive radio dialog to direct us to the appropriate location. They were assisted by the terrorized screeches of a troop of baboons who had apparently just lost one of their own to the superb feline.
At Nkwali, I immediately felt like a welcomed guest in the home of a long lost friend. The staff were unfailingly friendly, attentive to every detail but never obtrusive. The hospitality was flawless; the understated luxury of the accommodations was enhanced by the superior quality of service. What a lovely place to begin a safari!
Class Of Accommodation
Luxury bush camp
Communications The camp had cellular phone coverage with a GSM 900/1800 compatible international cell phone. The office featured a satellite internet connection, where guests could check e-mail.
Handicapped Access No
Length Of Stay Two nights
Location Nkwali was located a few miles southeast of Mfuwe on Robin Pope's private land on the east bank of the Luangwa River, in the Game Management Area across the river from the South Luangwa National Park.
Manager Kiri Phiri
Owners Robin and Jo Pope and Molecaten Africa
Power The entire lodge was on the electrical power grid and ran on 220 Volts/50 Hz power . A NW-135C adapter was necessary to use most electrical outlets (the kind used in the U.K.). However, the bathroom featured a universal socket that accommodated European and U.S. plugs as well as the British ones. Obviously intended for electric razors, it was also ideal to recharge camera and other small electronics batteries.
Size Nkwali was a three-acre enclave in the heart of the 110 acres of Robin Pope's private land. The six guest chalets, the bar and the dinning area were dotted along 150 yards of the one third of a mile river frontage of the property. The remainder of the property was left in its natural state and offered a densely populated wildlife habitat. The camp could accommodate a maximum of 12 guests. It employed a staff of 54 including a game viewing staff of four guides and trackers.
Transportation Mfuwe could be reached by air from Lusaka and Livingstone. Road transfers to and from the airport were arranged by Robin Pope Safaris, who owned and operated the camp.
Year Open-Renovated Originally opened in 1991, Nkwali was the object of meticulous on-going maintenance and enhancements. Although the region had been the site of devastating floods five months before, the property was pristine throughout by the time I visited.
Common Areas The bar and lounge area offered a sweeping view of the river. They were the hub of all common activities. They were located on a platform of local stone under a soaring thatched roof anchored around the trunk of a massive ebony tree. The structure was furnished with groupings of comfortable mahogany armchairs and sofas upholstered in tan canvas, with pillows of local cotton fabrics in shades of blue and ocher. There was a long table on one side, where breakfast and buffet lunches were served. A large book case held a collection of volumes on the local flora, fauna and history. The dinning room was a separate raised platform of local stone, covered with a thick thatched roof. The evening meals were served on a long, family-style table clothed in crisp white linen.
Bathroom
The bathroom included twin sinks set in a thick mahogany slab topped by twin mirrors. A flush toilet was modestly tucked behind a half wall, and a shelf stacked with lush cotton bath towels. This area was sheltered by a thatched overhang, while the large circular double shower was open to the sky. Pump bottles of shower gel and shampoo were provided in the shower area, while soap, body and insect repellant lotions stood by the sinks.
Room My chalet (Number One) was steps away from the main building. It included a spacious 240 square foot (22 square meters) sleeping and sitting area with a steep thatched roof under the shade of a mature Natal mahogany. The floor was made of local stone with grass throw mats. The room occupied about half of the chalet; the other half was a spectacular open air bathroom. The décor was elegantly simple and comfortable. The walls were of immaculate white plaster that beautifully offset the dark wood furniture, including free-form storage shelves hanging on opposite sides of the room. The twin beds were covered with bright coral and white throws of local fabric, and separated by a small table. A luggage bench stood at the foot of each bed. This sleeping area was surrounded by a walk-in mosquito net. Two director's chairs and a coffee table faced the open front wall of the chalet with its panoramic view of the river. At night, a wrought iron screen kept at bay any visiting wildlife. A small desk and chair completed the décor.
Food The food was outstanding, making chef Lamack Zulu a celebrity at the camp. Lamack was a sixteen-year veteran at Nkwali. Starting as kitchen help, he taught and trained himself, and reached his well deserved current position at the head of a team of the four cooks. His hot lemon soufflé was one of the best I have enjoyed anywhere. All the delicious breads, cakes and quiches were baked daily in his kitchen. Many of the vegetables were grown right at the camp (behind an elephant-proof fence), with the remaining fruit and vegetables supplied by local farmers.
Amenities
Nkwali amenities and services included all meals and beverages, and daily laundry service. The chalets were supplied with toiletries (shower gel, shampoo and body lotion), insect repellant, bottled water, a flashlight, a wall mounted lock box, two bathrobes and
kikois.
The later, three foot by five foot light cotton shawls, could be soaked in water before covering yourself with them, to keep cool during the heat of the day.
Swimming Pool Tucked away in a clearing a short five-minute walk from the bar, this 14 by 45 foot pool went from a depth of four to six feet. It could satisfy even dedicated lap swimmers. It was surrounded by two bamboo and thatch changing huts that held ample supplies of towels. With its six comfortable wooden lounge chairs topped by thick canvas pads, the pool area was a lovely place to while away hot midday hours.
Game Viewing Game viewing vehicles usually included no more than four guests. Tea, coffee, soft drinks and cookies were served during the morning drives. During the afternoon drives we stopped for sundowner drinks, appetizers and a scenic view of the sunset. During my stay at Nkwali, I sighted: elephant, hippo, lion, leopard, genet, banded mongoose, bushy-tailed mongoose, civet, Thornicroft's giraffe, Crawshay's zebra, warthog, spotted hyena, vervet monkey, yellow baboon, impala, bushbuck, puku, great kudu, waterbuck, Nile crocodile. Birds included: hammerkop, lilac-breasted roller, double banded sand grouse, red-billed hornbill, sacred ibis, African fish eagle, African jacana, spurwinged goose, crested crane, white-fronted bee-eater, little bee eater, yellow-billed stork, white-fronted plover, yellow-billed oxpecker.
Activities Nkwali offered morning and sunset drives in open-top all-wheel drive vehicles, using powerful flashlights after dusk to view nocturnal animals. Morning walks could also be arranged. With constant game activity on the river, the after-lunch siesta time was also a great opportunity for a lounge-chair safari.
Other
Because of the proximity to wild game, children had to be at least eight to visit.
Recent Awards And Recognitions Jo Pope was the recipient off the prestigious 2005 U.K. Responsible Tourism Award, best personal contribution category. This award recognizes significant personal contribution to responsible tourism.
In addition to their unwavering, long time support of sound environmental practices, Jo and Robin Pope observed many of the tenets of sustainable development in their organization. Staff were trained and promoted internally: in addition to Chef Lamack Zulu, another notable success was camp manager Kiri Phiri, who worked his way to his current position through 14 years with Robin Pope Safaris. Jo and Robin were also engaged in a carbon sequestration and a long term reforestation program, Reforest Nsefu. As part of the program, the project leaders worked with schools and villages to reforest a local area with trees for domestic use (fire wood, building materials, fruit trees), while protecting old growth forest and offsetting carbon emissions from the Robin Pope Safaris activities.
Jo Pope was also the leading force behind the development and success of the Kawaza School Fund which supported the refurbishing and expansion of four local schools. Additionally, it sponsored 50 children on to secondary school and subsidized teachers' salaries to allow for a lower student/teacher ratio.
Cleanliness
Excellent
Date Of Last Visit June 2007
ReviewersArticle and photographs by Josette King
Service Excellent! Every member of the staff was consistently friendly, thoughtful and available to fulfill, or occasionally anticipate, all my needs and wishes. This was reflected in their attention to the smallest details, such as welcoming the return of the game drive vehicle on a cold evening with hot towels instead of the traditional iced ones (I visited in late June, the coldest month of the year, when nights do get chilly).
Would You Stay There Again? Yes
Contact Information
Address:
Robin Pope Safaris
Nkwali Camp
PO Box 80
Mfuwe, Zambia
Phone:
+260 21 624 6090
+260 21 624 6091
+260 21 624 6092
Fax:
Website:
Email: