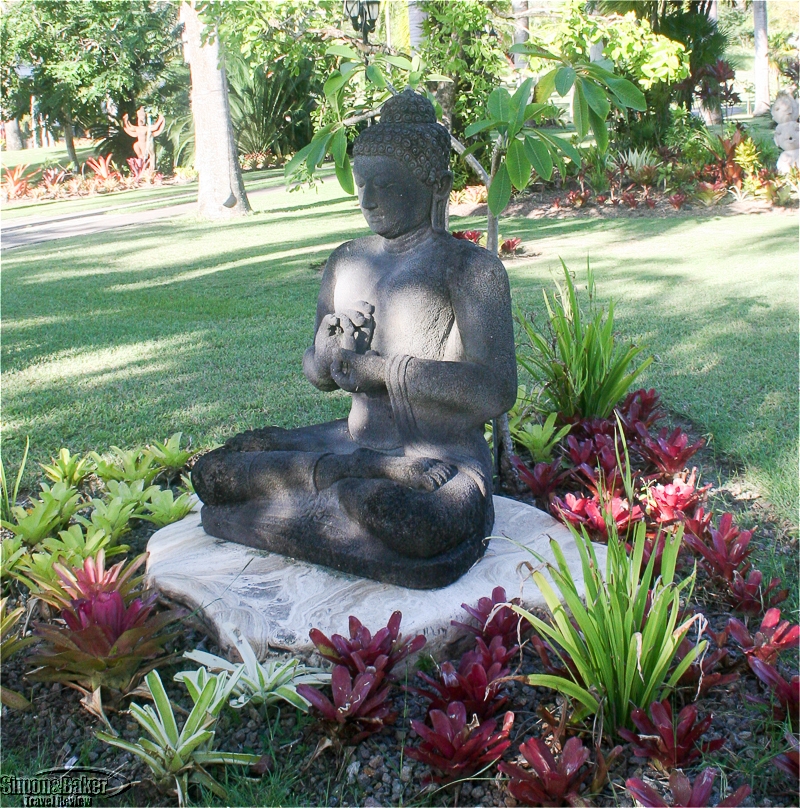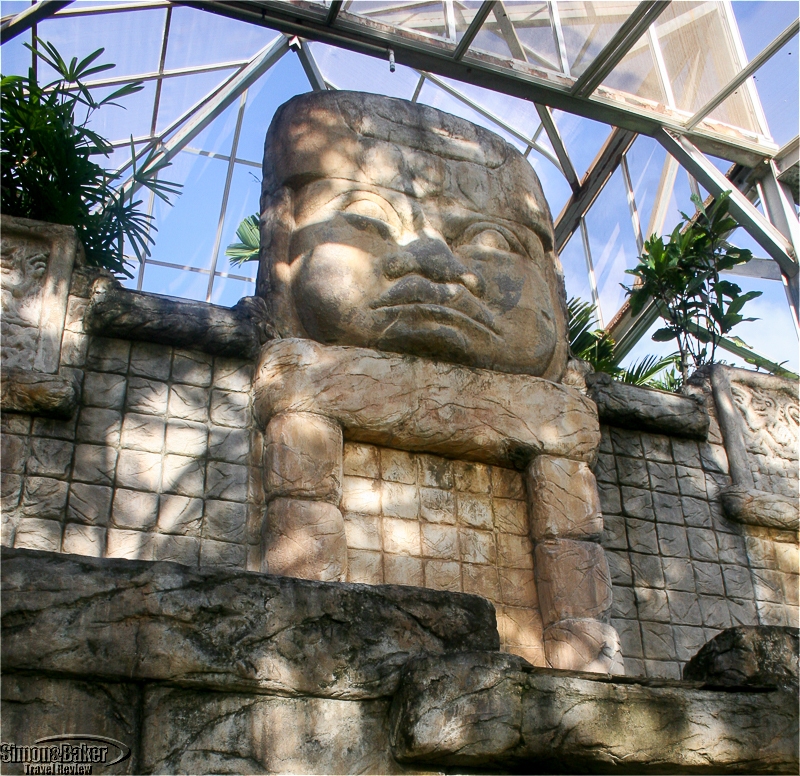 If I happen to return to Nevis I look forward to another visit to the gardens.
Overall Impression
A last minute addition to my itinerary in Nevis turned into an unexpected delight at the lush and lovingly maintained The Botanical Gardens of Nevis. The 6.1 acre property in a residential area of the small Caribbean island housed plant nurseries, fruit orchards, Orchid Terraces, a Rainforest Conservatory modeled after the Palm House of the Royal Botanic Gardens, Kew as well as Cactus, Palm, and Bamboo gardens. The private estate was open to the public for daytime visits and special events.
From the second floor of the West Indian Great House replica building in the heart of the Gardens there was a splendid view. Toward one side, I saw the green landscape of Nevis dotted with the white tips of island houses and beyond it the sea. When I turned, I had a pretty view of Mount Nevis with a crown of clouds in the background, behind the Conservatory.
There were birds, bees and butterfly residents, my friendly tour guide explained when I stopped to admire a bird resting on an unfamiliar tree. There were three parrots in residence as well as house dogs Tango, ChaCha, and Snoopy. They helped protect the plants and fruit trees from the overabundant island monkeys.
Water fountains, manmade "rivers and lagoons" and Asian sculptures peppered whimsically throughout the gardens added an artistic and exotic touch to the experience. At the end, I was surprised to discover a well stocked gift shop, filled with local and international souvenirs, especially Asian products and crafts. If I happen to return to Nevis I look forward to another visit to the gardens.
Average Duration Of Visit
One to two hours
Description The property was home to six acres of foliage including tropical plants from Australia, South Africa, Malaysia, Thailand, Central and South America, and the United States, including Hawaii. Staff at the attraction believed it was home to one of the Caribbean's largest collections of palms and orchids. It had 70 species of orchid, 100 varieties of palms, bamboo, cactus and vine gardens, fruit orchards and a Kew style rainforest conservatory. There was a large pre Columbian Olmec head replica forming a waterfall alongside Olmec and Mayan motif designs.
There were water features and also a collection of Asian sculptures scattered throughout the gardens. There were herbs, shaving bush trees, calabash, sausage tree, shower trees, ficus trees, bamboo trees, ginger, bromeliads, topiaries, calico vine flowers, papyrus reeds in the Lily Pool, cacti, aloe, succulents, arid shrubs, jasmine, and gardenia. Fruit plants included golden apple, West Indian cherries, guava, and mango. Among the palms there were Bismark, West Indian royal, and red stem lipstick varieties.
Established It opened to the public in 1998. In 2007, the Douglas Family purchased and improved the property.
Handicapped Access Most areas of the Gardens were accessible to wheelchairs, according to a staff person.
Location The gardens were two miles from Charlestown.
Number Of Employees 15
Owned And Managed Douglas Enterprises Inc., a private enterprise subsidized by the property owners.
Size The 6.1 acre property housed one two story West Indian Great House replica building centrally located within the gardens and open to the public .
Were Children Welcome? Yes
Restaurant The Oasis Thai Restaurant, a 75 seat eatery serving Thai cuisine and Western dishes as well, was on the second floor of the West Indian Great House replica building. The cook was from Thailand. The staff grew some vegetables, most of their own herbs and spices, and ingredients used in Thai cuisine such as chilies and basil.
Souvenir Shop The Galleria Gift Shop sold prints and artworks by local artists, clothing, jewelry, handicrafts, souvenirs and decorative items sourced locally and internationally.
Tours Yes
Other The property restaurant recycled used bottles. In addition to mulching cut branches and trees the gardens had a waste composting system. In January 2012, the property was named Most Popular Attraction by the Nevis Island Administration, Ministry of Tourism.
Month And Date Of Visit
November 2014
Reviewers Article and Photos by Elena del Valle
Would You Visit This Attraction Again Yes
Contact Information
Address:
Box 309
Montpelier Estates
Nevis, West Indies
Phone:
Fax:
Website:
Email: