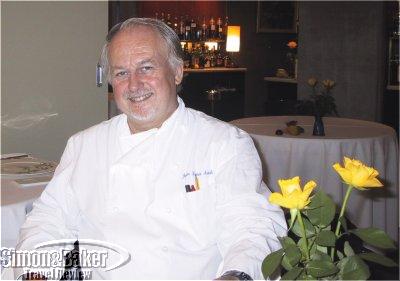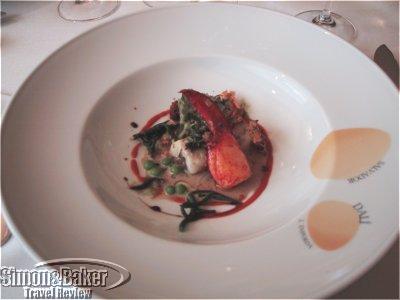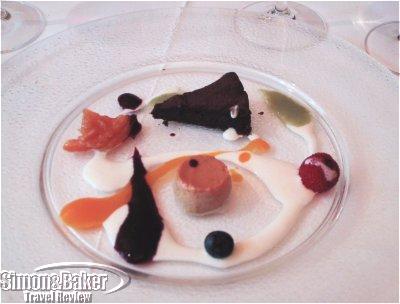 If we lived in Barcelona we would be regulars.
Overall Impression
Neichel was filled with soft sunlight in the early afternoon when we arrived following a 30-minute drive from our waterfront hotel. The décor was contemporary with woods and Spanish style touches. There were bottles and condiment containers crowding the serving stations, reminding us that this was a working restaurant with a strong emphasis on the pleasures of the palate.
For some reason I had expected a boisterous ambiance, filled with laughter and loud conversation. This was not the case. Inside we forgot our cares and relaxed while perusing the menu in the company of aperitifs and tasty bite size morsels. At first we felt like a drop of water in a still pond. Slowly we heard the buzz of conversation hovering, like invisible insects, near each dining table; even large groups kept conversations private. Time seemed still inside Neichel. Serving staff smiled softly and answered questions readily, although they were quite busy.
Neichel was run formally, with an experienced and knowledgeable hand. An air of reverence for fine food was in the air. It had the intimacy and warmth of a family business. One of the charming things about Neichel was the willingness staff showed to take care of whatever was necessary regardless of their dining room rank. If artfully prepared exquisite dishes were the centerpiece of the restaurant, it was the chef and his staff that brought it to life and made our visit feel special.
Chef Neichel, a Frenchman by birth and a Spaniard by adoption, is one of those rare people who has found his calling and radiates joy for his work. A leader in his field he could be haughty; instead he was unassuming and welcoming. He seemed more like a favorite uncle – who happened to be a culinary whiz.
Neichel offered delicious gourmet dining in a cozy ambiance with considerate and attentive service. If we lived in Barcelona we would be regulars.
About The Executive Chef
Jean Louis Neichel was born in 1948 in Strasbourg, the capital of Alsace in France. His experience prior to establishing his namesake restaurant was vast including jobs at a number of well known gourmet restaurants.
He worked at the hotel restaurant Ville de Nancy in Ribeauvillé and the bistro Rocher du Sapin in Strasbourg; at the Michelin three-star rated restaurants of Alain Chapel in Mionnay, George Blanc in Vonnas, and Michel Lorain in Joigny in France. He headed the kitchen and managed the restaurant at the famous El Bullí restaurant in the outskirts of Barcelona. In 1981 he hung the Neichel shingle with the help of his wife and three years later received two Michelin stars.
In addition to his culinary talents, Chef Neichel loves to paint. Some of his artwork appears on plates and dishes. A reproduction of one of his watercolors, an olive tree branch, graced the 2005 menu. He and his wife Evelyn Fuertes have four children.
About The Sommelier Xavier Petrirena attended the school of hotel management and catering of Barcelona and graduated from the perfection course for sommeliers, C.R.D.O. in Navarra, Spain. He is a member of the jury for wine tasting of the magazine Category and a member of the Catalan Association of Sommeliers.
Chef De Cuisine Carlos Fernandez
Executive Chef Jean Luis Neichel
Handicapped Access Except for a few stairs near the restaurant entrance, the restaurant seemed to allow for easy mobility. The entrance hallway was wide.
Head Sommelier Xavier Petrirena was the head wine steward assisted by second sommelier José Antonio Antón
Location In Pedralbes, a residential area of Barcelona
Managed Evelyn Neichel
Opened-Renovated Established in 1981
Owned Jean Luis and Evelyn Neichel
Pastry Chef Mario Neichel
Size Neichel was able to accommodate 60, 45 guests in the dining room with additional seating in an adjacent private area. There were ten kitchen staff and eight at the front of the house.
Type Of Restaurant Gourmet Mediterranean with a strong vanguard influence
DÉCor-Ambiance The principal dining area looked onto a garden and was flooded with natural light at midday. There was an adjacent bar, ideal for an aperitif or after dinner coffee. The décor was elegant and comfortable with artistic touches and a modern flair. The interior design was the work of Espinet y Ubach from Barcelona; the furniture was by Miquel Espinet. María Girona painted the flowers on the ceiling. There were also paintings by Vilagrasa, Art Nouveau works and a 1960 Petrus Magnum. Other standouts included Riedel Austrian glassware, personalized Villeroy Bosch dinnerware and Cruz de Malta and Ribeiro cutlery.
Cellars Wine And Alcoholic Beverage Selection
The wine cellar, supervised by Petrirena, considered by some to be one of the most demanding and vanguard sommeliers in Spain, was notable. There were about 450 references in stock, including 350 Spanish and 50 French wines. There were also wines from California, Chile and Italy.
The following stood out: Gran Crus d'Alsace: Leon Beyer, Selection Grano Noble; Romanée Conti Reserve 88; La Tache 85; Collection L'Ermita. D.O.Priorato. Years 93, 95, 96; Chateaux d'Yquen 83; Chateaux Petrus 66; Pingus 95; Prior Terrae; Artadi, and Vega Sicilia.
There was a collection of Armagnac brandies (distilled in the Gers region of France), some of which dated from 1888. The list of spirits, brandies, coffees and infusions was noteworthy, as well as a collection of cigars.
Special Menus Prestige Tasting (75 euros) and Flavors and Aromas menus (59 euros) were available.
Meal
Our Tasting Menu began with Raventos i Blanc Brut Nature (our choice) and
tapitas
(small tapas):
Crema de tapinambour y cep, Tejas de garbanzos, Chips de yuca, Caracoles de puntas,
and
Crujiente de apio y flor de calabacín
(a tempura style favorite). Next, we had
Terrina de foie ampurdanés, chutney de kumkat, carpaccio de pato,
and
ahumado en casgavante
;
ensalada de gambas de Rosas, tartar de bogavante, vinagreta de albahaca y naranja
and
arroz negro Catalán con calamares.
Setas de otoño con espardenyes (cohombros) de Palamós en brocheta, Merluza de Palangre con salsa de trufas, cuscus mediterráneo,
and
Cordero "churra" de Castilla-León cocido lentamente y lacado a la miel en el horno, higos caramelizados
.
Spanish and French cheeses served with tomato compote and nuts concluded the salty protion of the meal ( Degustación de quesos españoles y franceses con compota de tomate, nueces y membrillo ). Dessert was followed by coffee and and an herbal infusión which was made with real dried herbs; and petits fours including erizos de chocolate y granos de café, aceitunas confitadas al romero, tejas de especias, de almendras, panellets, trufas de cacao amargo, chocolatinas y otras gourmandises Neichel.
Other
For twenty-two years Neichel has held on to the coveted two Michelin stars. The restaurant also rated highly in many gourmet guidebooks such as the Gaultmillau European guide, the Gourmand guide of Catalonia, and the Gourmetour guide of Spain. Since 1990 it has been the only Relais Gourmand (of the Relais & Chateaux) in Barcelona.
Neichel offered valet parking and small dogs were welcome.
Date Of Review
October 2005
Reviewers Article by Elena del Valle
Photos by Gary Cox
Service There was an unhurried pace at the restaurant. Servers kept an eye on our table and allowed us space to chat and savor our dishes. We lacked for nothing.
Would You Dine There Again-Recommend It? Yes
Contact Information
Address:
Beltrán i Rózpida,
(antes Avda. Pedralbes)
08034 Barcelona, Spain
Phone:
Fax:
Website:
Email: