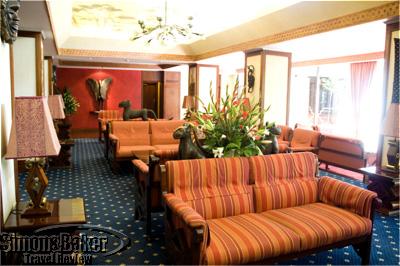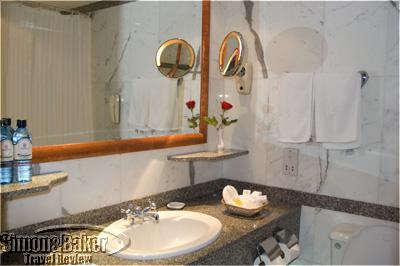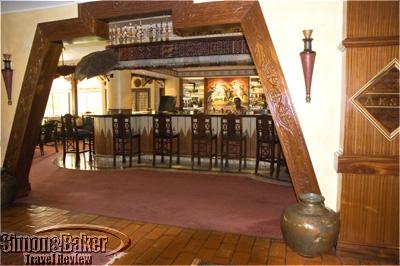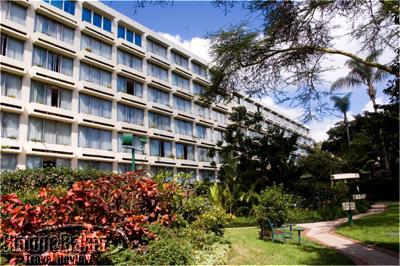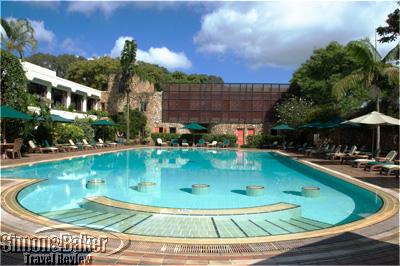 The Nairobi Serena definitely made my list of hotels to revisit and recommend whenever traveling to Kenya and East Africa.
Overall Impression
Nairobi was the last stop on my recent Kenya itinerary. After two weeks in the glorious isolation of remote bush camps, I wanted to ease back into the modern world before boarding the long flight home. The Nairobi Serena Hotel proved to be the ideal retreat for my transition. Located at the edge of the city's Central Park and surrounded by its own lush tropical gardens, the Nairobi Serena offered an oasis of serenity in the heart of Africa's fourth largest, and one of its most vibrant, cities.
Within the gated world of the Serena, the atmosphere had the sophisticated elegance and attentive hospitality of luxury hotels worldwide, coupled with a unique décor that blended Moroccan and Swahili influences with tribal antiques and contemporary African art. While the property was unmistakably urban, and its several lounges and restaurants seemed to be favorite meeting spots for the local political elite as well as the cosmopolitan business community, it seemed equally welcoming to tourists. I had felt a brief pang of self-consciousness, walking into the smart lobby in hiking boots still dull with the dust of the Masai Mara game reserve I had left only a few hours before; until the bellman who took charge of my well-travelled duffle bag casually inquired how I had enjoyed my safari. The polished Nairobi Serena staff were no strangers to rumpled safari travelers.
My room was a quiet, air-conditioned haven overlooking gardens filled with palm, bougainvillea and jacaranda trees and the glittering towers of the downtown Nairobi skyline beyond. The public spaces were equally inviting. A crystalline swimming pool the size of a small lake was surrounded with tiled terraces filled with umbrella-shaded lounging and seating areas. Servers were standing by to deliver a cool drink or a light meal at a moment's notice. The restaurants featured a variety of cuisine options, with prompt seating and friendly service. The boutique was exceptionally well stocked with gifts and casual clothing at prices comparable to that of downtown stores. There never seemed to be a compelling reason to venture out the serene world of the Serena, until it was time for me to reluctantly head for the airport. The Nairobi Serena definitely made my list of hotels to revisit and recommend whenever traveling to Kenya and East Africa.
Class Of Accommodation
Five star luxury hotel
Concierge The concierge desk was staffed around the clock with several well informed and helpful attendants.
Connectivity In-room and common area WiFi Internet access was available for a daily fee 1,000 Kenyan shillings (13 U.S. dollars).
General Manager Mark Gathuri
Handicapped Access Most public areas allowed for handicapped access. All guest rooms were accessible via elevator. Some rooms were specially designed to be wheelchair friendly.
Length Of Stay Two nights
Location A five-minute walk from the city center and Central Park in Nairobi, Kenya. Jomo Kenyata International Airport was 12 miles (20 kilometers) away, a 30 to 60-minute drive depending on the time of day.
Owned-Managed Tourism Promotion Services (TPS Serena); The Aga Khan Fund for Economic Development (AKFED) was the majority shareholder.
Restaurants In addition to The Mandhari, the less formal Café Maghreb provided excellent all-day dining including daytime à-la-carte service and sumptuous breakfast and evening buffets. Light snacks were available at the Pool Bar and afternoon tea in Bambara, a lounge open exclusively to hotel residents. The Aksum bar served cocktails and beverages only. The hotel offered 24-hour room service with an extensive menu and prompt service.
Size The six-story structure featured 183 rooms and seven suites.
Year Open-Renovate The hotel opened in 1976. It was entirely renovated in 2006
Lobby And Common Areas The lobby was lined on one side with concierge, reception and cashier kiosks. The bell stand shared the opposite wall with a number of wall niches showcasing ethnic sculptures. The floor was polished, copper-colored ceramic tile, dotted with room-sized burgundy oriental rugs. Side tables held oversized arrangement of bright tropical flowers. The far end of the lobby opened onto a large multi-function hall. The deep red interior wall housed elevators and a series of glass armoires displaying a profusion of antique tribal jewelry. In the center of the hall, along a glass wall overlooking the rear gardens, a spacious lounge with dark blue carpet flooring was furnished with multiple groupings of wooden sofas and armchairs upholstered in shades of tangerine and cinnabar, arranged around long coffee tables. It appeared to be a popular meeting point for hotel guests and their visitors. At one end of the hall, the main hotel bar, Askum, opened onto the gardens. Named for the ancient Ethiopian town, it was decorated with brilliant Ethiopian wall hangings and ethnic crafts. The other end of the hall led to an ornate marble-tiled foyer reminiscent of north-African rugs and the entrance to the Café Maghreb (Swahili for "west of the setting sun"). This relaxed and informal Moroccan-style all-day café featured booths upholstered in a jewel-tone fabric, brightly polished brass trays and the intricate fretwork of a north-African casbah. It was possible to enjoy al fresco dining, with views of the pool, at the cafe terrace.
Bathroom
The 55 square foot (5 square meter) bathroom floor and walls were tiled in white marble. Fixtures included an in-tub shower and a white porcelain sink set in a dark granite vanity and a commode. In addition to a large wall mirror above the vanity, the bathroom featured a wall-hung hair dryer and lighted magnifying mirror.
Room My 215 square foot (20 square meter) standard room, Number 310, was decorated in a pan-African style in shades of taupe and bright blue, with mahogany furniture and woodwork. There was a queen-size bed with ornate wooden headboard, two bedside tables topped with brass, and wall-hung reading lamps. There were also two barrel chairs upholstered in striated dark blue velvet. They sat in front of the picture window on either side of a square end table. Windows had sheer white curtains, with bright blue and taupe draw-drapes framed by a taupe valance and side panels. A three-drawer bureau served as a base for the television set. A writing desk with a high-back chair held a desk lamp. A tall mirror and prints of African birds in gilded frames hung on the pale taupe walls. The crisp, bright white high-count cotton sheets and duvet cover were accented by a blue bed scarf and toss pillows. In addition to the usual hanging closet, the room featured a built-in mini-bar under a marble countertop, topped by shelving that held a coffee service and a variety of glasses.
Amenities
Bedroom amenities included an electronic safe, coffee maker with an assortment of teas and coffees, bottled water, a vase with fresh roses, satellite television with several major international channels and daily local newspaper. Bathroom amenities included toiletries by Taylor of London: bath and shower gel, hand and body cream, shampoo and facial soap; shower cap, loofah, sewing kit, shoe mitt, oversized bath towels and a bud vase with a fresh rose.
Facilities There was an outdoor swimming pool, a spa, hair salon and fitness center, a boutique/gift shop and a sundries store, a full service business center and a conference facility.
Gift Shop Hazina (Swahili for treasure) was an appropriate name for the gift boutique. It offered a wealth of high quality local handicrafts, traditional gifts, carvings, ethnic jewelry and casual fashion at fair prices.
Pool The larger than Olympic-size outdoor heated swimming pool was the main focal point of the gardens. It was surrounded by the palm-shaded Pool Bar, the terrace of Café Maghreb and an expansive lounging area with two rows of rattan chaises with bright green cushions, shaded by market umbrellas. Towels were available from a kiosk at the far corner of the pool.
Spa The Maisha Spa featured a range of skin therapy and massage treatments, separate women and men steam rooms, saunas and Jacuzzis, a gym and aerobics/yoga studio, juice bar and relaxation area.
Conference Facilities The hotel offered conference facilities as well as a business centre. The conference center with its private entrance lobby could accommodate up to 250 people in its main conference room and three seminar rooms. Opened in 2006, the facility featured studio-quality audio-visual equipment and WiFi Internet connectivity.
Cleanliness
Excellent
Date Of Review November 2008
Reviewers Article and photographs by Josette King
Service Front desk staff were efficient and business-like. Restaurant staff were attentive, warm and friendly. My room was serviced twice a day
Would You Stay There Again? Yes