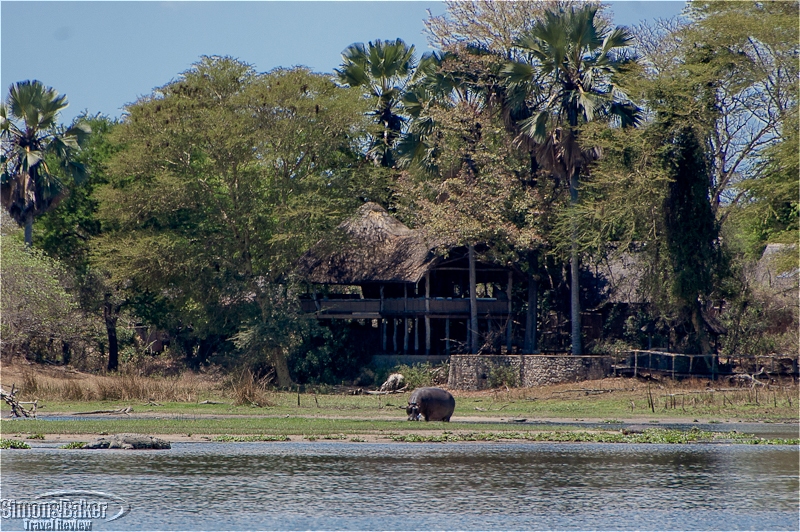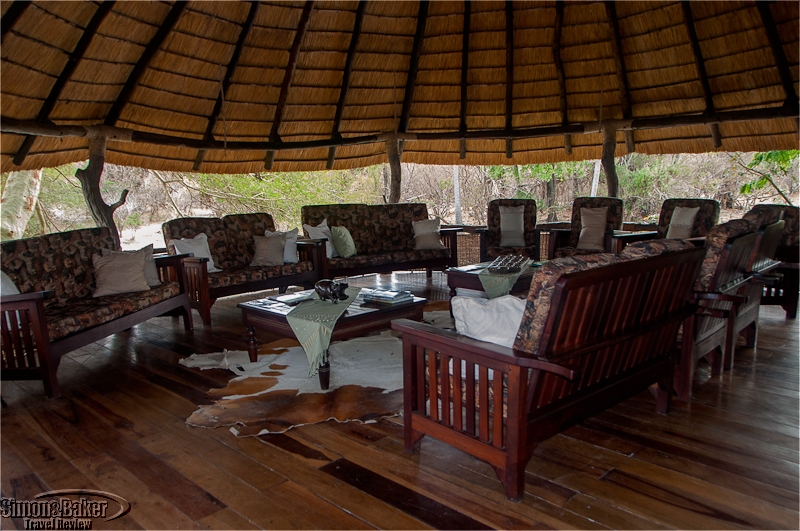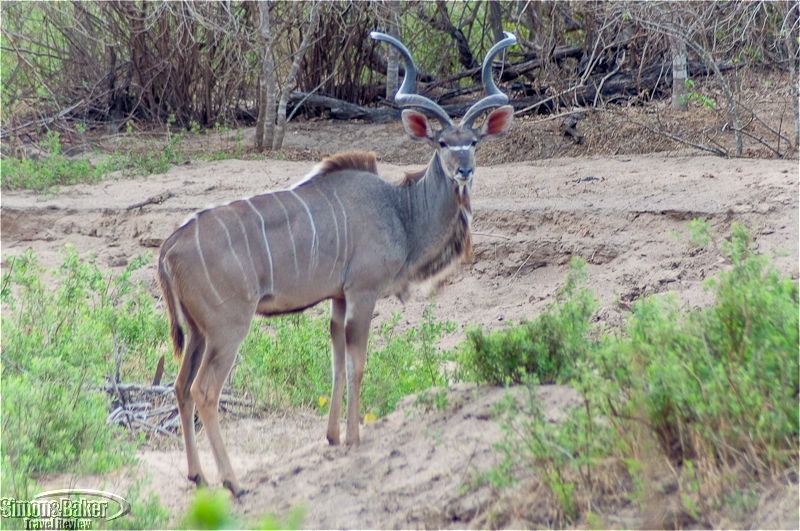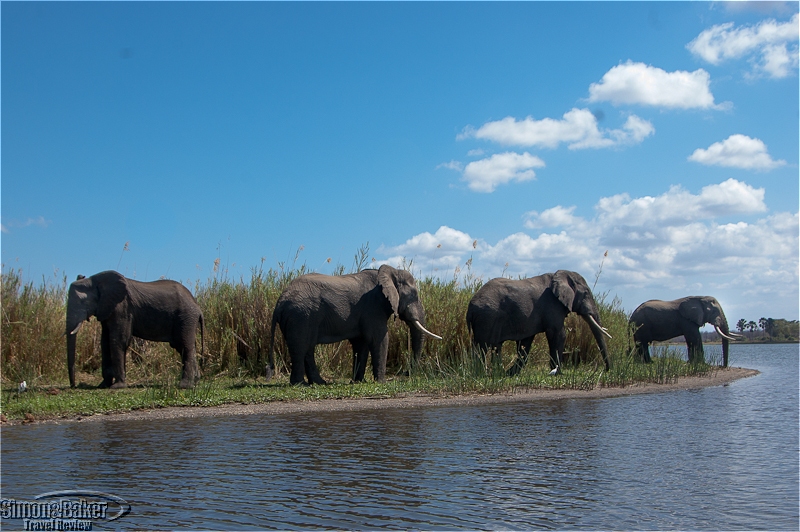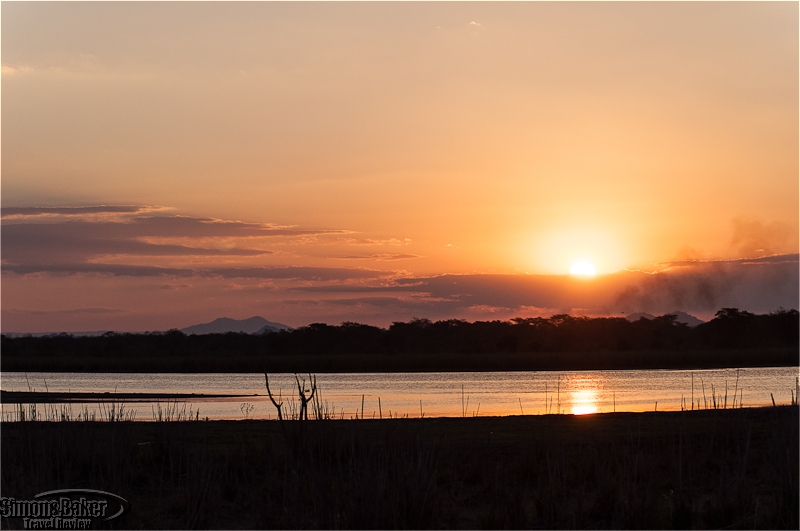 With its privileged water's edge location and abundant wildlife in one of the most scenic areas of Liwonde National Park, its relaxed comfort and warm hospitality, Mvuu Lodge provided me an ideal introduction to the little known wilderness of Malawi.
Overall Impression
Stretched along the banks of the upper Shire River in southern Malawi, the 580 square kilometer (220 square mile) Liwonde National Park was known for its large population of hippos (mvuu in the local Tonga language). Located at the edge of a lagoon across the river from the park entrance, Mvuu Lodge could be reached only by boat. It immediately lived up to its name as we made our way across under the wary gaze of clustered periscope eyes from several hippo pods scattered around the water. Hippos were ubiquitous around the property as well, from large wooden sculptures in the lounge and guest tents to small beaded table ornaments.
Yet, when I reminisce on my visit to Mvuu Lodge, what I remember most are elephants. Not only could they occasionally be heard at night strolling by my tent, sometimes stopping to snack on the scenery on their way to the water, but they were an awe inspiring sight all along the river. It is always exciting for me to sight elephants anywhere in the bush, but to be able to observe, at close range from a small motorboat, the behavior of a whole bachelor herd of big tuskers for an entire morning was a unique experience. They were drinking and splashing themselves with powerful trunkfuls of water and feeding on the high savanna grass along the shore when we first sighted them.
Then a fascinating performance began as they spent the next half hour seemingly testing the water while considering the advisability to march in for a full bath. They all waded in over time, and then started horsing around like teenagers at the beach, splashing and pushing each other below the water before rearing back up. This playful band of bulls put on such a show that that we barely noticed a couple of small breeding herds making their way across the river in orderly lines a short distance away. In addition to elephants, the banks of the Shire River were teeming with a variety of antelopes, and such an abundance of raptors and waterfowl that it would in itself have made for a satisfying viewing morning. Meanwhile, at the rear of the boat, a member of the staff was cooking a bountiful brunch for us.
It was a rustic wilderness property with a casual atmosphere and many creature comforts. The open sided, thatched main area was tucked away in a grove of yellow acacias. Raised high into the trees, it provided an ideal, hide like retreat to observe the constant activity of the lagoon with its resident family of warthogs and large colony of oversized crocodiles that hung out at the edge of the water like malevolent logs. Located off the long raised walkway leading from the main area to the boat dock and swimming pool, even the public lavatory had a view. At the rear of the public areas, neat sandy paths led to the tented guestrooms. Mine, a spacious tent under thatch was nestled in the lush riverine vegetation a five minute walk from the main area, every step along the way a birding opportunity.
The people of Mvuu Lodge were warm and welcoming. With her infectious smile and unfailing attentiveness, camp manager Sarah Glyde set the tone for the entire staff. Everyone was friendly and eager to please, treating even the most casual query as a wish that needed to be acted upon forthwith.
With its privileged water's edge location and abundant wildlife in one of the most scenic areas of Liwonde National Park, its relaxed comfort and warm hospitality, Mvuu Lodge provided me an ideal introduction to the little known wilderness of Malawi.
Camp Manager
Sarah Glyde
Children The property welcomed children starting at the age of 12.
Class Of Accommodation Luxury tented bush camp
Connectivity Phone service for my GSM 3G/4G cellular international phone was not available around the property and only intermittently in random areas around the park. There was no WiFi connection at the property.
Handicapped Access Motion impaired guests could be accommodated by previous arrangement on a case by case basis.
Length Of Stay Three nights
Location The tented property was within the Liwonde National Park, a 120 kilometer (70 mile), two hour drive north from Blantyre, the second largest city in Malawi.
Owned-Managed Mvuu Lodge was owned and managed by Wilderness Safaris, a subsidiary of Wilderness Holdings. Keith Vincent was chief executive officer of Wilderness Holdings.
Size The property consisted of eight guest tents that could accommodate a maximum of 16 guests. It employed a dedicated staff of 17, including three guides and rangers. The property shared additional maintenance and support personnel with the adjoining Mvuu Camp. There were two game viewing vehicles and two motorboats.
Year Open-Renovated The property opened in 1998. A full upgrade began in 2003, with the latest unit added in 2008. According to property representatives, it has been maintained meticulously since that year.
Lobby And Common Areas Raised one full flight of stairs on a wide oval deck under thatch, the main area was open on three sides to the lagoon and a verdant grove of mature trees for a relaxing treehouse feel. The floor was made of gleaming wide plank hardwood. To the right of the stairs, the dining area had two rows of rectangular wooden tables covered with white tablecloths and pastel green and blue batik overlays. They were surrounded by sturdy ladderback chairs with green canvas seat cushions. The lounge occupied the remainder of the space. A tall library bookcase filled with a good collection of books on wilderness related topics stood next to the bar at the rear of the room. The bar was a long hardwood slab top on a woven reed base. Several wooden loveseats and armchairs with thick brown and tan cushions and ecru toss pillows were arranged in a semicircle around the room. Two square coffee tables sat on tan and white cowhide rugs in the center of the room. A modern telescope on a tripod faced the lagoon. A collection of local baskets hung on the wall behind the bar and a number of hippo themed wooden sculptures and knick knacks were scattered around the room.
Bathroom
The bathroom included a large shower area with a rainfall showerhead and a separate lavatory. A freestanding island held a double sink vanity. A large mirror and an overhead light hung above it from the ceiling. The partition separating the bathroom from the sleeping area held a rack with a supply of anthracite grey bath and hand towels and face cloths.
Tent My 515 square foot (48 square meter) tent, Number Six, was raised several feet above the bush on a large platform with a wide wraparound deck. Both tent and deck sat under a thick thatched roof. It was comfortably casual with basic necessities without being especially fancy. The tent's front and deck side wall were made of fine mesh that allowed the air and light to flow through while keeping insects at bay. At night, natural heavy cotton drapes were drawn across the mesh. There were also rolled up flaps on the exterior side of the tent that could be fastened down in case of inclement weather. The sleeping area had a comfortable king size bed with soft taupe cotton bedding. Small rectangular bedside tables held hurricane style electric reading lights. A canopy of mosquito netting hung above the bed, and a large woven rattan trunk with a carved wooden lid sat at the foot it.
A reed partition separated the bedroom from the bathroom in the rear right corner of the tent. On the opposite side of the tent, a pair of oversized cocoa brown rattan armchairs with plump cushions covered in brown and beige safari print provided seating. A small rectangular coffee table held a couple of safari themed photography books. Three screened double doors opened onto the side deck. The rear wall of the tent held storage shelves and a clothes hanging rack. On the side deck, outdoor furniture included two rattan armchairs, a coffee table and a large hammock on a floor stand. A raised walkway led to an outdoor shower surrounded by reed walls.
Meals The food was fresh, wholesome and well prepared by Chef Hussein and his kitchen staff. All vegetables and fruits were organic and locally sourced, as were the eggs and poultry. The ingredients not available locally were imported from South Africa. The day began with tea or coffee and freshly baked cookies deposited at the door of my tent in a wicker hamper. A cold breakfast of freshly baked breads, cold cereals, yogurt, sliced local fresh fruits, fruit juices, tea and coffee was served buffet style. There was also a cooked to order breakfast menu. Lunch was served buffet style and consisted of a choice of salads and savory pies, and a light dessert. A three course dinner was plated. Special dietary requirements could be accommodated by prior arrangements.
Amenities
Room amenities included body and room insect repellent spray and coil, candle and matches, insulated jug of chilled drinking water, two cotton kimonos, checklist of local fauna and flora, electronic safe and air horn for emergencies.
Bathroom amenities included terry cloth bathrobes, facial and laundry soap, and small glass decanters of shower gel, shampoo and body lotion. All meals, soft drinks and alcoholic beverages were included, as were all daily game viewing activities and laundry service. A limited choice of vintage alcoholic beverages was available for an additional charge.
Facilities A dining area, lounge, bar and swimming pool.
Pool The free form swimming pool was eight meters (26 feet) by ten meters (32 feet) at its largest. It was surrounded by a broad deck overlooking the lagoon. Under yellow acacia trees, six wooden lounge chairs with brown and tan canvas cushions were separated by side were tables and ecru canvas market umbrellas.
Game Viewing
Game drives, about three hours long each, took place in one of the camp's open sided vehicles. Our ranger had a shotgun on the drives which were between 6:30 a.m. and 9:30 a.m. and 4 p.m. and 7 p.m. Although our vehicle had three tiered rows of seats that could have accommodated up to nine guests, there were never more than four with our guide and ranger on any drive or boat cruise. Cruises on the Shire River were in an open sided, canopied wooden motorboat. The boats departed slightly later than the game drive vehicles (staff cooked breakfast right on the boat).
Game I sighted included buffalo, bushbaby, bushbuck, African civet, crocodile, elephant, hippo, large spotted genet, impala, kudu, Lichtenstein's hartebeest, Melar's and white tailed mongoose, sable and suni antelope, vervet monkey, warthog, waterbuck and yellow baboon.
Birds included white browed sparrow weaver, purple crested turaco, Swainson's spurfowl, crowned hornbill, Hadeda ibis, Burchell's coucal, African hoopoe, forked tailed drongo, cattle and great white egret, hammerkop, spurwing goose, black crake, malachite kingfisher, pied kingfisher, gray heron, goliath heron and black crowned night heron, African open billed stork, Curlew sandpiper, reed warbler, collared palm thrush, greenshank, jacana, reed cormorant, white-breasted cormorant, palm swift, black winged stilt, yellow wattle plover, water dikkop, robin chat, European bee eater, greater blue eared starling, Dickinson's kestrel, red necked falcon, western banded snake eagle, African fish eagle, hawk eagle and harrier hawk, African goshawk and marsh harrier, martial eagle, palm nut vulture and African guinea fowl.
Activities In addition to morning and late afternoon game drives and boating safaris on the Shire River, and game and bird watching around the property, bush walks were available.
Other
Mvuu Lodge was powered by a mix of diesel generator and solar panels. Electric lighting was available in my tent but there were no power outlets. Cameras, phones and computers batteries could be charged at a charging station in the bar area of the property.
Wilderness Safaris practiced a proactive policy of sustainable conservation through responsible tourism. To share the benefits of tourism with the local communities and ensure the preservation of the area's natural resources for future generations, the company recruited, educated and put into place quality of life enhancement practices for the local community. Ninety-five percent of the staff was from local villages. Education programs were available to enable promotion from within whenever possible. Through trained staff advocates, Mvuu facilitated HIV testing for staff. Employees received mosquito nets for their homes as well their on site housing facilities. Additionally through the Children in the Wilderness Malawi program, Mvuu Lodge hosted 90 at risk children from the nearby Balaka District to yearly week long camps at the property where the children were taught an understanding of the practices and benefits of conservation, with follow up mentoring programs on going lessons throughout the year in local primary schools.
Cleanliness
Excellent
Date Of Visit October 2013
Reviewers Article and photographs by Josette King
Service My tent was serviced twice daily. The members of the staff I met were friendly and efficient.
Would You Stay There Again? Yes
Contact Information
Address:
Wilderness Safaris Malawi
P.O. Box 489
Lilongwe Bisnowaty Complex
Kenyatta Drive
Lilongwe
Malawi
Phone:
Emergency:
+265 (0) 1 771 153
+265 (0) 888 822 398
Website:
Email: